Who could turn down a fresh Strawberry Pie? And who could turn down making one that's as easy as this recipe?! With summer coming up, this is a dessert you'll want to serve again and again!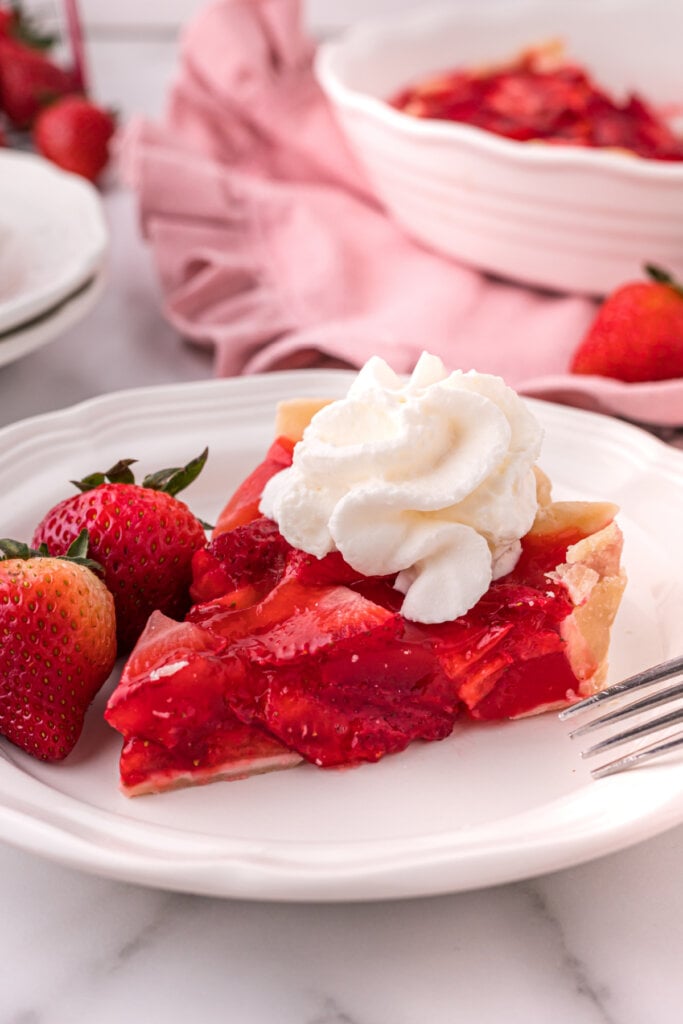 Strawberry Pie with Jello
I've talked about pumpkin pie and maple pecan pie …
and I've written on custard pie and coconut pie …
I've even told y'all about tons and tons of my favorite no-bake pies, like eggnog and peanut butter and key lime …
But, y'all, I've never done a simple Strawberry Pie recipe! A strawberry cream pie, yes, but not a strawberry pie, all by itself! Today we change that.
This is an easy Strawberry Pie that's full of out-of-this-world summery flavors! You use fresh strawberries and strawberry gelatin to create the filling, which means if you love fruit, this is your pie. It's sweet and tangy and picky-eater-proof, too!
Best of all? It's almost no-bake. Almost. Not quite!! You do have to bake the pie crust itself and cook the gelatin mixture a little. However, it's very quick and very easy, and shouldn't heat up your kitchen too much, or require much effort. That's a good dessert!
It's one of those beautiful summery recipes that tastes best when the weather's warm! (Strawberries are the tastiest in the summer, anyway!!) Enjoy!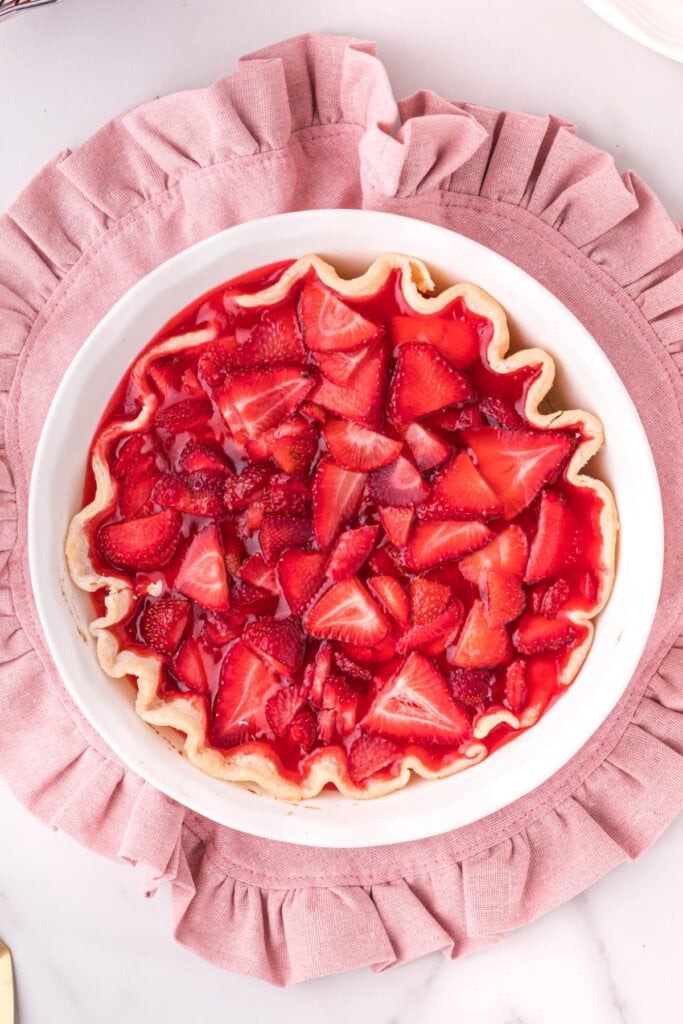 Strawberry Pie Recipe: Ingredients & Equipment
For this fresh Strawberry Pie, you'll need …
Ingredients
pie crust – I use pre-made refrigerated pie crust because it's easier. However, if you have your own homemade recipe, go ahead and use that! This is the only part of the pie you'll have to bake.
sugar, cornstarch, water, strawberry gelatin – when cooked, this makes a gelatin mixture/glaze that'll act as the base of your strawberry pie filling. (By the way, by strawberry gelatin, I mean something like strawberry jello!!)
strawberries – fresh ones, sliced. You'll pour your gelatin mixture/glaze over this to create your pie filling! So good!
whipped topping – optional, but come on, y'all, can you have a pie without a good topping?! Try Cool Whip or whipped cream (store-bought or homemade)!
Equipment
9-inch pie plate – this is where you'll put your pie together, of course!
aluminum foil and wire rack – to bake your crust.
saucepan – to create your strawberry gelatin mixture.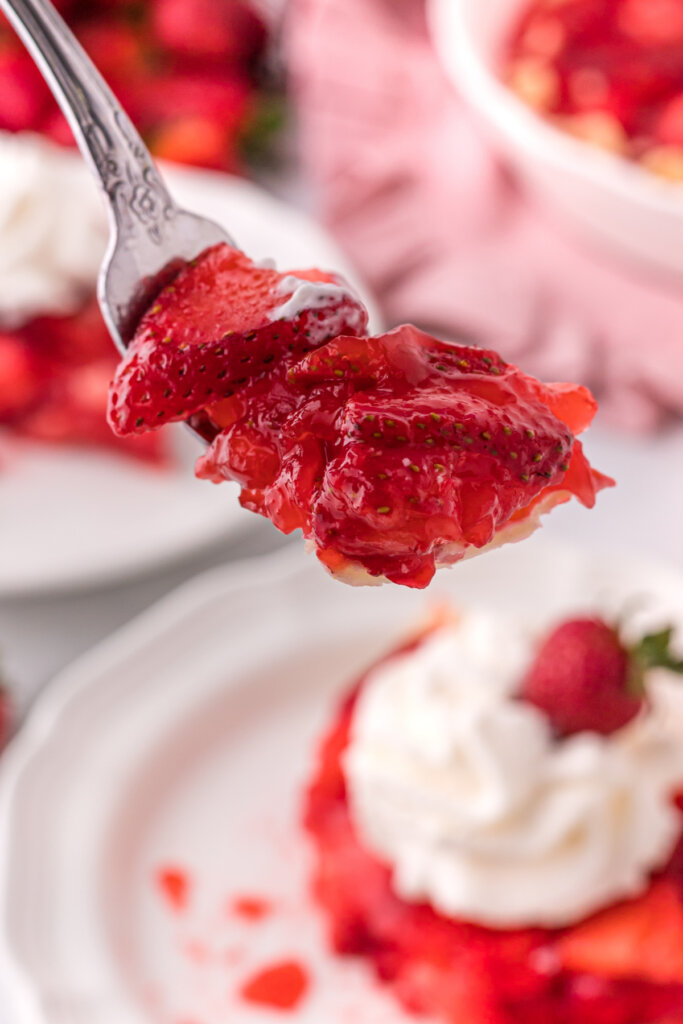 Recipe for Strawberry Pie: FAQs
How many servings does this recipe for strawberry pie make?
8 slices, or one 9-inch pie! Enough for the whole family!
How long does it take to make strawberry pie?
The pie itself only takes a half-hour to prep. However, you'll need about 8 hours to chill the pie, which is pretty standard for a lot of recipes that don't require you to bake the filling! Still, it's not time you have to stand around in the kitchen, so while this isn't a fast pie to make, it's a very, very easy one!
Can you add extra flavors to the pie without overwhelming the strawberry?
Absolutely! You can add extracts like lemon or vanilla to your gelatin mix/glaze, for example. This will provide some light flavoring while still giving you a very tasty and very strawberry pie!
Do you have to let it chill for 8 hours?
I 100% recommend 8 hours minimum. Some recipes call for as little as 2, but I don't think the filling "sets" right unless you leave it in the fridge overnight.
How long will this recipe last in the fridge?
You can keep it in the fridge covered with foil/wrap for about 4-5 days.
Can you keep this pie at room temperature?
Yes! Leave it on the counter and it'll be fine for a day or two. Again, be sure to wrap it up!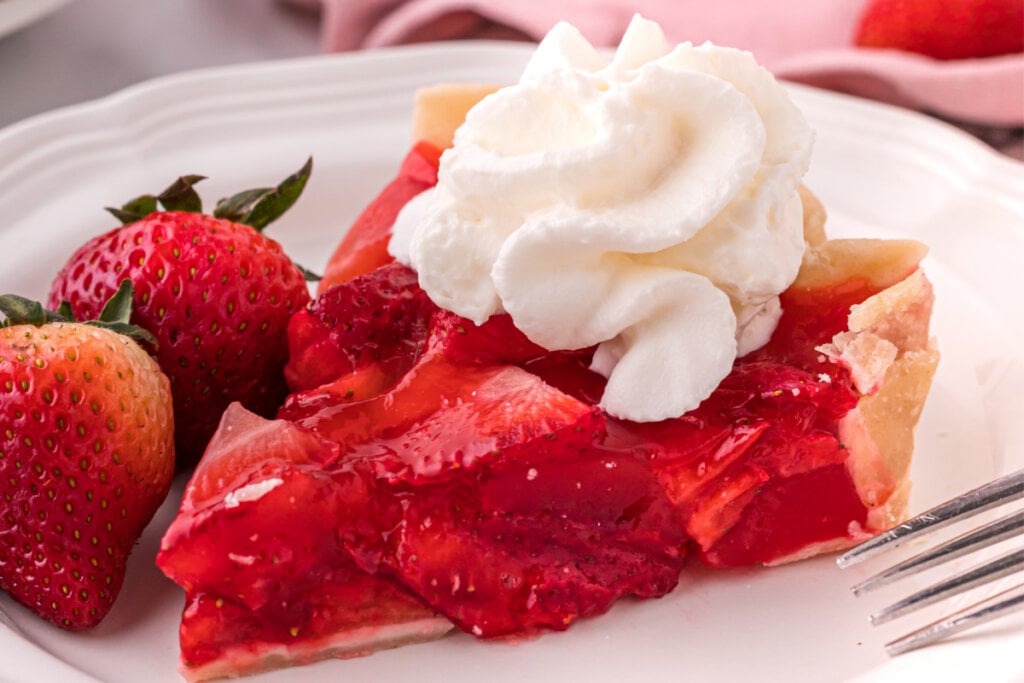 Other recipes you may enjoy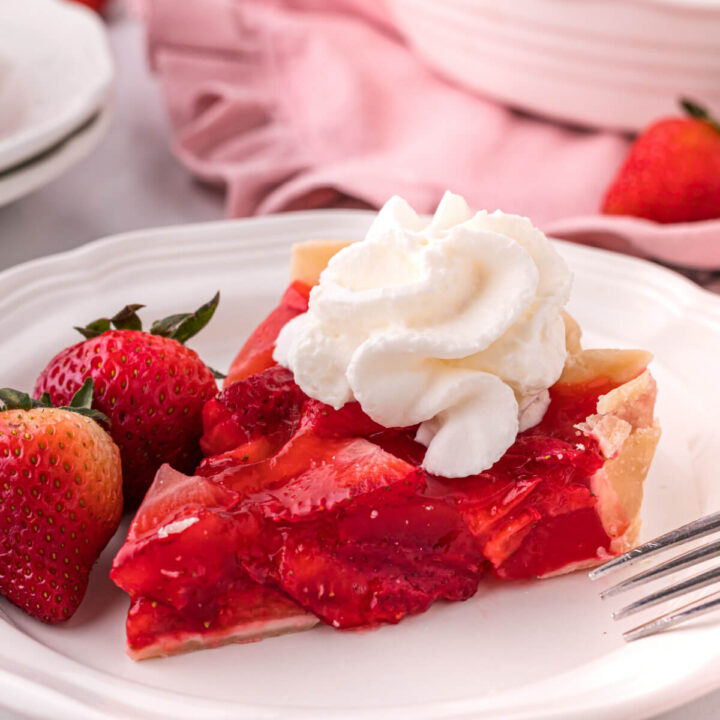 Strawberry Pie
Total Time:
8 hours
28 minutes
With summer coming up, this Strawberry Pie recipe is an easy dessert you'll want to serve again and again! A family favorite everyone loves!
Ingredients
1 sheet refrigerated pie crust
3/4 cup granulated sugar
2 tablespoons cornstarch
1 cup water
1 box (3 oz.) strawberry gelatin
4 cups sliced fresh strawberries
Instructions
Preheat oven to 450°F. Unroll the crust into a 9-inch pie plate. Trim the edge. Line the unpricked crust with a double-thickness heavy-duty aluminum foil. Bake the crust for 8 minutes. Remove the foil and bake the crust for an additional 5 minutes. Remove the crust from the oven and cool on a wire rack.
In a small saucepan, combine the sugar, cornstarch, and water until smooth. Bring the mixture to a boil; cook and stir until thickened, about 2 minutes. Remove the pan from the heat and stir in the gelatin until completely dissolved. Refrigerate the gelatin mixture until slightly cooled, about 15-20 minutes.
Meanwhile, arrange the strawberries in the crust. Pour the gelatin mixture over the strawberries. Refrigerate until set.
If desired, serve with whipped cream.
Notes
I one-hundred percent recommend letting your pie set up for 8 hours minimum. Some recipes call for as little as 2, but I don't think the filling "sets" right unless you leave it in the fridge overnight. 
Recommended Products
As an Amazon Associate and member of other affiliate programs, I earn from qualifying purchases.
Nutrition Information:
Yield:

8
Serving Size:

1 slice
Amount Per Serving:
Calories:

221
Total Fat:

7g
Saturated Fat:

3g
Trans Fat:

0g
Unsaturated Fat:

4g
Cholesterol:

4mg
Sodium:

95mg
Carbohydrates:

38g
Fiber:

2g
Sugar:

24g
Protein:

3g
Please note that the nutritional information listed on this page is an estimation based on the products I used. Ingredients and nutritional information can vary significantly between brands. Always be sure to read labels. Please verify that a recipe fits your needs before using it. Nutrition info may contain errors, so please verify it independently. Likewise, recipes may contain errors, so please use your common sense when following them.