Your holiday won't be complete without this No-Bake Eggnog Pie! It's so creamy and delicious it'll become a family favorite!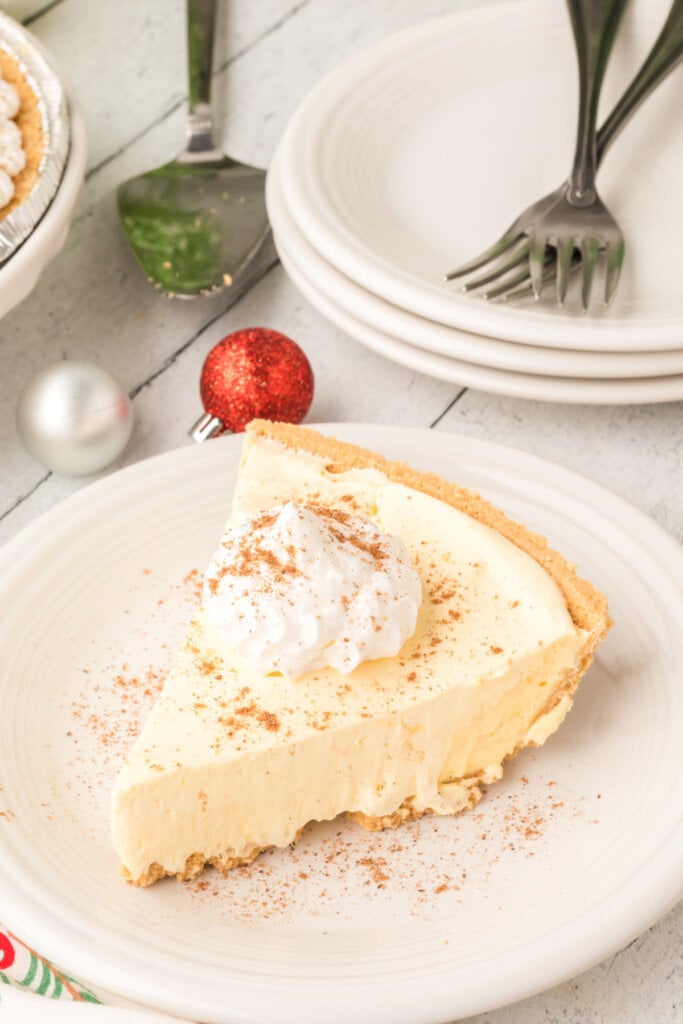 No-Bake Eggnog Pie
For our Thanksgiving menu, I decided that I want to try an Eggnog Pie this year. And while doing my grocery shopping last week, I noticed my favorite brand of eggnog was out! I try to keep an eye out for it at this time of the year because it's the best! I had to pick up two containers, one to drink and the other to make this No-Bake Eggnog Pie!
The test run of this Eggnog Pie was so good that I had to make it again to share with y'all, and I may just make it another time or two before the end of the year! I think I need more eggnog!
Did you know that you can freeze eggnog for up to 6 months?! So I may need to get a 6-month supply! 😉
If you're looking for a quick and easy pie recipe that you can serve your family (and guests!) that doesn't require you to turn the oven on and tastes just like the holidays, you've found your new favorite recipe. This recipe is like eggnog in pie form without any baking! What a dream!
Be sure to break this recipe out around the holidays … or if you're like me, secretly store a lot of eggnog and make it all year round! Enjoy!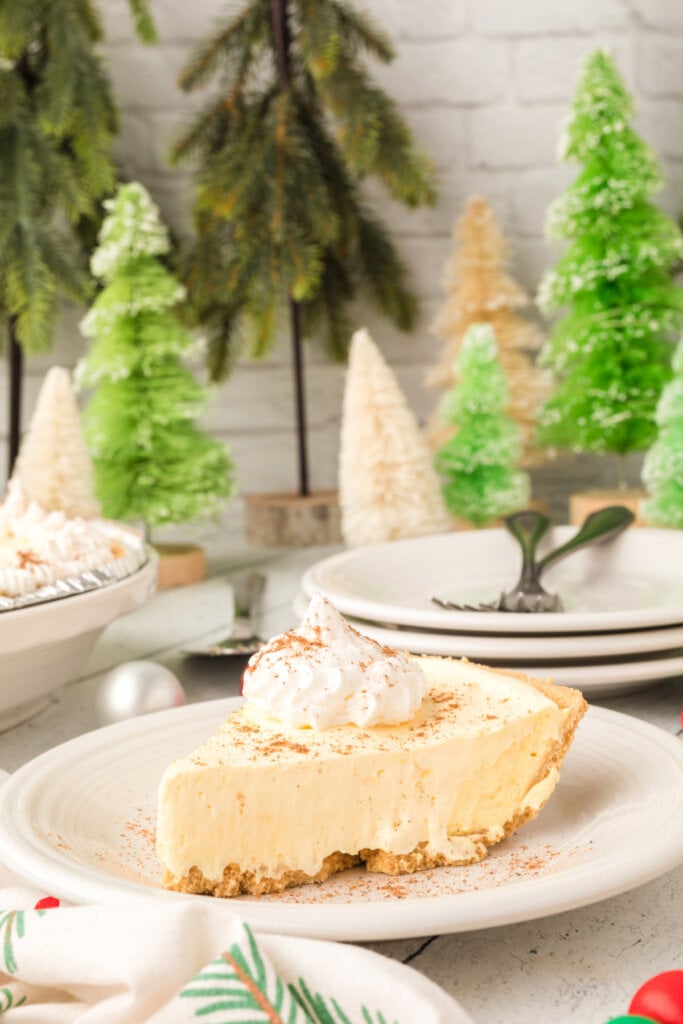 No Bake Eggnog Pie: Ingredients & Equipment
For this No Bake Eggnog Pie recipe, you'll need …
Ingredients
vanilla pudding mix and eggnog – you'll beat these two together to make the base of your pie filling.
whipped topping – this goes into your filling as well, making it nice and fluffy! You'll want some additional whipped topping to go on your pie at the end, too. This can be store-bought (you can use Cool Whip, for example) or homemade.
graham cracker pie crust – the tasty, tasty crust for your Eggnog Pie. Self-explanatory!
ground nutmeg – a sprinkle of nutmeg on top of your Eggnog Pie is heavenly.
Equipment
large mixing bowl – where you'll mix all your ingredients!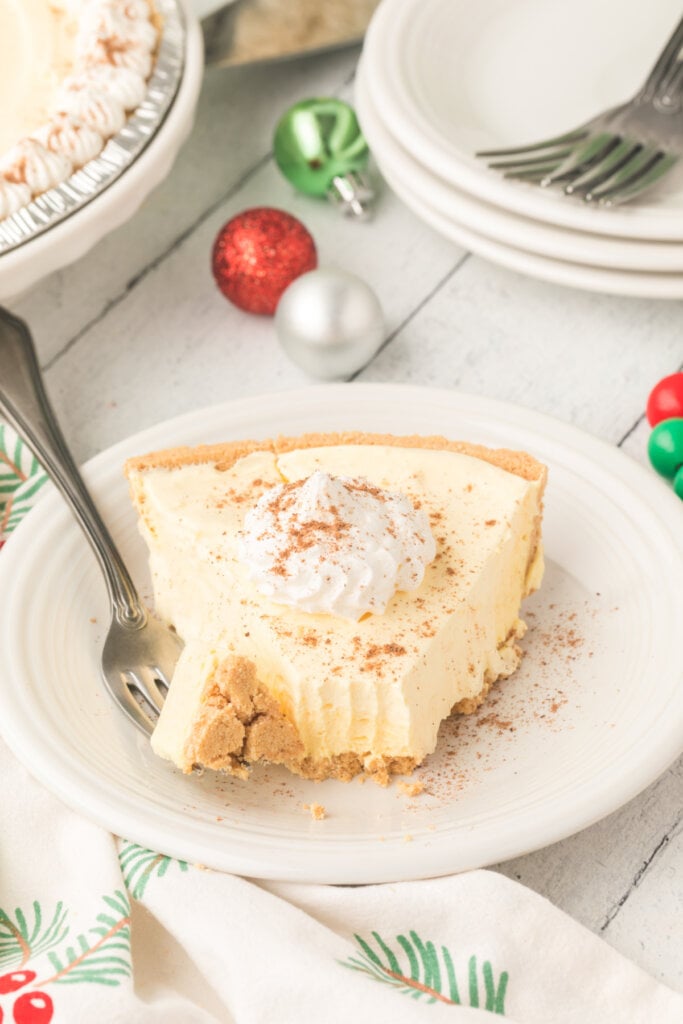 No-Bake Eggnog Pie: FAQs
What kind of eggnog should I use for the best pie?
Any kind/brand you like, although make sure it's full-fat. You won't get the right consistency or texture if you use low-fat eggnog.
Can you use flavored eggnog?
I don't see why not! Experiment with it, and let me know how it goes!
Could you make an adult version of this with alcohol?
Oh, absolutely! Keep it away from the kids, but adding brandy or another tasty bit of booze is certainly possible.
Can you use pastry crust instead of graham cracker crust?
Sure! Once again, I don't see why not. Let me know in the comments how it works out for you because I love filing away this info for later.
What kind of pudding should I use?
Use instant mix for this pie (and any other no-bake pie, really). Don't use the stovetop "cook and serve" kind.
How long does it take to make eggnog pie?
Like most no-bake pies, it seems like it'll take a while – my recipe lists 4ish hours. However, only 5-10 minutes of that is actual prep. The rest is patiently waiting for the pie to chill in the fridge! So it's very low effort.
How much eggnog pie does this recipe produce?
About 6-8 slices! Perfect for the whole family.
Do you need the full 4 hours to chill the pie?
Yes, and the longer you chill the pie, the thicker it will get. Don't skip this step – it's important for a no-bake pie!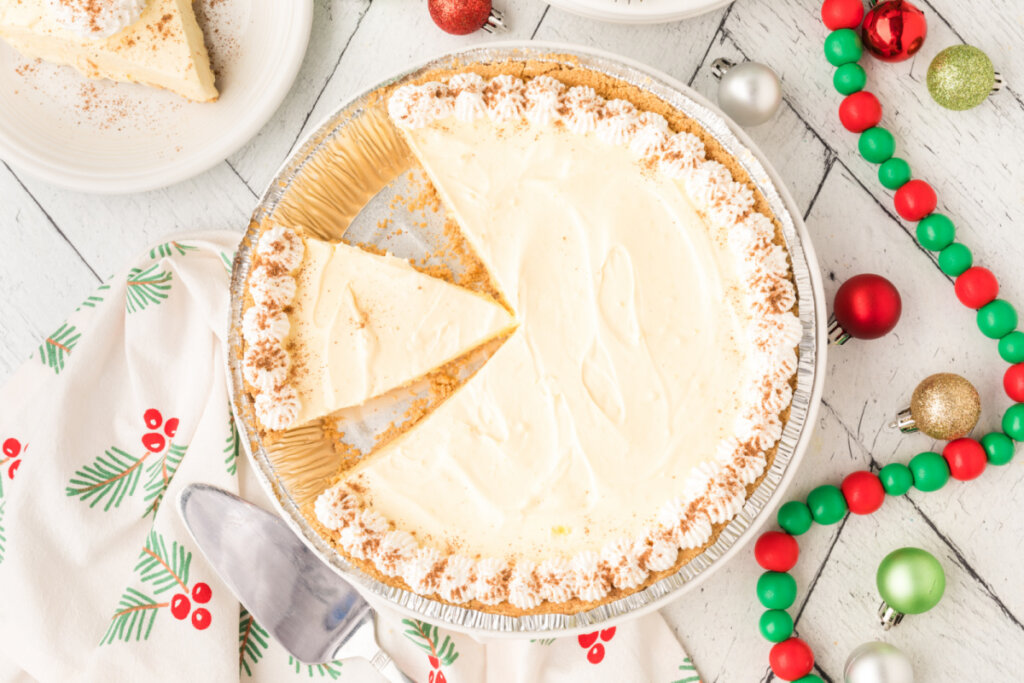 Other recipes you may enjoy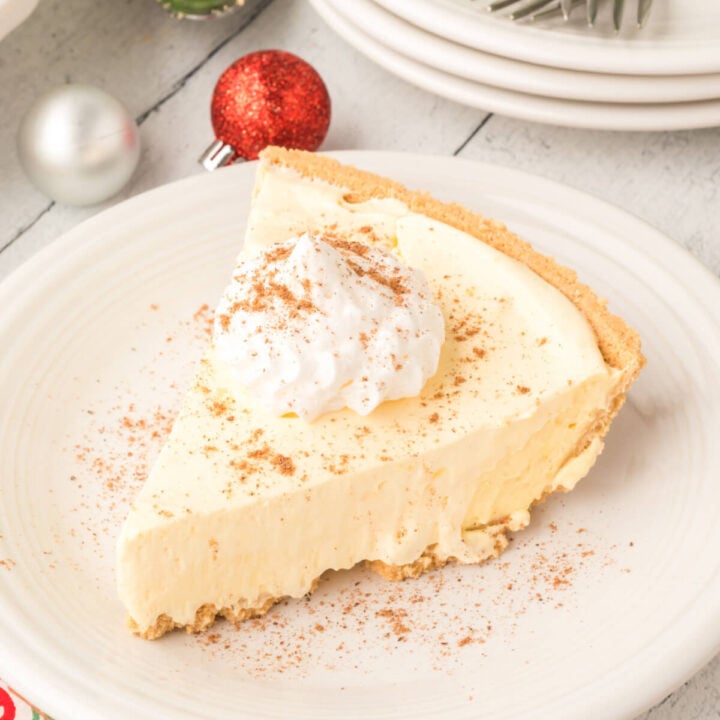 No-Bake Eggnog Pie
Total Time:
4 hours
15 minutes
Your holiday won't be complete without this easy, No-Bake Eggnog Pie! It's so creamy and delicious it'll become a family favorite!
Ingredients
1 package (3.4 oz) of vanilla instant pudding
1-3/4 cups cold prepared eggnog
1 cup frozen whipped topping, thawed
1 graham cracker pie crust
additional frozen whipped topping, thawed, for serving (optional)
ground nutmeg, for serving (optional)
Instructions
In a large mixing bowl with a hand-held mixer, beat the pudding mix with eggnog for 2 minutes. The pudding mixture should thicken slightly. Gently fold in 1 cup of whipped topping until just combined. Spoon the mixture into the pie crust.
Refrigerate the pie for at least four hours.
To serve, place a dollop of whipped topping and a sprinkle of nutmeg on each serving.
Notes
Make sure you use full-fat eggnog. You may not get the right consistency or texture if you use low-fat eggnog.
Make an adult version by adding some brandy or other booze to your pie filling.
If you prefer a pastry pie crust, you can use that instead. It will need to be blind-baked and cooled before being filled.
Recommended Products
As an Amazon Associate and member of other affiliate programs, I earn from qualifying purchases.
Nutrition Information:
Yield:

8
Serving Size:

1 slice
Amount Per Serving:
Calories:

504
Total Fat:

25g
Saturated Fat:

14g
Trans Fat:

0g
Unsaturated Fat:

10g
Cholesterol:

226mg
Sodium:

367mg
Carbohydrates:

51g
Fiber:

1g
Sugar:

37g
Protein:

19g
Please note that the nutritional information listed on this page is an estimation based on the products I used. Ingredients and nutritional information can vary significantly between brands. Always be sure to read labels. Please verify that a recipe fits your needs before using it. Nutrition info may contain errors, so please verify it independently. Likewise, recipes may contain errors, so please use your common sense when following them.
Originally published on November 11, 2016. Updated on December 5, 2022.