Enjoy an Old-Fashioned Custard Pie just like the ones Grandma used to make. It's sweet, creamy, and bakes up perfectly.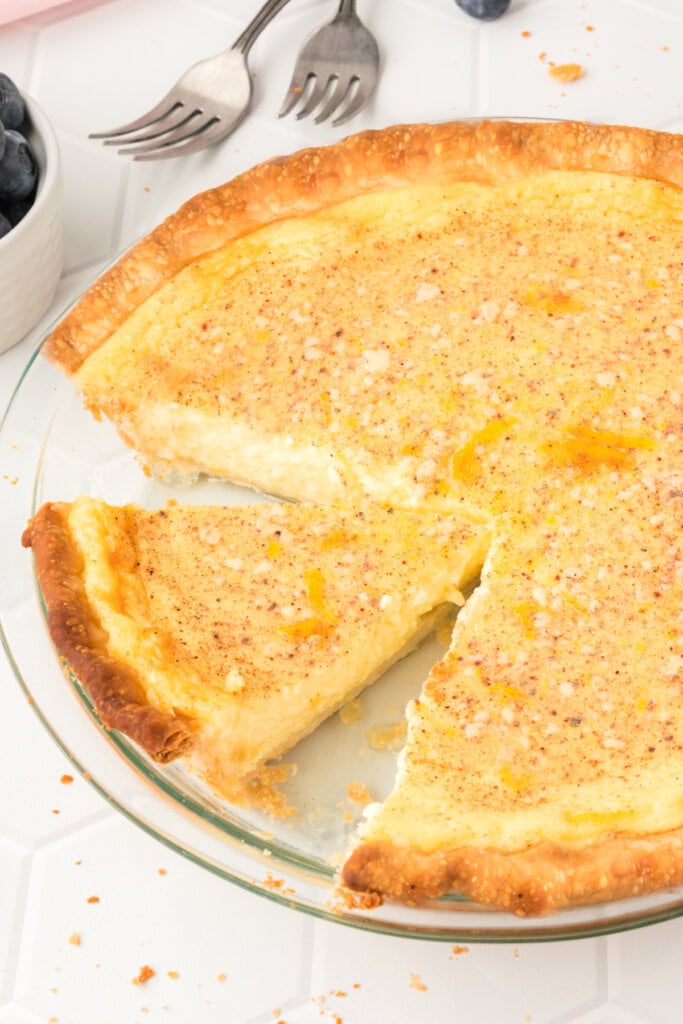 Recipe for Custard Pie
Gosh, y'all … there is nothing quite like a good custard, and this pie really delivers!!
Custard, for those of you who haven't tried it (or just never thought about it), is a substance made when you cook eggs, milk or cream, and sugar. Sometimes flour or vanilla extract is added, as well, and it's usually topped with nutmeg. You use custard inside pastries like tarts, or as a beautiful filling for custard pie!
I call this recipe Old-Fashioned Custard Pie because it's so simple and it reminds me of pies my Grandma used to make. In fact, if you have older relatives that baked a lot, their custard pie recipe is probably very close to this one.
This pie hasn't got any bells and whistles, nothing fancy … it's just good custard pie. Yet despite its straightforward exterior, my Old-Fashioned Custard Pie is out-of-this-world good.
It's really the kind of dessert that goes with any meal, and if you're unfamiliar with custard – it's got the same consistency as pumpkin pie filling, usually. Even picky eaters enjoy this recipe. The nutmeg in particular gives it a wonderful spice!
Custard Pie: Ingredients & Equipment
To make this recipe for a custard pie, you'll need …
Ingredients
pie crust pastry – this can be homemade or store-bought. I used a 9-inch pastry.
eggs, sugar, milk, salt, vanilla extract – these ingredients make your custard filling!
nutmeg – a spice you'll add to your filling to give it a bit more flavor. You can use freshly ground nutmeg or store-bought pre-ground nutmeg, whichever is more accessible for you.
Equipment
pie plate – to bake your custard pie.
medium bowl and whisk – for mixing your custard pie filling.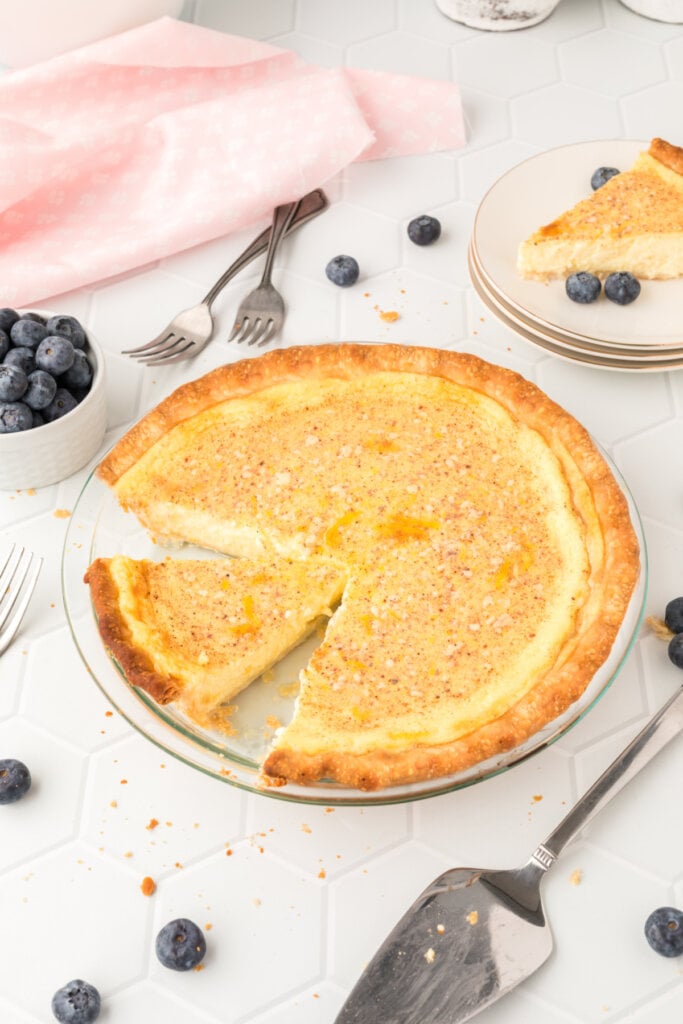 Old-Fashioned Custard Pie: FAQs
How many servings does this recipe for custard pie yield?
About 8 servings/slices, depending on how you split up the pie.
How long does it take to make Old-Fashioned Custard Pie?
Less than an hour! Put aside 20 minutes for prep time and 35 minutes to bake the pie.
Do you have to use dairy milk?
Not at all! I've also made this with soy milk and it's come out just as wonderful.
Can you freeze custard pie?
Yes! After the pie cools completely, it'll stay in the freezer for 3 months covered. When you want to serve it, just let it come to room temperature. This makes it perfect for events or parties where you need to make dishes and desserts ahead of time!
Should I brown the crust of this custard pie?
You don't have to if you're using premade pie crust. But if you want, go ahead and brush egg wash on the crust for that lovely browned color!
My custard pie is watery! What went wrong?
Usually when custard pie turns out watery, one of two things happened! Either …
1. The pie didn't bake for long enough, or
2. The filling ingredients weren't fully mixed when the pie went in for baking.
While there's really no fixing an overly-watery custard pie, just consider it a learning experience and be careful next time!! Custard pie should jiggle a little like pumpkin pie filling – that's the consistency you're going for, more or less.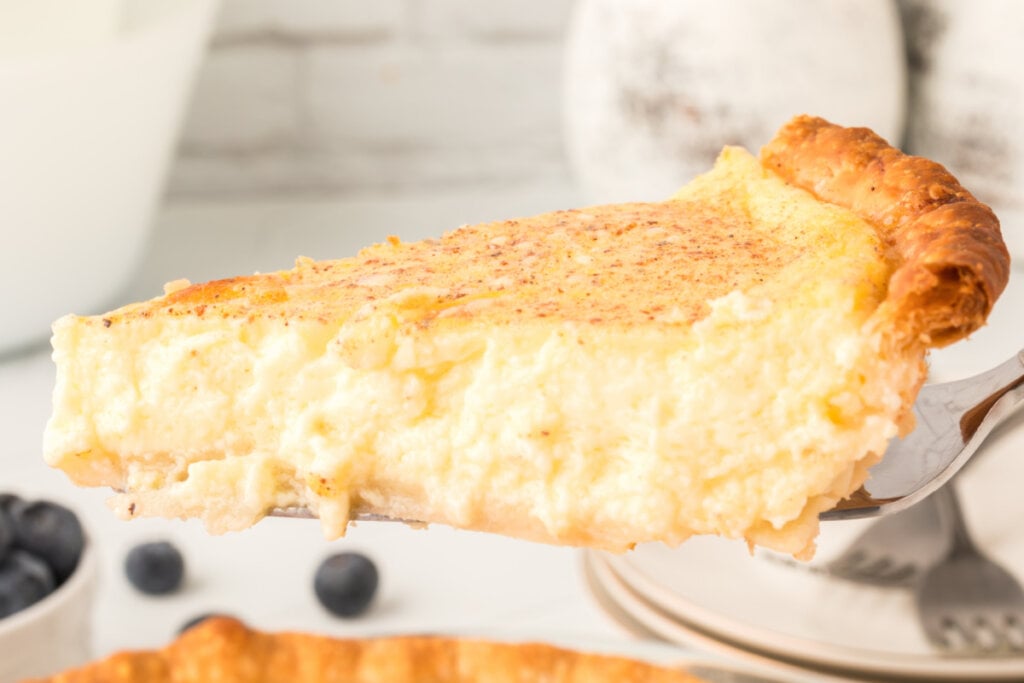 Other recipes you may enjoy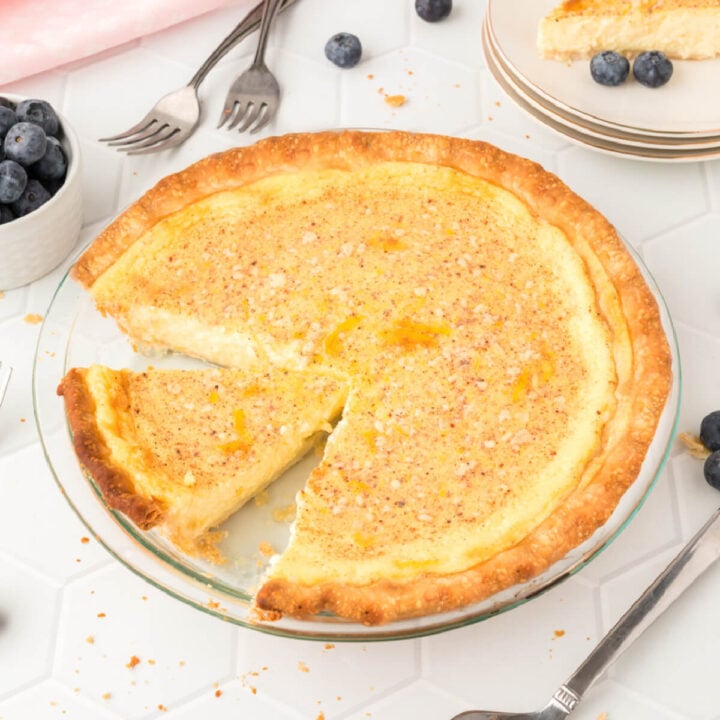 Old-Fashioned Custard Pie
Total Time:
4 hours
55 minutes
Enjoy an Old-Fashioned Custard Pie just like the ones Grandma used to make. It's sweet, creamy, and bakes up perfectly.
Ingredients
Pastry for one 9-in. pie crust (homemade or store-bought)
4 large eggs
1/2 cup granulated sugar
2-1/2 cup whole milk
1 teaspoon vanilla extract
1/2 teaspoon salt
1/4 teaspoon ground nutmeg
Instructions
Move the oven rack to the lowest position.
Preheat oven to 450°F. Line a pie plate with the pastry for the pie crust. Set aside.
In a medium bowl, beat the eggs slightly with a whisk. Beat in the sugar, milk, vanilla, salt, and nutmeg. Pour the filling into the pie plate.
Bake for 20 minutes on the lowest rack. Reduce oven temperature to 350°F and continue to bake for an additional 10-15 minutes or until a knife inserted halfway between the center and the edge comes out clean.
Refrigerate at least 4 hours. Immediately refrigerate any remaining leftover pie after serving.
Notes
Cover the edges of the pie with aluminum foil if needed to prevent them from burning.
Recommended Products
As an Amazon Associate and member of other affiliate programs, I earn from qualifying purchases.
Nutrition Information:
Yield:

8
Serving Size:

1 slice
Amount Per Serving:
Calories:

258
Total Fat:

12g
Saturated Fat:

5g
Trans Fat:

0g
Unsaturated Fat:

6g
Cholesterol:

104mg
Sodium:

320mg
Carbohydrates:

31g
Fiber:

1g
Sugar:

18g
Protein:

7g
Please note that the nutritional information listed on this page is an estimation based on the products I used. Ingredients and nutritional information can vary significantly between brands. Always be sure to read labels. Please verify that a recipe fits your needs before using it. Nutrition info may contain errors, so please verify it independently. Likewise, recipes may contain errors, so please use your common sense when following them.
Originally published on April 16, 2014. Updated on April 11, 2022.