Get a taste of the Florida Keys with this easy and delicious No-Bake Key Lime Pie!
No-Bake Key Lime Pie recipe
I think it's safe to say that summer is well underway here in the Phoenix area. With several weeks of temps reaching over 100°F, I saw on the news that this weekend is supposed to hit 117°F …. have mercy!! ? I'm not quite ready for that …. and what's even crazier is that you wouldn't think that there's much difference between 102°F and 117°F …. but lemme tell ya, 117°F is pretty freaking hot. And I know, I know … it's a dry heat! *eye roll*
I'll be honest, as hot as that sounds, and as much as I know I'll hate it, I'll take that any day over shoveling snow in the winter. ??? To make the best of the situation, I might take the kids outside and see if we can fry an egg on our driveway … I've wanted to try it since we moved to Phoenix!! I've heard people do that and bake cookies in their car (on my bucket list also!).
With all of these hot days, it reminds me of my childhood – I grew up in North Florida. Summer was oppressively hot and humid – and I don't miss the humidity at all! Of course, hot summer days means plenty of pool time.
We had some friends over for a pool party and BBQ last weekend, and this No-Bake Key Lime Pie was the dessert we shared! I loved that I could make it in advance, and it was so refreshingly delicious on a hot summer day!
If you can't find the key lime juice noted in the recipe, substitute regular lime juice in its place. Also, if you prefer to set the mood with a pie that has more of a greenish tint, feel free to add a drop or two of green food coloring. Personally, I love how the key limes pop against the color of the lighter pie, so I skip the food coloring altogether.
Other recipes you may enjoy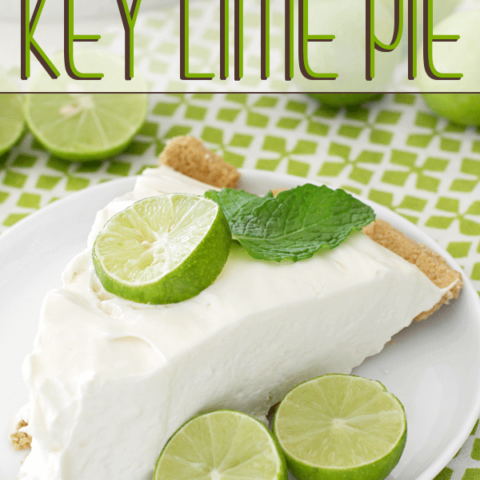 No-Bake Key Lime Pie
Get a taste of the Florida Keys with this easy and delicious No-Bake Key Lime Pie!
Ingredients
1 package (8 oz.) cream cheese, softened
1 can (14 oz.) sweetened condensed milk
1/2 cup Nellie & Joe's Famous Key West Lime Juice
1 tub (8 oz.) frozen whipped topping, thawed
1 package (9 oz.) prepared graham cracker crust
Key limes, mint leaves, and/or additional whipped topping - for garnish (optional)
Instructions
In a large bowl, beat the cream cheese and sweetened condensed milk with a hand mixer until smooth. Add key lime juice and mix until smooth. Beat in whipped topping until well combined.
Pour filling into the prepared crust. Cover and refrigerate fro at least 4-6 hours or until set.
Before serving, garnish with key limes, mint leaves, and additional whipped topping, if desired.
Nutrition Information:
Amount Per Serving:
Calories:

657
Total Fat:

38g
Saturated Fat:

18g
Cholesterol:

93mg
Sodium:

426mg
Fiber:

1g
Sugar:

48g
Protein:

11g