Soups never have to be boring, and this Cheeseburger Soup proves that! It's full of flavor and makes a filling, warm, hearty dinner at any time of year.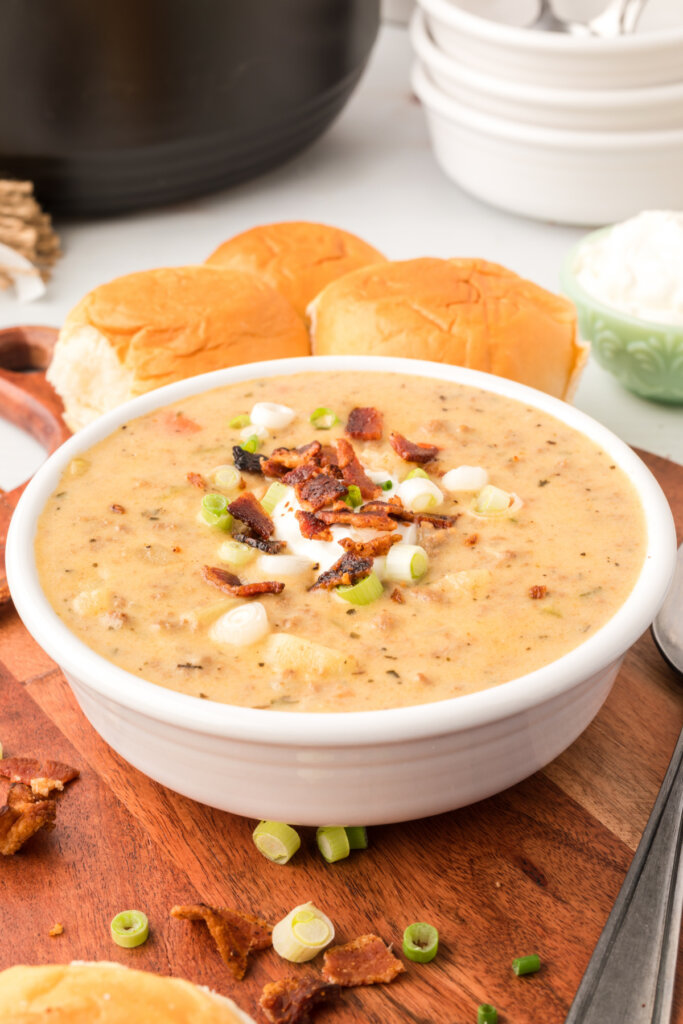 Cheeseburger Soup
This Cheeseburger Soup is so good! Where do I begin?
Many of y'all know I love soup. I look forward to fall and winter for the sole reason of having an excuse to eat more soup. There's just something so comforting about it to me. 🥰
Some of you may also remember me telling you that I wasn't a fan of potato soup growing up. I would sit there and stare at it for hours and my parents always threatened me with "having it for breakfast."
Over the years, I found out it wasn't so bad, and now I do enjoy it on occasion. I have a few different variations that, in my mind, made it more palatable than I remember as a child. Having some cheese in my potato soup is always a big plus, and this Cheeseburger Soup recipe is honestly just a cheesy potato soup! (With some beef, of course.)
My Cheeseburger Soup has been a favorite for years. Sometimes – not always – I like to top it with bacon. I like to add a few dashes of hot sauce to mine – but not everyone in my family does, so we serve the hot sauce on the side. Some fresh-baked rolls or biscuits would be great with this soup, too.
I love soup nights, especially when I know this particular soup is on the menu! I hope y'all enjoy it as much as we do!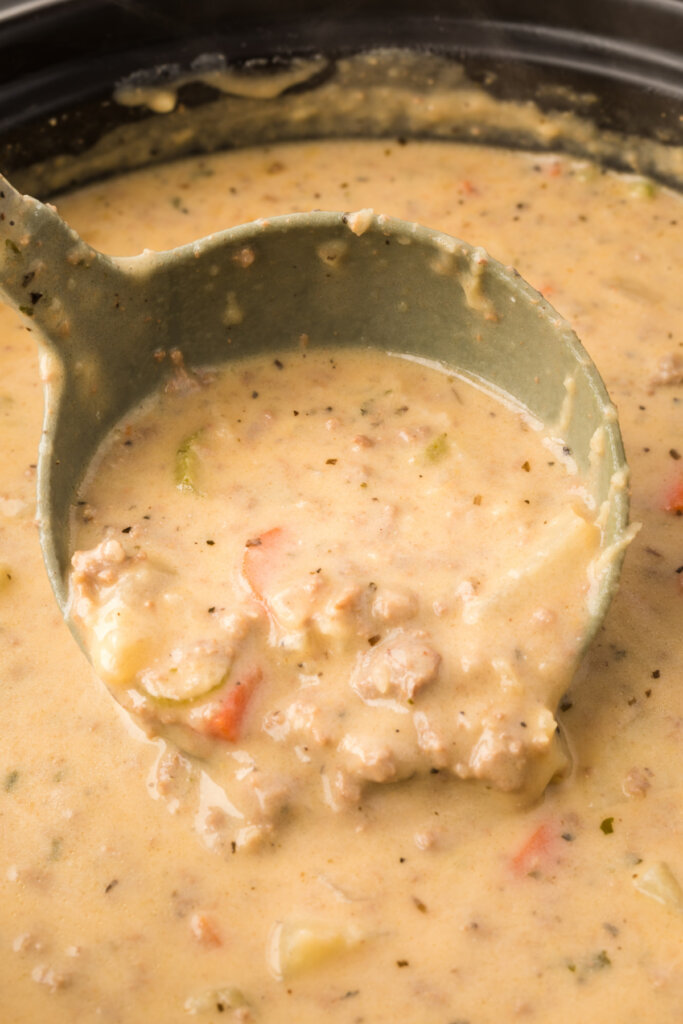 Cheeseburger Soup: Ingredients & Equipment
For this Cheeseburger Soup recipe, you'll need …
Ingredients
ground beef – about a pound, crumbled.
onion, carrots, celery, garlic, basil, and parsley – your soup's veggies. Each of them lends a little "power" to the flavor of the soup and doesn't
butter – you'll cook your veggies, above, in this.
beef broth and potatoes – add these to your cooked vegetables!
flour – combined with the butter, this makes a roux that will thicken your soup.
cheddar cheese, sour cream, milk – these give your soup a cheesy flavor and turn it from plain ol' soup with ground beef to a fantastic cheeseburger soup!
salt and pepper – the final additions to your soup. Adjusted to your taste.
toppings – optional, but you can't go wrong with bacon, green onions, or more cheese!
Equipment
Dutch oven or soup pot – you'll make your soup in this.
small skillet or saucepan – to make your roux/thickener.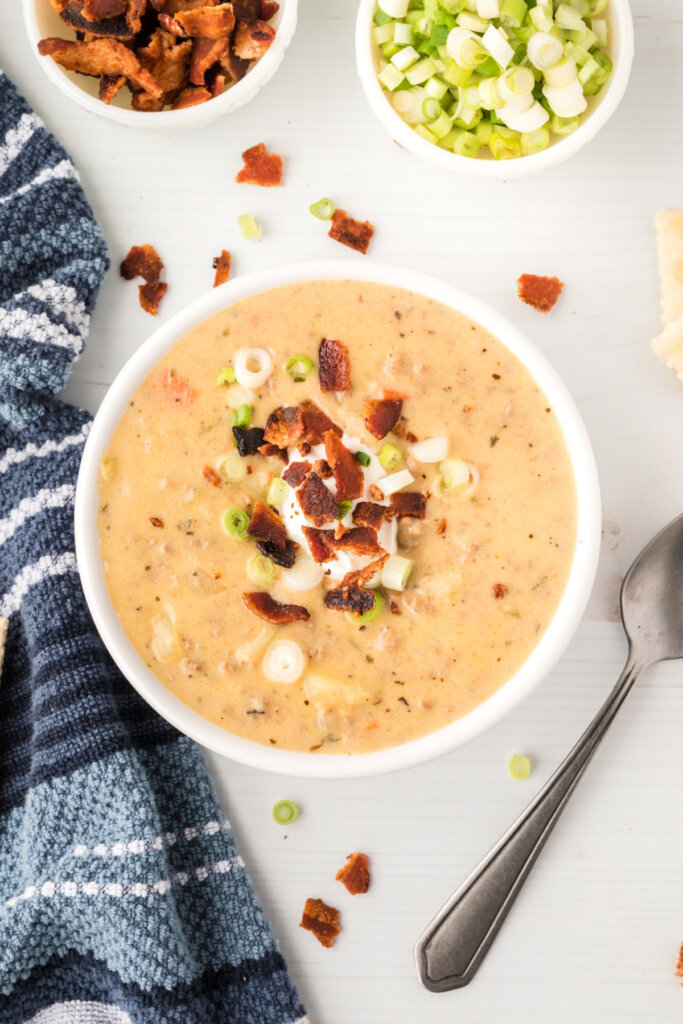 Cheeseburger Soup: FAQs
How much soup does this recipe produce?
About 8 bowls/servings. Definitely enough for your whole family, and I reckon, for some folks to have seconds if they want!
How long does it take to make Cheeseburger Soup?
Just a little over a half-hour! You'll need 15 minutes of prep and 20 minutes to cook it. For how flavorful this soup is it feels like a miracle!
Can you use ground turkey or stew meat with this recipe?
Absolutely! It should still taste wonderful.
What if I want a little more spice in this soup?
Like I said above, hot sauce is very good when added to Cheeseburger Soup. I also recommend adding peppers with the other vegetables for the heat factor. So good!
Can I use other cheeses besides cheddar?
Yes!! Any of your favorites should do. I like swiss and pepper jack in this recipe in particular. You can also even use Velveeta cheese!
How should I store leftovers?
You'll want to store leftover Cheeseburger Soup in the fridge for up to 5 days. Be sure to use an airtight container!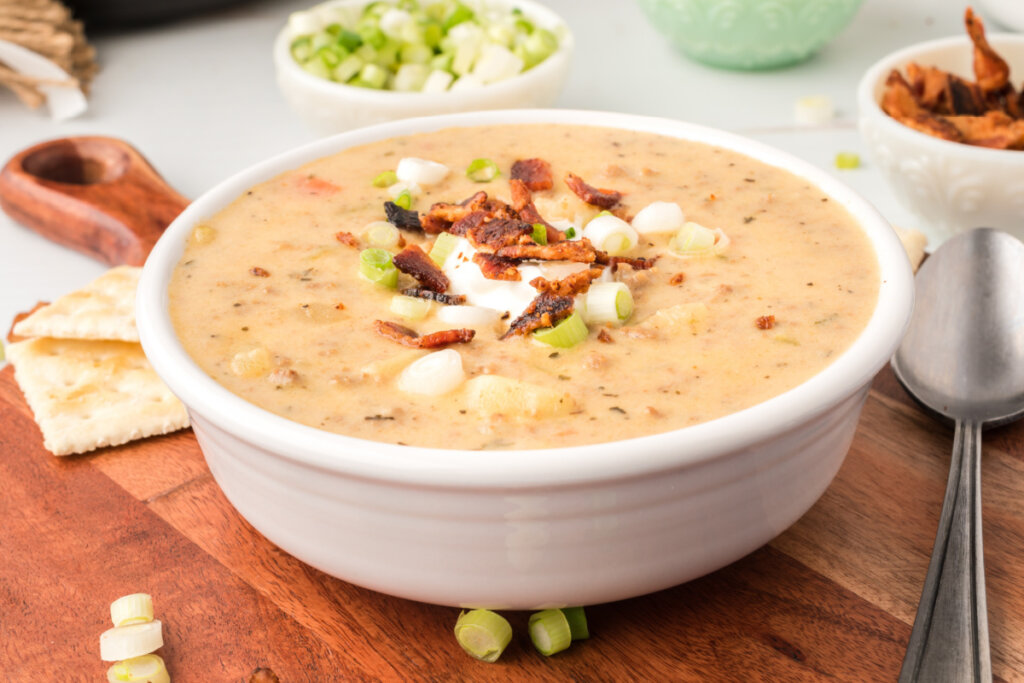 Other recipes you may enjoy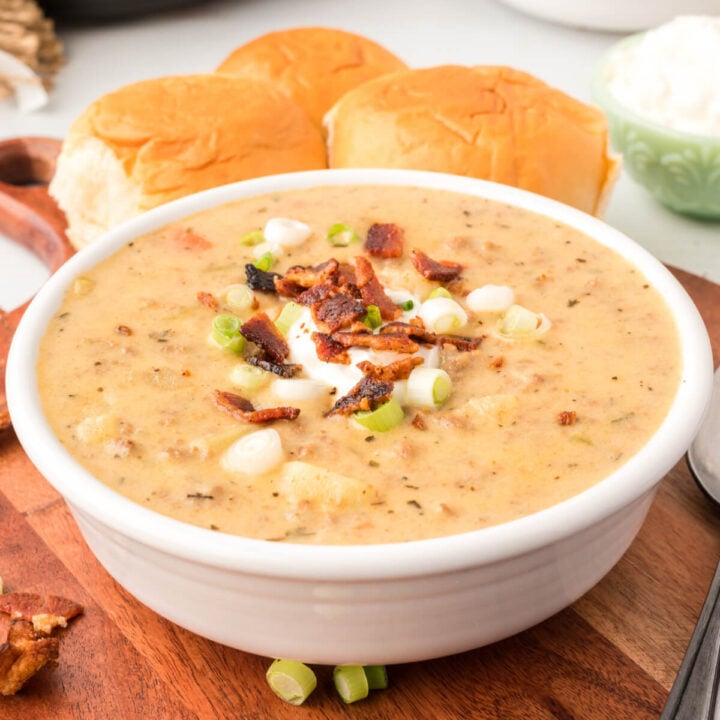 Cheeseburger Soup
Soups never have to be boring, and this Cheeseburger Soup proves that! It's full of flavor and makes a filling, warm, hearty dinner at any time of year.
Ingredients
For the soup
1 pound ground beef
4 tablespoons butter, divided
3/4 cup onion, chopped
3/4 cup carrots, chopped
3/4 cup celery, chopped
2-3 garlic cloves, minced
1 teaspoon dried basil
1 teaspoon dried parsley flakes
4 cups potatoes, peeled and diced
3 cups beef broth
1/4 cup all-purpose flour
2 cups shredded Cheddar cheese
1-1/2 cups milk
3/4 teaspoon salt
1/2 teaspoon pepper
1/4 cup sour cream
For serving
Additional Cheddar cheese
green onions, chopped
1/2 pound sliced bacon, cooked and drained (optional)
Instructions
Brown and crumble the ground beef in a Dutch oven or soup pot until no longer pink. Drain and set aside.
In the same pot, melt 1 tablespoon butter along with the onion, carrots, celery, garlic, basil, and parsley cooking until the vegetables are tender, about 8-10 minutes.
Add the potatoes, drained ground beef, and beef broth then bring the mixture to a boil. Reduce the heat, cover, and simmer the soup for 10 minutes or until the potatoes are tender.
Meanwhile, in a small skillet or saucepan, melt the remaining butter and add the flour. Cook and stir the flour mixture until bubbly, about 3-5 minutes. Add the flour mixture to the soup and bring the soup to a boil. Cook and stir for 2 minutes.
Reduce the heat to low and stir in the cheese, milk, salt, and pepper until the cheese completely melts.
Remove the soup from the heat and stir in the sour cream.
Serve individual bowls with additional cheese, green onions, and/or bacon, if desired.
Notes
Try experimenting with different cheeses - Pepper Jack, Swiss, or even Velveeta are all great choices!
You can also use ground turkey for this recipe. Or try this soup with stew meat!
Want a spicier version? Add your favorite peppers (jalapenos, serranos, etc ... ) along with the onions, carrots, and celery!
Sometimes I like to add a squirt of my favorite BBQ sauce on top then mix it in for a BBQ cheeseburger flavor!
Refrigerate any leftovers! Cool the soup completely before transferring it to airtight refrigerator-safe containers for up to 5 days.
Recommended Products
As an Amazon Associate and member of other affiliate programs, I earn from qualifying purchases.
Nutrition Information:
Yield:

8
Serving Size:

1
Amount Per Serving:
Calories:

640
Total Fat:

40g
Saturated Fat:

19g
Trans Fat:

1g
Unsaturated Fat:

17g
Cholesterol:

139mg
Sodium:

1377mg
Carbohydrates:

30g
Fiber:

3g
Sugar:

6g
Protein:

39g
Please note that the nutritional information listed on this page is an estimation based on the products I used. Ingredients and nutritional information can vary significantly between brands. Always be sure to read labels. Please verify that a recipe fits your needs before using it. Nutrition info may contain errors, so please verify it independently. Likewise, recipes may contain errors, so please use your common sense when following them.
Originally published on November 14, 2013. Updated on July 6, 2022.