With only three ingredients and no baking, these easy-to-make Oreo Truffles are the perfect family-friendly dessert snack! Change the Oreo flavors and decorate the truffles to suit any occasion or holiday!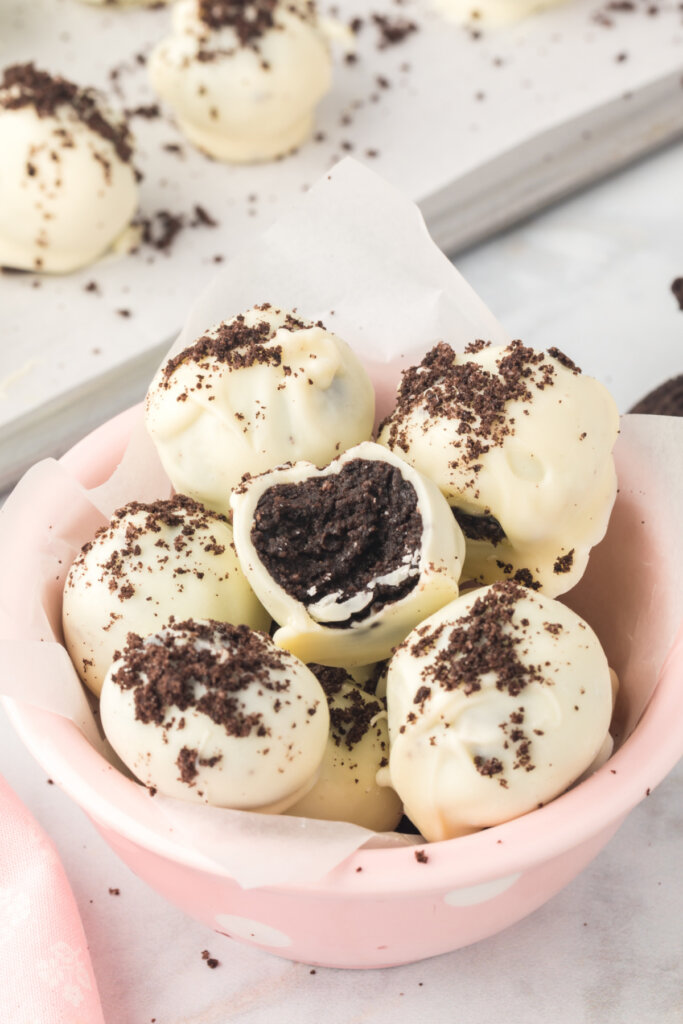 Oreo Balls
Those of you who follow me on social media may have seen me mention that my oldest son is graduating from high school this week. As a mom, I have had a whirlwind of emotions – from pride all the way to fear. I am amazed at how fast almost 18 years have gone by.
One way I cope with stress and/or change is by baking or creating yummy things to eat. It's my zone, my happy place. Although the idea of Oreo Truffles is not new, I couldn't resist writing about it.
I love that Oreo Truffles are no-bake (hello, no hot kitchen!!) and, truthfully, kind of cute!! A sprinkle of some cookie crumbs on top makes it perfect.
When I first made these, I used one of Oreos's fun limited-time flavors (Fruit Punch) as something special, but they're no longer available. Now I just use normal Oreos, or the holiday ones if the season is right. All that to say, use whatever flavor you like! Mint and lemon are some of my favorites!
I hope you enjoy my Oreo Balls – they're great for so many occasions, or just because you wanted a sweet treat!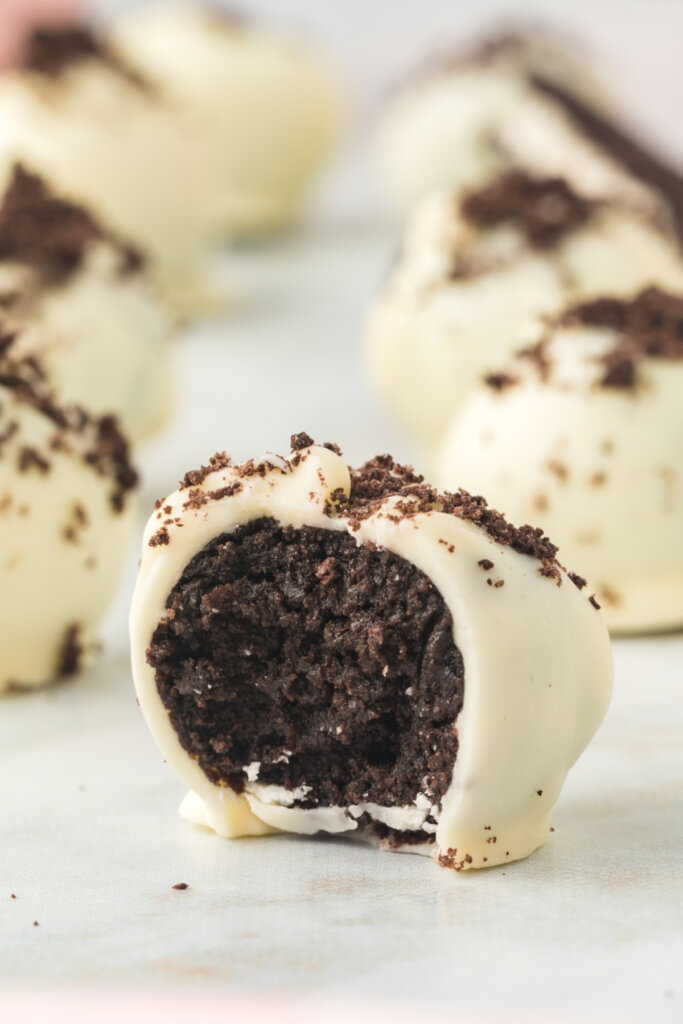 Oreo Truffles Recipe: Ingredients & Equipment
For this Oreo Truffles recipe, you'll need …
Ingredients
Oreo cookies – a whole package of any flavor you like, or just the normal chocolate ones! (This recipe should even work with gluten-free brands, by the way.) These, of course, form the inside of your truffles, but you'll use crumbled Oreo cookies to sprinkle on the outside, too.
cream cheese – softened. Since the cream cheese holds them together, you'll use this to form the round little truffle shape with your Oreo crumbs. I recommend using full-fat regular cream cheese since the light versions tend to be too thin for this recipe.
candy melts – these form the outer coating of your truffles. Go ahead and use any color you have or can find, or use whatever goes with the occasion you might be making these for! As for brands, I tend to use CandiQuik personally.
Equipment
baking sheet and waxed paper – to hold all your little Oreo truffles.
food processor – for chopping your Oreo cookies into fine bits.
bowl – after microwaving your candy melts, you'll want to put your melted candy in a bowl so you can dip your truffles in it.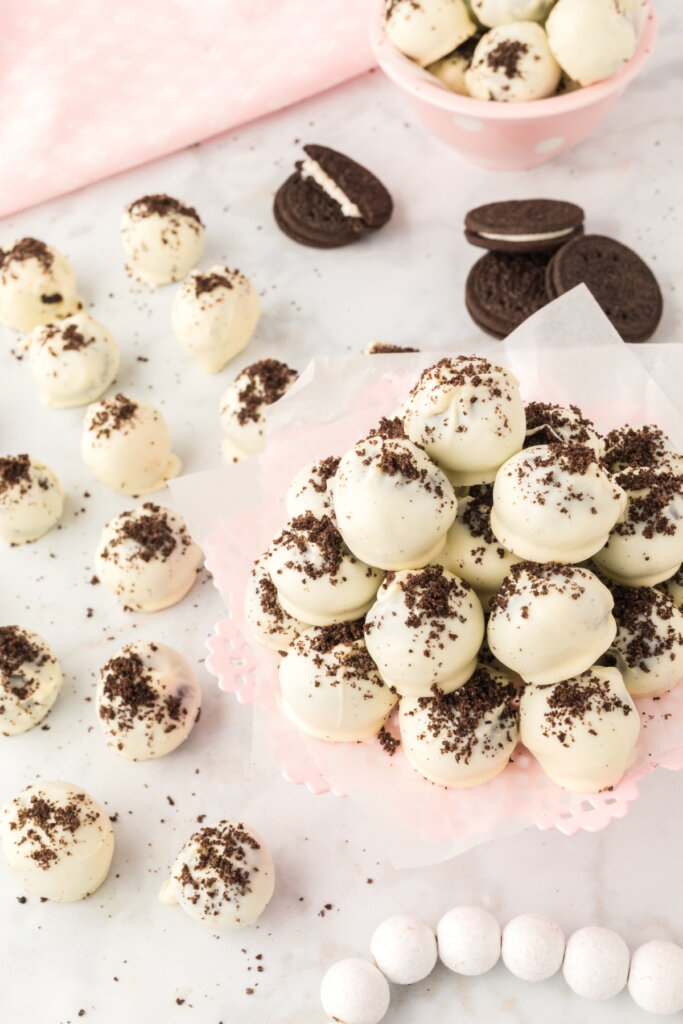 Oreo Balls Recipe: FAQs
How should I store my Oreo Truffles?
Use an airtight container and throw 'em in the fridge. They have cream cheese, so you don't want them to sit out for too long. In fact, even at a party or get-together, don't leave them out for longer than 2-3 hours.
Can you freeze Oreo balls?
Yes! Again, use an airtight container. They'll be fine for about 3 months. When you're ready to serve them, just let them thaw in the fridge.
How many truffles does this recipe make?
About 48 little truffles, which is usually enough for a few people!! You might want to make two batches if you're having a party, though!
How long does it take to make Oreo Truffles?
About 30 minutes. You'll need 10 for prep and 20 to let the truffles become firm. Super quick, and no cooking required!!
Is there an efficient way to crush the Oreos without a food processor?
Put them in a bag and use a rolling pin … that should do the trick!!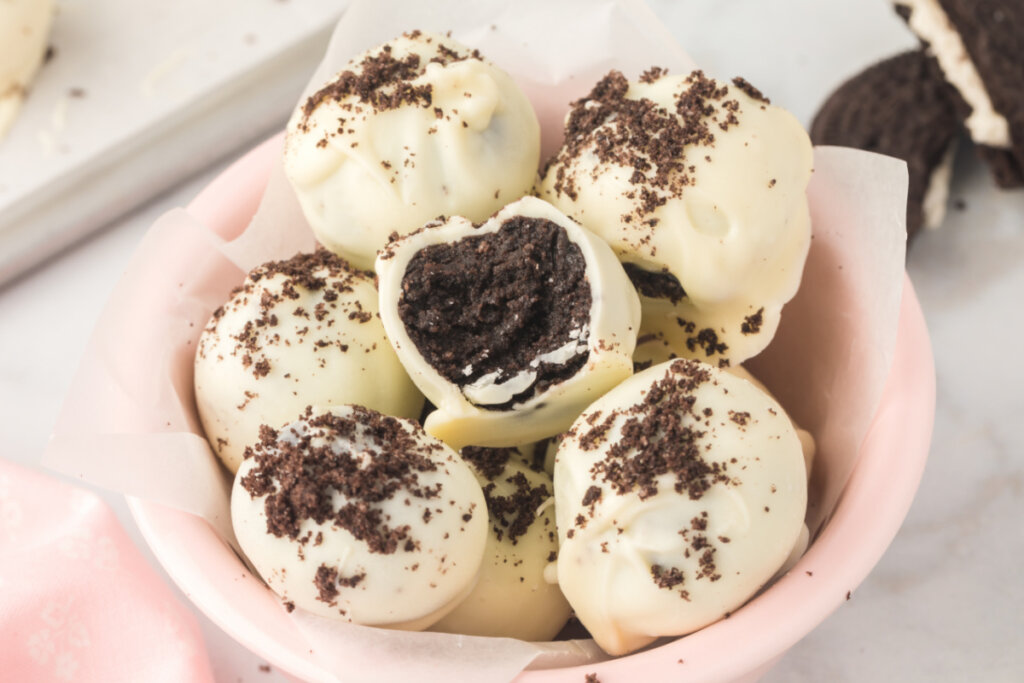 Other recipes you may enjoy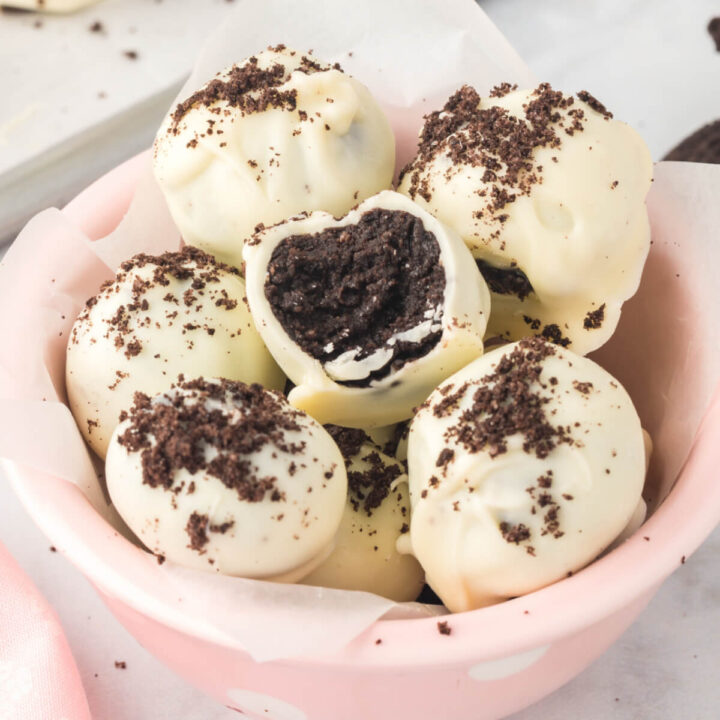 Oreo Truffles
With only three ingredients and no baking, these easy-to-make Oreo Truffles are the perfect family-friendly dessert snack! Change the Oreo flavors and decorate the truffles to suit any occasion or holiday!
Ingredients
1 package (16 oz. OR about 45 cookies) Oreos cookies (any flavor)
1 package (8 oz.) cream cheese, softened
1 package (16 oz.) CandiQuik OR any color of candy melts
Instructions
Line a baking sheet with waxed paper and set aside.
Place the Oreos in the bowl of a food processor and blend until the cookies resemble fine crumbs. Measure out 1/4 cup cookie crumbs. Set them aside.
Combine the remaining cookie crumbs with the cream cheese until thoroughly combined. Using a rounded teaspoon, shape the mixture into 1-inch balls. Place on prepared baking sheets. Repeat until all of the cookie/cream cheese mixture has been used.
In a microwave, melt the CandiQuik or candy melts according to package directions. Dip each ball into the melted candy coating, allowing excess to drip off. Replace the covered balls back onto the cookie sheet. Immediately sprinkle a bit of the reserved cookie crumbs over the top of the truffle before the candy coating hardens. Repeat with remaining balls, candy coating, and reserved cookie crumbs. Allow the truffles to stand until firm.
Store truffles in a tightly closed container in the refrigerator.
Notes
Use any flavor of Oreo cookies you like!
One 16-oz. pkg has 45 cookies - so if you buy a bigger package just count out what you need.
You can also decorate the truffles using different colors of candy melts or by adding seasonal sprinkles!
Recommended Products
As an Amazon Associate and member of other affiliate programs, I earn from qualifying purchases.
Nutrition Information:
Yield:

48
Serving Size:

1 truffle
Amount Per Serving:
Calories:

5
Total Fat:

0g
Saturated Fat:

0g
Trans Fat:

0g
Unsaturated Fat:

0g
Cholesterol:

1mg
Sodium:

6mg
Carbohydrates:

0g
Fiber:

0g
Sugar:

0g
Protein:

0g
Please note that the nutritional information listed on this page is an estimation based on the products I used. Ingredients and nutritional information can vary greatly between brands. Always be sure to read labels.