These are the BEST Homemade Buttermilk Biscuits ever! We have these almost every Sunday morning because they're so easy to make and utterly delicious. Flaky, buttery goodness – yum!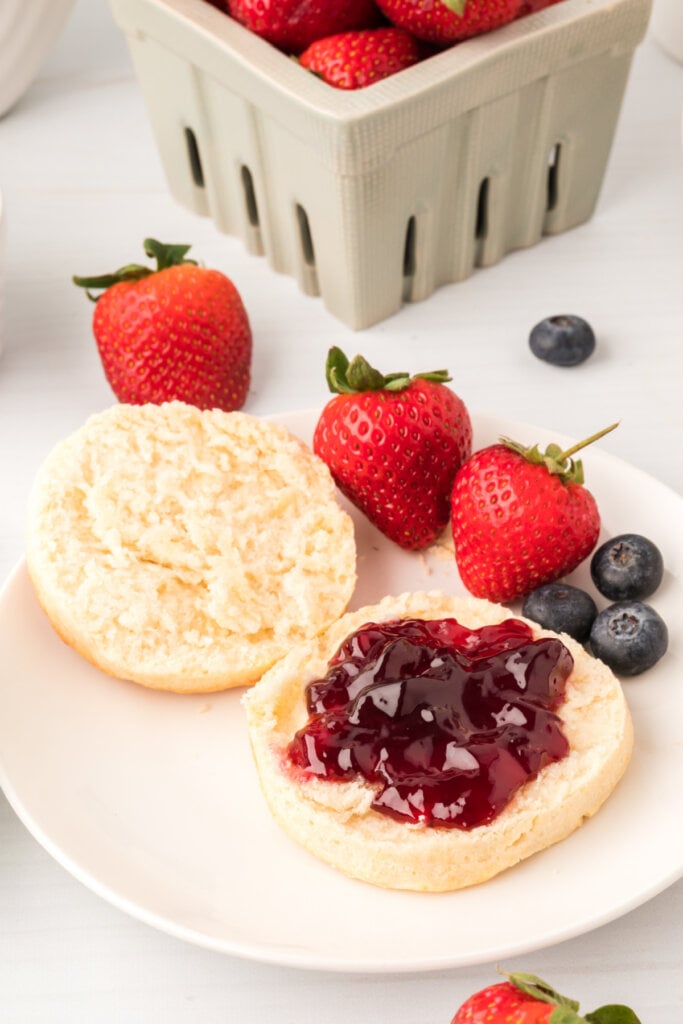 Homemade Biscuits
Almost every Sunday morning, like clockwork, "the BEST Homemade Buttermilk Biscuits," aka these biscuits, make an appearance on our breakfast table. It may have something to do with how easy they are to throw together – and how fabulous they are with my sausage gravy. 😉
This is one of those recipes I've had forever. I use it for so many things! Although making from-scratch biscuits do require a little bit of work, they're not hard to make!
By the way, I always make the last bit of the biscuit dough into a heart, and my kiddos always fight about who is going to get it. I usually give it to Brian or one of the younger kiddos … and sometimes, I just use my heart cookie cutter and make all of the biscuits hearts so no one feels left out!
Y'all know I'm not a breakfast person, but these biscuits are to die for!! There's nothing quite like that flaky buttery goodness. I hope you enjoy this recipe!!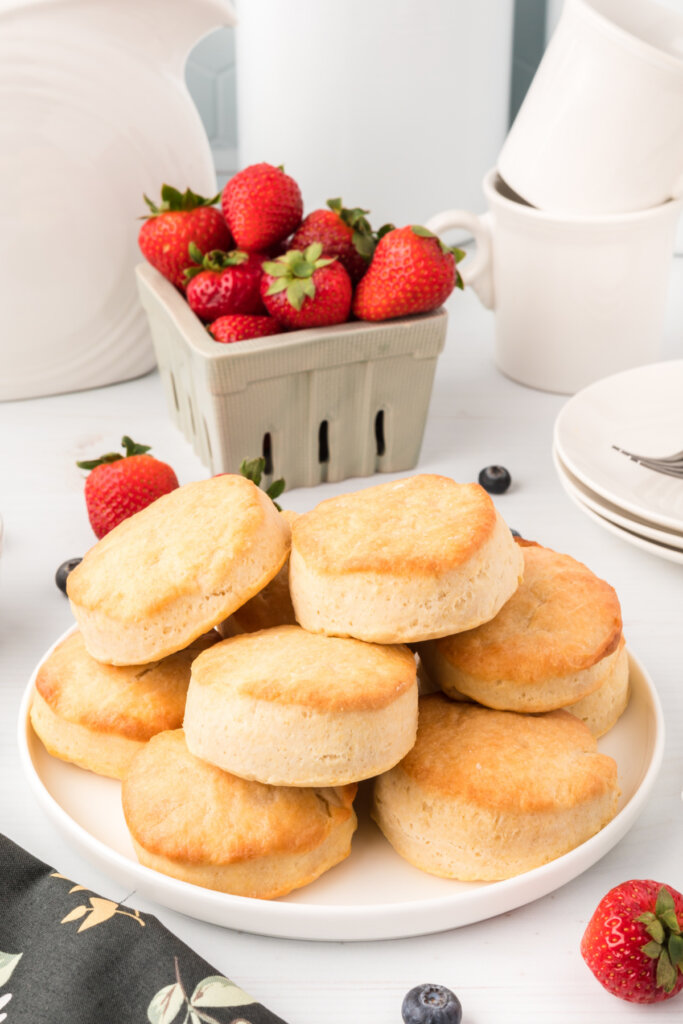 Recipe for Buttermilk Biscuits: Ingredients & Equipment
To make this recipe for Homemade Biscuits, you'll need …
Ingredients
flour – use all-purpose. In any baked good, flour provides the base texture! That's why there are so many different kinds.
sugar and salt – these not only give your biscuits flavor but alter the flavors of everything else in the biscuits (in a good way)!!
shortening – shortening is a fat, which many baked goods need. In most similar recipes, you use butter or margarine, but a good crumbly biscuit texture needs shortening for sure! Make sure it's cold, as cold shortening will make for fluffy, flaky biscuits.
buttermilk – another ingredient that gives some flavor to the biscuits, but also adds to the texture.
baking powder and baking soda – these help your biscuits to rise a bit without yeast! (Biscuits are what's called a "quick bread" so they don't need yeast usually.)
butter – optional, but a great spread on a finished buttermilk biscuit!!
Equipment
bowl – medium-sized, to mix your dough.
baking sheet – ungreased, to bake your biscuits, of course!!
lightly floured surface and biscuit cutter – to form your dough into a lovely biscuit shape.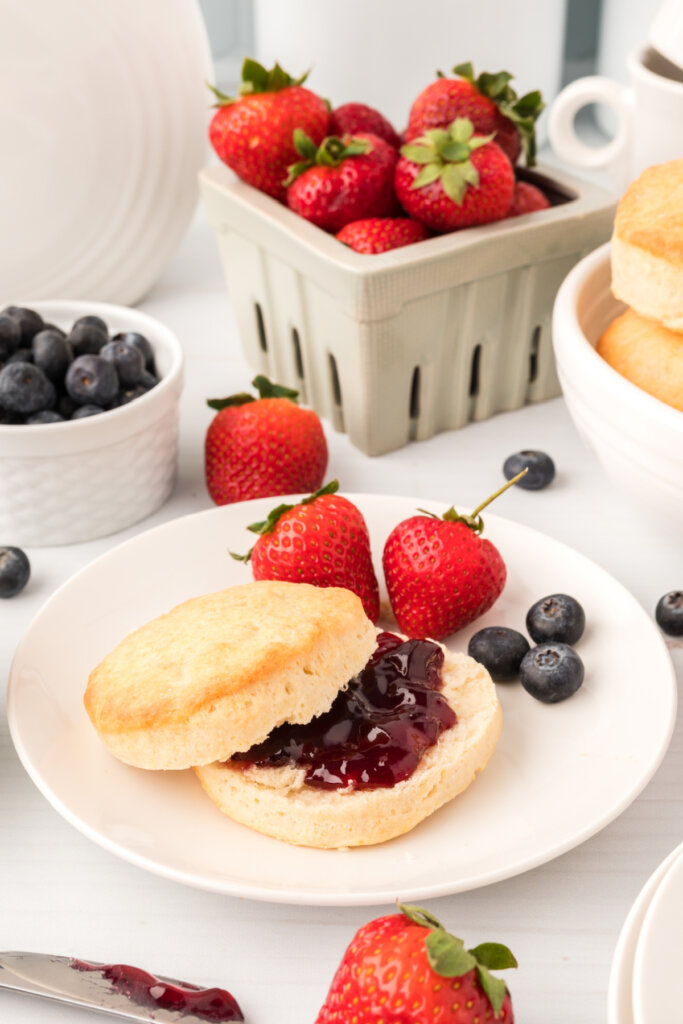 Buttermilk Biscuits Recipe: FAQs
How many biscuits does this recipe produce?
About a dozen! It could be enough for a few breakfasts depending on how many people you're feeding!!
How long does it take to make buttermilk biscuits?
If you follow this recipe, it should only take you a little over a half-hour. You'll want 20 minutes for prepping the ingredients and 15 to bake the biscuits.
Can you use a natural substitute instead of sugar?
Absolutely!! I know a lot of people use a bit of honey in their biscuits instead, and brush honey on top when they're done as well.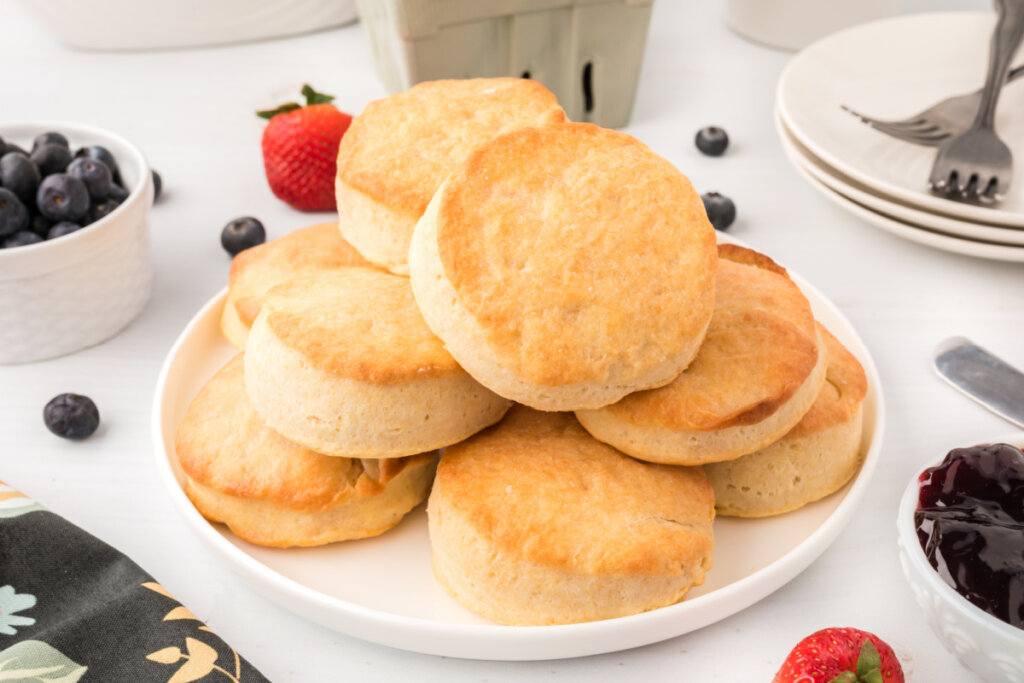 Other recipes you may enjoy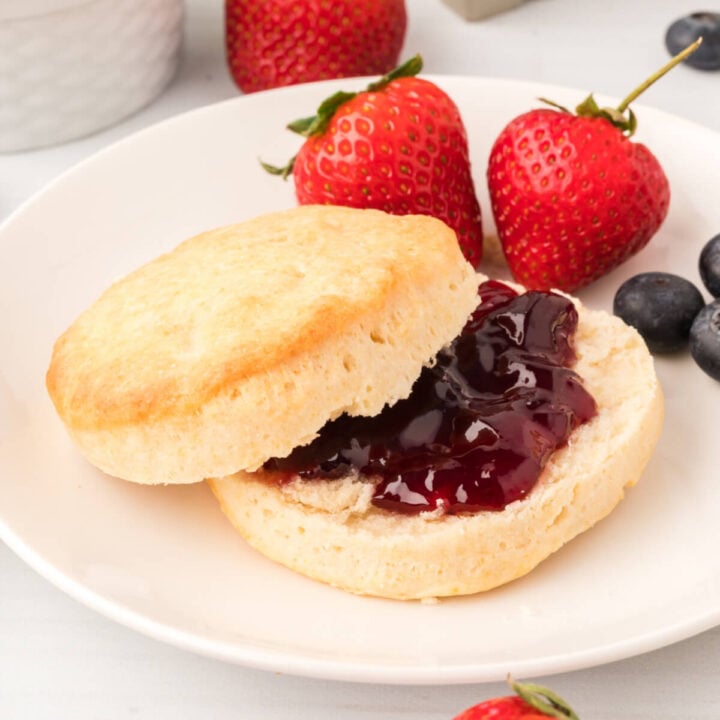 BEST Homemade Buttermilk Biscuits
These are the BEST Homemade Buttermilk Biscuits ever! We have these almost every Sunday morning because they're so easy to make and utterly delicious. Flaky, buttery goodness - yum!
Ingredients
1/2 cup shortening
2 cups all-purpose flour
1 tablespoon sugar
2 teaspoons baking powder
1/4 teaspoon baking soda
1 teaspoon salt
3/4 cup buttermilk
4 tablespoons butter, melted (optional)
Instructions
Preheat oven to 450°F.
In a medium bowl, cut the shortening into the flour, sugar, baking powder, baking soda, and salt with a pastry blender or by crisscrossing 2 knives, until the mixture looks like fine crumbs. Stir in the buttermilk until the dough comes together and leaves the side of the bowl. (The dough will be soft and sticky).
Turn dough onto a lightly floured surface. Knead lightly 10 times. Roll or pat in 1/2-in. thickness. Cut with a floured 2-1/2-in. biscuit cutter. Place biscuits on an ungreased baking sheet about 1-inch apart for crusty sides - or touching for soft sides.
Bake 10-12 minutes or until golden brown. Immediately brush with melted butter and remove from cookie sheet. Serve warm.
Notes
For the best results and the tallest rise on your biscuits, be sure to press your biscuit cutter straight down and then back up without twisting.
Be sure to not overwork the dough - it tends to make the biscuits heavy.
Nutrition Information:
Yield:

12
Serving Size:

1 biscuit
Amount Per Serving:
Calories:

197
Total Fat:

13g
Saturated Fat:

6g
Trans Fat:

0g
Unsaturated Fat:

6g
Cholesterol:

16mg
Sodium:

344mg
Carbohydrates:

18g
Fiber:

1g
Sugar:

2g
Protein:

3g
Please note that the nutritional information listed on this page is an estimation based on the products I used. Ingredients and nutritional information can vary significantly between brands. Always be sure to read labels. Please verify that a recipe fits your needs before using it. Nutrition info may contain errors, so please verify it independently. Likewise, recipes may contain errors, so please use your common sense when following them.
Originally published on February 10, 2014. Updated on June 6, 2022.