Savory, hearty, and oh-so-filling, these BBQ Bacon Cheeseburger Buns are an easy-to-make and delicious meal idea that your family will love.
Cheeseburger Buns
From time to time, a really good recipe idea hits me. A while ago, when we had my BBQ Bacon Cheeseburger Flat Bread Melts, my family liked them so much that I knew right away that I wanted to make another variation of it.
I liked the idea of making them into a Sloppy Joe, but I also wanted something a little different.
I decided to make those melts into a meat-filled bun and another home run! The family loved these BBQ Bacon Cheeseburger Buns!! My husband even took leftovers to work and had a guy from work ask for the recipe! Talk about making me smile when my husband told me.
I will say, by the way, that you'll need to work with yeast to make this recipe. But don't be intimidated by the dough. It's super easy! You don't need to bring out your big mixer for this – a handheld mixer with a dough attachment or a wooden spoon will do it.
I especially love to serve these tasty buns on game day! They're so easy to make ahead and reheat! Which also makes them great for those hectic nights when you don't know what to make for dinner!
Aren't you drooling just thinking of all these flavors?! They'll be a real hit with your family! I hope you enjoy these meat-filled BBQ Bacon Cheeseburger Buns!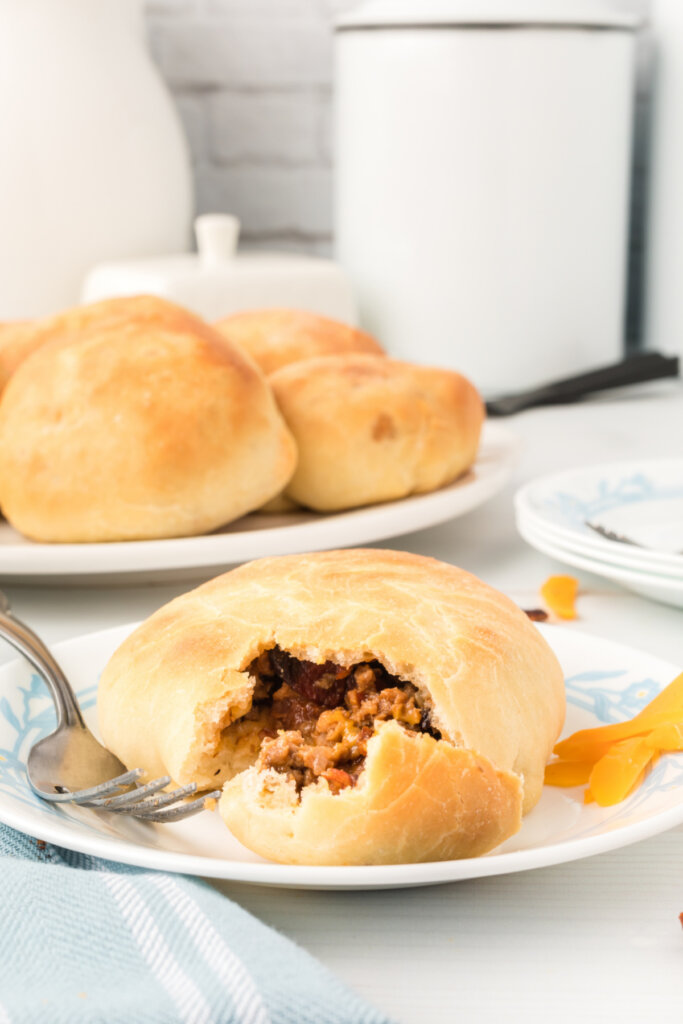 BBQ Bacon Cheeseburger Buns: Ingredients & Equipment
For this BBQ Bacon Cheeseburger Buns recipe, you'll need …
Ingredients
For the dough:
bread flour – you'll want to use this over all-purpose flour if possible since it gives your bread a much better texture!
active dry yeast, warm water – these will help your buns rise.
sugar, egg, salt – standard bread-making (and baked goods) ingredients!
butter – melted. You'll want to brush this on the buns before baking them!
For the filling:
ground beef – the base of your filling. You'll need about 1 pound.
onion – chopped. Provides flavor to these buns. You cook them with the beef. It seems inconsequential, but I can't imagine the buns without a bit of onion!
bacon – cooked and crumbled. Who doesn't want crunchy, salty, savory bacon in a meal like this?!
BBQ sauce – to taste. Use your favorite brand! You could also use a flavored BBQ sauce, like smoked BBQ, cherry BBQ, etc.
cheddar cheese – it's not a cheeseburger without some cheese, right?!
Equipment
large bowl and electric mixer – to make your dough. As I said, don't feel like you have to get a big mixer out for this. A hand mixer is fine!
floured surface – for kneading your dough.
skillet – for cooking your meat and making your filling.
greased baking sheet – you'll cook your tasty bacon and cheeseburger rolls on this!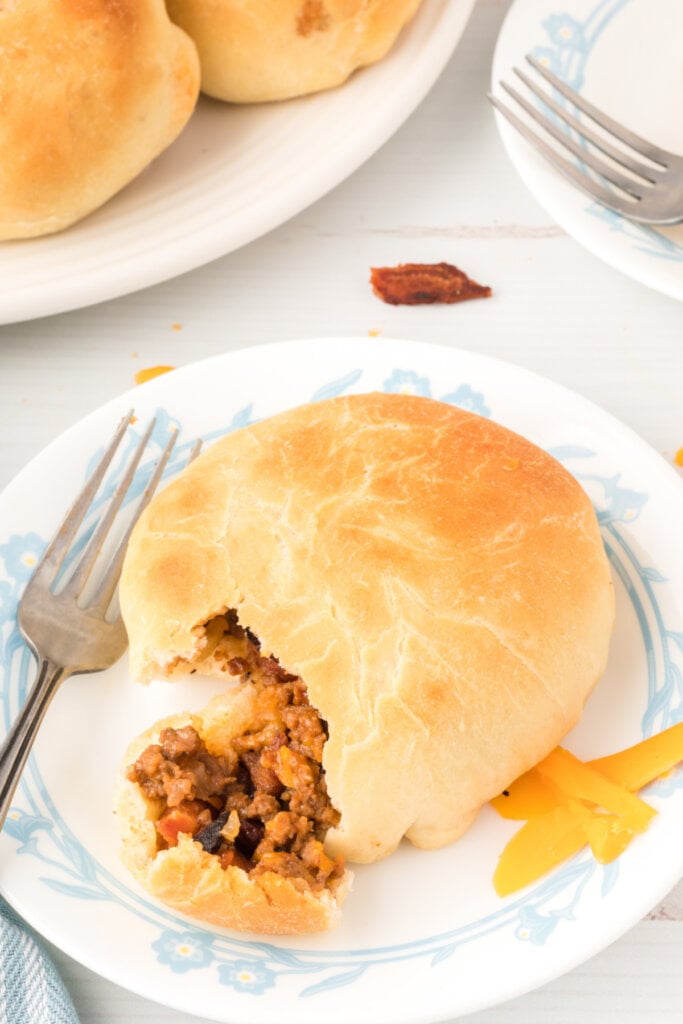 BBQ Bacon Cheeseburger Buns: FAQs
How many servings does this recipe make?
This will make 8 buns. Enough for everyone, most likely!
How long does it take to make BBQ Bacon Cheeseburger Buns?
Only 40 minutes! 20 minutes for prep and 20 minutes to cook the ingredients. Super quick!
Can you make BBQ Bacon Cheeseburger Buns ahead of time?
You absolutely can! You can bake it up and store it in the fridge for about 5 days or in the freezer for 3 months. Use an airtight container in both cases! And when you're ready to serve your buns, you can heat them in the microwave for a minute or so. (If they're frozen, just make sure they're thawed first.)
Can you use store-bought dough to make these Bacon and Cheese Buns?
I don't see why not!! Especially if working with yeast is a hassle (and it is for even the most experienced bakers sometimes).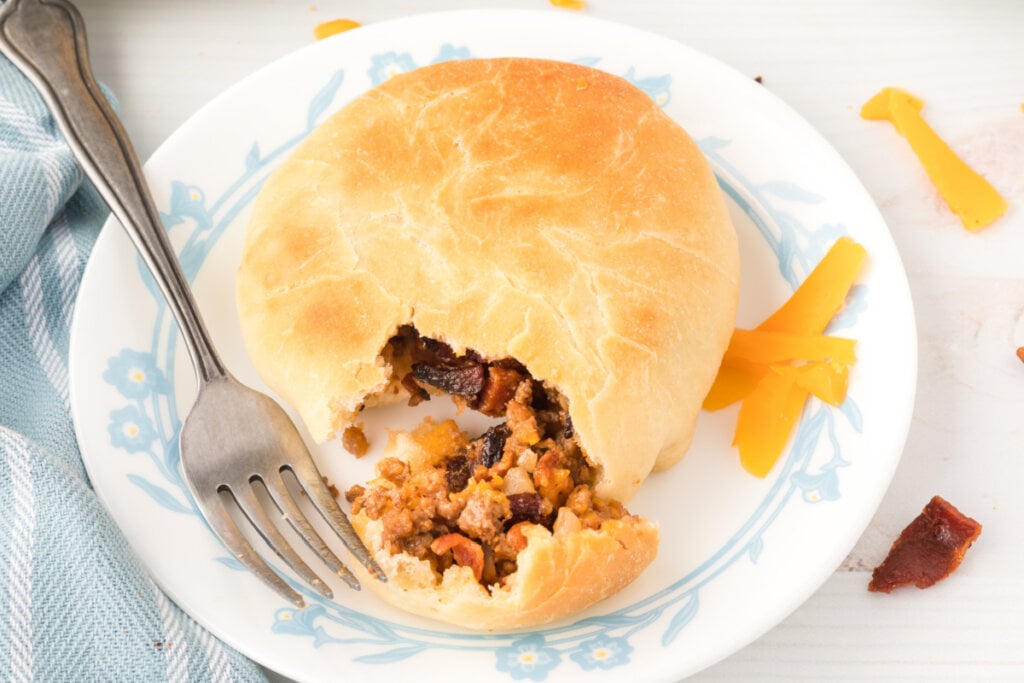 Other recipes you may enjoy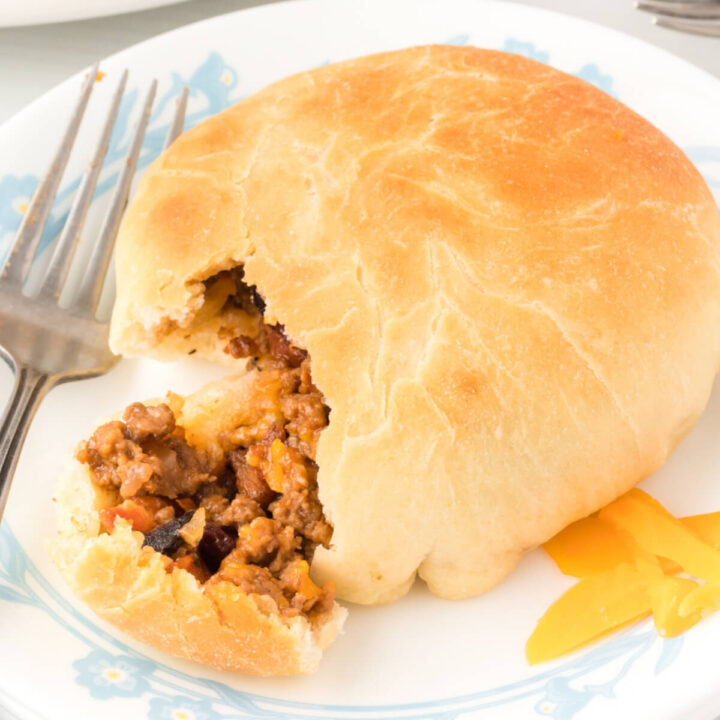 BBQ Bacon Cheeseburger Buns
Savory, hearty, and oh-so-filling, these BBQ Bacon Cheeseburger Buns are an easy-to-make and delicious meal idea that your family will love.
Ingredients
For the Dough
1/2 cup plus 1 tablespoon warm water (110-115° F.)
1-1/2 teaspoons active dry yeast
3 tablespoons granulated sugar
1 large egg
1/2 teaspoon salt
2 to 2-1/4 cups bread flour
For the Filling
1 pound lean ground beef
1 small onion, chopped
1 pound bacon, cooked and crumbled
1-1/2 cup Cheddar cheese, shredded
BBQ sauce, to taste
2 tablespoons butter, melted - to brush on top of the buns
Instructions
In a large bowl, dissolve yeast in water.
Add sugar, egg, salt, and 1 cup of flour; beat on low speed with an electric mixer for about 3 minutes. With a wooden spoon, add enough remaining flour to form a soft dough. Turn onto a floured surface and knead until smooth and elastic, about 6-8 minutes. Place in a greased bowl and turn once to coat the top. Cover and let rise in a warm place until doubled, about 1 hour.
Meanwhile, in a skillet, brown and crumble beef with the onion over medium-high heat until the beef is no longer pink. Drain. Add bacon and cheese. Add BBQ Sauce to taste. (We like ours the consistency of a less-sloppy Sloppy Joe). Mix well. Remove from the heat and set aside to cool.
Punch down dough and divide into 8 pieces. Roll each piece into a 6 in. circle. Top each circle with about one-eighth of the filling. Fold dough over to meet in the center and pinch edges to seal.
Place seam-side down on a greased baking sheet. Cover and let rise in a warm place until doubled, about 30 minutes. Brush with butter. Bake at 350°F for 20 minutes or until golden brown.
Serve warm.
Nutrition Information:
Yield:

8
Serving Size:

1 bun
Amount Per Serving:
Calories:

839
Total Fat:

41g
Saturated Fat:

17g
Trans Fat:

1g
Unsaturated Fat:

20g
Cholesterol:

165mg
Sodium:

1426mg
Carbohydrates:

62g
Fiber:

2g
Sugar:

7g
Protein:

52g
Please note that the nutritional information listed on this page is an estimation based on the products I used. Ingredients and nutritional information can vary significantly between brands. Always be sure to read labels. Please verify that a recipe fits your needs before using it. Nutrition info may contain errors, so please verify it independently. Likewise, recipes may contain errors, so please use your common sense when following them.
Originally published on November 8, 2012. Updated on August 15, 2022.