This post may contain affiliate links. As an amazon associate, I earn from qualifying purchases. See my full Disclosure Policy for details.
Springtime Magic Cookie Bars are a soft baked graham cracker cookie bar topped with coconut, pecans and Springtime morsels! #cookie #bars #coconut #chocolate
What a week, y'all!! I am sooo glad it's finally the weekend!! I seem to be saying that a lot more lately!! I have had some major time constraints and deadlines this past week, so I'm glad to have that behind me! *big sigh of relief*
We had some neighbors from down the street invite us to a BBQ this weekend. We are looking forward to getting to know some of them. Brian and I have lived here in Arizona for just over a year now, so maybe it's time we got to know some of the people who live on our street?! 😀
Of course, with every party comes the trying to figure out what to take?! Maybe your have a designated "party dish" … you know, your default, the dish you always take to get-together's. Part of my problem is, I wanna bring the whole party ….. the main dish, some sides, drinks and of course, dessert! I have tons of ideas and recipes I want to try, and as someone who truly loves cooking/baking/eating, how do you pick just one thing?! Truth is, I can't!! I hope my neighbors don't think I'm weird when we come rolling down the street with half our kitchen. Well, at least not weird in a bad way! 🙂
I saw the Nestle Springtime Semi-Sweet Chocolate and Pink & Yellow Colored Morsels at Walmart the other day. I thought I could make Magic Cookie Bars with them and take them to the potluck …. along with burger toppings, cupcakes and my Creamy Pea Salad! I may think of some other things I may want to take ….. we'll see!
If you have never had a Magic Bar, you're in for a treat! Not only are they easy to make, but with a soft graham cracker crust, coconut, pecans and chocolate – these bars are super delicious too!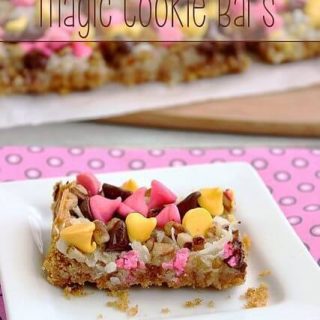 Springtime Magic Cookie Bars
Springtime Magic Cookie Bars are a soft baked graham cracker cookie bar topped with coconut, pecans and Springtime morsels!
Ingredients
1 1/2 cups graham cracker crumbs (about 21 crackers)
1/2 cup (1 stick) butter, melted
1 can (14 oz.) sweetened condensed milk
1 cup flaked coconut
1/2 cup chopped nuts
1 bag (10 oz.) Nestle Springtime morsels
Instructions
Preheat oven to 350°F. Line a 9x13-in. baking dish with foil, extending the edges over the side of the pan. Lightly spray with cooking spray. Set aside.
In a medium bowl, combine the graham cracker crumbs and butter, mixing well. Press the crumb mixture into the bottom of the prepared pan. Evenly pour the sweetened condensed milk over the crumb layer. Next, evenly sprinkle the coconut over the top, followed by the nuts and lastly, the Springtime morsels. Using the back of a fork or your clean hands, firmly press down all over the bars.

Bake for 25-30 minutes or until the bars are lightly browned. Cool on a wire rack. After the bars have cooled, lift the bars out of the pan using the foil. Cut into bars.
Nutrition Information:
Amount Per Serving:
Calories:

142
Total Fat:

8g
Saturated Fat:

4g
Cholesterol:

13mg
Sodium:

66mg
Fiber:

1g
Sugar:

10g
Protein:

2g
If you can't find the morsel mix, you can substitute all chocolate chips, half chocolate chips with half butterscotch, you could use peanut butter chips with white chocolate chips …. or whatever kind of "chocolate" chips float your boat.
I don't know about you, but I am totally digging the yellow and pink chips!
So tell me, when you go to a potluck or BBQ, do you have a designated dish you take?! Maybe you are like me, wanting to take twelve dishes?
Other Posts You May Enjoy: