These Double Chocolate Whopper Bars could just as easily be made into cookies if you prefer. Either way, they are so delicious! They won't last long!
Double Chocolate Whopper Bars
These Double Chocolate Whoppers Bars are super yummy and easy! They are nice and chewy. After my family devoured the whole pan, I thought how nice it would have been to have a Chocolate Malted Buttercream Frosting on them, to accent and bring out the Whoppers candy in the bar. Note to self for the next time, because there definitely will be a next time! 🙂
Other recipes you may enjoy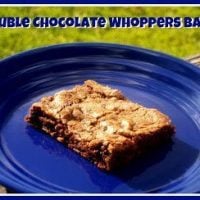 Double Chocolate Whoppers Bars
These Double Chocolate Whoppers Bars are super yummy and easy!
Ingredients
2-1/4 cups all-purpose flour
1 teaspoon baking soda
1/3 cup Hershey's cocoa powder
1 cup (2 sticks) salted butter, softened
3/4 cup granulated sugar
3/4 cup packed light brown sugar
1 teaspoon vanilla extract
2 eggs
1-1/2 cups Hershey's Special Dark Chocolate Chips
1-1/2 cup coarsely chopped Whoppers candy
Instructions
Preheat oven to 375 degrees F.
Grease a 15-1/2x10-1/2x1-inch jelly roll pan. Set aside.
Stir together flour, baking soda and cocoa powder.
In a separate bowl, beat butter, both sugars and vanilla extract until creamy. Add both eggs and beat well. Gradually add the flour mixture, beating well. Stir in chocolate chips and Whoppers candy pieces.
Pour batter into prepared pan.
Bake for 20 minutes or until lightly browned. Cool completely. Cut into bars.

*** To make cookies (about 5 dozen) -
Drop by rounded teaspoonfuls onto an ungreased baking sheet.
Bake 8-10 minutes in a 375 degree F. oven. Cool slightly on the baking sheet, then remove to a cooling rack to cool completely. Of course, if you just can't wait or like 'em straight out of the oven, no one will judge you! 😉
Notes
Just a note - these didn't have an overwhelming Whoppers flavor ... just a hint of it. They are yummy, just don't expect a strong Whoppers taste! I'm still thinking that a Chocolate Malted Buttercream Frosting would be fantastic, too!
Nutrition Information:
Amount Per Serving:
Calories:

1714
Total Fat:

97g
Saturated Fat:

58g
Cholesterol:

204mg
Sodium:

745mg
Fiber:

15g
Sugar:

129g
Protein:

20g
Originally published on June 5, 2012. Updated on April 21, 2021.