Girl Scout Cookie "season" is upon us. You may not think of it as a season, but I do … and I look forward to buying my fair share of boxes every year. It seems this year, I may miss out on all those yummy boxes, unless I can find a table set up in front of my local Wally World. I love the Samoas, Thin Mints and the Tagalongs!
I wanted a "Samoa" style dessert awhile back and decided to venture into making my own. I didn't necessarily want cookies, because truthfully, I don't like making cookies. I knew I wanted some type of bar or brownie. I used my homemade caramel sauce for this recipe, but feel free to use store-bought if that fits your time and lifestyle better! I liked the idea of adding pecans too … but they are totally optional.
I hope you enjoy these as much as my family did …. they were so good and the perfect little treat for when it's not Girl Scout Cookie "season". 😉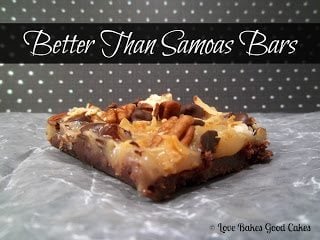 Better Than Samoas Bars
Yield: 24-32 bars
1½ cups all-purpose flour
⅔ cup sugar
½ cup cocoa powder
1 cup (2 sticks) butter, softened
½ cup toasted coconut*
½ cup toasted pecans (optional)*
1 cup chocolate chips
Preheat oven to 350°F. Line a 13×9-in. baking pan with aluminum foil, allowing the edges to hang over. Spray the foil with cooking spray. Set aside.
In a medium bowl, combine the first three ingredients. Cut in butter. Press into the prepared pan and bake for 20 minutes. Remove from the oven and top with caramel. Spread evenly over the crust. Sprinkle the coconut, pecans and chocolate chips over the top. Return the pan to the oven for an additional 7-8 minutes. Allow to cool completely before removing from the pan.
Lift foil out of the pan. Cut into bars. Store covered.
**To toast coconut and pecans: Preheat oven to 300°F. Place coconut or pecans on a baking sheet. Cook, stirring every few minutes, until they are toasted. Be careful and keep an eye on them so they don't burn!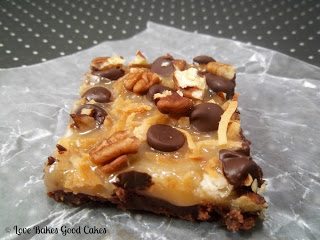 I hope you enjoy! Shared at these
fun parties!
Featured at My Turn (For Us), Songbirds and Buttons and Countrified Hicks
Don't forget to share and comment ♥


Copyright © Love Bakes Good Cakes 2012 All Rights Reserved