Most of us remember eating "Tater Tot Casserole" growing up. It seems that everybody's mom had their own version. It usually consisted of some sort of cream of whatever soup, ground beef, a veggie – usually corn or green beans and tater tots. While that version is great, I personally think this Pizza Tot Casserole is better! My family just loves it …. and yours will too! It's super easy to make and is a nice variation of the classic! Enjoy!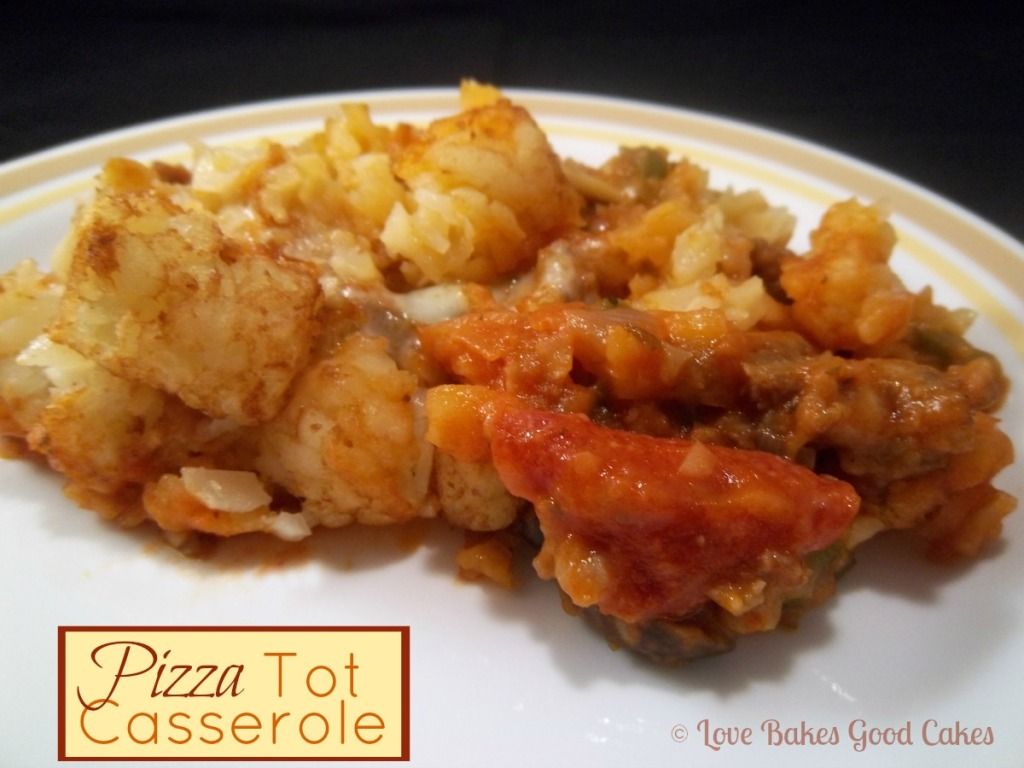 Pizza Tot Casserole
Yield: 6-8 servings
1 lb. Italian sausage
3 oz. pepperoni slices, halved
1 small green pepper, seeded and chopped
1 small onion, chopped
4 oz. fresh mushrooms, chopped
1 jar (14-15 oz.) pizza sauce
2 cups (8 oz.) Mozzarella cheese, shredded
1 bag (32 oz.) frozen tater tots
Preheat oven to 400°F. Spray a 9 x 13 – inch baking dish with cooking spray and set aside. In a skillet, brown and crumble sausage with the green pepper, onions and mushrooms over medium-high heat. Cook until the sausage is no longer pink and the vegetables are tender-crisp. Drain. Return the mixture to the pan and add the pepperoni and pizza sauce. Mix well. Transfer the mixture to the prepared baking dish. Top with Mozzarella cheese. Top with tater tots. Bake uncovered for 30-35 minutes or until the potatoes are golden brown and the cheese is melted.
I hope you enjoy! Shared at these
fun parties!
Featured at The Better Baker, Sunflower Supper Club, 4 Little Fergusons, The Country Cook, Meet Penny, Life as a Lofthouse
Don't forget to share and comment ♥


Copyright © Love Bakes Good Cakes 2012 All Rights Reserved