This Hawaiian Pizza Grilled Cheese Sandwich is perfect for lunch or a quick and easy dinner idea! It's everything you love in Hawaiian Pizza stuffed into a yummy grilled cheese sandwich! #12bloggers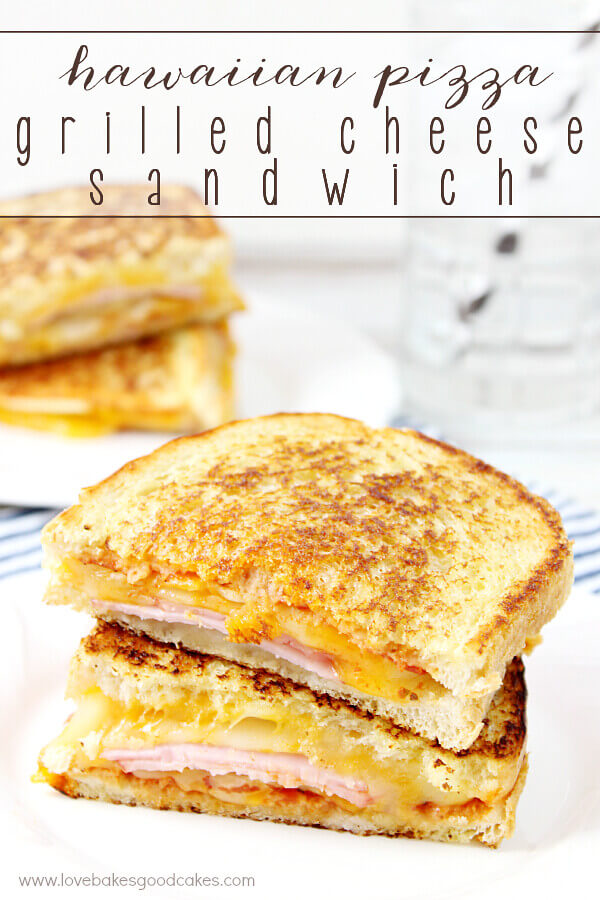 Hawaiian Pizza Grilled Cheese Sandwich
It's the twelfth of the month …. that can only mean one thing! It's #12bloggers time!! What does that mean?! Each month, twelve bloggers get together on the twelfth of the month to share a themed recipe with you that has 12 ingredients or less! This month, we're sharing grilled cheese sandwiches!
I have to admit, grilled cheese sandwiches are pretty much one of the best foodie inventions ever. I mean, what's not to like about melty cheese between buttery toasted bread?! Ahhhhh, but my bloggy friends and I arent' giving you regular ol' grilled cheese sandwiches …. we've made them all fancy! I'm sharing my Hawaiian Pizza Grilled Cheese Sandwich, but I saw a few from my friends I will be checking out as well ….. be sure to read all the way to the end of the post to see them all!
In the Love Bakes Good Cakes house, we eat our fair share of grilled cheese – I would say they rank pretty high as one of our favorite sandwiches! They are great for a quick lunch …. and we have been known to have them when I need a fuss-free dinner idea! Since we've been on a pizza kick lately, I decided to share one of my kiddos favorite pizzas in a grilled cheese sandwich! Enjoy!
I just realized that this is the first grilled cheese sandwich I've shared on the blog and I've been blogging for just over three years ….. I guess you can say I dropped the ball on that one?! What kind of food blogger doesn't have a fancy grilled cheese recipe?! Thank goodness I rectified that before I lost my street cred! 😉
If you love grilled cheese, don't forget to check out these other grilled cheese sandwiches ……
Other grilled cheese recipes
Other Posts You May Enjoy:
Bacon Lettuce Avocado Tomato Chicken Salad Wrap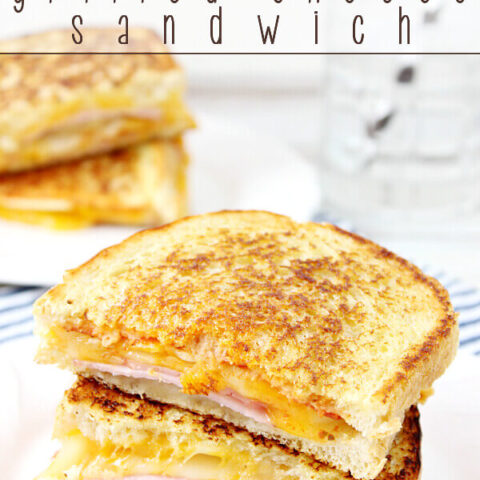 Hawaiian Pizza Grilled Cheese Sandwich
This Hawaiian Pizza Grilled Cheese Sandwich is perfect for lunch or a quick and easy dinner idea! It's everything you love in Hawaiian Pizza stuffed into a yummy grilled cheese sandwich!
Ingredients
4 slices sourdough or white bread
Butter
1/4 cup pizza sauce (more or less to taste)
4 slices Canadian bacon
4 slices pineapple rings, patted dry
4 sandwich slices Cheddar cheese
Instructions
Preheat griddle or skillet over medium heat.
Butter one side of each slice of bread. Place one slice of bread butter side down onto the griddle. Carefully spread 2 tbsp. of pizza sauce over the bread slice. Top with 2 slices of Canadian bacon, 2 slices of pineapple rings and 2 slices of cheese. Place another slice of bread over the top, butter side up. Cook for 3-4 minutes or until the bottom slice of bread is toasted. Carefully flip the sandwich over and continue to cook an additional 3-4 minutes or until that side of the sandwich is toasted. Remove sandwich to cutting board. Repeat process for other the sandwich.
Once sandwiches have cooled slightly, cut in half, if desired. Serve warm.
Nutrition Information:
Amount Per Serving:
Calories:

394
Total Fat:

12g
Saturated Fat:

6g
Cholesterol:

49mg
Sodium:

919mg
Fiber:

4g
Sugar:

22g
Protein:

22g