You'll want to try this Sloppy Joe Grilled Cheese recipe at least once for lunch or dinner! It's a filling way to combine two American classics – and any little ones in your life will gobble it all down for sure.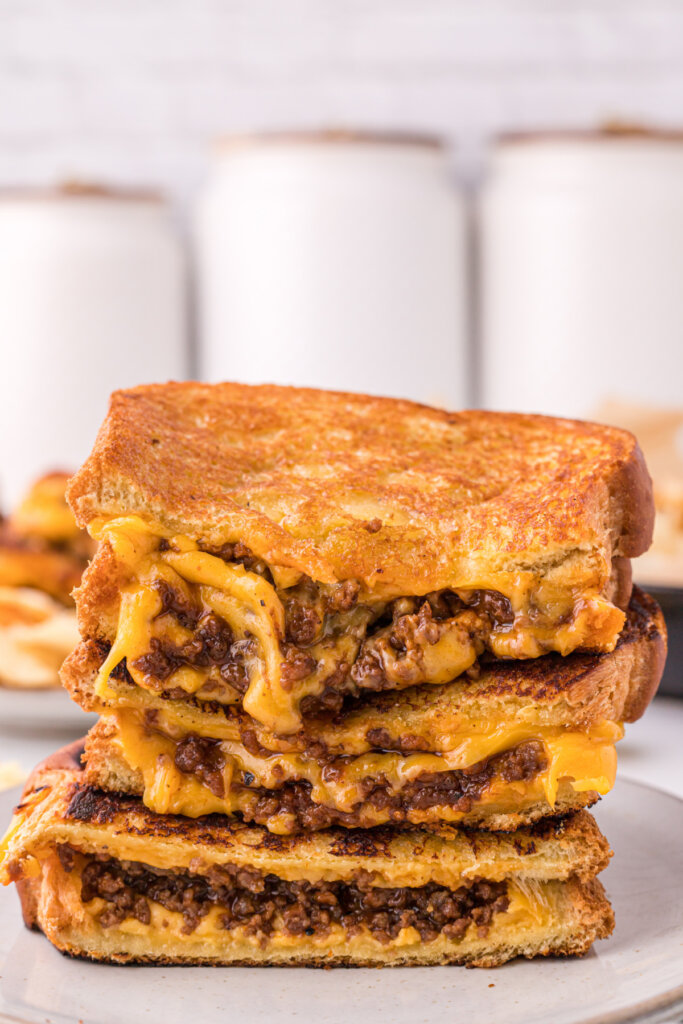 Easy Sloppy Joe Recipes
I always love combo recipes – the kind that takes two meals my family loves and turns them into something new, fresh, and delicious.
These Sloppy Joe grilled cheeses, for instance? Fun and flavorful! Everyone loves grilled cheese, and everyone loves Sloppy Joes. It's pretty much a win-win all around.
But even beyond that, y'all, there are a lot of reasons to put this recipe in your rotation. For instance …
It's a GREAT way to use up all your extra/leftover Sloppy Joe meat mix without forcing everyone in the house to eat Sloppy Joes a second time in a row. I know I always end up making just a bit too much!
As with all good recipes, it's customizable. You can go with the standard Sloppy Joe and grilled cheese I list in the recipe – or you can get creative with the bread, the cheese, etc.
It's a fun recipe that can involve the kids if you so choose! If you have older kids, you can even teach them how to make it themselves – and they can impress their friends. 😉
Have I convinced you that this Sloppy Joe grilled cheese recipe is amazing? Did I even need to convince you?!
These sandwiches are so good? I don't mean to brag, but meals like this are just to die for, y'all! I hope you enjoy it!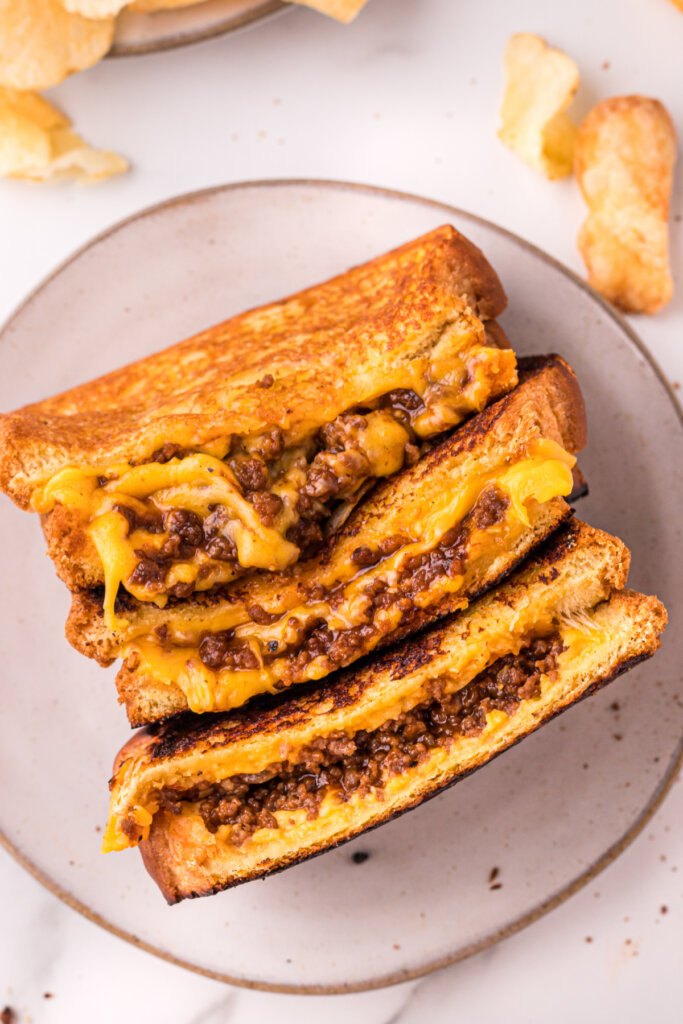 Sloppy Joe Grilled Cheese: Ingredients & Equipment
To make these Cheesy Sloppy Joes, you'll need …
Ingredients
prepared Sloppy Joe meat mixture – that link goes to another post of mine about making amazing Sloppy Joes. Follow the instructions and you'll have the perfect meat mixture for this recipe!
butter – to toast the bread.
white bread and American cheese – standard grilled cheese ingredients. Yum!
(By the way, juuuust so you know – you can totally use this recipe with any kind of savory sandwich filling, really, not just Sloppy Joes. Try BBQ chicken grilled cheese, for example! Or even taco grilled cheese!)
Equipment
griddle or skillet – your tool for making … well, any kind of grilled sandwich, really!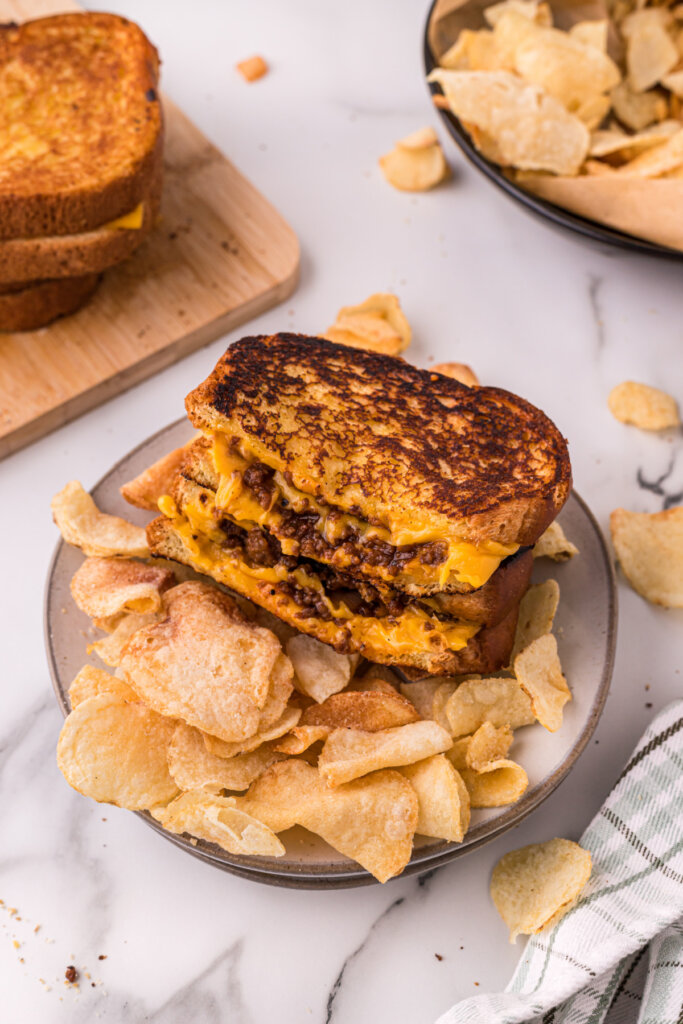 Sloppy Joe Grilled Cheese: FAQs
How many sandwiches does this recipe make?
About 6 of them, enough for most families (or small get-togethers)!
Can you use ground turkey instead of ground beef?
Absolutely! You could even use ground chicken.
How long can you keep Sloppy Joe grilled cheeses at room temperature?
No longer than 2 hours. Where possible, serve them right away and serve them hot!
Can you store Sloppy Joe grilled cheeses in the fridge?
Yes and no. You can store the Sloppy Joe meat mixture in the fridge for up to 4-5 days in an airtight container, then reheat it in the microwave. I wouldn't make the grilled cheeses until you're ready to serve them, though.
What about freezing them?
Again, yes and no! The Sloppy Joe mixture itself, yes, for up to 3 months in a sealed bag or something similar. I wouldn't try to freeze a grilled cheese, though. (Kind of a funny thought!!)
What other breads do you recommend besides white bread?
French or Italian bread is also really tasty and makes for a sturdier Sloppy Joe to boot. I've also heard of people using croissants or Texas toast bread!
Do you recommend any other cheeses?
Any you think might pair well with the Sloppy Joe meat mix! Cheddar and provolone are two that come to mind.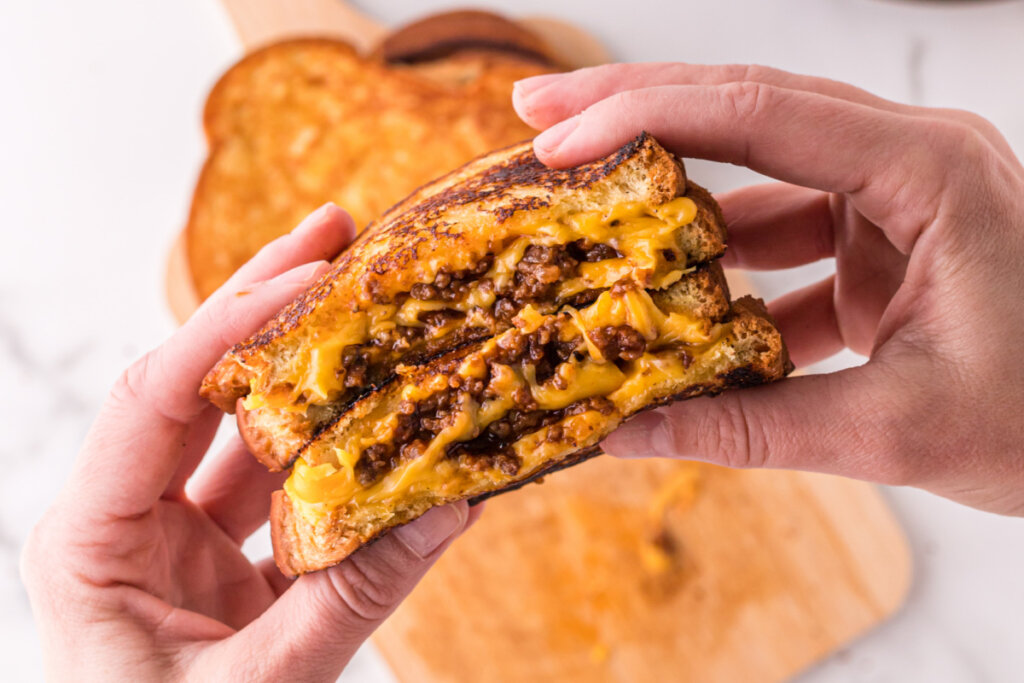 Other recipes you may enjoy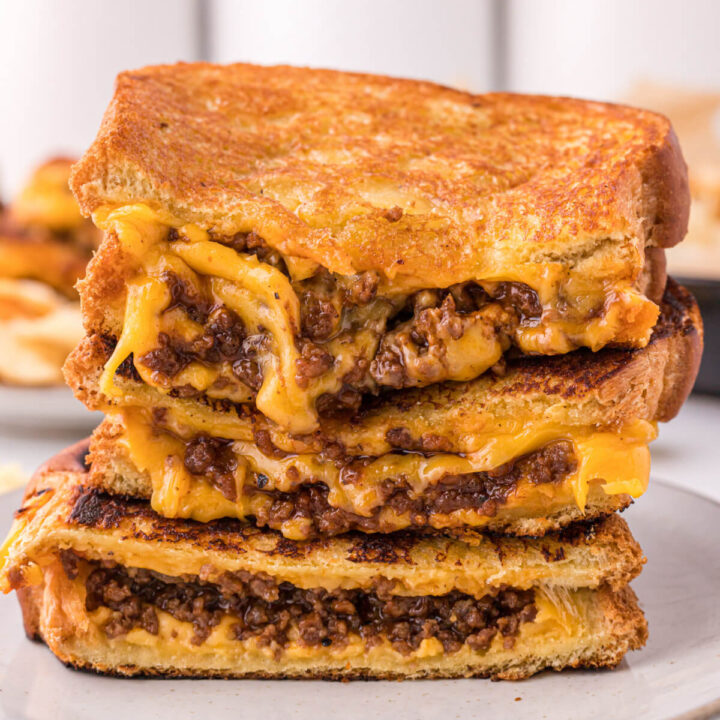 Sloppy Joe Grilled Cheese
You'll want to try this Sloppy Joe Grilled Cheese recipe at least once for lunch or dinner! It's a filling way to combine two American classics - and any little ones in your life will gobble it all down for sure.
Ingredients
4 tablespoons butter, softened
12 slices white bread
prepared Sloppy Joe meat mixture
12 slices American cheese
Instructions
Preheat a griddle or skillet over medium heat.
Butter one side of each piece of bread. Place one slice of bread into the skillet, butter side down.
Top the bread slice with one slice of cheese. Scoop about 1/6th of the Sloppy Joe meat mixture evenly over the top of the cheese. Top the meat mixture with another slice of cheese, then another slice of buttered bread with the butter side facing up.
Cook the bread until it begins to turn golden brown, about 3-4 minutes. Carefully flip the sandwich over and cook until golden brown on the second side.
Remove the sandwich to a cutting board and cut it in half, if desired.
Repeat the process with the remaining bread, cheese, and Sloppy Joe meat mixture.
Serve immediately.
Notes
Make this recipe even quicker with a 15-oz. can of Sloppy Joe sauce and 1-lb. ground beef.
This is a great way to use leftover Sloppy Joe meat - adjust the number of sandwiches to match the amount of meat mixture you have leftover.
Try this recipe with ground turkey in place of the ground beef!
For a sturdier grilled cheese, try using sliced French or Italian bread.
Recommended Products
As an Amazon Associate and member of other affiliate programs, I earn from qualifying purchases.
Nutrition Information:
Yield:

6
Serving Size:

1 sandwich
Amount Per Serving:
Calories:

416
Total Fat:

22g
Saturated Fat:

12g
Trans Fat:

1g
Unsaturated Fat:

8g
Cholesterol:

64mg
Sodium:

1173mg
Carbohydrates:

38g
Fiber:

2g
Sugar:

9g
Protein:

17g
Please note that the nutritional information listed on this page is an estimation based on the products I used. Ingredients and nutritional information can vary significantly between brands. Always be sure to read labels. Please verify that a recipe fits your needs before using it. Nutrition info may contain errors, so please verify it independently. Likewise, recipes may contain errors, so please use your common sense when following them.