This Homemade Potato Chips recipe is so easy and delicious! A must make recipe! #potatoes #sidedish #snack
Homemade Potato Chips
The weather here in Phoenix has been crazy the past couple of weeks. We have gotten what seems like a ton of rain. It really hasn't been that much rain compared to other parts of the country – but it has been a lot of rain for this area. We've had some major flooding (as you probably saw on the national news) and we've had numerous dust storm warnings. I might be the minority because I really don't mind.
I can't speak for everyone, but for me, I feel more compelled to cook or bake when the weather is cooler or rainy. Maybe you're the same way?! I love making soup and bread on rainy days – and I can bake up a storm like its nobody's business! Sometimes, I like total junk food. Fortunately, I don't keep too much of that around – it's easier to keep the temptation at bay without it in my house! Please tell me I am not the only one who crave junk food in cruddy weather?!
Although I love my sweets, I get the occasional hankering for something salty. My two fave salty snacks are nuts or potato chips. Since I rarely buy bagged chips, when that craving strikes, I often have to make my own chips. Since its so easy, I really don't mind!
Making the chips
I will suggest, if you have a Mandoline Slicer
, it will make slicing your potatoes super easy and fast! If you don't have one, no worries, a sharp knife and a steady hand will get the job done just as well! 🙂 For best results, make sure you keep the potato slices on the thin side!
Of course, salt is an obvious seasoning …. but feel free to think outside of the box and use your favorite seasonings!
Other Posts You May Enjoy: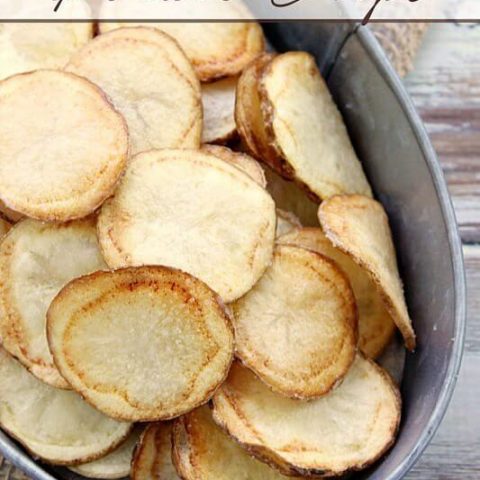 Homemade Potato Chips
This Homemade Potato Chips recipe is so easy and delicious! A must make recipe!
Ingredients
Oil, for frying
2 potatoes, thinly sliced
Cold water, for soaking
Salt (or desired seasoning)
Instructions
Add the sliced potatoes to cold water and allow to sit for about 30 minutes prior to cooking. Before frying, drain water completely and pat the potatoes dry with paper towels or clean dish cloth.
In a fryer or large heavy saucepan, heat the oil to 350°F. Line a plate with paper towels and set aside.
Add the potato slices in batches, frying until golden brown (depending on your potatoes, about 3-7 minutes).
Drain on paper towels and season with salt or desired spices. Serve.
Nutrition Information:
Amount Per Serving:
Calories:

224
Total Fat:

16g
Saturated Fat:

1g
Cholesterol:

0mg
Sodium:

254mg
Fiber:

2g
Sugar:

1g
Protein:

2g