These Soft Sherbet Coconut Cookies are loaded with tropical flavors. Choose your favorite sherbet flavor for these easy and eggless cookies!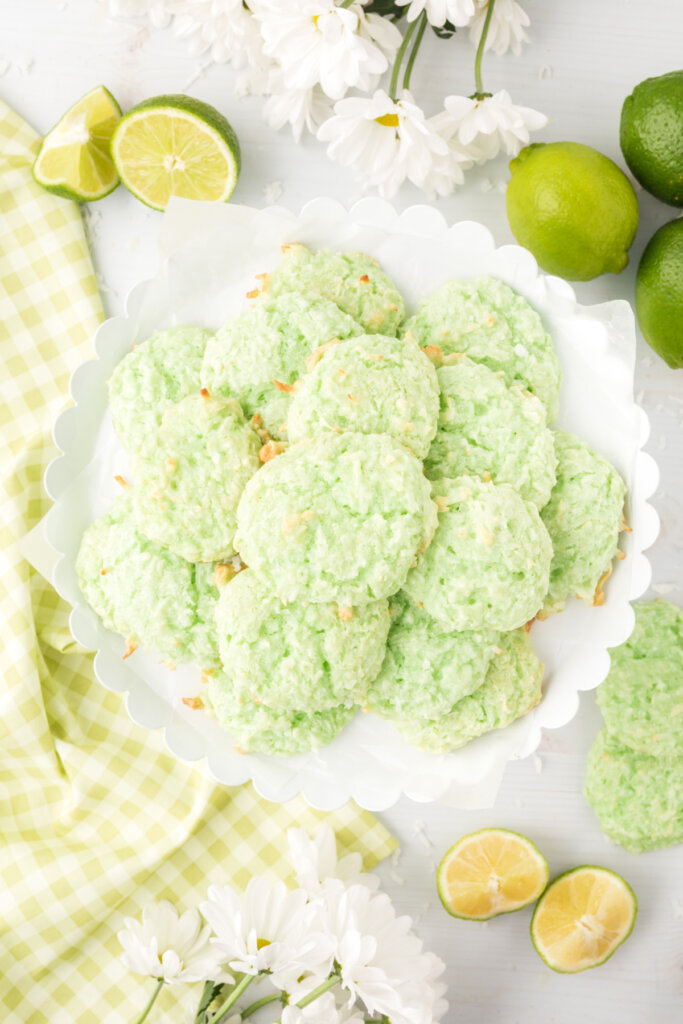 Lime Coconut Cookies
These Soft Sherbet Coconut Cookies are so good, especially if you're in the mood for an unusual but super tasty dessert! Imagine a load of tropical flavors packed into a cookie that uses no eggs at all – yum!
With summer just around the corner, I'm feeling all of the tropical flavors! It's the best part of this time of year, after all. (Well, other than the sunshine and nice weather, I suppose!!)
Of course, you could make things with kiwi and mango and peaches and all those yummy fruits in the middle of winter, but it just doesn't taste the same.
Thankfully, warm days are fast approaching, so I'm pulling out things like these Soft Sherbet Coconut Cookies for my family! These cookies are mostly made of coconut flakes and frozen yogurt or sherbet – I like to use lime sherbet (or peach-mango sherbet if I can find it), but you can grab any flavor of your choosing. (Seriously, though, use the mango peach if you can find it.)
The best part about this recipe? Because it uses frozen yogurt, it doesn't use eggs at all! It's only four ingredients. These coconut lime cookies are a super simple recipe and amazing for those who may have some dietary restrictions. They're a little similar to macaroons, too, if you're a fan of those.
All in all, I love this combination of flavors – perfect for June, July, and August – yum! Choose your favorite sherbet flavor and let's make some cookies!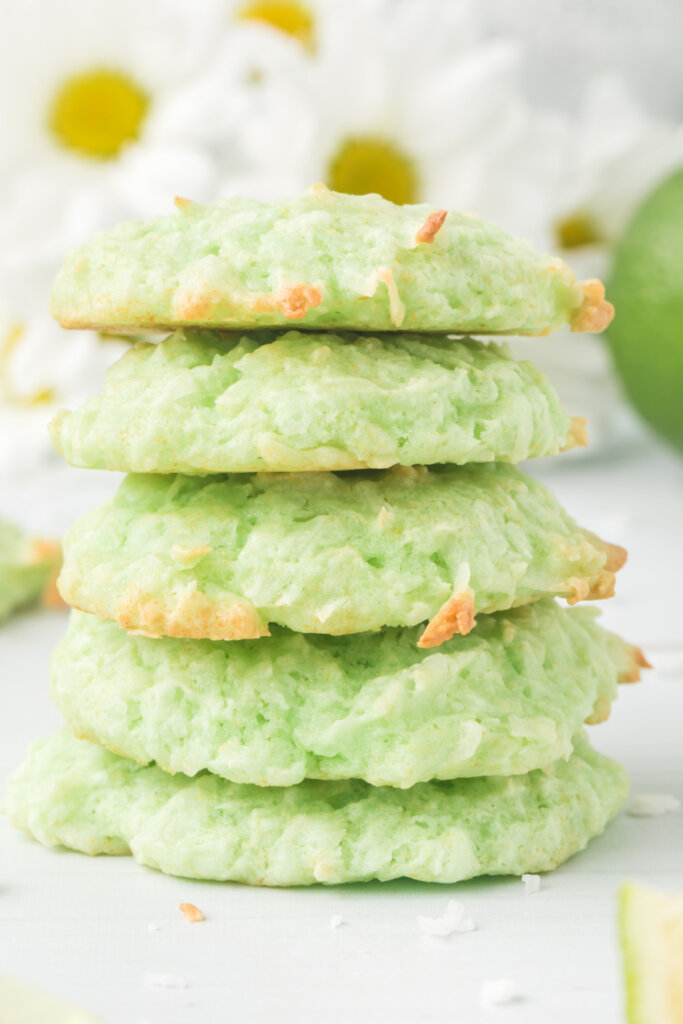 Soft Sherbet Coconut Cookies: Ingredients & Equipment
To make these coconut lime cookies, you'll need …
Ingredients
white cake mix – this is the base of your cookie! White cake mix is very flavor-neutral, so it makes for a good starting point for any baked good where you'll want to add flavor. (It's like a blank canvas!) Using white cake mix is also a super-easy way to cook up just about anything at home since it has flour, salt, etc all in one package.
sherbet – any flavor. I like to use more tropical flavors like mango peach when I can find it, as I said before … but the flavor choice is completely up to you!! For this recipe, I used lime sherbet. You'll need about a pint.
vanilla extract – a touch of vanilla extract enhances the taste of anything sweet.
coconut flakes – sweetened. These are the "coconut" part of the coconut cookies! You'll want to get a bag that's a little less than a pound.
Equipment
baking sheet and parchment paper – how you'll be baking these cookies. A standard part of many recipes!!
large mixing bowl – for putting together your batter!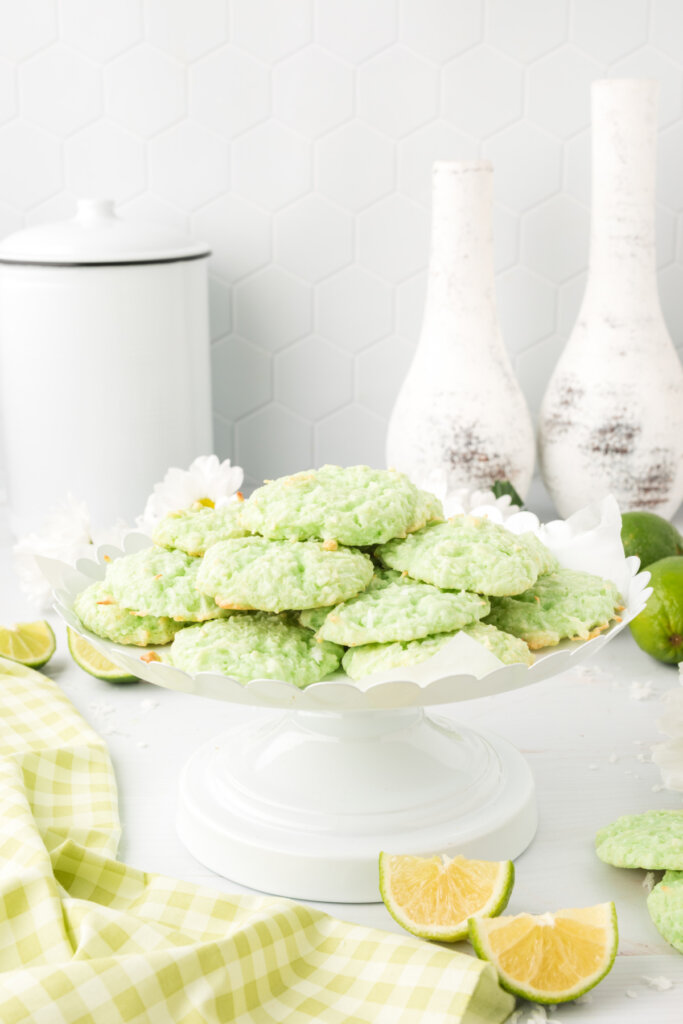 Soft Sherbet Cococnut Cookies: FAQs
How many cookies does this recipe produce?
About 2-3 dozen. Yes, really!! But the cookies are very small, so it's not like you'll have a whole bakery full of treats to find a use for. 😉
How long does it take to make Soft Sherbet Coconut Cookies?
A little more than a half-hour. You'll need 20 minutes to prep the ingredients and about 15 minutes to bake them into this wonderful cookie.
Are there other flavors of sherbet you recommend?
Do you mean you're denying the greatness of lime or peach-mango? 😉 Kidding of course. If you can't find mango peach or just don't like it, I've also made these cookies with:
– Raspberry sherbet
– Orange sherbet
– Pink lemonade sherbet
– Pineapple sherbet
– Or ANY flavor you enjoy! Really!!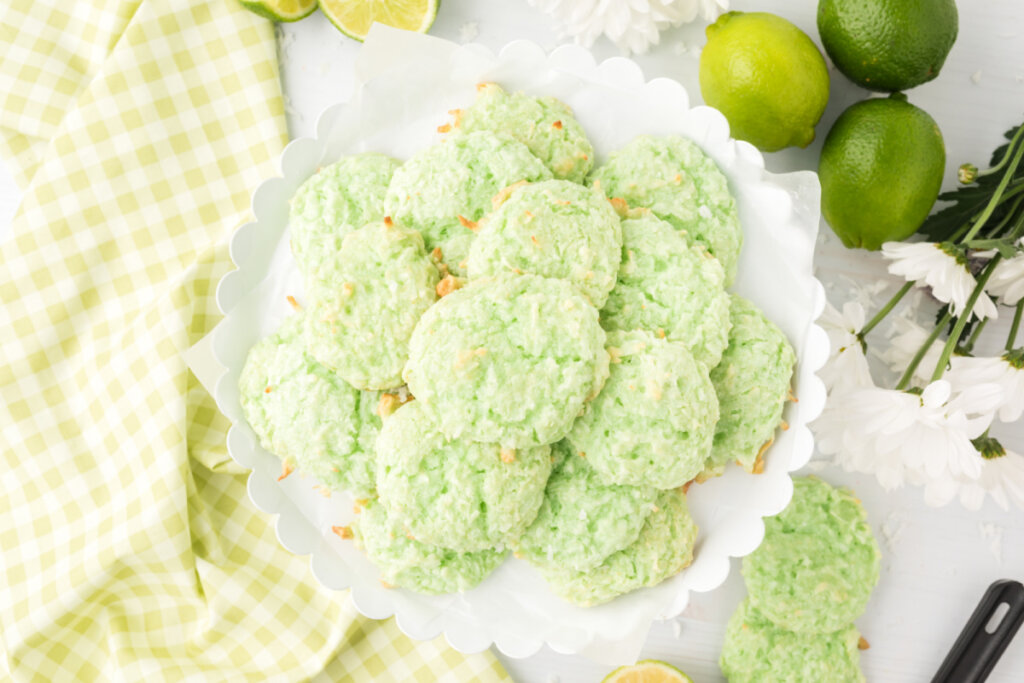 Other recipes you may enjoy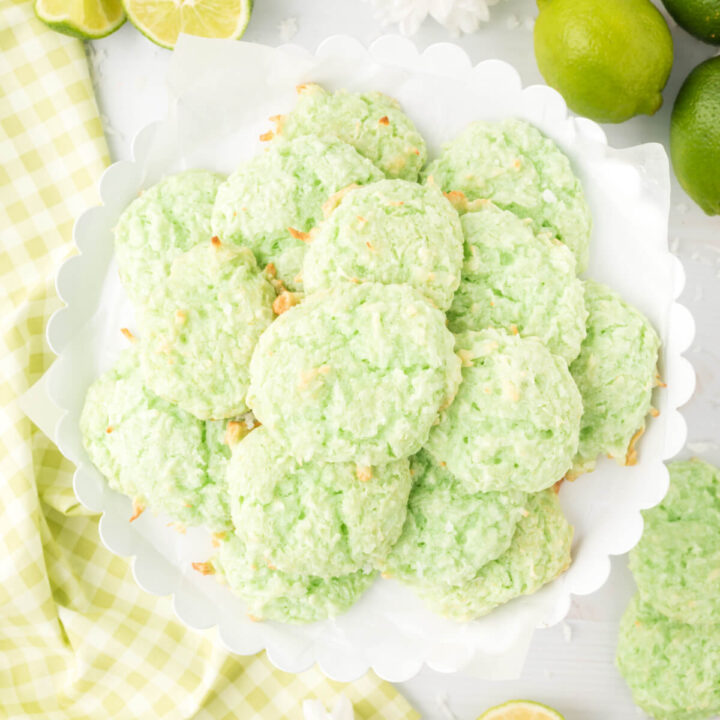 Soft Sherbet Coconut Cookies
These Soft Sherbet Coconut Cookies are loaded with tropical flavors. Choose your favorite sherbet flavor for these easy and eggless cookies!
Ingredients
1 pint (2 cups) any flavor of sherbet, softened
2 teaspoons vanilla extract
1 package (18-1/4 oz.) dry white cake mix
1 bag (14 oz.) sweetened coconut flakes
Instructions
Preheat oven to 350° F. Line a baking sheet with parchment paper and set aside.
In a large mixing bowl, combine softened sherbet, extract, and dry cake mix; mix well. Stir in coconut. Drop by tablespoonfuls 2-in. apart onto the prepared baking sheet.
Bake 12-15 minutes or until the edges are lightly browned. Remove to wire racks to cool completely.
Notes
Store these cookies in an airtight container at room temperature for up to 5-7 days.
Recommended Products
As an Amazon Associate and member of other affiliate programs, I earn from qualifying purchases.
Nutrition Information:
Yield:

24
Serving Size:

1 cookie
Amount Per Serving:
Calories:

33
Total Fat:

1g
Saturated Fat:

1g
Trans Fat:

0g
Unsaturated Fat:

0g
Cholesterol:

0mg
Sodium:

22mg
Carbohydrates:

5g
Fiber:

0g
Sugar:

3g
Protein:

0g
Please note that the nutritional information listed on this page is an estimation based on the products I used. Ingredients and nutritional information can vary significantly between brands. Always be sure to read labels. Please verify that a recipe fits your needs before using it. Nutrition info may contain errors, so please verify it independently. Likewise, recipes may contain errors, so please use your common sense when following them.