I am sharing my most awesomely addictive Barbecued Peanuts with y'all today! This is the season for finger foods, and this is a good one!
This post may contain affiliate links. As an amazon associate, I earn from qualifying purchases. See my full Disclosure Policy for details.
Barbecued Peanuts
What?! You didn't know finger food season follows cookie season?! Have you looked around bloggy-land lately?! Between New Years' Eve party food and Super Bowl food, I'm pretty sure there is a finger food season. I'm just sayin'.
The great thing about finger food season is, you can eat little bits of lots of different foods and call it a meal! I don't know about y'all, but I love finger food – wings, chips and dips, muddy buddies, veggie trays, smokies wrapped in bacon, popcorn ….. seriously, what's not to love?! These Barbecued Peanuts will make a great addition to your New Years' parties, your Super Bowl parties … and they're great anytime snacks – you don't even have to have an excuse or a party!
On a side note – you'll have to check out my Facebook status regarding these Barbecued Peanuts – ahem, gotta love boys! 😉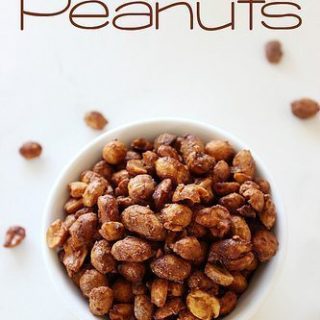 Barbecued Peanuts
I am sharing my most awesomely addictive Barbecued Peanuts with y'all today! 'Tis the season of finger foods!
Ingredients
Shortening, for greasing baking sheet
1/3 cup barbecue sauce
2 tbsp. butter, melted
1 tsp. garlic powder
1/4 - 1/2 tsp. cayenne pepper
1 jar (16 oz.) dry roasted peanuts
Instructions
Preheat oven to 325°F. Grease a large baking sheet and set aside.

In a large bowl, combine the barbecue sauce, butter, garlic powder and cayenne pepper. Add the peanuts and stir well, coating the peanuts evenly with the mixture.

Transfer the peanuts to the baking sheet and arrange peanuts in a single layer. (A good jiggle usually does the trick!)

Bake for 25-30 minutes, stirring every 10 minutes.

After the bake time, spread the peanuts evenly on waxed paper to cool. Allow to cool completely before storing in an airtight container.
Nutrition Information:
Amount Per Serving:
Calories:

984
Total Fat:

82g
Saturated Fat:

14g
Cholesterol:

20mg
Sodium:

355mg
Fiber:

13g
Sugar:

18g
Protein:

40g
The recipe couldn't be simpler ….. Let's see how we do it, shall we?!
Originally published on January 1, 2014. Updated on April 25, 2021.