This copycat recipe for Texas Roadhouse Cinnamon Butter tastes just like you remember from the restaurant. Now, you can make it at home!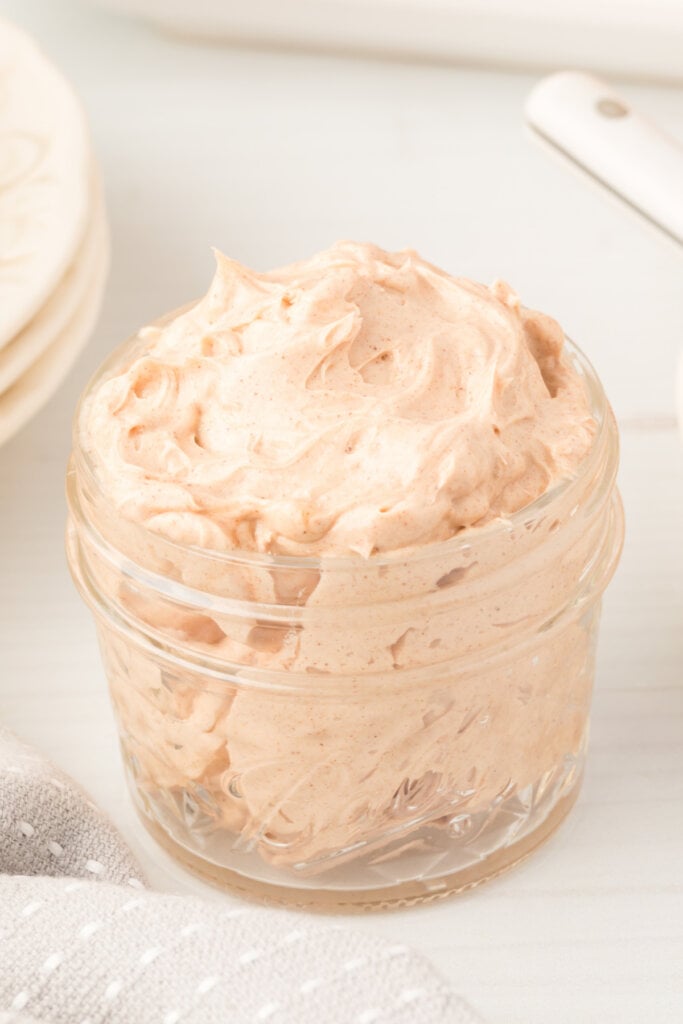 Texas Roadhouse Cinnamon Honey Butter
Cinnamon, honey, butter …
These three ingredients mesh together in the best combination of flavors and make the infamous Texas Roadhouse cinnamon butter! For those not in the know, Texas Roadhouse is an amazing chain of restaurants. They aren't paying me to say that. It's just true. Those who have been there, you know what I mean!
The best part about them, however? Their cinnamon butter works perfectly on dinner rolls. Or toast, bagels, sweet potatoes, or even corn on the cob! Sweet and salty never tasted so good.
If you've had a craving for that Texas Roadhouse butter but can't get to Texas Roadhouse, or if you want to try the phenomenon for yourself, this is your recipe! It's simple and quick.
Even if you've never been to Texas Roadhouse, you'll love to use this butter on practically everything. Even if you live in a country where there aren't Texas Roadhouse restaurants at all … you've definitely just found your new favorite thing to pair with bread! I hope you love it as much as we do!!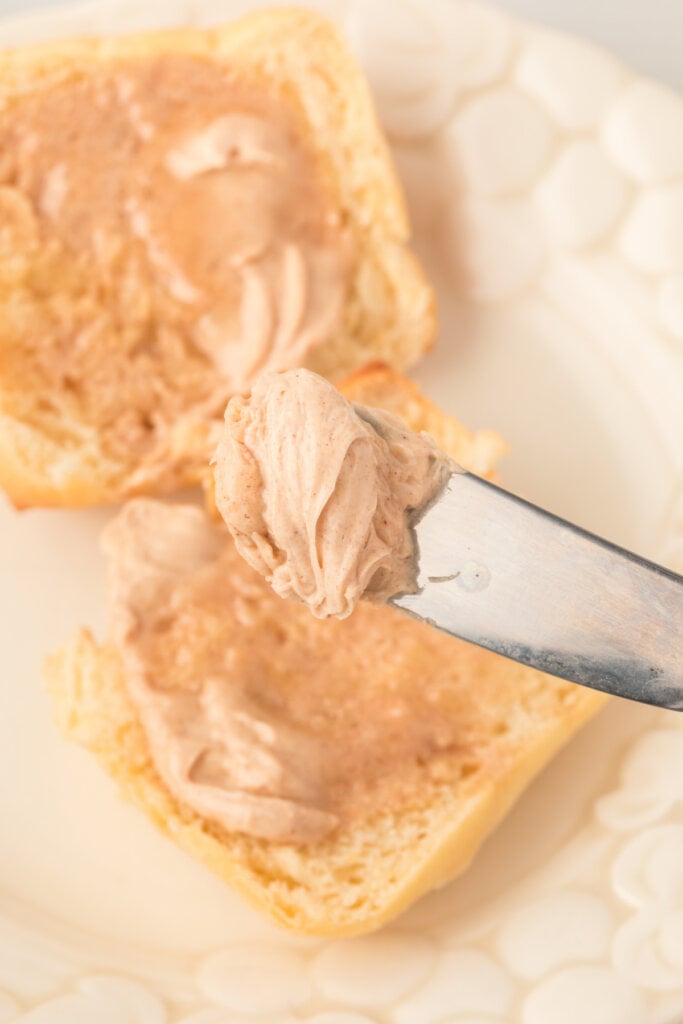 Texas Roadhouse Cinnamon Butter: Ingredients & Equipment
For this Texas Roadhouse Cinnamon Butter recipe, you'll need …
Ingredients
salted butter – the base of your recipe. I suppose you can't have Texas Roadhouse Butter without it unless you churn your own! To make sure your butter is creamy and smooth, ensure it's at room temperature when you mix the ingredients. I'd also get the most decent quality butter available to you!!
sugar, honey – sweeteners for your Texas Roadhouse Butter.
vanilla extract – in many recipes, a dash of vanilla extract will bring out every other flavor in the dish. This is no different!
ground cinnamon – Texas Roadhouse butter is noteworthy for its cinnamon flavor!
Equipment
electric mixer – to combine your ingredients. You can also use a whisk!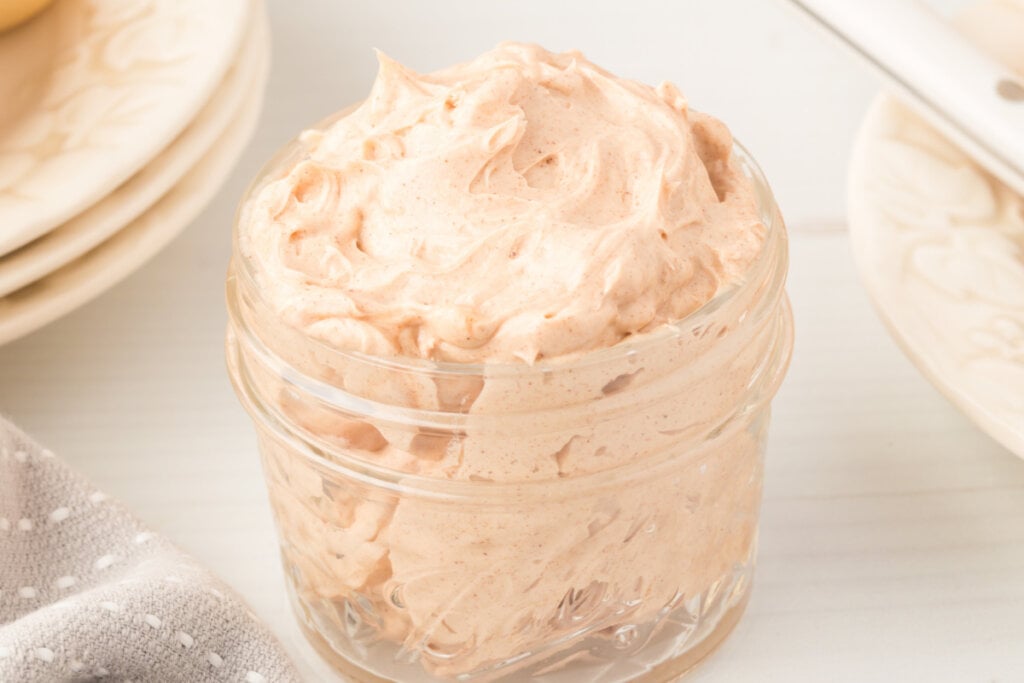 How to make Cinnamon Butter
This recipe for Cinnamon Butter is so quick and easy to make. Here's how you do it …
First, make sure your butter is at room temperature. This will make it easier to combine the other ingredients into it.
Next, add your other ingredients. Place all of the other ingredients into the bowl.
Then, mix it all together. You can do this by hand, but I prefer to use my hand mixer for this step. It makes it super quick.
Finally, enjoy this tasty butter on everything! You can use the butter immediately or store it in the refrigerator until you are ready to use it.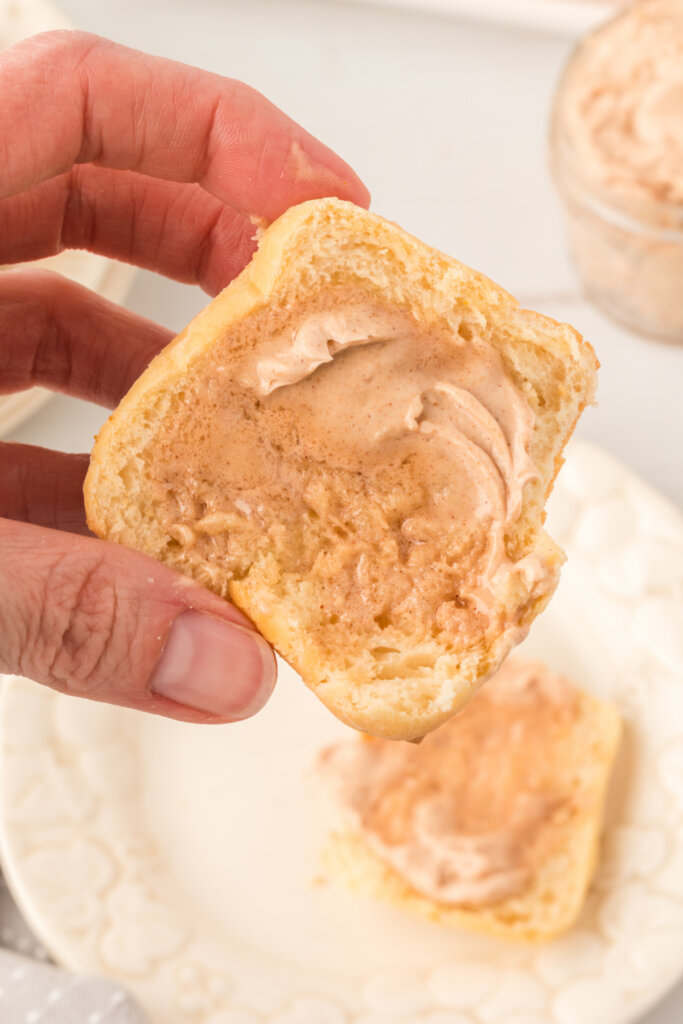 Cinnamon Honey Butter: FAQs
How long does it take to make Texas Roadhouse Cinnamon Butter?
Just 5 minutes! That's it, I promise. You're basically just mixing the ingredients!!
Can I use dairy-free, vegan, or other dietary substitutes?
I don't see why not, although I haven't tried it myself. If you switch anything out for dietary reasons, please please please let me know in the comments. I love "filing away" the info for future reference, and you may help someone out!
This butter is too sweet (or not sweet enough)! Is there a way to change that?
Add more or less honey, depending on your taste!! Don't mess with the sugar or cinnamon, as I've found that doesn't consistently add or remove sweetness. The honey is what does it.
Can I use unsalted butter as the base?
Yes! Just add 1/4 teaspoon of salt.
Can I microwave this butter?
I wouldn't! It'll separate! If you need to bring it to room temperature before serving it, I'd just let it sit until it's softened.
How long can I store Texas Roadhouse Butter in the fridge?
It should stay fresh for about a month! Use an airtight container, as always.
Can I freeze Texas Roadhouse Butter?
You can indeed!! Wrap it up with plastic wrap first, though. You can keep it frozen for half a year or so, that is, about 6 months. Much longer than many of my other recipes!! When you're ready to serve it, go ahead and let it thaw in the fridge.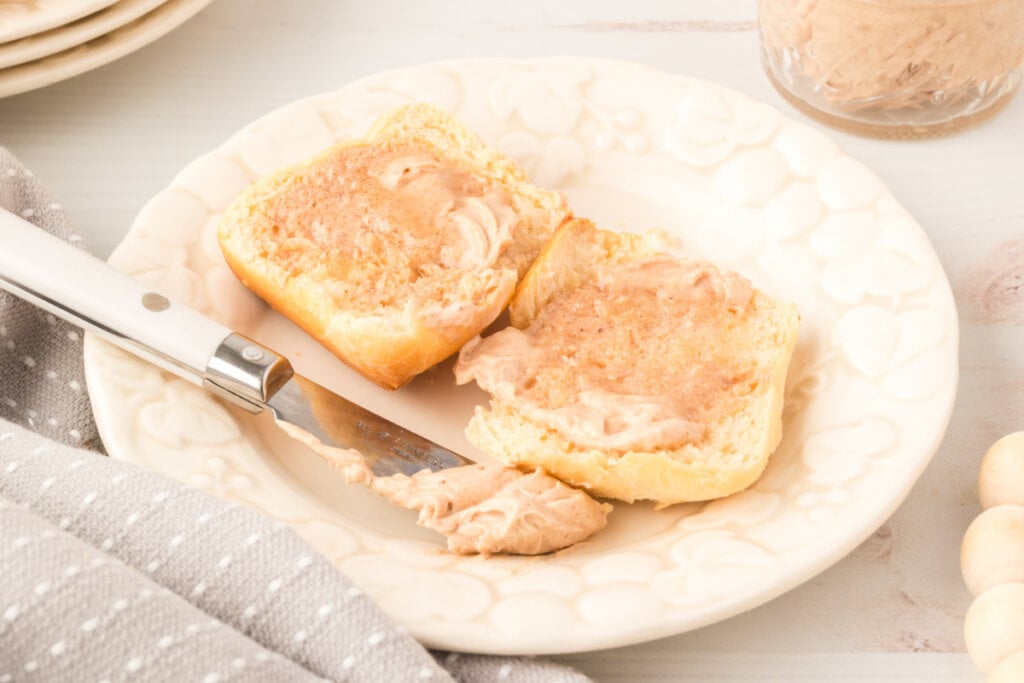 Other recipes you may enjoy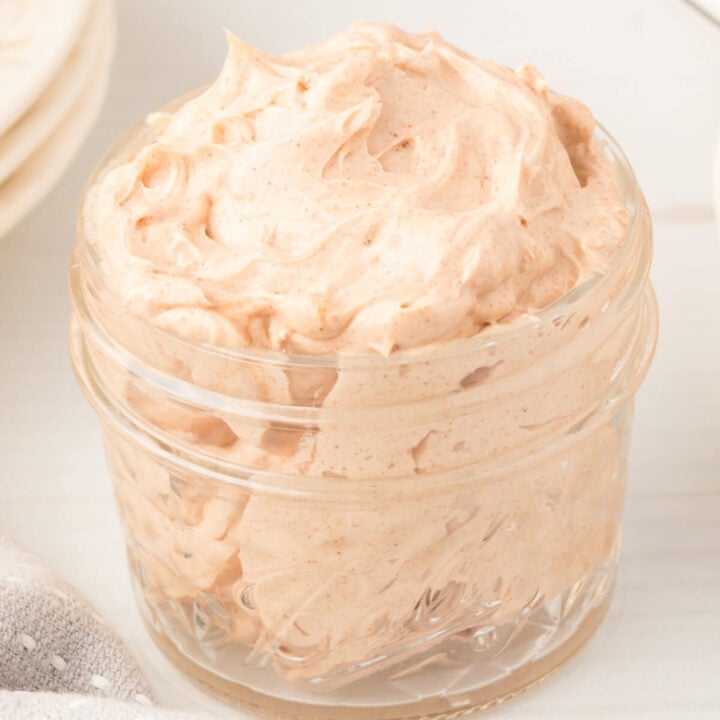 Texas Roadhouse Cinnamon Butter
This copycat recipe for Texas Roadhouse Cinnamon Butter tastes just like you remember from the restaurant. Now, you can make it at home!
Ingredients
1/2 cup salted butter, softened
1/4 cup powdered sugar
1 tablespoon honey
1/2 teaspoon vanilla extract
1 teaspoon ground cinnamon
Instructions
Place all ingredients in a large mixing bowl and mix them together with an electric mixer until well combined.
Use immediately or store in an airtight container in the refrigerator until ready to use.
Notes
If you refrigerate this butter, you may need to allow it to set at room temperature for a few minutes to make it easier to spread.
If you are using unsalted butter, add 1/4 teaspoon salt. 
Do not microwave this butter - it will separate.
Recommended Products
As an Amazon Associate and member of other affiliate programs, I earn from qualifying purchases.
Nutrition Information:
Yield:

16
Serving Size:

1
Amount Per Serving:
Calories:

62
Total Fat:

6g
Saturated Fat:

4g
Trans Fat:

0g
Unsaturated Fat:

2g
Cholesterol:

15mg
Sodium:

46mg
Carbohydrates:

3g
Fiber:

0g
Sugar:

3g
Protein:

0g
Please note that the nutritional information listed on this page is an estimation based on the products I used. Ingredients and nutritional information can vary significantly between brands. Always be sure to read labels. Please verify that a recipe fits your needs before using it. Nutrition info may contain errors, so please verify it independently. Likewise, recipes may contain errors, so please use your common sense when following them.