Perfect for when you only need a few servings, this Texas Sheet Cake for Two is quick and easy to make! #12bloggers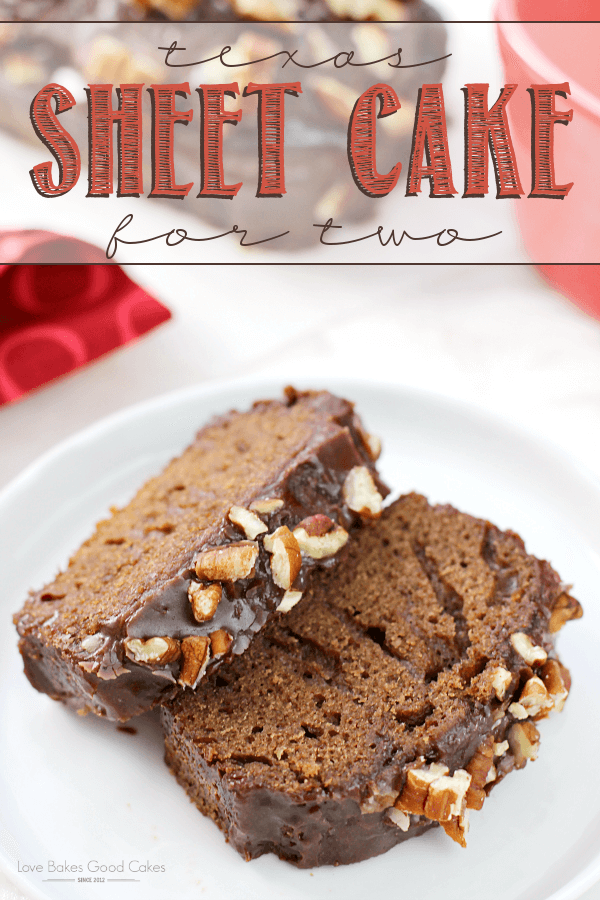 Texas Sheet Cake for Two
With Valentine's Day just a few days away, love is in the air! Do you do anything special for Valentine's Day?! We usually get the kiddos their own little box of chocolate and Brian and I usually enjoy dinner out. We don't really get over excited about Valentine's Day.
Because we do have kiddos at home and I'm all about making those memories, I do try to share a special meal as a family too. Sometimes, we make heart shaped pizza or we eat something we wouldn't normally eat or something we don't eat often – like grilled steaks with all of the fixin's. Oh yeah – that's what's going down this year!
Of course, it wouldn't be Valentine's Day without dessert and if I have my say so (which I'm cooking, so I do!!), it's going to be something chocolate! 😀 My aunt, Tammy, shared a bunch of recipes with me years and years ago when I was just starting out on my own and this Texas Sheet Cake for Two recipe is one of those little gems!
The perfect recipe
It's the perfect little treat when you don't really want a ton of dessert laying around! It's everything you love in the big Texas-sized version, scaled down to share with your favorite person! And since this month's #12bloggers theme is desserts for two – I knew this was the PERFECT recipe to share!!
If you have been a reader for awhile then you know about the #12bloggers series …. but if you're new around here, here's the deal. Every month on the 12th of the month, 12 bloggers get together to share a themed recipe that has 12 ingredients of less. Now, I have to be honest with y'all – this month's recipe LOOKS like it has more than 12 ingredients but, in reality, it is using a few of the same ingredients TWICE …. so that counts right?! I mean, it's the same ingredient, right?! Oh, and water and salt (and pepper if it were in this recipe) don't count against me! So in this case, I only have 11 ingredients! 😀
If you're looking for a special treat perfect for two, make this Texas Sheet Cake for Two – or be sure to check out on of the other recipes in this month's #12bloggers post!
Other posts in this month's #12bloggers:
Other Posts You May Enjoy: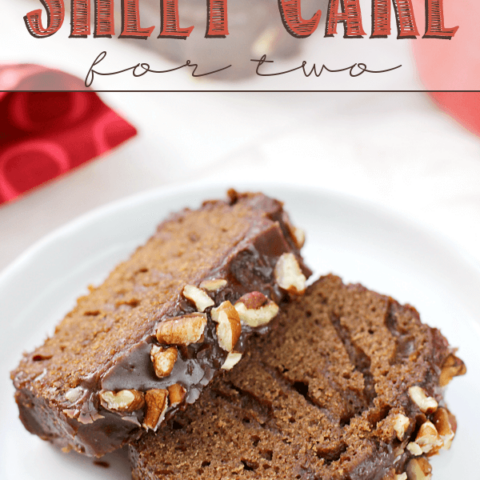 Texas Sheet Cake for Two
Perfect for when you only need a few servings, this Texas Sheet Cake for Two is quick and easy to make!
Ingredients
For the cake
4 tbsp. butter, cubed
1/4 cup water
1 tbsp. cocoa powder
1/2 cup all-purpose flour
1/2 cup granulated sugar
1/2 tsp. baking powder
1/4 tsp. ground cinnamon
Dash salt
2 tbsp. beaten egg
2 tbsp. milk
For the frosting
2 tbsp. butter
4 tsp. milk
1 tbsp. cocoa powder
3/4 cup powdered sugar
1/4 tsp. vanilla extract
2 tbsp. chopped pecans, toasted, optional
Instructions
Preheat oven to 350°F. Spray two 5-3/4-in. x 3-in. x 2-in. loaf pans with cooking spray and set aside.
In a medium bowl, whisk together the flour, sugar, baking powder, cinnamon and salt. Set aside.
Bring the butter, water and cocoa powder just to a boil in a large saucepan. Immediately remove from the heat and add the flour mixture. Add egg and milk; mix well.
Divide the batter between the prepared loaf pans. Bake for 20-25 minutes or until a toothpick inserted near the center comes out clean.
Allow to cool for 10 minutes before removing from pans to a wire rack to cool completely.
In a small microwave-safe bowl, melt butter. Whisk in the milk and cocoa powder. Microwave on high for 30 seconds. Whisk in powdered sugar and vanilla until smooth. Spread over cakes. Immediately sprinkle with pecans if desired.
Nutrition Information:
Amount Per Serving:
Calories:

410
Total Fat:

18g
Saturated Fat:

11g
Cholesterol:

48mg
Sodium:

95mg
Fiber:

2g
Sugar:

48g
Protein:

3g