These Texas Roadhouse Rolls are deliciously soft, mildly sweet dinner rolls just like the ones they serve at everyone's favorite restaurant chain. (Though after baking up this copycat recipe, you might never need to go back again!)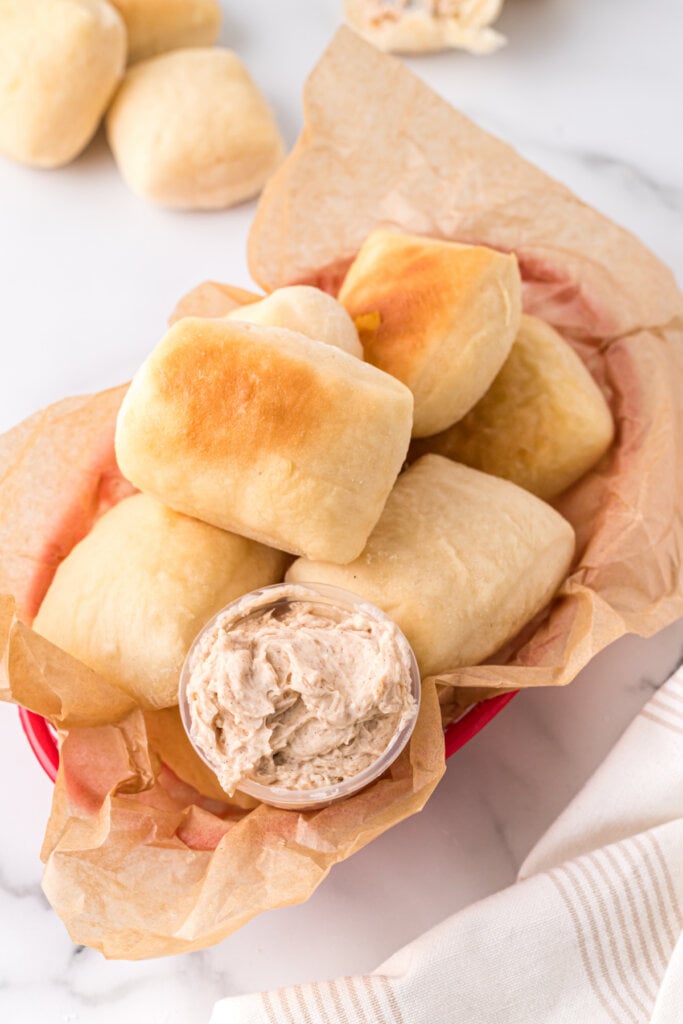 Texas Roadhouse Rolls
I've shared a few copycat recipes before, but I've never gotten requests as I have for Texas Roadhouse Rolls and their delicious cinnamon butter! I'm so happy to oblige! 🥰
If you've never been to Texas Roadhouse, it's an amazing chain of restaurants best known for their absolutely scrumptious dinner rolls. I promise I'm not biased or anything.
(Of course, they make many other things at Texas Roadhouse, but let's be honest, many of us stay for the rolls!)
This recipe is about as close as you can get to the Texas Roadhouse experience without actually going or working there. If you need to save money or just want a night in with the family, these copycat rolls will serve you well.
Paired with some classic Texas Roadhouse cinnamon butter, I can't think of anything better!! Enjoy!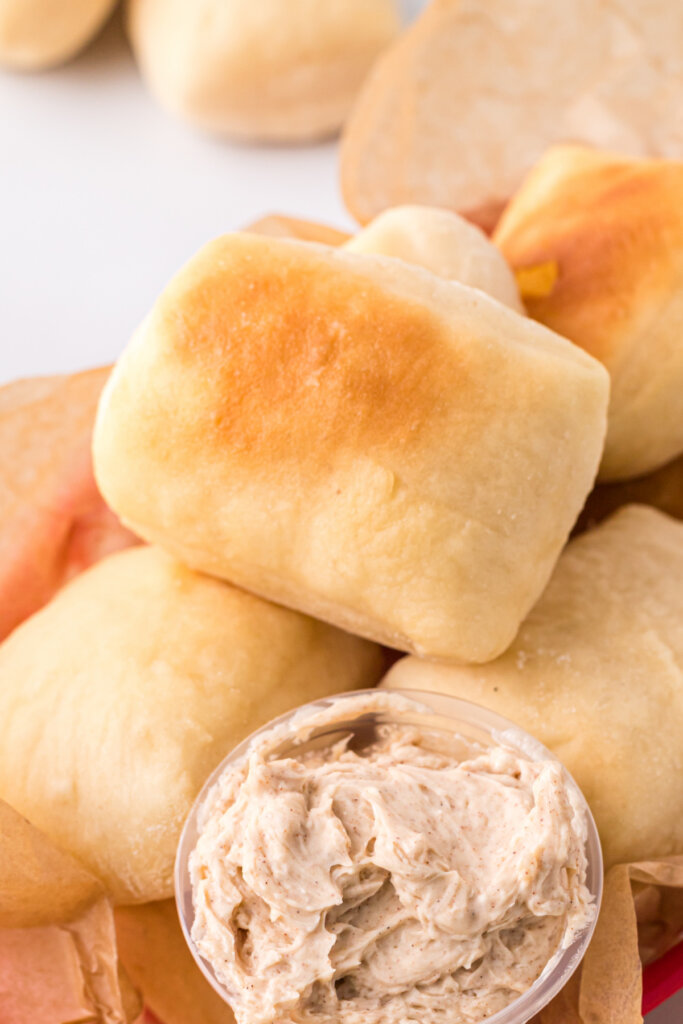 Texas Roadhouse Rolls: Ingredients & Equipment
For this Texas Roadhouse Rolls recipe, you'll need …
Ingredients
egg, all-purpose flour, salt – a few standard bread-making ingredients. If you've baked anything before, you know what these are all for! Ensure the egg is at room temperature and the flour isn't cake flour (for instance). You want the rolls to come out with the right texture!
milk – most baked goods need liquid, and our Texas Roadhouse Rolls are no different. You'll be scalding the milk to ensure the bread is fluffy, just like Texas Roadhouse makes them!
butter – melted. Just like most baked goods need liquid, most also need a "fat" like butter that further contributes to the texture of the rolls.
honey – Texas Roadhouse Rolls infamously has a touch of sweetness, and the honey provides that sweetness.
active dry yeast – it's hard to make bread rise without yeast!
Equipment
bowls – to combine your ingredients, mix your dough, etc.
dough hook – optional but useful when kneading dough! Otherwise, you can do it by hand.
saucepan – you'll use this to scald your milk.
baking sheets – you'll bake your rolls on these, of course.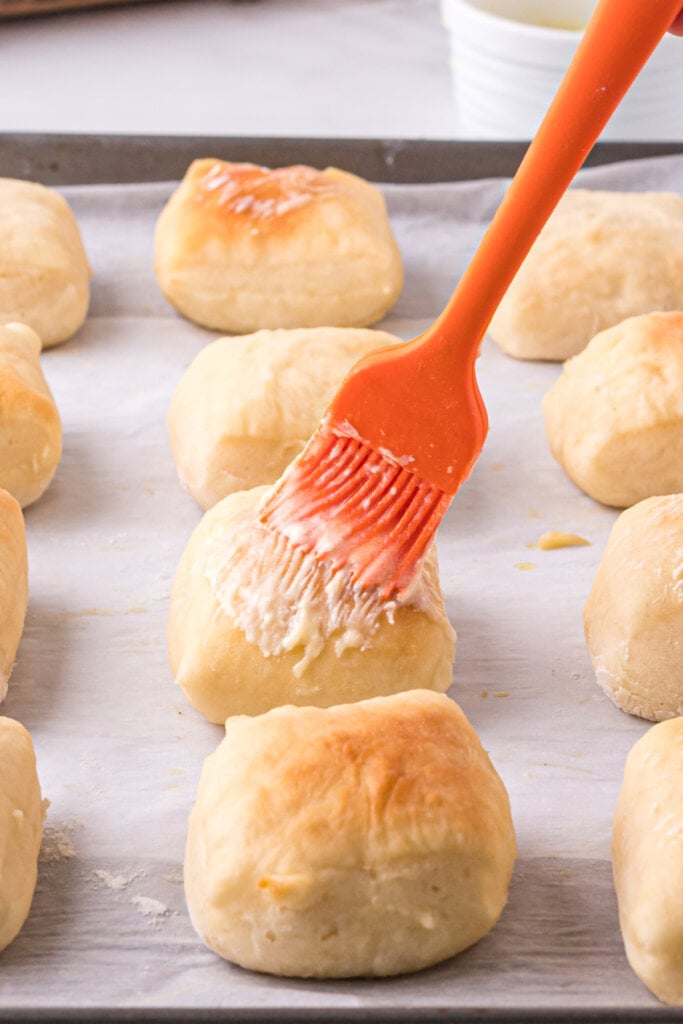 How to make Texas Roadhouse Rolls
If you have ever wanted to know how to make those irresistible rolls from Texas Roadhouse, let me tell you ….
Start by scalding the milk. If you're unsure what it means to scald – it means to bring the temperature up to just before the boiling point (about 180F), then cool it down (to about 110F.).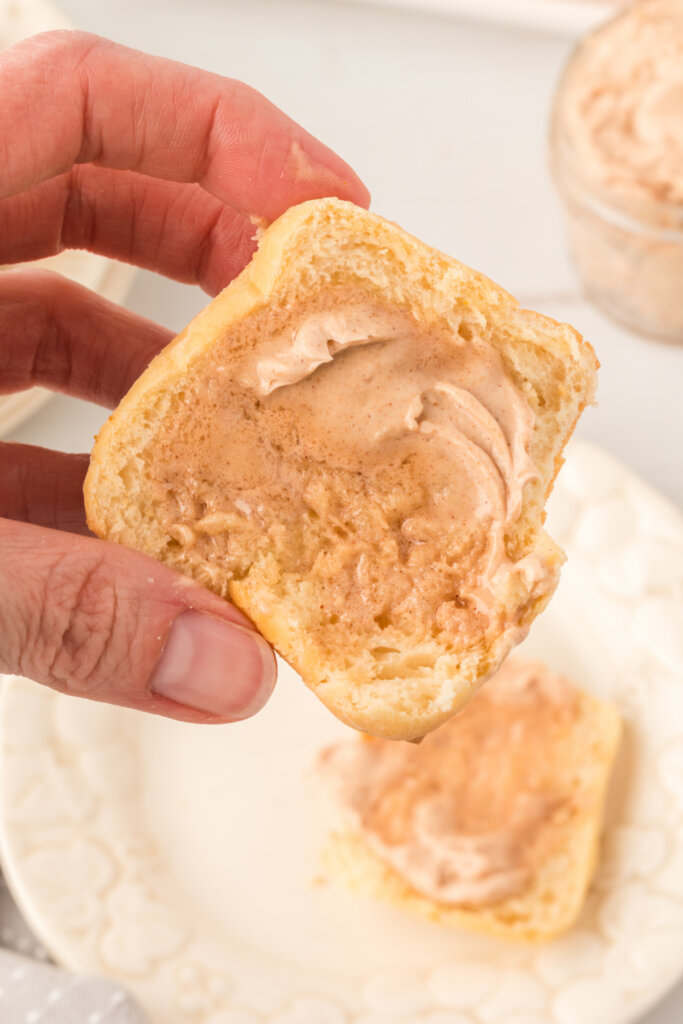 Texas Roadhouse Rolls: FAQs
Can I make the dough ahead?
Yes! If you wrap it up, you can refrigerate risen dough overnight, then bake it the next day. You can freeze the dough for about a month, then let it thaw and bake.
How many rolls does this recipe make?
It'll make 24 scrumptious, oh-so-good rolls, but you won't notice that because they'll be gone instantly!
How long does it take to make Texas Roadhouse Rolls?
You'll need 45 minutes to prep the ingredients plus 15 minutes to cook them. Another 1 hour and 45 minutes will go to the dough rising in between those two steps. It's not a fast recipe, I will admit, but it's pretty hands-off!!
Can I use instant yeast rather than active dry?
Absolutely. Remember that you generally use less instant yeast than active dry in any recipe.
Can I use bread flour instead of all-purpose flour?
Yes, that works too!
My rolls are coming out too dense. Is there something I'm doing wrong?
Very likely, you may not be measuring the flour properly! Always use a measuring cup and spoon the flour into the cup, then level off the top. Don't use the measuring cup as a scoop. These things seem like small tips, but they definitely affect your bread!
Do I need to scald the milk?
Although, probably technically, no …. I'm going to say yes in this case. In older recipes, it was a common technique before the days before pasteurization. Today, when making bread, scalding the milk helps deactivate the protein in milk which can weaken the gluten and prevent the bread from rising properly.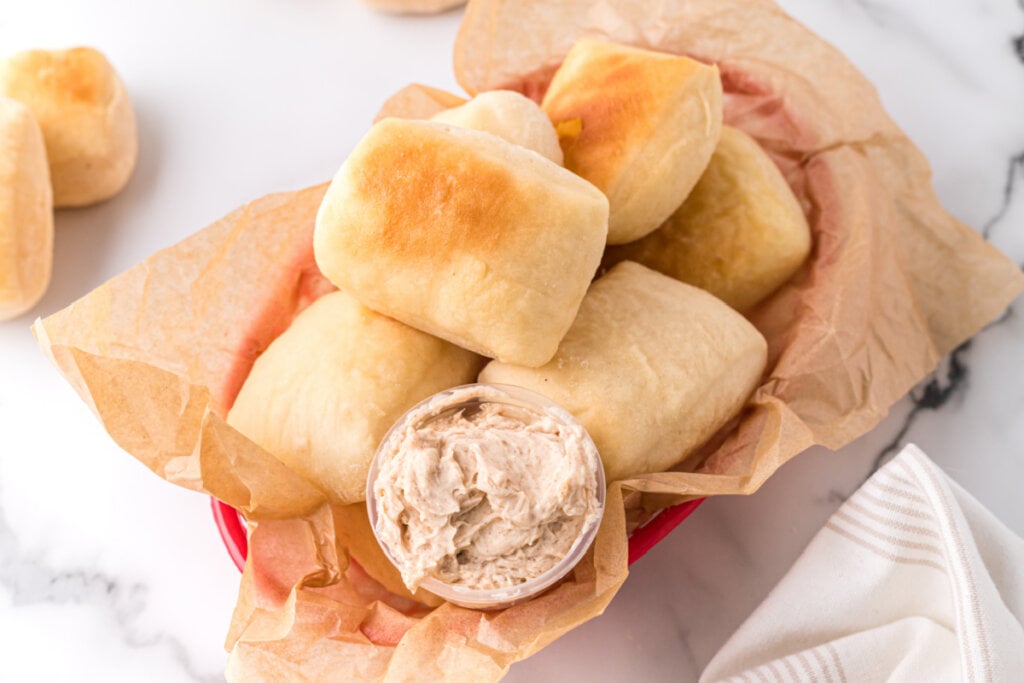 Other recipes you may enjoy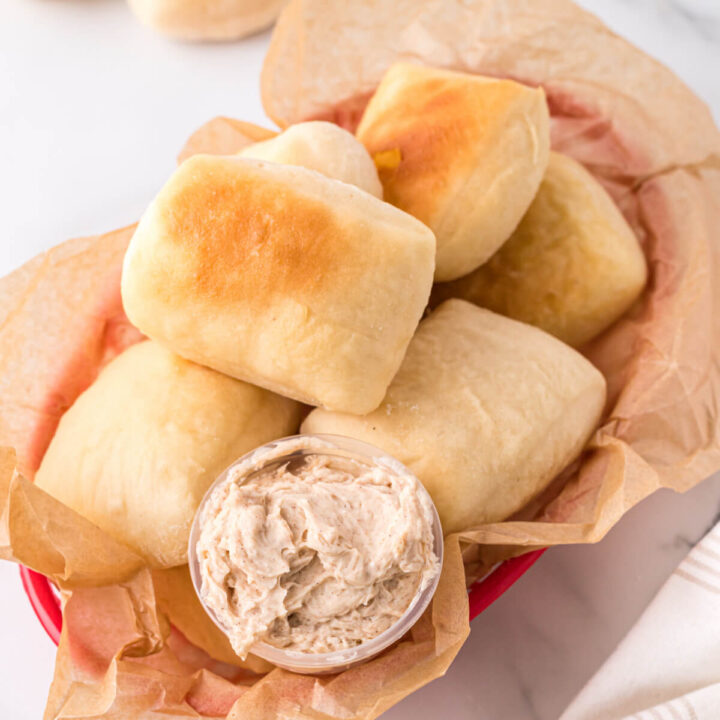 Texas Roadhouse Rolls
Additional Time:
1 hour
45 minutes
Total Time:
2 hours
45 minutes
These Texas Roadhouse Rolls are deliciously soft, mildly sweet dinner rolls just like the ones they serve at everyone's favorite restaurant chain. (Though after baking up this copycat recipe, you might never need to go back again!)
Ingredients
1-1/4 cup milk
1/4 cup honey
2-1/4 teaspoons active dry yeast
4 tablespoons melted butter, divided
1 large egg, at room temperature
4 cups all-purpose flour
1 teaspoon salt
Instructions
Scald the milk in a small saucepan by bringing it to near boiling; there will be steam with small bubbles on the side of the pan. Remove the pan from the heat and allow it to cool to lukewarm, about 80-90F.
In a small bowl, combine the milk, honey, and yeast until well combined. Allow it to rest for 5 minutes.
In a large mixing bowl, combine the milk mixture, 3 tablespoons of butter, egg, 2 cups of flour, and salt. Using a dough hook or by hand, mix slowly until smooth and well combined. Gradually mix in the other 2 cups of flour until the dough has formed.
Either with the dough hook or by hand, knead the dough for 8-10 minutes or until a soft dough forms.
Place the dough ball in an oiled bowl and let it rise in a warm place for 1 hour.
Lightly grease 2 baking sheets and set them aside.
Punch the dough down and divide the dough in half.
Roll the first dough piece out into a rectangle that is about 9-inches by 12-inches on a clean work surface. Cut the dough into twelve 3-inch squares and place the squares on the prepared baking sheet. Repeat with the other dough piece.
Cover the rolls and let them rise for 40-45 minutes or until doubled in size.
Preheat the oven to 350°F.
Bake the rolls for 13-17 minutes or until golden brown and cooked all the way through.
Remove the rolls from the oven and immediately brush the remaining melted butter over the top of each roll.
If desired, serve with cinnamon butter for the full copycat Texas Roadhouse experience.
Notes
You can make these rolls ahead!!
After preparing the dough, and before baking, you can cover and refrigerate it overnight, allowing it to rise overnight in the refrigerator, then bake it as directed in the recipe the next day.
You can also freeze the dough for about a month, then let it thaw and bake.
You can freeze the baked rolls!!
If you prefer to freeze the rolls after they have been baked, you can do that, too!
Allow the rolls to cool completely, then wrap them in aluminum foil. Place the wrapped rolls into a zip-top bag or air-tight freezer-safe container for up to one month.
To reheat them from frozen, transfer the rolls to a baking sheet and bake at 300°F for about 15-20 minutes or until heated through.
To thaw and reheat, remove the rolls from the freezer the night before and loosen the foil. Allow the rolls to thaw at room temperature until completely thawed. They can be eaten once thawed, or they can be reheated at 300°F for 5-10 minutes or until heated through.
Nutrition Information:
Yield:

24
Serving Size:

1 roll
Amount Per Serving:
Calories:

129
Total Fat:

3g
Saturated Fat:

2g
Trans Fat:

0g
Unsaturated Fat:

1g
Cholesterol:

16mg
Sodium:

126mg
Carbohydrates:

21g
Fiber:

1g
Sugar:

5g
Protein:

4g
Please note that the nutritional information listed on this page is an estimation based on the products I used. Ingredients and nutritional information can vary significantly between brands. Always be sure to read labels. Please verify that a recipe fits your needs before using it. Nutrition info may contain errors, so please verify it independently. Likewise, recipes may contain errors, so please use your common sense when following them.