Meatloaf seems to be one of those foods that people either love it or they hate it. There really isn't any middle ground, is there? My family enjoys meatloaf – Dare I say, they actually look forward to it? I probably have 10 or 15 different meatloaves that I have made over the years. While the traditional meatloaf with the ketchup topping is nice and comforting, sometimes it's nice to shake things up a bit.
This Spicy Southwest Meatloaf is a hit with my family! It's not too spicy, but the Ro-Tel tomatoes and chili sauce give it a nice spice without making it too hot.
We served this up with some Taco Tatoes and green beans. Cornbread muffins on the side would be a nice accompaniment! If you're looking to kick your regular ol' meatloaf up a notch, definitely give this recipe a try – you'll be glad you did!
Spicy Southwest Meatloaf
Yield: 8-10 servings
2 lb. lean ground beef
3 slices bread, torn into small pieces (or 1 cup bread crumbs)
1 small onion, finely chopped
½ cup green pepper, finely chopped
1 can (10 oz.) Ro-Tel Original Diced Tomatoes & Green Chilies, slightly drained
2 eggs, beaten
2 tsp. chili powder
½-¾ cup chili sauce
Preheat oven to 400°F. Combine the beef, bread, onions, green pepper, tomatoes, eggs and chili powder in a medium bowl. Shape the meat mixture into a loaf. Place in an ungreased 8½x4½x2½-in. loaf pan. Bake for 45-55 minutes or until the meat is no longer pink in the middle. Carefully drain. Spoon the chili sauce over the top of the meatloaf and bake an additional 10 minutes. Allow to stand 5 minutes before slicing.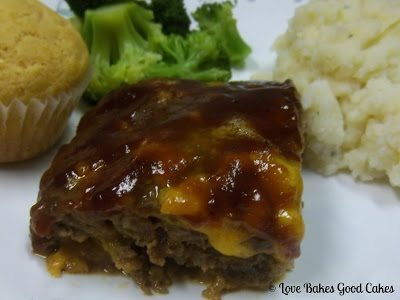 I hope you enjoy! Shared at these
fun parties!
Don't forget to share and comment ♥
Copyright © Love Bakes Good Cakes 2012-2013 All Rights Reserved