This Southwest Potato Soup is hearty, filling and will keep you warm on these cooler nights! Loaded with potatoes, corn, black beans, green chilies, onions and bacon!
Southwest Potato Soup
This is a sponsored post written by me on behalf of The Frozen Food Foundation. All opinions are 100% mine.

These cooler nights make me crave comfort food and soup. I'm not sure why, but lots of people have in their mind that comfort food and soup takes all day to prepare and cook. While that may be the case in some instances, I don't think that sentiment is true all of the time … probably not even most of the time.
With Fall here and Winter creeping up, it's getting harder to find the fresh fruits and produce of Summer. Turning to frozen food is a great alternative since freezing is nature's pause button! Buying frozen food combats the out of season prices and reduces waste from spoilage! Since freezing is nature's pause button, frozen fruits and vegetables are picked and frozen at their peak ripeness, locking in the nutrient value at the point of freezing!
The University of California, Davis, in partnership with the Frozen Food Foundation, conducted a study that revealed that frozen fruits and vegetables are most often (or generally) nutritionally equal to – and in some cases, better than – their fresh counterparts! Did you know that nearly 80% of Americans fail to consume the recommended amount of fruits, with nearly 90% failing to meet the dietary requirement for vegetables?! Given the increase in the rates of chronic diseases among all age groups, eating a diet rich in a variety of colorful fruits and vegetables is more important than ever. A variety of factors may contribute to low consumption, including cost and convenience. A recent study showed one easy solution – frozen food.
Frozen food convenience
Frozen foods are convenient, affordable and they help simplify meal time! Not only can I get sweet corn for this fabulous Southwest Potato Soup out of season, but frozen bags of hash browns cut my prep time way down! No potatoes to peel or dice!
Be sure to visit Frozen Food Foundation Facebook or  Frozen Food Foundation Twitter
Other Posts You May Enjoy:
Southwest Beef Bean & Barley Soup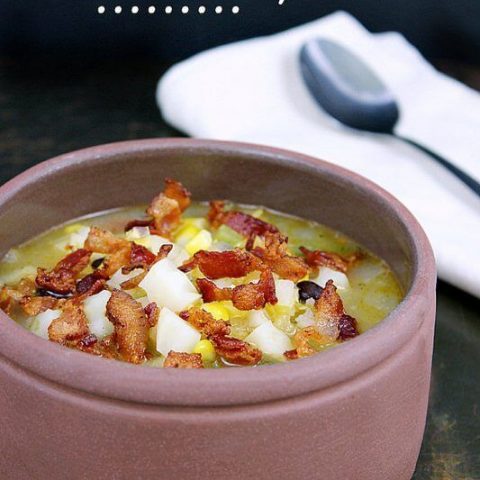 Southwest Potato Soup
This Southwest Potato Soup is hearty, filling and will keep you warm on these cooler nights!
Ingredients
1/2 lb. bacon, diced
1 small onion, chopped
1/4 cup all-purpose flour
1 tsp. ground cumin
1 tsp. chili powder
2 cloves garlic, minced
1 pkg. (32 oz.) frozen Southern-style hash brown potatoes
1 can (14 oz.) cream-style corn
1 can (15 oz.) black beans, rinsed and drained
1 bag (16 oz.) Bird's Eye frozen sweet corn
1 can (4 oz.) chopped green chilies, undrained
8 cups chicken broth (2 cartons - 32 oz. each)
Sour cream and/or fresh chopped cilantro (optional)
Instructions
In a Dutch oven or soup pot, saute the onion and bacon until the onion is tender and the bacon is crisp. Stir in the flour, cumin, chili powder and garlic. Bring the mixture to a boil, cooking and stirring until thickened - about 1 minute.
Stir in the hash browns, cream-style corn, black beans, green chilies, frozen sweet corn and chicken broth. Bring to a boil. Reduce heat; simmer uncovered for 15 minutes or until the soup and vegetables are heated through.
Garnish with sour cream and cilantro, if desired.
Nutrition Information:
Amount Per Serving:
Calories:

362
Total Fat:

12g
Saturated Fat:

4g
Cholesterol:

21mg
Sodium:

609mg
Fiber:

7g
Sugar:

9g
Protein:

15g