Shipwreck Stew – a simple and economical dish full of ground beef, veggies and beans! Don't let this dish's simplicity fool you! Enjoy!
This post may contain affiliate links. As an amazon associate, I earn from qualifying purchases. See my full Disclosure Policy for details.
So …. this is one of those posts that is extremely hard for me to write. Like so many, I came from a "broken home." My mother and my biological father divorced when I was very young – around the age of 3 or so. Believe me – those scars run deep. I never really knew much about my biological father or his side of the family, and I have very few memories from my childhood.
My story
I was one of the lucky ones, you could say. I was adopted by my step-dad and grew up having a "normal" life. Some of those old wounds have been medicated by having him in my life … some will probably never completely heal this side of Heaven. I have sat on this post for quite awhile deciding how much I felt comfortable with sharing – or not, because it is such an emotional one for me. The truth is, it's not comfortable at all. It dredges up all of the pain, hurt and rejection I've carried most of my life – for 30-something years. After all of this time, it is still here. Most days, I am ok. On an occasion, it really gets to me, and it puts me in a funk. Somehow, I feel like sharing this will take some of the burden off of me because I know there are probably thousands and thousands of people out there who can relate.
After I became an adult, I made contact with my biological father and his side of the family. Although I do not have contact with him, I do keep in contact with some of my aunts, uncles and cousins. My aunt, Wanda, posted on Facebook that she was making something called "Shipwreck Stew" …. I had never heard of this before. Apparently, it was something my grandma made. Maybe your family has a similar dish? Y'all know I love to cook (and eat!) – and I especially love how food has a tendency to bring people together.
The history of this dish
It was quite obvious how fond my aunts, uncles and cousins seemed of this dish. So many memories are made during a meal – whether we realize it or not …. So, I asked Wanda for the recipe. Of course, she happily obliged – thanks, Wanda! 🙂 Although my Aunt Wanda didn't list it in the ingredients list, I'm pretty sure there was an extra cup or two of love put in this dish – the comments about this Shipwreck Stew from the family told me so. 
This dish is far from fancy … and being perfectly honest, it totally made me cry as I ate it. I feel like I lost so many potential memories with some very wonderful people. What can I say, I am a huge cry baby! (Even as I write this post, I have to dry my eyes.) I may never have gotten the chance to share this with my grandparents, but if Heaven has a kitchen, something tells me there will be a bowl of this stew and a long overdue reunion waiting for me.
***According to my Aunt Wanda, this is a stew that gets better each time it's reheated!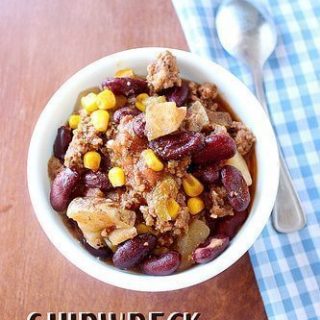 Shipwreck Stew
Total Time:
1 hour
10 minutes
Shipwreck Stew - a simple and economical dish full of ground beef, veggies and beans! Family friendly and comforting - don't let this dish's simplicity fool you!
Ingredients
2 lbs. ground beef
5-7 potatoes, peeled (if desired) and sliced thin or cubed
1 large onion, sliced thinly or finely chopped
5-7 stalks of celery, chopped
2 cans dark red kidney beans, liquid included
2 cans whole kernel corn, liquid included
2 cans diced tomatoes, juice included
salt & pepper to taste
Instructions
In a large pot, cook and crumble the ground beef over medium high heat, until no longer pink.
Drain, if necessary.
Layer in order:
the potatoes, onions, celery, kidney beans, corn and tomatoes. Add salt and pepper to taste.
Cook on medium-high heat until the stew starts to come to a boil then reduce the heat to medium-low. Let simmer until all vegetables are tender, about 45 minutes.
Cook covered and stir occasionally.
Nutrition Information:
Amount Per Serving:
Calories:

468
Total Fat:

24g
Saturated Fat:

9g
Cholesterol:

81mg
Sodium:

982mg
Fiber:

6g
Sugar:

5g
Protein:

25g
Originally published on March 20, 2014. Updated on April 26, 2021.