Classic Ham Sandwich – perfect for lunch or a quick dinner! A simple and delicious meal! #sandwiches #ham #ad
Classic Ham Sandwich
The coupons for product redemption, information, and gift card have been provided by Oroweat® Bread so I could try the product and share my thoughts and information about Oroweat®. The opinions expressed in this post are my own and do not reflect the opinions of Oroweat® Bread.
Like many, I grew up eating a lot of sandwiches at lunchtime. And the occasional dinner, of course. The thing is, I never really minded – my brothers on the other hand, were more of the leftover eaters. They felt cheated if they didn't have a "hot meal."
A typical sandwich for me when I was growing up, was literally lunchmeat and cheese on white bread …. maybe some kind of condiment. Mostly, I preferred my sandwiches without any kind of condiments as a kid (weird, I know!). When my mom wanted to put mayonnaise and mustard on my sandwiches, it just grossed me out – and I would refuse to eat. As I got older, I didn't mind condiments on my sandwich as long as it was in moderation.
My favorite sandwich
One of my favorite sandwiches then – and now – was the Classic Ham Sandwich. My mom never added lettuce and tomato to our sandwiches, but now that I'm an adult …. I love that extra little touch, and I always have lettuce and tomato on hand, so why not add a little bit of extra nutrition? I have even been known to use spinach if that's what I have. One of the other things I've changed as an adult is the bread …. white bread may have had its place in my childhood, but these days, I like something with a little more nutrition and whole grain. 
When I lived on the East coast, Arnold bread was a favorite … since moving to Arizona, I've realized many of my regular brands are called something else out here …. its Oroweat for my West coast peeps! 🙂 Don't even get me started on the what they call it on the East coast vs. what they call it on the West coast thing! I don't understand the difference!
Some quick info about Oroweat products:
All of Oroweat® Whole Grain Sliced Breads and Oroweat® Sandwich Thins® Rolls contain/are:
3 to 4 grams of fiber per slice or thin
Zero grams of Trans Fat
No High Fructose Corn Syrup
Cholesterol free
Health authorities recommend munching on 25-38 grams of fiber and 48 grams of whole grains per day Oroweat® Whole Grain Sliced Breads or Oroweat® Sandwich Thins® Rolls varieties.
If you're not sure of how many grams of whole grains you are getting, look for the Whole Grain Stamp found on all of Oroweat® Whole Grain Sliced Breads and Oroweat® Sandwich Thins® Rolls.
Right now, you can even enter the America's Better Sandwich contest! If you're a sandwich artist whose filling matches the goodness of Oroweat bread, you could win $25,000! Before entering the contest make sure you pick up any of the Oroweat Whole Grains Sliced Breads or Oroweat Sandwich Thins!
There are four categories to enter: 
Creative Classic – a healthful twist on a sandwich that has been around for at least two generations (ex. BLT, club, Reuben)
Stealthily Simple – maximum of 5 ingredients
Fueling Good – ingredients that boost your energy such as healthful fats, protein, fiber and iron
Meatless Marvel – no animal products (land or sea)
The recipe in each category with the highest score will receive $5,000 category prize. Entries will be accepted until August 22nd. Online consumer voting will take place September 22nd – October 17th. Winners will be announced on National Sandwich Day – November 3rd. To submit a recipe, receive tips on creating a better sandwich, or learn more about the Official Rules here.
Follow Oroweat on Facebook for special offers and up to date news.
Don't forget to enter the America's Better Sandwich Contest.
Other Posts You May Enjoy: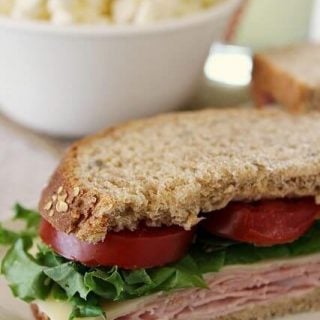 Classic Ham Sandwich
Classic Ham Sandwich - perfect for lunch or a quick dinner! A simple and delicious meal!
Ingredients
2 slices of your favorite bread
1 tablespoon mayonnaise
4-6 thin slices of deli-style ham
1-2 slices Swiss cheese
1 leaf lettuce, trimmed to fit bread (if necessary)
2 slices tomato
Instructions
Spread the mayonnaise on one side of one of the pieces of bread. Layer the ham over the top. Place the cheese on the ham. Place the lettuce and tomatoes on the ham. Place the remaining piece of bread on top.
If desired, cut the sandwich in half before serving.
Nutrition Information:
Amount Per Serving:
Calories:

1459
Total Fat:

33g
Saturated Fat:

11g
Cholesterol:

66mg
Sodium:

3175mg
Fiber:

19g
Sugar:

29g
Protein:

67g
Originally published on August 15, 2014. Updated on May 1, 2021.