Dinner will be a hit when this BEST Garlic Bread recipe makes an appearance! It's so easy and delicious!
Garlic Bread recipe
I'm one of those people who loves having some kind of bread at dinner. I would say that we have some form of biscuits, muffins, rolls, quick or yeast bread, naan, etc … about 4 or 5 nights of the week. One of my favorites is this BEST Garlic Bread recipe because it is so quick and easy! I usually buy a few loaves of Italian bread each week – we love to use them for big sub sandwiches – and I always keep one or two aside for this recipe. My entire family loves this garlic bread – and it seems like the kids are always fighting over the last piece!
While you may usually associate garlic bread with spaghetti or Italian dishes, I challenge you to think beyond that! It really goes great with so many dishes and it's so easy to make! We love including it with soup dishes, steak dinners, skillet meals, as a side for a dinner salad, pasta dishes … or just about anything that we make for dinner!
Although this recipe is quick and easy, to speed up the process, I sometimes make a few batches of this spread and keep it in the fridge for those nights when I know we'll be making this BEST Garlic Bread! It's easy to pull out a tub of the spread to let it soften so it's ready at dinnertime! You can decide whether or not to add the Parmesan cheese to the mix … sometimes we do, and sometimes, we don't. Sometimes, I also like a heavier garlic flavor so I'll throw an extra clove in the mix.
Other recipes you may enjoy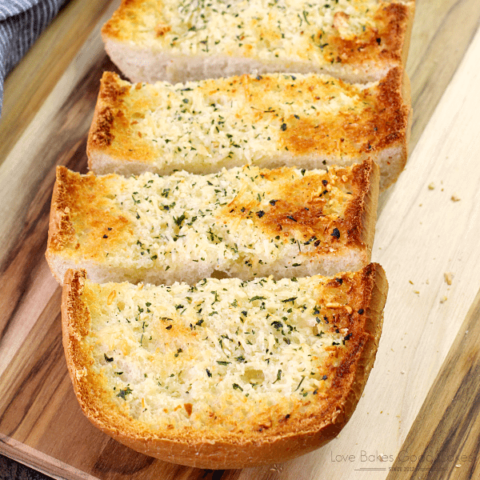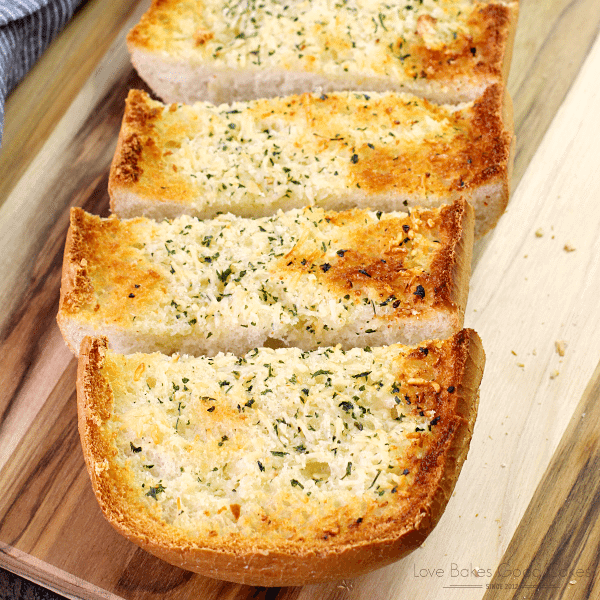 BEST Garlic Bread
Dinner will be a hit when this BEST Garlic Bread recipe makes an appearance! It's so easy and delicious!
Ingredients
1 loaf Italian or French bread
1/2 cup Challenge butter, softened
1/4 cup Parmesan cheese, grated (optional)
2-3 cloves garlic, minced
1 teaspoon dried parsley
Instructions
Preheat oven to 350°F.
Slice the bread loaf in half lengthwise. Place both halves on a large baking sheet. Set aside.
In a medium bowl, combine butter, cheese, garlic, and parsley until well combined. Spread the butter mixture over the cut side of both loaves of bread.
Bake 8-10 minutes.
Switch oven over to broil. Broil 2-3 minutes or until the tops of the bread are golden brown. Watch carefully so they don't burn!
To serve, cut into slices.
Nutrition Information:
Amount Per Serving:
Calories:

137
Total Fat:

8g
Saturated Fat:

5g
Cholesterol:

20mg
Sodium:

152mg
Fiber:

1g
Sugar:

1g
Protein:

3g