This Pesto Cheese Ball is the perfect appetizer and it is so easy to make! #ChristmasInJuly #shop #CollectiveBias
This post may contain affiliate links. As an amazon associate, I earn from qualifying purchases. See my full Disclosure Policy for details.
Pesto Cheese Ball and Christmas in July
This shop has been compensated by Collective Bias, Inc. and its advertiser. All opinions are mine alone.
If you follow me on social media, then you know about some of our backyard renovations. Right now, we are in the process of having a pool put in. Its the first phase of our backyard transformation. It should be completely done by the end of next week or into the following week – and my family is super excited! 
Today, the guys were out working on the decking surrounding the pool. We're calling the new pool our "Christmas present" to our family …. but this year, Christmas just happens to be in July! 🙂 Of course, when you spend that kind of money on anything, I think you can call it whatever you want! LOL!! Besides, December might be a bit cold for swimming – even in Phoenix – so we might as well enjoy it while the weather is hot, right?!
We usually start getting into the holiday spirit the day after Thanksgiving. Our Christmas tree usually goes up sometime that weekend and we put up a few other decorations. The Christmas music comes out and baking goes into full force with cookies, cakes and candy being made almost as fast as we can turn them out. We sip egg nog and hone our gingerbread house decorating skills. For some of us (me), it's the lack of skill. 🙂 We have a dinner that is all out. We also welcome Christmas morning with a special breakfast too. Simple, but special. Do you have any Christmas traditions?
As a mom of five and a food blogger, I can't help but to already be thinking of the holiday season. Not just because of the new pool. Maybe it's just me, but holidays take a lot of planning when you're the one who does most of the planning!! I do most of the shopping, decorating, baking and planning, single-handedly. I'm sure many of you reading this are in the same boat. I know in my mind there are other food bloggers out there planning out Christmas posts too …. in July. Heck, some of them may have already created recipes or taken pictures. No joke!! We have to think that far ahead or the season just seems to pass us by before we have a chance to get in on the action.
Since we're celebrating by having part of our Christmas presents in July, it's only appropriate that we do the whole Christmas experience. By the way, we will not be wrapping the pool and putting a big bow on it – so don't ask! 🙂 We will be inviting family and few friends over to help "break in" the pool, however. Oh yeah, we will be celebrating!! Although, I will be modifying our dinner menu slightly – it's too hot to be baking a bunch of stuff! Instead of a traditional Christmas dinner, we're going with grilled food and cool Summer side dishes, with an assortment of no-bake desserts.
Of course, no celebration is complete without some pre-dinner food! One of my favorite Christmas appetizers is the Philadelphia Pesto Christmas Tree from Kraft. It's always a hit at holiday parties! Since I have a fondness of pesto (I love the stuff!), I really wanted to change it up a bit and make a recipe perfect for Christmas in July! 🙂 A cheese ball seemed like the best solution and it would be easy for guests to enjoy while we grill or swim!
I stopped at my local Walmart to pick up the ingredients for the cheeseball. After stopping by the cheese case, I decided to head over to the bakery and have a look around. Although I usually just serve crackers alongside the cheese ball, I found some really nice long, thin baguettes in the bakery section that would be perfect with the Pesto Cheese Ball! Somehow, it makes it feel a little bit more special and like a true celebration! 🙂
Whether you serve this Pesto Cheese Ball for Christmas in July or Christmas in December (or anytime you need a quick and easy appetizer), it'll be a hit with all of your guests! It's so popular at our house that I have to make two cheese balls just so I can make sure there is enough for everyone!! It's sure to be love at first bite! And trust me, if you can find the long, thin baguettes at your local Walmart, get one or two for this cheese ball recipe!! Yummmm-o!! 🙂
I don't know about you, but I am always looking for things that make my life easier. Walmart.com will have more information on holiday planning in the coming months on their website. Be sure to visit for some great holiday ideas!
Here are a few other recipes we'll be enjoying:
Perfect Southern Sweet Iced Tea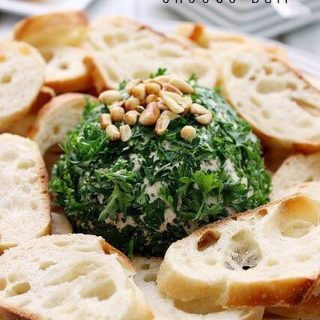 Pesto Cheese Ball
This Pesto Cheese Ball is the perfect appetizer and it is so easy to make!
Ingredients
1 package (8 oz.) Philadelphia cream cheese, softened
1/4 cup Classico Basil Pesto
1/4 cup shredded Parmesan cheese
1/4- 1/2 cup parsley, chopped
1 tbsp. pine nuts, toasted and chopped, optional
Assorted crackers or thinly sliced baguette slices, for serving
Instructions
In a medium bowl, beat the cream cheese, pesto and Parmesan cheese until well blended. Shape the mixture into a ball.
Cover and refrigerate until firm, at least 3 hours.
Reshape ball if necessary.
Roll ball in parsley to coat. Dot with pine nuts, if desired.
Serve cheese ball with crackers and/or baguette slices.
To toast the pine nuts:
Place the pine nuts in a dry skillet over medium heat. Cook 3-4 minutes, shaking the pan often, until the pine nuts are lightly toasted.
Notes
Note: The cheese ball can be refrigerated for up to a week to make preparing for holiday or dinner parties even easier!
Nutrition Information:
Amount Per Serving:
Calories:

187
Total Fat:

18g
Saturated Fat:

9g
Cholesterol:

46mg
Sodium:

318mg
Fiber:

0g
Sugar:

1g
Protein:

5g
Originally published on July 9, 2014. Updated on April 29, 2021.