Garlic & Herb Cheese Bombs – cheesy deliciousness wrapped in refrigerated biscuit dough, brushed with butter, garlic and herbs! #cheese #appetizers #bread
This post may contain affiliate links. As an amazon associate, I earn from qualifying purchases. See my full Disclosure Policy for details.
Garlic & Herb Cheese Bombs
I have to tell y'all, as I have gotten older, I have found my mind is not what it used to be. If I don't make a list, I won't remember it. Do you ever feel like that too?
Most days, I have so much stuff swirling around in my head between, homeschooling my kiddos, running a house, blog stuff and just life in general. It's too much info to process and keep straight without lists and calendars.
Wednesday is when our local ads come out. I have a "process" I go through every week …. I go through all of the ads and write down things from the circular that I think are a really good deal or things I may want to incorporate into our dinner. Then, I start planning our menu and finish it off with a grocery list.
I usually make my own French Bread because I'm too cheap to buy it …. or at least, that's my intention! I can't tell you how many times I've remembered at the very last minute that I forgot to make bread … too many times. That's when having things like canned biscuits and a cheese block come in handy!
My kiddos think these Garlic & Herb Cheese Bombs are the bomb …. hence the name! 🙂 Whether you forget to pick up or make bread for your spaghetti dinner …. or just want a fun and easy appetizer – this recipe is a keeper!
Just a side note – if your family prefers Cheddar cheese, it's just as tasty! 😉
I first shared this recipe at Juggling Act Mama
Other recipes you may enjoy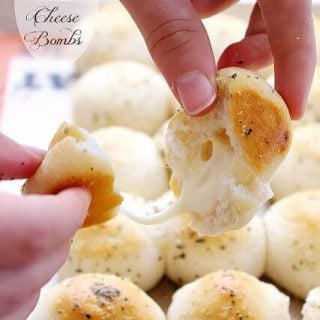 Garlic & Herb Cheese Bombs
Garlic & Herb Cheese Bombs - cheesy deliciousness wrapped in refrigerated biscuit dough, brushed with butter, garlic and herbs!
Ingredients
2 cans (7.5 oz. each) refrigerated biscuits
4 ounces Mozzarella cheese, cut into 20 cubes
4 tablespoons Challenge Butter, melted
1/2 teaspoon Italian seasoning
1/2 teaspoon garlic powder
Instructions
1. Preheat oven to 400°F.
2. Separate biscuits. Place on cube of cheese in the center of each biscuit. Carefully wrap the biscuit dough around the cheese and seal. Place seam side down about an inch apart on an ungreased baking sheet. Bake 10 minutes or until the biscuits are golden brown and the cheese is melted.
3. While the biscuits bake, mix the butter, Italian seasoning and garlic powder together and set aside.
4. Remove the biscuits from the oven and immediately brush with butter mixture. Serve warm.
Nutrition Information:
Amount Per Serving:
Calories:

101
Total Fat:

6g
Saturated Fat:

3g
Cholesterol:

11mg
Sodium:

267mg
Fiber:

0g
Sugar:

1g
Protein:

3g
Originally published on August 19, 2014. Updated on May 1, 2021.