I am so excited to be a part of
Lady Behind the Curtain's
newest venture – A monthly dessert challenge! I was kinda bummed when I found out that the Crazy Cooking Challenge was coming to an end – and when I saw Sheryl had this awesome new challenge, I knew I wanted to be a part of it! Be sure to check out her page
HERE
, if you're interested in joining.
This month's challenge was chocolate and cherry. Great combo in my opinion … and perfect for Valentine's day!
Have y'all ever had an awesome idea …. but when it's time to actually do the idea – it doesn't quite work out the way you had planned?! Uhhh, yeah … totally happened to me with this recipe. I homeschool our 10 and 11 yr. old's and I enjoy having the kids help me in the kitchen occasionally. I usually give them simple tasks that are age appropriate. Why does that matter, you ask? Two words – cooking spray. I wanted to make big ol' pretty chocolate cake with pink cherry frosting …… but I had a mishap with the cake sticking to the pan when I flipped it out …. which made a not so pretty cake (it DOES happen to us bloggers too). My 3 yr old politely told me that I "broke" the cake …. great! Thanks for noticing! 😉 Apparently, one of the pans wasn't sprayed well enough and it stuck. Ooops! I had to decide if I wanted to start over or just make do ….. (and if you knew I did this post late yesterday afternoon, you'd know starting over wasn't really an option). So, make do it was.
Cake balls are pretty popular these days …. I have to wonder if they didn't come about from a kitchen mishap?! I am betting they were from an accident! Makes me feel better! Anyways, that's what I decided to go with. You can put 'em on sticks if you'd like .. or just leave in a truffle-like form …. Either way, they are quite tasty and easy to make! I hope you enjoy!
By the way, should you ever do what I did, know that these little balls are the perfect way to save face …. just mix up your "broken" cake with the frosting and dip 'em in chocolate! No one will ever have to know that you "broke" the cake … unless you blog about it or have a 3 yr. old with a big mouth, of course!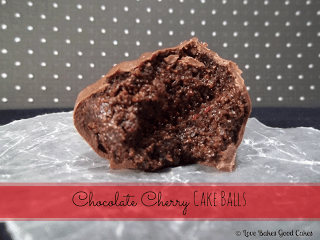 Chocolate Cherry Cake Balls
Yield: 50 – 60 balls
1 box (15.25 oz.) chocolate cake mix, plus ingredients needed to make the cake
8 tbsp. (1 stick of butter), softened
⅔ cup cocoa powder
3 cups powdered sugar
1 jar (10 oz.) maraschino cherries, chopped (drain and reserve the juice)
⅓ cup maraschino cherry juice
1 pkg. (16 oz.) Candiquick
Bake the cake according to package directions, using any size pan. Cool completely.
Place the butter and cocoa powder in a large mixing bowl. Blend with an electric mixer on low speed until well combined. Add the remaining ingredients, except the Candiquick and mix on low speed for about 1-2 minutes. Stop the mixer and scrape down the sides of the bowl with a rubber spatula. Blend on low for 1 minute or until the frosting is light and fluffy. Add more cherry juice or powdered sugar, if necessary – 1 tbsp at a time – to get the desired consistency.
Crumble the cake in a large bowl. Add the frosting mixture and mix well. Line a baking sheet with waxed paper or aluminum foil. Scoop tablespoonfuls of the mixture onto the baking sheet. Cover and refrigerate for about an hour.
Melt Candiquick according to package directions. Dip the balls one at a time into the coating, allowing the excess to drip off. Place back onto the baking sheet to set up. Continue with remaining balls.
Store covered in the refrigerator.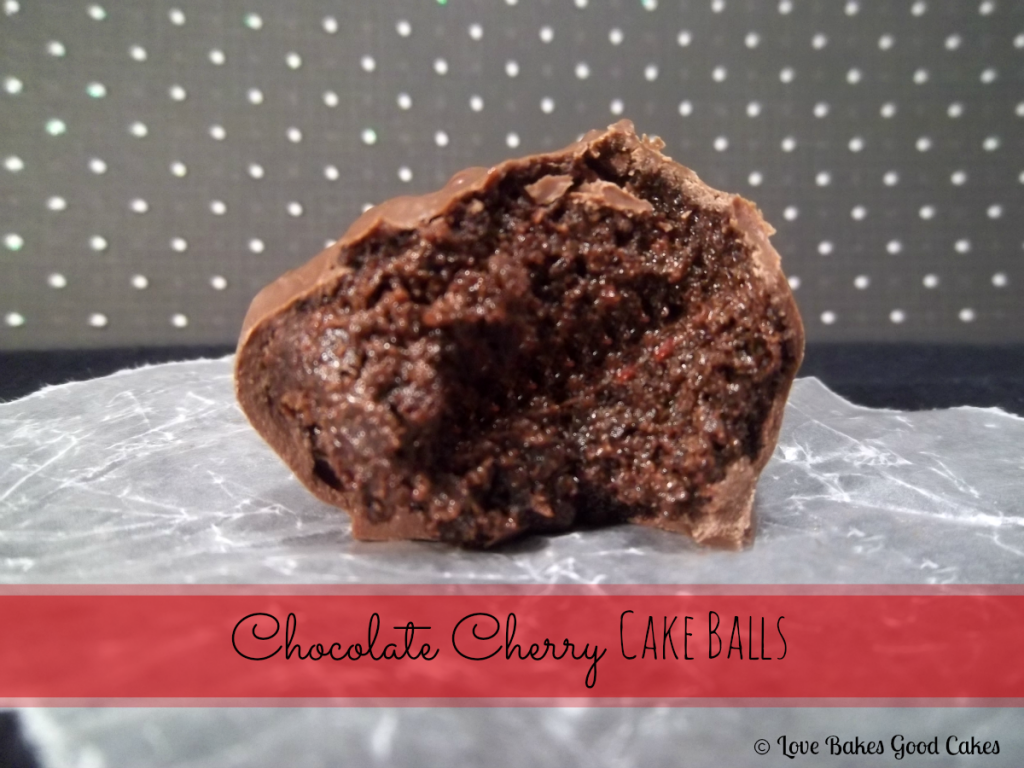 **If you'd like to see more chocolate cherry goodness, be sure to check out the linky party below!**
I hope you enjoy! Shared at these
fun parties!
Don't forget to share and comment ♥

Where you can find Love Bakes Good Cakes:
Facebook / Twitter / Pinterest / Google+ / RSS