These Bacon Bombs are the perfect cheesy snack or appetizer idea! They're so popular with anyone who tries them, you better make plenty, but thankfully, it's a very easy recipe!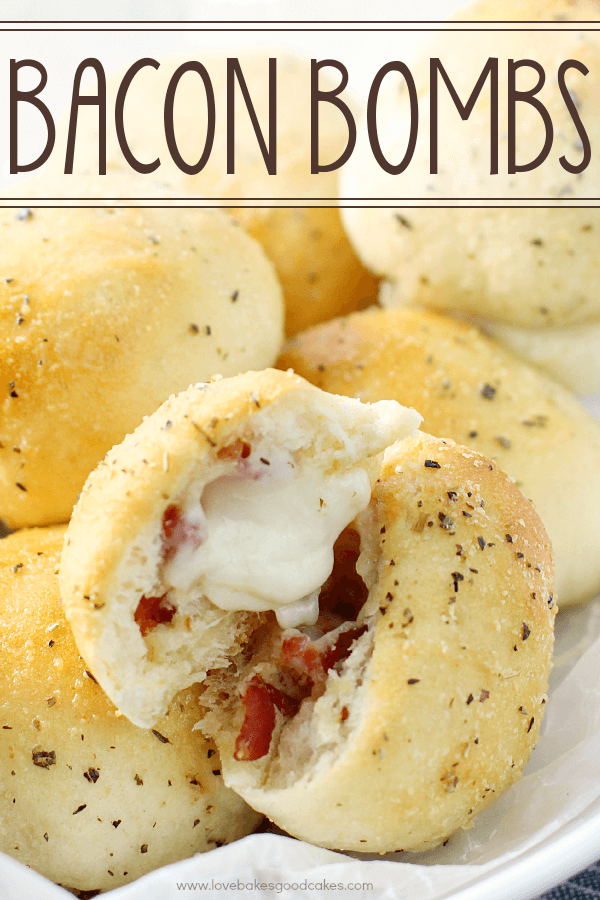 This post may contain affiliate links. As an amazon associate, I earn from qualifying purchases. See my full Disclosure Policy for details.
Bacon Bombs
Y'all, I am getting soooooo excited! Thanksgiving is just a little more than a week away – and I can't wait! I've been working on getting everything ready, like prepping our Thanksgiving menu.
Since we'll be enjoying our Thanksgiving feast in the late afternoon, I wanted to find a few things I could serve earlier in the day to tide people over until mealtime. My Garlic and Herb Cheese Bombs are always such a hit that I wanted to see if I could make a spin-off recipe. Bacon was on sale down at Fry's, so I decided to make Bacon Bombs instead!
I know these Bacon Bombs are going to be a hit on Thanksgiving, because who doesn't adore bacon in all its forms? Even vegetarians and vegans I know love their meat-free bacon!! It's just so good. Now imagine it in a bite-sized, breaded cheese ball, and you have yourself some Bacon Bombs. Ugh! Mouth-watering!! 
Honestly, I may need to make another trip to Fry's to stock up on more ingredients for these Bacon Bombs – because they are the bomb! (Sorry, I had to!)
Enjoy!
Bacon Bombs: Ingredients & Equipment
For this Bacon Bombs recipe, you'll need …
Ingredients
refrigerated biscuits – these form the "breading" or outer coat of your bombs.
mozzarella cheese: Cut into cubes. These go inside your bacon bombs and give them a texture a little like mozzarella sticks. Nothing like bacon coated in cheesy goodness! Yum!!
bacon – this, of course, also goes inside of your bomb! You'll want to cook it and crumble it. Use your favorite brand!
butter, garlic powder, Italian seasoning – this is a mixture you'll brush on the bombs after they're done cooking. The flavor it adds to these bacon bombs, so, so good. I can't even describe it! It makes them addictive.
pizza sauce – completely optional, but I found it's super tasty to use as a dip.
Equipment
ungreased baking sheet – you'll cook your Bacon Bombs on this.
Bacon Bombs: FAQs
I don't have refrigerated biscuits to make these! Is there something else I can use?
If refrigerated biscuits are not available where you live, check out my recipe for homemade buttermilk biscuits! For each bomb, you will need slightly more biscuit dough than it takes to cover the cheese and bacon so you can make a good seal – meaning, the cheese won't leak out everywhere!
How many Bacon Bombs does this recipe produce?
About 20 Bacon Bombs, though you'll probably want to make a few batches!
How long does it take to make Bacon Bombs?
Just 20 minutes! 10 minutes to prep the ingredients and 10 minutes to cook them.
Can you use shredded mozzarella?
Yes, you can, although if you used the packaged kind, keep in mind that it may take a little longer to melt, as packaged cheese has preservatives in it!!
How can you store leftover Bacon Bombs?
You have leftovers?! (Kidding!) They can be kept in the fridge for 3-4 days. Use an airtight container! When you're ready to eat them again, you can heat them in the microwave.
Are there other dips you recommend for Bacon Bombs?
Besides pizza sauce, I know a lot of folks like hot sauce!! Cheese sauce is also wonderful if you're a big fan of cheese.
Other recipes you may enjoy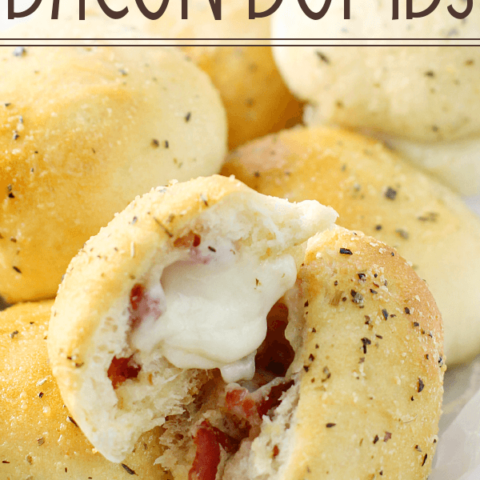 Bacon Bombs
These Bacon Bombs are the perfect cheesy snack or appetizer idea! They're so popular, you better make plenty! Easy recipe!
Ingredients
2 cans (7.5 oz. each) refrigerated biscuits
4 oz. Mozzarella cheese, cut into 20 cubes
8 slices Wright® Brand Bacon, cooked and crumbled
4 tbsp. butter, melted
1/2 tsp. Italian seasoning
1/2 tsp. garlic powder
Pizza sauce, for dipping (optional)
Instructions
Preheat oven to 400°F.
Separate biscuits. Place one cube of cheese in the center of each biscuit. Top with a heaping teaspoon of bacon. Carefully wrap the biscuit dough around the cheese and bacon and seal. Place seam side down about an inch apart on an ungreased baking sheet. Bake 10 minutes or until the biscuits are golden brown and the cheese is melted.
While the biscuits bake, mix the butter, Italian seasoning, and garlic powder together and set aside.
Remove the biscuits from the oven and immediately brush with butter mixture. Serve warm with pizza sauce, if desired.
Nutrition Information:
Amount Per Serving:
Calories:

149
Total Fat:

11g
Saturated Fat:

5g
Cholesterol:

19mg
Sodium:

344mg
Fiber:

0g
Sugar:

1g
Protein:

4g