Hot and hearty, yet easy to make in no time at all, this Instant Pot Chili will keep you warm any time of the year!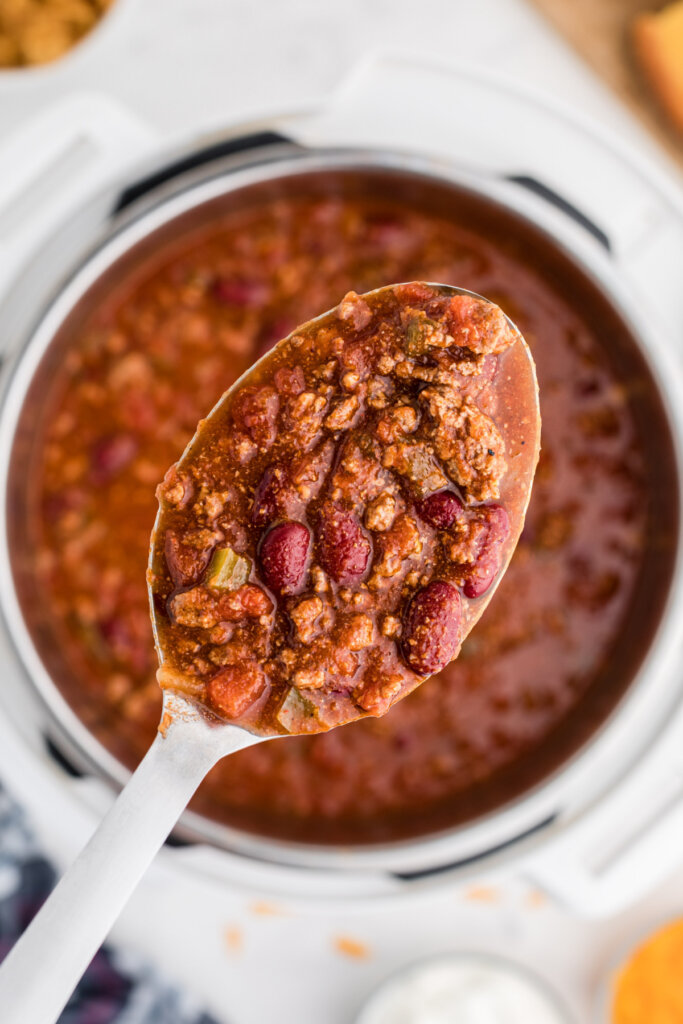 Instant Pot Chili Recipe
Do you know those recipes that are guaranteed hits with the family? Things like grilled cheese, a tasty chicken dish, or pretty much anything Mexican? (Or maybe that's just my house!)
This Instant Pot chili is one of those guaranteed hits, especially in the winter! It's perfect for when you're busy and still want a filling meal that'll keep your household feeling warm and full.
And by now I'm sure y'all know how much I love my Instant Pot. This post isn't sponsored or anything, it's just that good. Think of a pressure cooker, slow cooker, rice cooker, and all sorts of other gadgets combined in one. It makes meals like chili incredibly simple, and so I had to share this Instant Pot chili recipe with you all today! Just 5 minutes of prep, the rest is cooking!
As much as I love my Wendy's Copycat Chili, this Instant Pot Chili is equally delish!
This recipe is warm, it's filling, and best of all, it takes no fuss to make! It's super simple for being so, so good! Enjoy!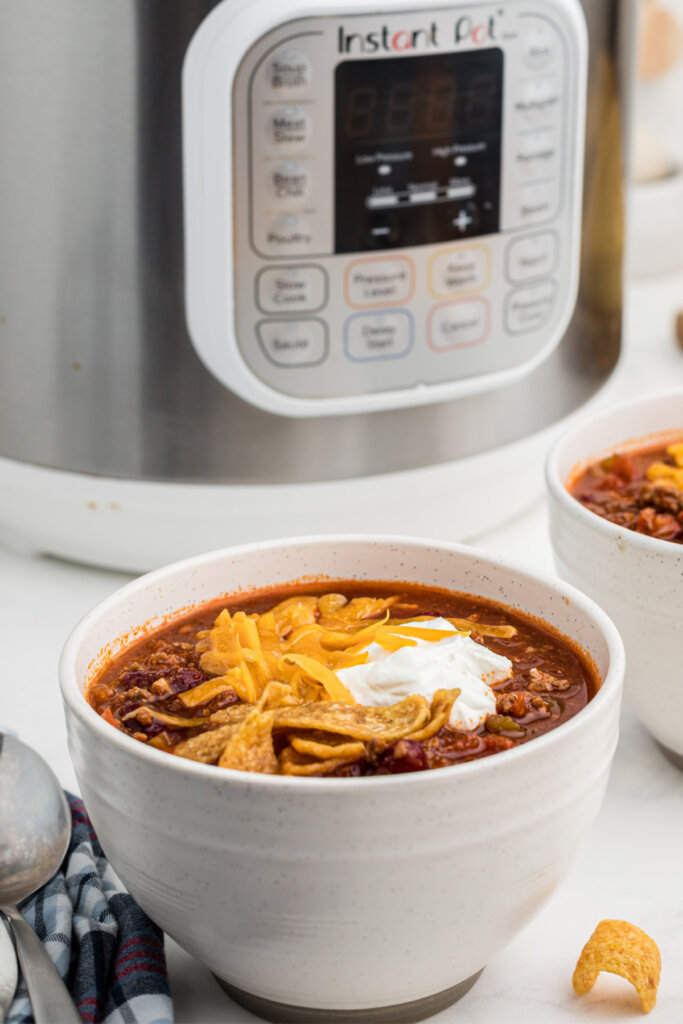 Best Instant Pot Chili: Ingredient & Equipment
For this Instant Pot Chili, you'll need …
Ingredients
canola oil – for sauteing/cooking many of the ingredients here!
ground beef – or your preferred meat. 90% lean is best, as it still has plenty of flavor without leaving an overpowering greasiness on everything.
onion, green bell pepper, celery, garlic – veggies for flavor and crunch. Fresh is the best! Don't buy any jarred stuff if you can help it!
tomato sauce, diced tomatoes, canned tomatoes/chilis – you can't have chili without a "sauce" or "broth" made of tasty, tasty tomatoes.
beef broth – this liquid thins out all your above tomato products.
chili powder, ground cumin, paprika, garlic powder, onion powder, sea salt, black pepper – lots of seasonings here, but all necessary for a flavorful, hearty chili.
sugar – believe it or not, most dishes like this require a little bit of sugar to balance out the taste of the other ingredients. Weird, right?! But if you leave the sugar out, you'll taste the difference!
red kidney beans – drained and rinsed. Chili always needs beans in my opinion!!
toppings – like grated cheese, sour cream, green onions, avocado, cilantro, etc etc. Optional, but also not optional, you know?!
Equipment
instant pot – the star of the show, making this chili an absolute drama-free recipe!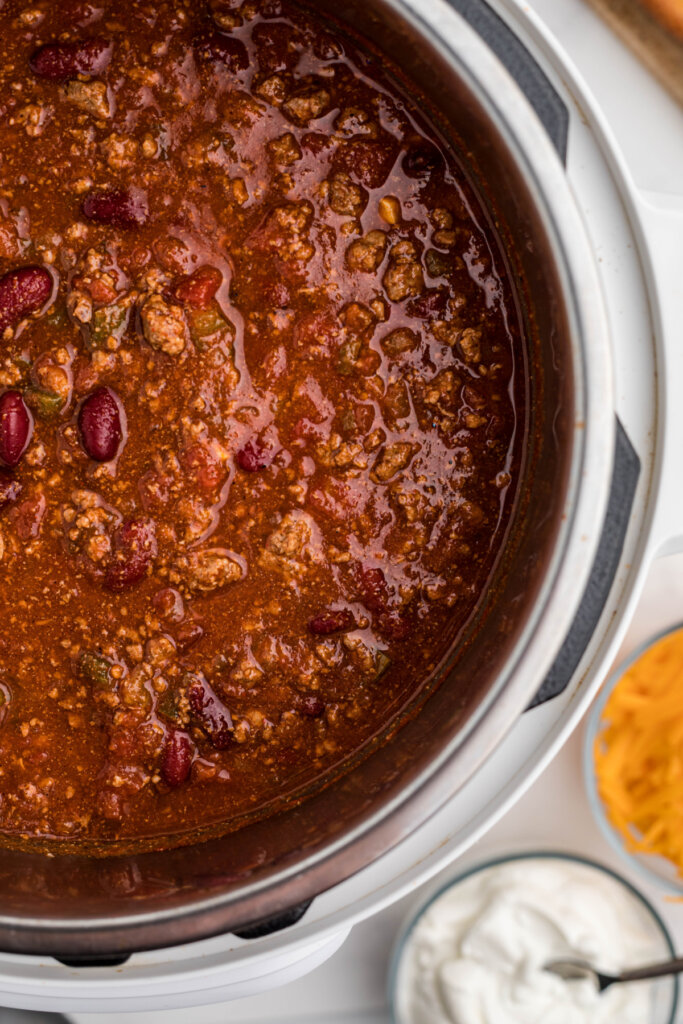 Easy Instant Pot Chili: FAQs
How many servings does this Instant Pot chili recipe make?
This should make 8-10 bowls of chili, depending on the serving size! Definitely, enough for the whole family to have at dinner, I think!
How long does it take to make chili in an Instant Pot?
A little less than an hour! Gathering all the ingredients takes about 5 minutes, and the cooking itself only takes about 45.
How can I make my Instant Pot chili even thicker?
This chili should finish with a good thickness as-is, as it only contains a relatively small amount of beef broth. However, if you'd still prefer an even thicker chili, you can try having it simmer on saute mode for 5-10 minutes after it's already been cooked. Experiment to match your taste!
How long can I store this Instant Pot chili?
Instant Pot chili makes for great leftovers. You can store in an airtight container…or preferably sealed bags, making sure to press out as much air as possible. Then you can keep it in either the refrigerator for up to 3 days, or you can keep it frozen for a month!! Reheating is best done in a stovetop saucepan on low heat.
What are good side dishes to pair with this chili?
Tortilla chips or corn chips are the classic partners, especially if you're going with sour cream as a topping! My family really digs my cornbread recipe, but garlic bread or garlic knots will also pair well. Yum!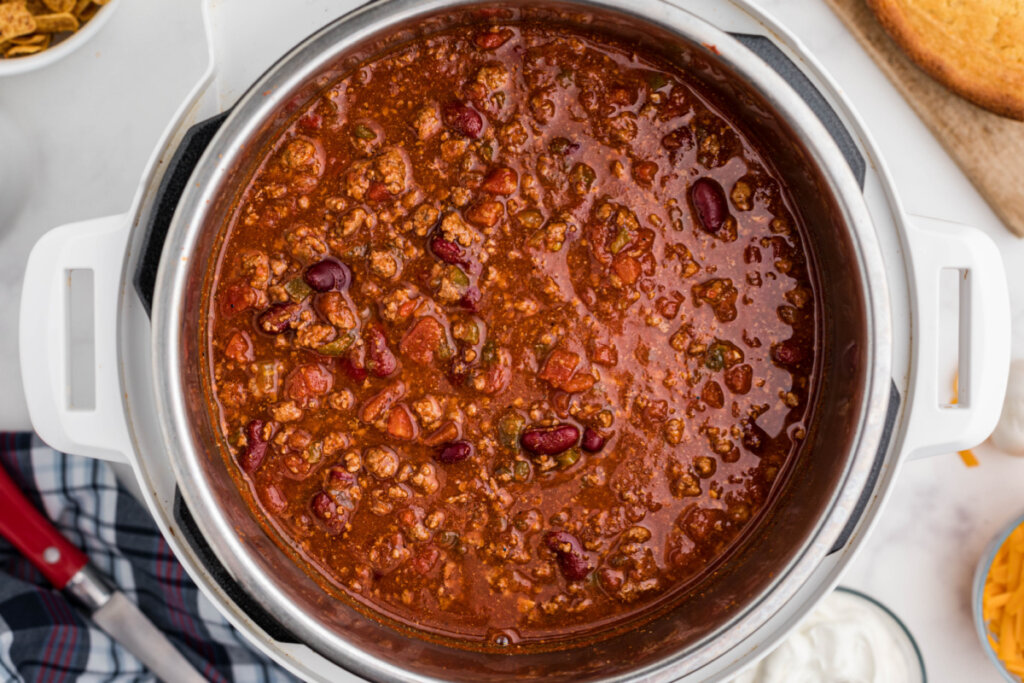 Other recipes you may enjoy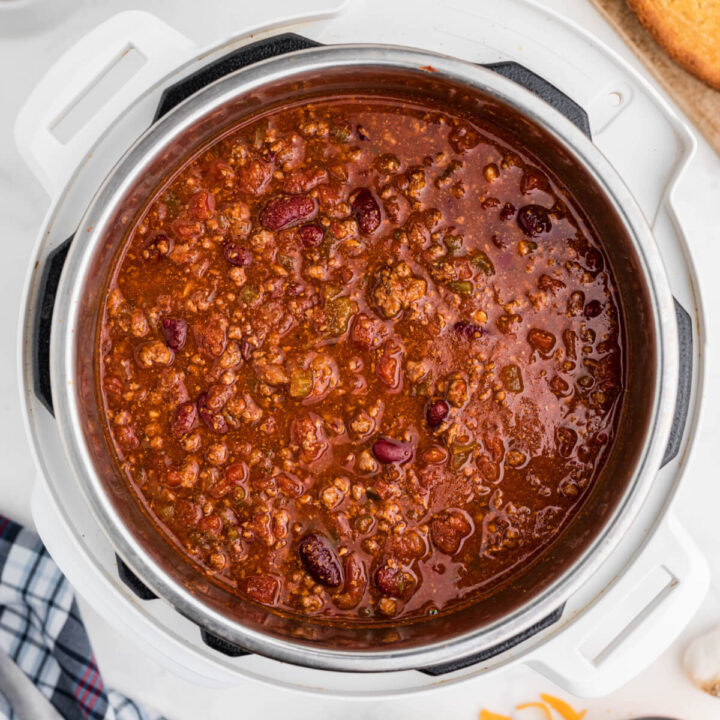 Instant Pot Chili
Hot and hearty, yet easy to make in no time at all, this Instant Pot Chili will keep you warm any time of the year!
Ingredients
2 teaspoons vegetable oil
2 lb lean ground beef
1 large sweet onion, diced
1 large green bell pepper, diced
1 stalk celery, diced
4 cloves garlic, minced
3 cans (8 oz. each) tomato sauce
1 can (14.5 oz.) petite-diced tomatoes
1 can (10 oz.) Rotel tomatoes and chilies
3/4 cup beef broth
3 tablespoons chili powder
1 tablespoon garlic powder
1 tablespoon onion powder
1 tablespoon ground cumin
2 teaspoons paprika
2 teaspoons granulated sugar
2 teaspoons salt
1 teaspoon fresh ground black pepper
2 cans (15.5 oz. each) red kidney beans, drained and rinsed
grated cheese, sour cream, green onions, fritos, avocado, cilantro, etc (optional toppings)
Instructions
Put your Instant Pot into Saute function. Add the oil and heat for 2 minutes, then add the ground beef. Cook and crumble the beef until barely any pink remains.
Add the diced onions, bell pepper, and celery and cook until translucent – about 3 minutes.
Add the garlic and cook another 2 minutes.
Add the remaining ingredients except for the optional toppings and stir well to combine. Place the lid on top and make sure the lever is in the seal position. Change the settings on the Instant Pot to the Bean/Chili setting and let cook for 30 minutes (+ more for the pressure up phase).
Once the beeper lets you know the cooking time is over you can either allow it to slowly vent on its own time or you can carefully sweep the lever over to the venting position for a fast release.
Stir and serve with your choice of toppings and sides.
Notes
You can also make this recipe on the stove or in a slow cooker! You would need to add about 2 hours to the cooking time on the stove and about 4-6 hours on high in the slow cooker.
For added variety, you can use your favorite ground beat in place of the ground beef! Try it with ground turkey or bison.
Sometimes I like to change it up slightly by using one can of red kidney beans and one can of pinto beans. Feel free to try it with black beans, too!
Want a vegetarian option? Eliminate the meat and use more variety of beans.
Recommended Products
As an Amazon Associate and member of other affiliate programs, I earn from qualifying purchases.
Nutrition Information:
Yield:

10
Serving Size:

1
Amount Per Serving:
Calories:

408
Total Fat:

19g
Saturated Fat:

6g
Trans Fat:

0g
Unsaturated Fat:

10g
Cholesterol:

85mg
Sodium:

1001mg
Carbohydrates:

27g
Fiber:

8g
Sugar:

8g
Protein:

34g
Please note that the nutritional information listed on this page is an estimation based on the products I used. Ingredients and nutritional information can vary significantly between brands. Always be sure to read labels. Please verify that a recipe fits your needs before using it. Nutrition info may contain errors, so please verify it independently. Likewise, recipes may contain errors, so please use your common sense when following them.