This post may contain affiliate links. As an amazon associate, I earn from qualifying purchases. See my full Disclosure Policy for details.
Chili – Like Wendy's is perfect for those cooler nights! Thick, hearty and full of ground beef, beans and tomatoes! It really hits the spot! #chili #soups


My absolute favorite meal is Chili …. with a side of cornbread … and some sweet tea. Seriously, I could eat it every single day …. and I have been known to eat it cold. That is love, y'all. Growing up, on the rare occasion when we would visit my grandparents (they lived about 1,200 miles away), my grandma always made a big ol' pot of chili when we came into town … I can still smell her kitchen and that chili. It wasn't anything fancy, but her love went into it. Chili always reminds me of my grandma. This is a bit different from my grandma's version, but good none-the-less! She didn't use all of the the veggies that I do!
Personally, this is one way I can get a bunch of veggies into my family without much complaint …. and my 5 year old who swears he "doesn't like tomatoes," will devour this chili! That's a definite score in my book! Especially when you see how tomato-packed this chili is! As a side note, a quarter of a cup of chili powder may sound like a lot, but you will need a bunch to counteract the amount of tomatoes in this recipe. Feel free to adjust the amount of chili powder to your family's personal taste.
Just a side note – this is an award-winning chili. It has won chili cook-offs …. and people beg for the recipe! It's that good! 🙂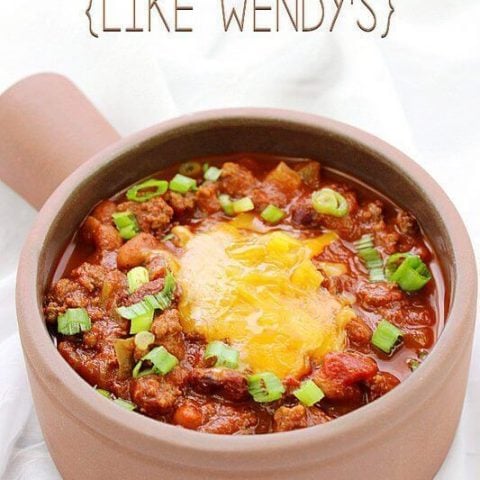 Chili - Like Wendy's
Cook Time:
1 hour
30 minutes
Chili - Like Wendy's is perfect for those cooler nights! Thick, hearty and full of ground beef, beans and tomatoes! It really hits the spot!
Ingredients
2 lb. hamburger
48 oz. can tomato juice
29 oz. can tomato sauce
1 large onion, chopped
2 stalks celery, chopped
1/4 cup chopped green pepper
1/4 cup chili powder
2 tsp. ground cumin
1-1/2 tsp. garlic powder
1 tsp. salt
1/2 tsp. pepper
1/2 tsp. dried oregano
1/2 tsp. white sugar
1/8 tsp. ground cayenne pepper
1 can (14.5 oz.) diced tomatoes
1 can (15 oz.) dark red kidney beans, drained
1 can (15 oz.) pinto beans, drained
Your choice of toppings (below), optional
Instructions
In a large soup pot, cook and crumble the beef over medium-high heat until meat is no longer pink; drain.
Return meat to the pan and place all remaining ingredients, except toppings, in the soup pot, stir to combine.
Bring to a boil. Reduce heat and simmer for 1 to 1-1/2 hours. Stir every 15-20 minutes.
Serve hot with your choice of toppings!
Topping ideas: crackers, Fritos corn chips, cheese, sour cream, green onions, chopped white onions, jalapenos, crushed red pepper, crumbled cornbread, avocado slices, bacon, tomatoes, black olives, cilantro, lime wedges, Corn Nuts, hot sauce, cooked elbow macaroni or a few dark chocolate chips.
Nutrition Information:
Amount Per Serving:
Calories:

383
Total Fat:

15g
Saturated Fat:

5g
Cholesterol:

76mg
Sodium:

1055mg
Fiber:

9g
Sugar:

11g
Protein:

32g
Really, is there anything better on a cold night than a big bowl of chili with cheese?! I think not!
Other Posts You May Enjoy:
Chili Cheese Tater Tot Casserole
I hope you enjoy! Shared at The Country Cook and these
fun parties!
Don't forget to share and comment ♥
Copyright © Love Bakes Good Cakes 2012-2013 All Rights Reserved