This Breaded Pork Tenderloin Sandwich is fried until golden brown, then topped the traditional way with mustard, pickles, and onions! A Midwest favorite, you have to try this sandwich!!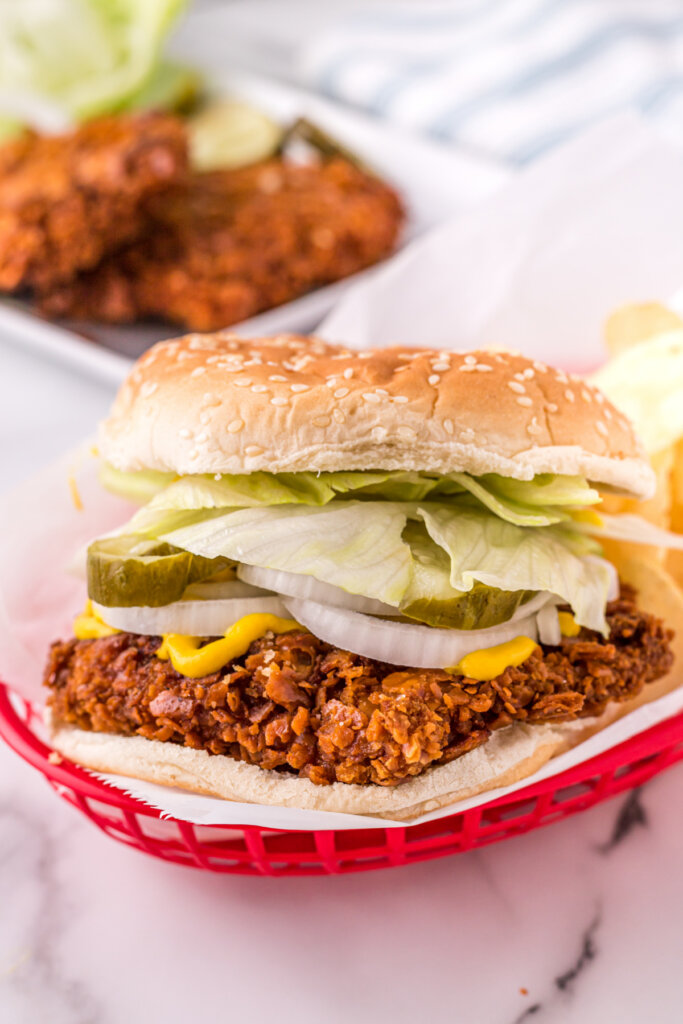 Breaded Pork Tenderloin
Ok, I don't say this about many things …. but you HAVE TO try this Hand-Breaded Tenderloin Sandwich!! If you are planning on making any recipes from my blog this recipe should be one of them! That is how much I love this sandwich. Seriously …. just do it!!
Having lived in the Midwest for some time, I have a few favorite recipes I have shared here on the blog. Iowa Ham Balls, Iowa Ham Salad, Maid-Rites, Runzas, and White Castle Casserole are just a few.
If you are from the Midwest, you have probably had a BPT (Breaded Pork Tenderloin) or two in your life …. if you live anywhere else, you are probably wondering what the heck this Hand-Breaded Tenderloin Sandwich is and what all the commotion is about it?!
There are not enough words to describe how amazing this pork sandwich is … trust me! It's crunchy, juicy, tender, amazing porkiness wrapped in a bun! I'm pretty sure I hear angels singing! 😇
Traditionally, this sandwich is topped with all kinds of bad-breath-inducing ingredients (like pickles, mustard, and onion – hello?!), but you could top it however you like. Brian likes it with BBQ sauce ….. whatever. 🤷🏽‍♀️ Unless you have a hot date, I can't encourage you enough to try it the traditional way!
This Hand-Breaded Tenderloin Sandwich definitely ranks up among my top 3 favorite sandwiches in the history of ever!! I sure hope you give this recipe a try!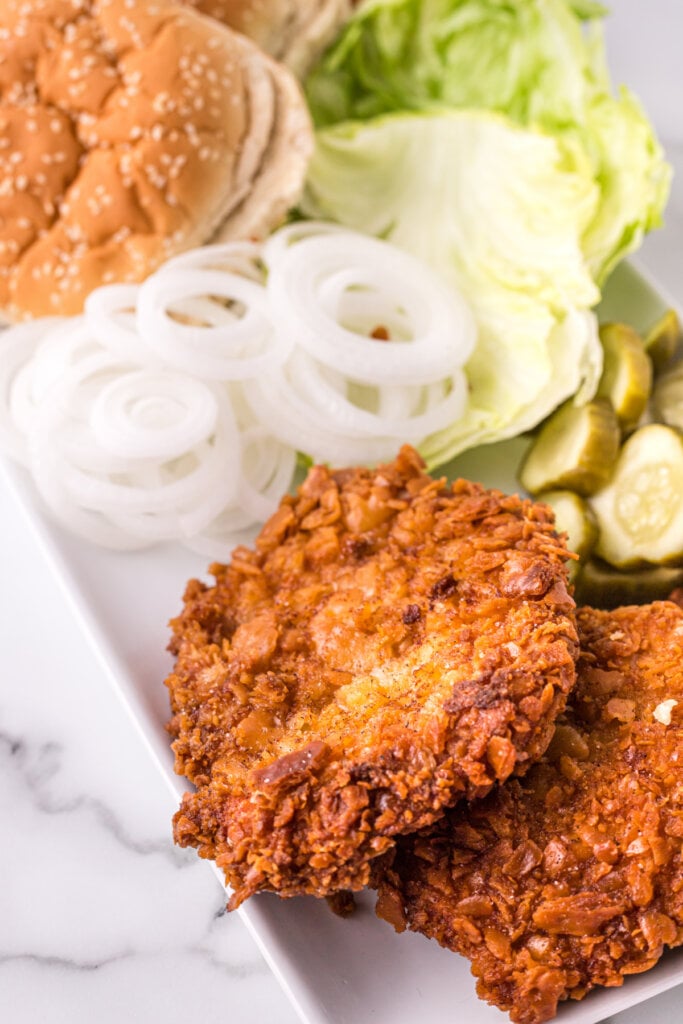 Pork Tenderloin Sandwich: Ingredients & Equipment
To make this Hand-Breaded Pork Tenderloin Sandwich, you'll need …
Ingredients
pork tenderloin – you'll slice it into pieces and then pound those pieces nice and thin. You can also use boneless center-cut chops in a pinch, then pound them out.
eggs and milk – this is what will help make the breading stick.
saltine crackers – the breading for our tenderloins.
oil – for frying. I typically use vegetable or canola oil. Peanut oil can also be used.
hamburger buns – for putting all of your delicious sandwich ingredients on, of course!
toppings of your choice – such as lettuce, tomato, onion, pickle, condiments, etc …
Equipment
meat mallet, plastic wrap, and cutting board – for pounding out your tenderloins. You can also use a heavy skillet or similar heavy object. I would highly suggest pounding out the tenderloins on a cutting board or similar object so you don't accidentally damage your countertops.
skillet and tongs – for frying your tenderloin pieces.
platter or baking sheet with paper towels – for draining your cooked tenderloins.
food processor – not absolutely necessary, but it will make crushing your crackers way faster and easier. If you don't have a food processor, no worries! Use a large zip-top bag with most of the air squeezed out and a towel placed over the top (so your bag doesn't puncture) and use a rolling pin or similar object to break the crackers into crumbs.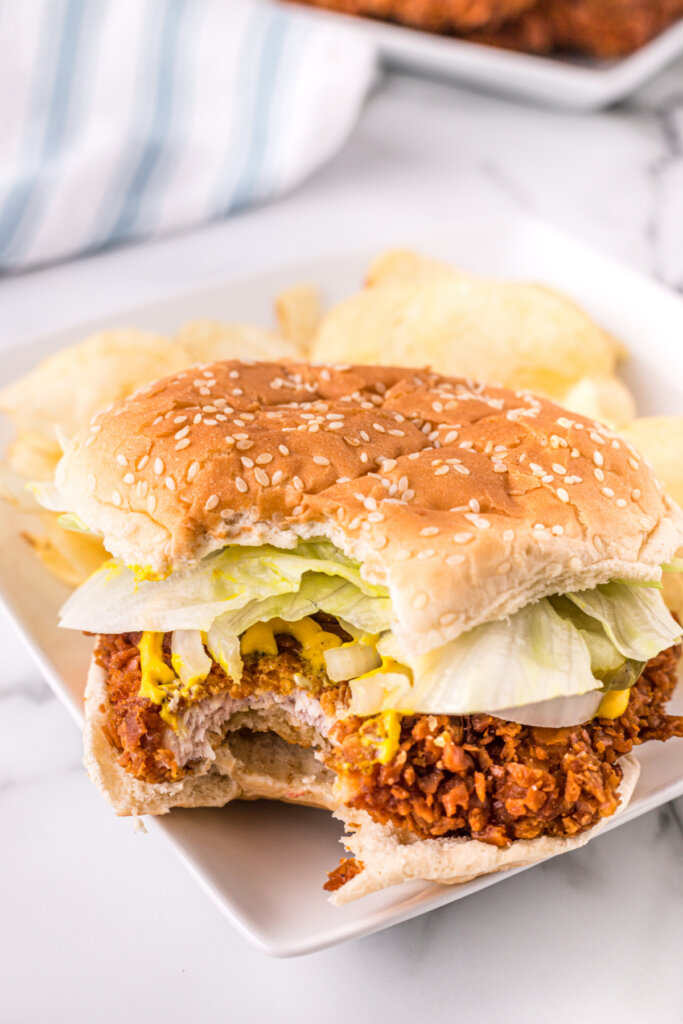 Breaded Tenderloin: Questions & Answers
What kind of oil should I use?
Canola or vegetable oil works best in this recipe.
Can I use a food processor to crush the saltine crackers?
Yes! It'll make the job faster!
Can I switch things out?
There are lots of regional variations on this, I've found. It seems all of the people in the Midwest have their own versions. If you want to switch things out for a more familiar ingredient, go for it!! I think buttery or cheesy crackers would be just as delicious as the saltines! I've also heard people use cornflakes, but I've never tried it. However, if you've never had this deliciously addictive sandwich before, I suggest starting with my recipe – it won't steer you wrong!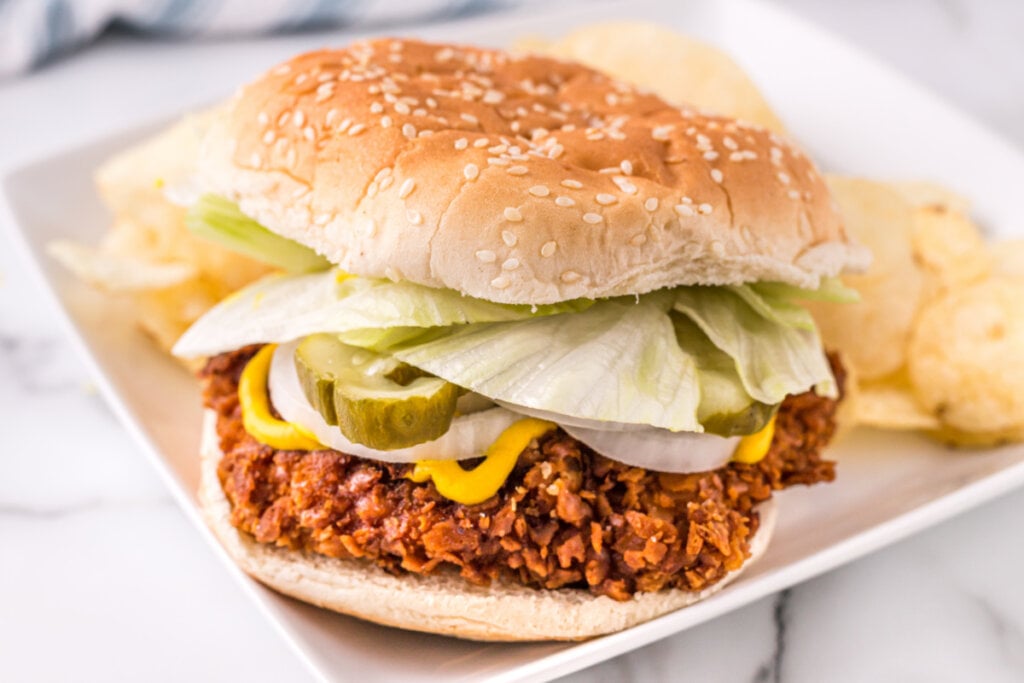 Other recipes you may enjoy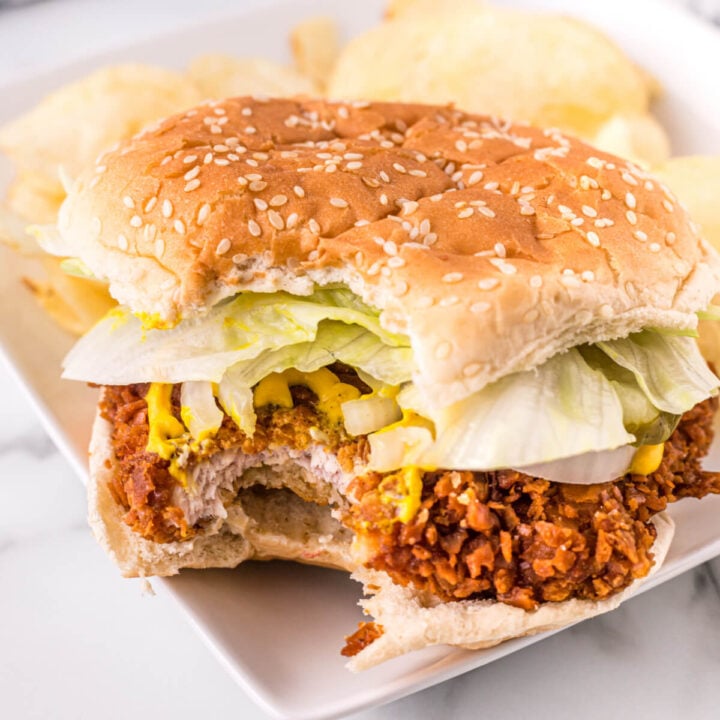 Breaded Pork Tenderloin Sandwich
This Breaded Pork Tenderloin Sandwich is fried until golden brown, then topped the traditional way with mustard, pickles, and onions! A Midwest favorite, you have to try this sandwich!!
Ingredients
For the pork tenderloin
1 pork tenderloin - cut off 6 to 8 slices (1/2 to 1-inch thick), reserve the rest of the tenderloin for another use
4 large eggs
splash of milk
2 sleeves of saltine crackers
oil, for frying
For serving:
hamburger buns, lettuce, tomato, onion, pickle, condiments, etc. …
Instructions
Make an egg wash with the eggs and a splash of milk in a pie pan or a similar-sized bowl. Beat the mixture well. Set aside.
Place both sleeves of crackers in a large zip-top bag, and squeeze as much air out as you can. Crush the crackers with the rolling pin until the pieces are crumbs. Place in a pie pan or similarly sized bowl. Set aside.
Place one piece of the pork on a plastic cutting board. Top with Saran wrap. Use the rolling pin to hit the pork, flattening it - working from the center out, flattening into fairly thin slices. Repeat with remaining pork slices.
Lay out enough aluminum foil on your counter to comfortably hold all the tenderloins.
One at a time, dip the pork pieces into the egg mixture, coating both sides well. Then place in the cracker crumb mixture, coating both sides well. Remove to the aluminum foil to rest while you repeat with the remaining pork slices. Do not stack them on top of each other!
Let the tenderloins rest for about 10-15 minutes so the breading stays on during frying. Meanwhile, heat oil to 375 degrees F.
Fry the tenderloins one or two at a time, depending on the size of your fryer, until golden brown. Flip once during frying to ensure even browning. Drain on paper towels. Immediately sprinkle with salt to taste.
To serve, place on hamburger buns and top with mustard, pickles, and onions ... or your choice of toppings.
Notes
In a pinch, you can use boneless center-cut chop in place of the tenderloin.
Change it up a bit by substituting buttery or cheezy crackers in place of the saltines.
No meat mallet? Use a heavy skillet or veggie can on its side to pound out the pork.
Recommended Products
As an Amazon Associate and member of other affiliate programs, I earn from qualifying purchases.
Nutrition Information:
Yield:

6
Serving Size:

1
Amount Per Serving:
Calories:

182
Total Fat:

11g
Saturated Fat:

3g
Trans Fat:

0g
Unsaturated Fat:

7g
Cholesterol:

147mg
Sodium:

184mg
Carbohydrates:

8g
Fiber:

1g
Sugar:

2g
Protein:

13g
Please note that the nutritional information listed on this page is an estimation based on the products I used. Ingredients and nutritional information can vary greatly between brands. Always be sure to read labels.
Originally published on May 1, 2012. Updated on June 23, 2022.