Cheesy Scalloped Potatoes and Ham recipe is just like grandma used to make! Use leftover ham to make this simple and delicious comfort food!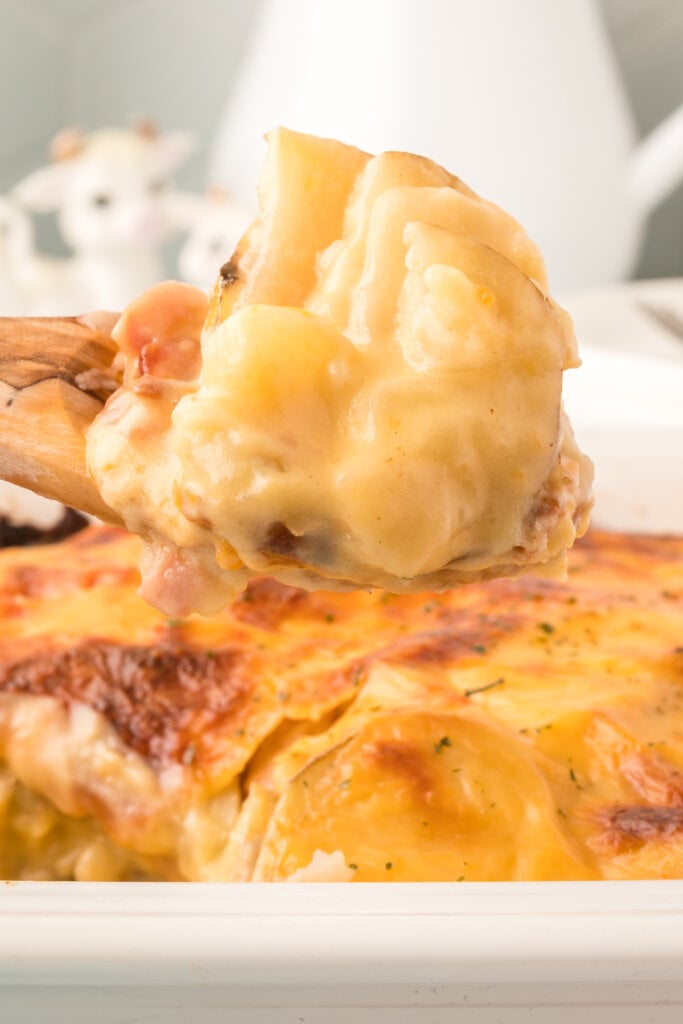 Scalloped Potatoes
When I was a kid growing up, we always ate dinner together. When we lived close to my grandparents, Sunday dinner was always at their house with my aunts, uncles, and cousins.
My cousins and I would play outside from the time we got to grandma's house up until she yelled out the back door for us kids to come in because it was dinnertime. I think that's the only part of the day where we slowed down!
Of course, all of the cousins sat at the "kids table." We talked about the fun we had that day and what we wanted to do before we had to come in to get cleaned up for bedtime! After dinner, we would be right back outside again.
I have so many fond memories of those times. And to be frankly honest with y'all, I kind of miss those days.
While our family is spread out across the country now, getting together is not easy. With today's schedules and family dynamics, it's often difficult for families to sit down together and enjoy a meal. Not to mention, someone has to plan it and cook it!
Between work, sports, school, and just life in general, we've got a million and one things vying for our time. Sometimes, it's a real struggle to balance it all and make time. But, while I might not have Sunday dinner with my kiddos as we had at my grandma's, I can still make those memories and encourage my children to carry on traditions into the future.
Sunday Dinner
My grandma was a great cook. Aren't all grandmas?! Although what she made wasn't fancy, it was comforting. There are several dishes she made that I loved – and one of them was Scalloped Potatoes with Ham.
Like many grandmas, she never used a recipe. Yet, she could make enough food to feed an army and make it all seem so effortless.
For Sunday dinner in the Love Bakes Good Cakes house, I usually try to make something that reminds me of those Sunday dinners growing up. A part of me hopes to hold onto those memories from my childhood while sharing those experiences and food with my kids today.
Now that I'm a grandma, I hope someday my grandbabies will look back with the same affection and share those memories with their children.
Recipes using Leftover Ham
One of the things I love the most about this recipe is it's a great way to use leftover holiday ham or ham from the night before. I have a few leftover ham recipes we enjoy, like Iowa Ham Salad, Ham and Pineapple Fried Rice, or Ham Bean Cabbage Soup.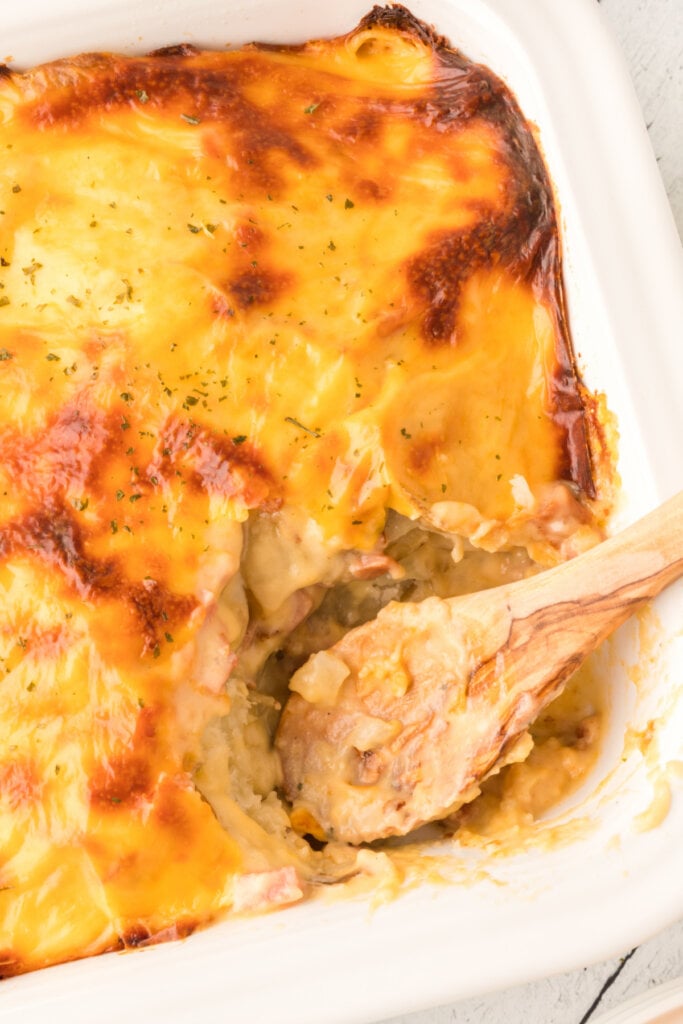 Ham and Scalloped Potatoes: Ingredients and Equipment
For this Ham and Scalloped Potatoes recipe, you'll need …
Ingredients
butter – I prefer to use unsalted to I can control the amount of salt in this dish. You can use salted if you prefer.
all-purpose flour – used as a thickener.
milk – feel free to use any dairy or non-dairy milk that is neutral-flavored.
Cheddar cheese – you can use other cheeses too – Colby, Colby Jack, and Swiss all taste great! Feel free to use whatever your family enjoys.
potatoes – I prefer russets.
cooked ham – this is a great way to use leftover holiday ham or ham from a weeknight dinner. I've used everything from a spiral ham to a ham steak for this recipe.
parsley – an optional garnish.
Equipment
measuring cups
knife and cutting board
mandoline (optional – helps cut those potatoes thin and evenly)
8×8-inch or 9×9-inch baking dish
medium saucepan
whisk
rubber spatula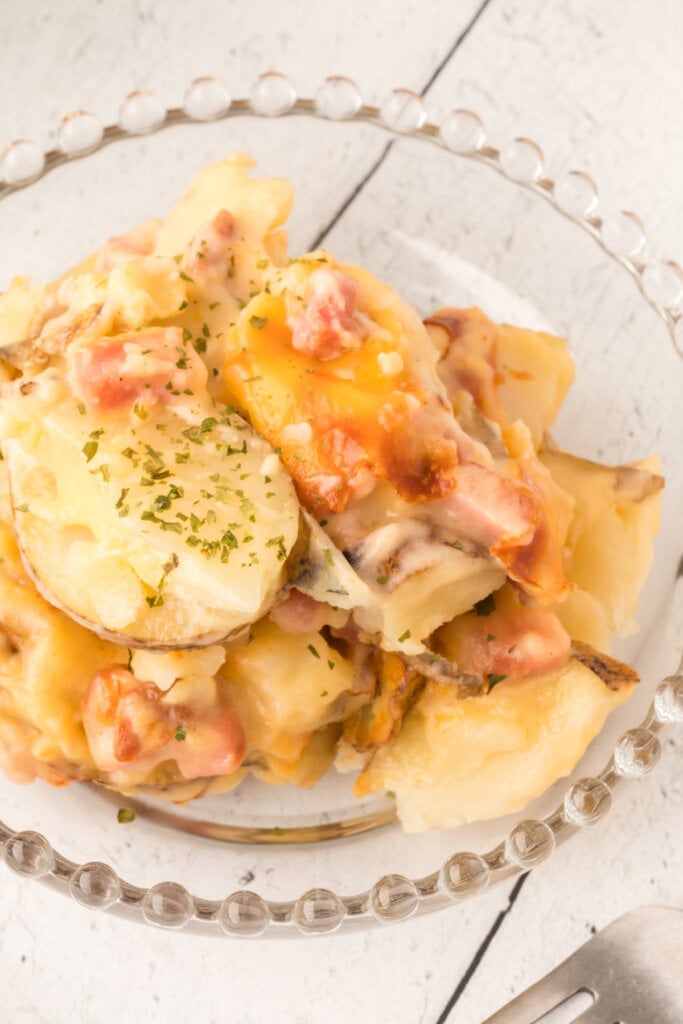 Scalloped Potatoes: FAQs
Can I make this recipe ahead?
Yes! Prepare the casserole as directed in the recipe, including baking it. Allow it to cool completely before wrapping the dish in aluminum foil. Then, refrigerate it for up to three days. When you're ready to serve it, bake it, covered with aluminum foil, at 350°F until heated through. It will take about 30-45 minutes.
What's the best way to store leftovers?
Allow the casserole to cool completely before transferring any leftovers to an airtight refrigerator-safe container. Refrigerate and use leftovers within three to five days.
How do I reheat Ham with Scalloped Potatoes?
– MICROWAVE: Best for single servings. Place casserole portion on a microwave-safe plate/bowl and microwave on 50% power for three to five minutes.
– OVEN: Best for more than one serving. Bake the casserole, covered with aluminum foil, at 350°F until heated through. It will take about 30-45 minutes.
Can I freeze this recipe?
Yes, you can. Prepare and bake the casserole as directed in the recipe. Allow the casserole to cool completely. Wrap the casserole in a layer of plastic wrap, then a layer of aluminum foil. Freeze for up to three months.
– TO USE: You can bake directly from frozen or allow the casserole to thaw overnight in the fridge. Either way, you will want to ensure the casserole is thoroughly heated through before serving. For thawed, bake at 350°F until heated through. It will take about 30-45 minutes. For frozen, at 350°F until heated through. It will take about one hour to one hour thirty minutes.
Can I double or triple this recipe?
Yes! You'll need a larger baking dish (obviously). Depending on your baking dish and oven, you may need to add a little more baking time to ensure your potatoes are cooked all the way through.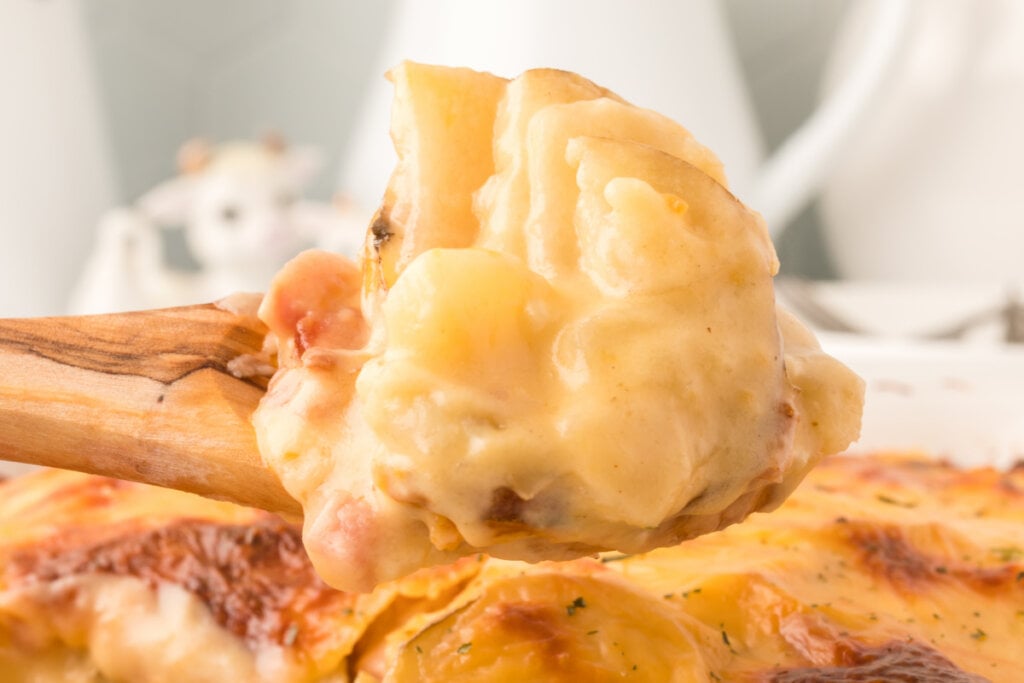 Other recipes you may enjoy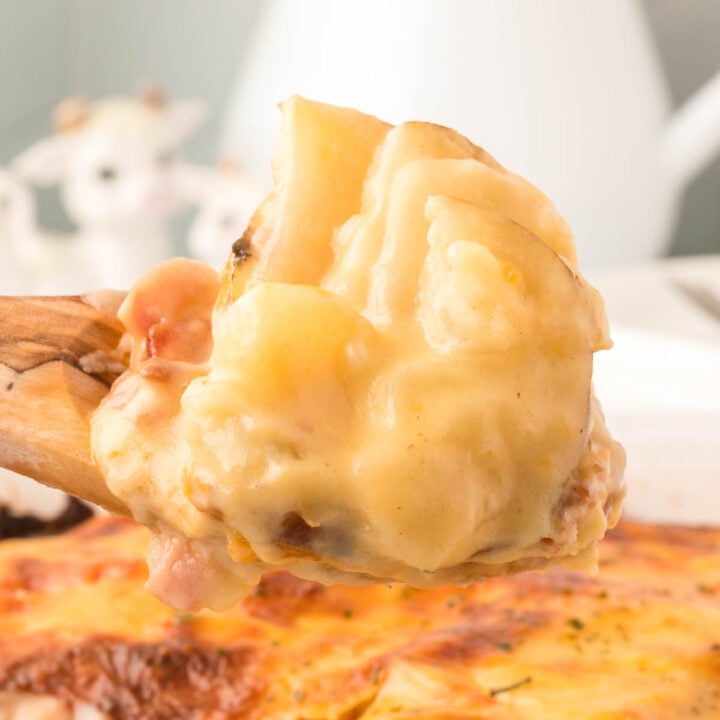 Cheesy Scalloped Potatoes with Ham
Total Time:
1 hour
15 minutes
Cheesy Scalloped Potatoes and Ham recipe is just like grandma used to make! Use leftover ham to make this simple and delicious comfort food!
Ingredients
1/4 cup (4 tbsp.) unsalted butter
1/4 cup all-purpose flour
2 cups milk
1 cup (4 oz.) Cheddar cheese, shredded
4 medium russet potatoes, scrubbed clean and thinly sliced
1 cup chopped or diced cooked ham
chopped parsley, for garnish (optional)
Instructions
Preheat oven to 350°F. Spray an 8x8-inch or 9x9-inch baking dish with cooking spray and set aside.
In a medium saucepan, melt the butter over medium heat. Whisk in the flour until smooth. Gradually add the milk, whisking constantly until thickened. Remove from heat and stir in cheese until melted.
Layer half of the potatoes in the prepared baking dish, followed by half of the ham. Spoon half of the cheese sauce evenly over the ham and potatoes in the baking dish. Repeat layers.
Bake in preheated oven for 60 minutes or until the sauce is bubbly and the potatoes are cooked through.
Garnish with chopped parsley, if desired.
Notes
This recipe easily doubles or triples. Use an appropriately sized baking dish. You may need to add additional baking time depending on your baking dish and oven.
Recommended Products
As an Amazon Associate and member of other affiliate programs, I earn from qualifying purchases.
Nutrition Information:
Yield:

4
Serving Size:

1
Amount Per Serving:
Calories:

339
Total Fat:

8g
Saturated Fat:

4g
Trans Fat:

0g
Unsaturated Fat:

3g
Cholesterol:

40mg
Sodium:

461mg
Carbohydrates:

50g
Fiber:

4g
Sugar:

8g
Protein:

18g
Please note that the nutritional information listed on this page is an estimation based on the products I used. Ingredients and nutritional information can vary significantly between brands. Always be sure to read labels. Please verify that a recipe fits your needs before using it. Nutrition info may contain errors, so please verify it independently. Likewise, recipes may contain errors, so please use your common sense when following them.
Originally published on October 14, 2015. Updated on March 10, 2022.