Satisfy your craving but skip the local fast-food joint – this White Castle Casserole is a simple and delicious family-approved weeknight meal!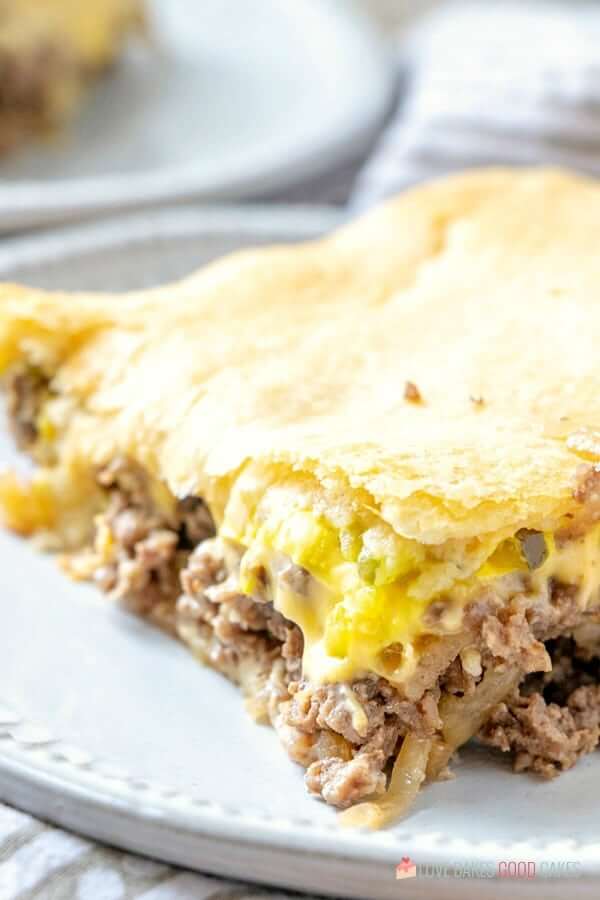 White Castle Casserole
One of my favorite things to do on trips through the Midwest is to eat at White Castle. I'm not sure if they have restaurants outside of that region of the United States? If they do, I have never seen them. If you've never been there and you get a chance, definitely stop in and grab a sack – and relish in the fact that you are eating a part of American history! From White Castle's website – "It's an experience that transcends time, space and sometimes, rational thought."
White Castle, founded in 1921 by Walter Anderson and Billy Ingram, is famous for it's "sliders" – a simple, small, square burger. What you may not know is, White Castle, is generally credited as being the first ever "fast-food chain." Anderson is credited with inventing the hamburger bun and for using Henry Ford's model of the assembly line in the kitchen. Who knew?
Trips to the Midwest are a little more scarce for us these days. With a large family and my husband's 60+ hour a week job, it all prevents us from doing many things. Our priorities are in other places rather than galavanting around the Midwest eating at White Castle. Our "trips" tend to be a little closer to home right now.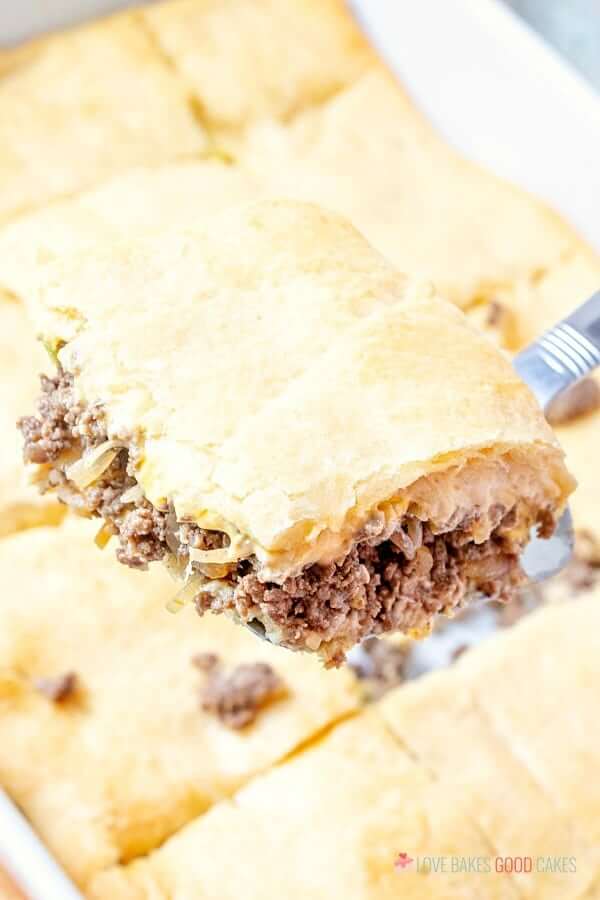 How do I enjoy White Castle without a restaurant near me?
And that's not necessarily a bad thing. And, that doesn't have to stop us from enjoying White Castle. We could buy those pre-packaged boxes of sliders in the freezer section of our nearest big box store. Or we could make this super easy casserole that has all the same great taste!
Obviously, we went for the latter. And you should too! It's so easy to make this White Castle Casserole at home. And it's a family-approved recipe! My kids love when this casserole makes an appearance on the menu!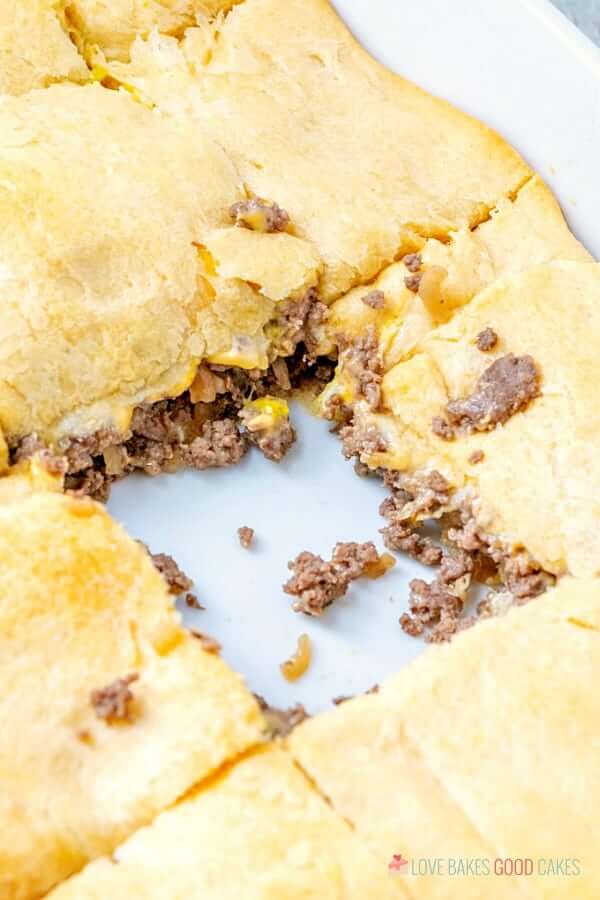 I will note that although ketchup is not listed as an ingredient, sometimes I like to add a drizzle of that underneath the top layer of crescent rolls along with the mustard and pickles. If BBQ sauce is your jam, feel free to substitute that. You just can't go wrong with this easy White Castle Casserole!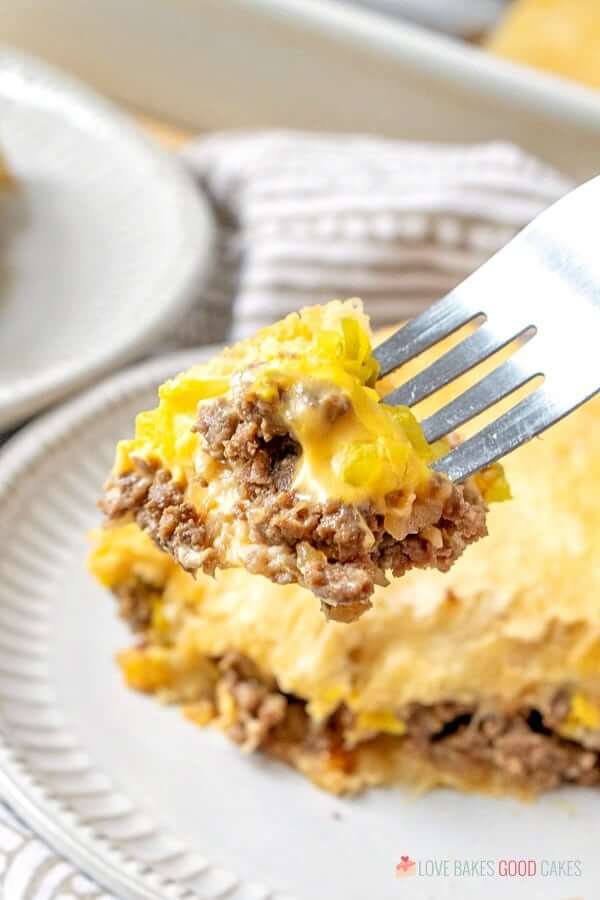 Other recipes you may enjoy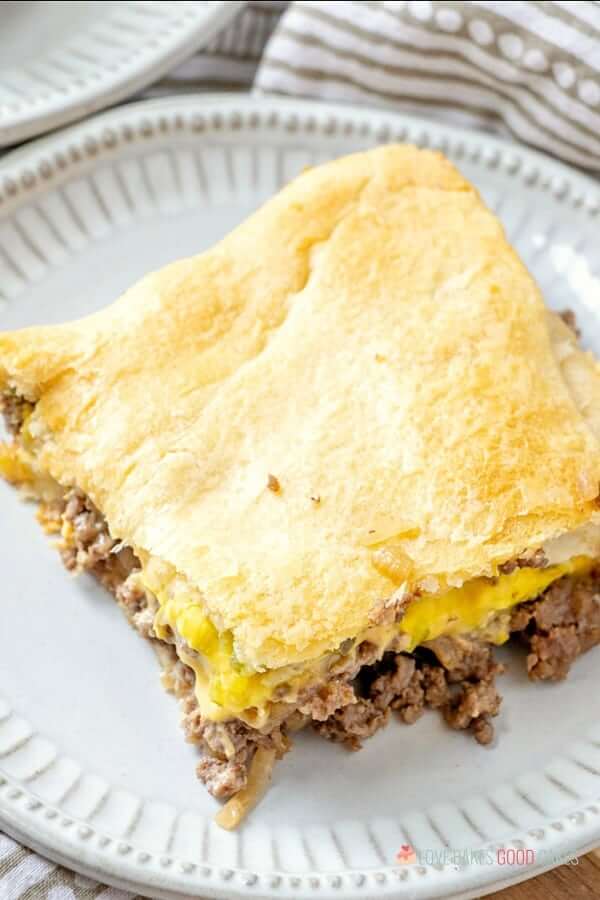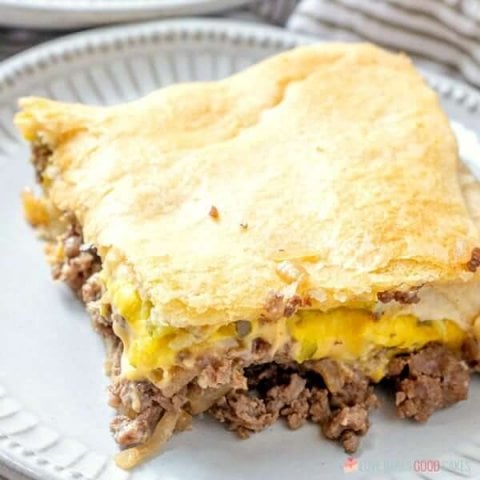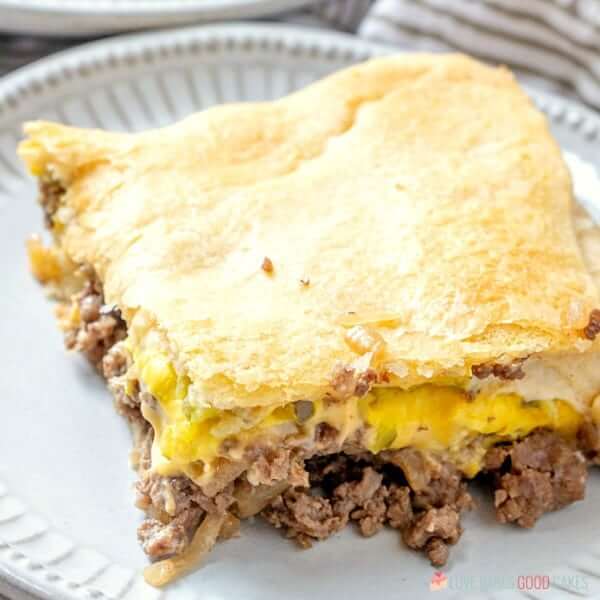 White Castle Casserole
Satisfy your craving but skip the local fast-food joint - this WHITE CASTLE CASSEROLE is a simple and delicious family-approved weeknight meal!
Ingredients
2 pounds ground beef
1 box dry onion soup mix (you will use both packets of soup mix)
2 tubes (12 oz. each) crescent rolls
8-10 slices American cheese
Dill pickles, chopped, to taste
Mustard, to taste
Additional condiments, if desired
Instructions
Preheat oven to 350°F. Lightly spray a 9×13-inch baking dish with cooking spray and set aside.
In a skillet, brown and crumble the ground beef with both packages of dry onion soup mix. Drain meat into a colander; using paper towels or a clean dish towel, press down on the beef and squeeze out as much of the liquid as possible.
Unroll one tube of crescent rolls into the prepared baking dish. Flatten slightly to seal the seams and cover the bottom as necessary. Top with ground beef. Add cheese slices. Top with pickles and drizzle with mustard. Unroll the other tube of crescent rolls over the top, sealing seams and covering the contents in the pan.
Bake for 15-20 minutes or until the top is golden brown and the cheese is melted.
To serve, cut into squares and serve with additional condiments if desired.
Recommended Products
As an Amazon Associate and member of other affiliate programs, I earn from qualifying purchases.
Nutrition Information:
Yield:

8
Serving Size:

1
Amount Per Serving:
Calories:

428
Total Fat:

28g
Saturated Fat:

12g
Trans Fat:

1g
Unsaturated Fat:

12g
Cholesterol:

126mg
Sodium:

702mg
Carbohydrates:

7g
Fiber:

0g
Sugar:

3g
Protein:

36g