Iowa Ham Balls are a delicious Midwestern alternative to classic meatballs! If you're looking for something different (but tasty) to make for dinner, this recipe will come in very handy.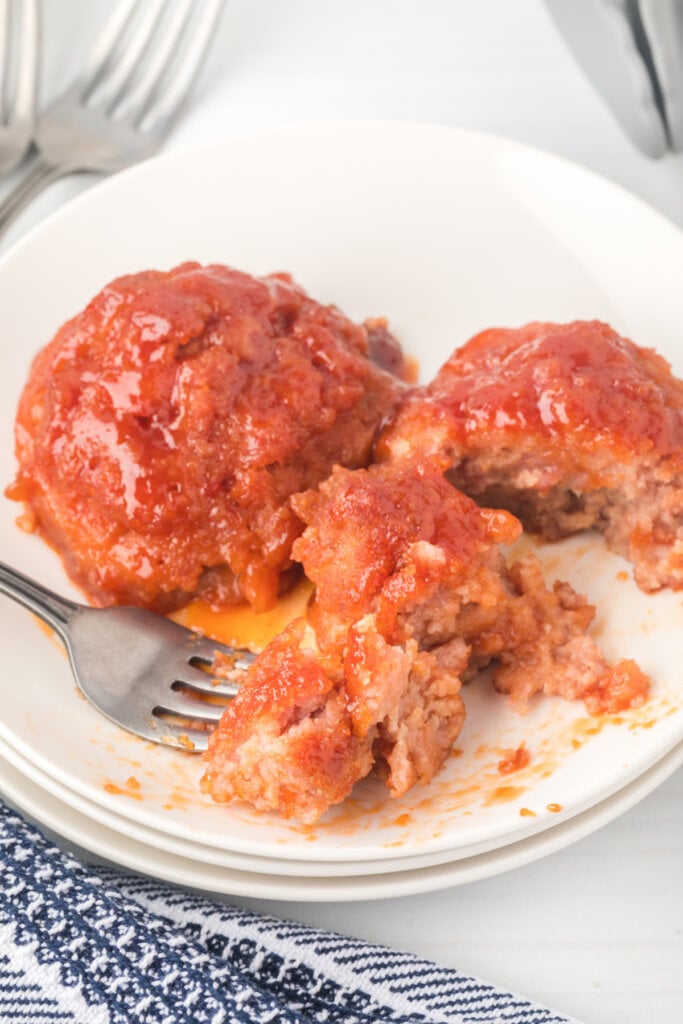 Iowa Ham Balls
Everyone loves a good meatball dinner, and this recipe for Iowa Ham Balls will fulfill that craving, as well as any "ham hunger" you might have! It's a fairly common recipe in some parts of the Midwest, including, well, Iowa. Most people from the region remember growing up with it or eating it in a sort-of meatloaf form.
Basically, Iowa Ham Balls are meatballs made with ground pork and ground ham. There are about a hundred thousand kinds of sauces you can pour on top of them, but today we'll be making a fantastic tomato-mustard mixture you'll just adore. However, if you really like this recipe, feel free to experiment with sauces the second time around.
Ham balls taste good with anything that'd go great with ham! Try a honey glaze next time, for example!
It's a little regional, just like my Iowa Ham Salad, but that just means it's a new and delicious discovery for a lot of you! Here's my recipe for Ham Balls …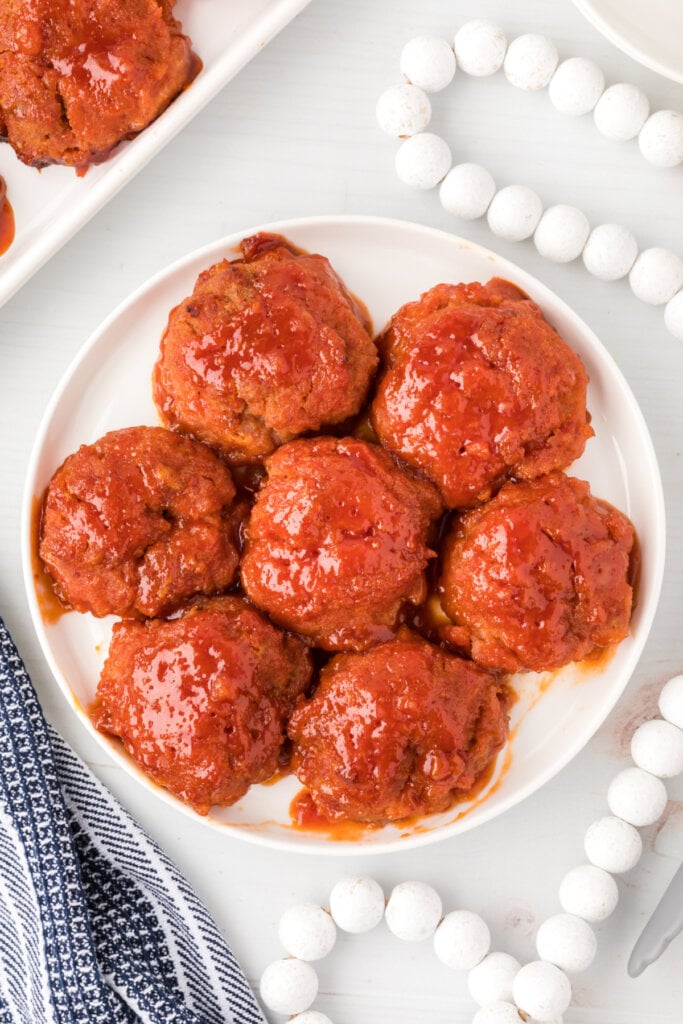 Ham Balls: Ingredients & Equipment
For these Iowa Ham Balls, you'll need …
Ingredients
ground pork and ground ham – these are the meats you'll want to use. Please note that ground pork is NOT the same as ground ham – you can't just replace the ground ham with it. They're two separate things!
eggs, milk, graham cracker crumbs – these will hold your ham balls together. If you've made meatballs before, these ingredients are probably pretty familiar to you!
tomato soup – you'll want it undiluted!
white vinegar – make sure it's distilled.
mustard – prepared, aka the kind that comes in a squeeze bottle at the grocery store.
brown sugar – packed.
Note: This recipe for Iowa Ham Balls won't make appetizer-sized meatballs. They'll be bigger! This is definitely the star of a meal.
Equipment
roasting pans and cooking spray – grab some large ones. You'll make your ham balls in these!
bowls – large ones, for mixing your sauce and ham ball ingredients.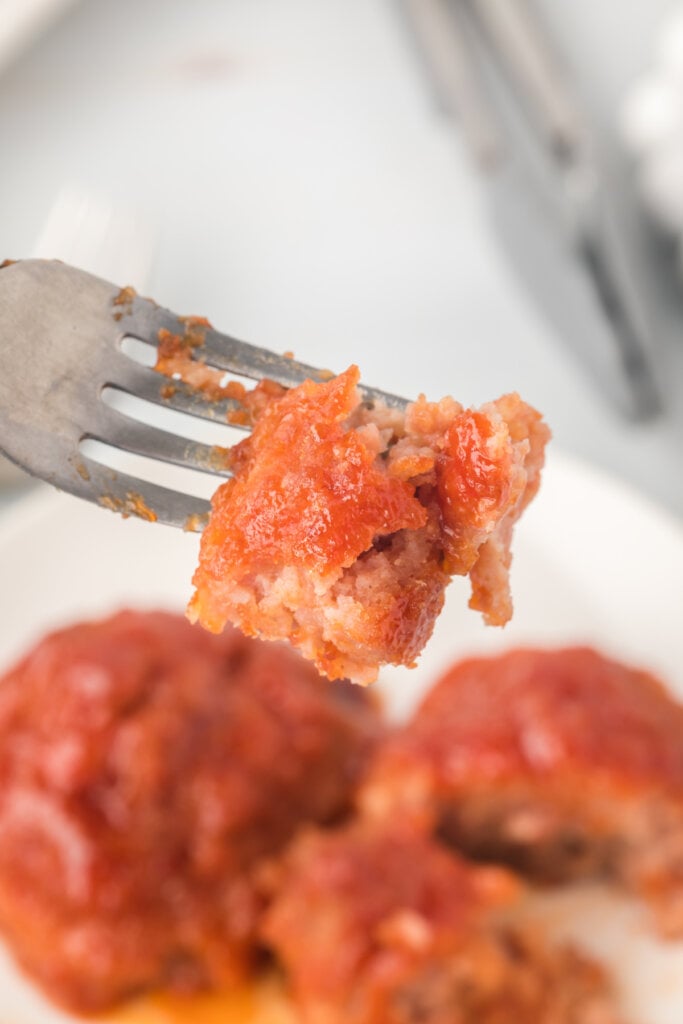 Iowa Ham Balls: FAQs
What should I do if I can't find ground ham?
No worries on this – ground ham can be hard to find outside of Iowa, since it's a bit regional. You can use a food processor to grind bone-in ham or ham steaks instead. Pulse it until it has the consistency of ground beef!
Can you halve this recipe?
Absolutely! Or double it. No matter how many ham balls you need, this recipe has you covered.
My ham balls are too sweet – can I fix this?
You can use Ritz crackers instead of graham crackers in the recipe, and that should fix any sweetness issues you have!! I just personally like that they come out somewhat sweet, though.
My ham balls aren't really holding their shape. Is there something I can do?
Freeze them overnight (if possible) and they'll be good to go the next day!
Can I make Iowa ham balls in a slow cooker?
Yes, although keep in mind the sauce may not really thicken the way you want. Oven-baking these ham balls will create the perfect consistency for your sauce.
How many servings does this recipe make?
You should end up with 14-16 ham balls at the end of it.
How long does it take to make this ham ball recipe?
You'll need to put aside about 20 minutes to prep the ingredients and an hour to cook it all!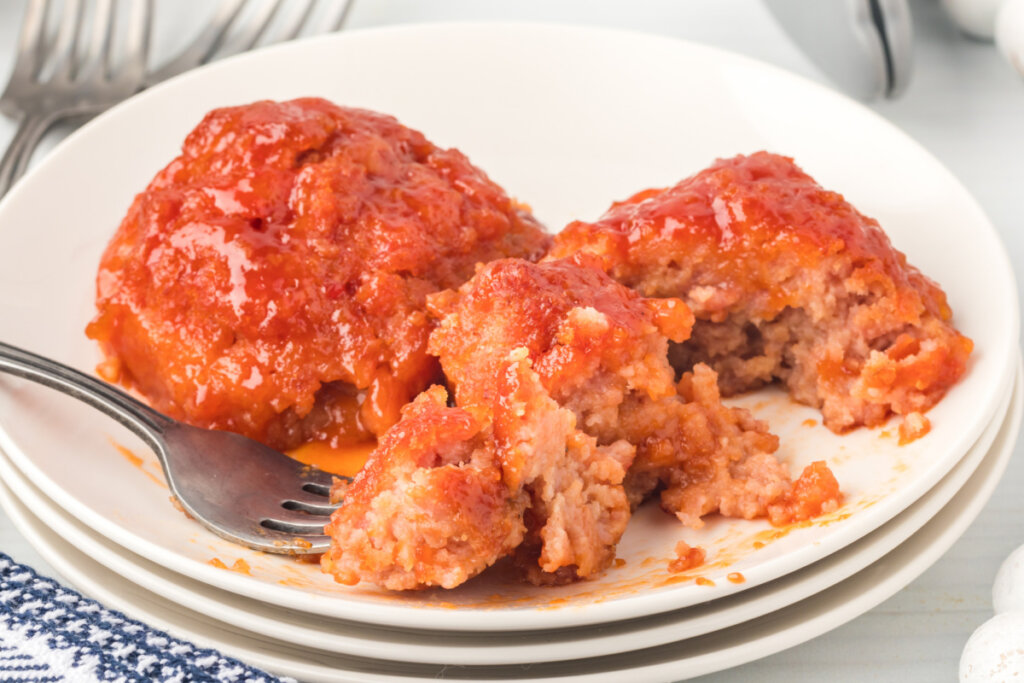 Other recipes you may enjoy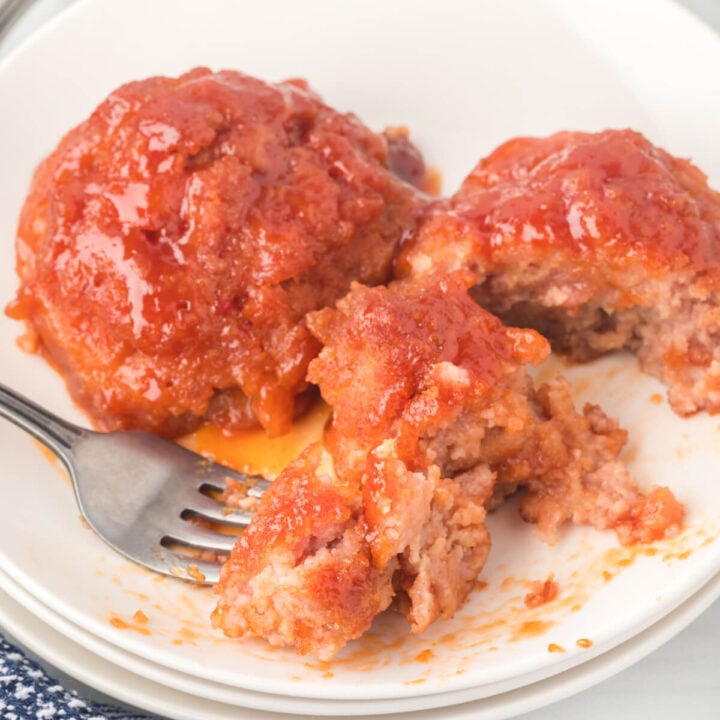 Iowa Ham Balls
Total Time:
1 hour
20 minutes
Iowa Ham Balls are a delicious Midwestern alternative to classic meatballs! If you're looking for something different (but tasty) to make for dinner, this recipe will come in very handy.
Ingredients
For the meatballs
3-1/2 pounds ground ham
1-1/2 pounds ground pork
3 large eggs, beaten
2 cups whole milk
3 cups graham cracker crumbs
For the sauce
2 cans (10-3/4 ounces each) tomato soup, undiluted
2 cups packed brown sugar
3/4 cup distilled white vinegar
2 teaspoons prepared mustard
Instructions
Preheat oven to 325°F. Spray two large shallow roasting pans with cooking spray and set them aside.
In a large bowl, combine all of the meatball ingredients.
Using a 1/3 cup measure, scoop and shape the mixture into 2-in. balls. Divide the meatballs evenly between the two roasting pans.
Combine all of the sauce ingredients then pour it evenly over the meatballs.
Bake for 1 hour, basting the meatballs frequently with the sauce.
Notes
For a less sweet meatball, replace 1 cup of graham cracker crumbs with 1 cup of Ritz cracker crumbs.
Ground pork is NOT the same as ground ham. If ground ham isn't available where you live (I doubt you'll find it outside of Iowa), you will need to buy a bone-in ham or a couple of ham steaks to get the correct weight. Use the meat grinder attachment on your stand mixer or use a food processor to "grind" the ham. Follow the manufacturer's directions to use the meat grinder attachment. To use the food processor, cut the ham into 1-1/2-inch to 2-inch pieces and pulse until it is the consistency of ground beef.
These are not your typical little appetizer-size meatballs - they're bigger!
You can halve this recipe if needed. It also is a great make-ahead dish to put in the freezer for those busy days!
Recommended Products
As an Amazon Associate and member of other affiliate programs, I earn from qualifying purchases.
Nutrition Information:
Yield:

14
Serving Size:

1
Amount Per Serving:
Calories:

507
Total Fat:

21g
Saturated Fat:

7g
Trans Fat:

0g
Unsaturated Fat:

11g
Cholesterol:

147mg
Sodium:

927mg
Carbohydrates:

43g
Fiber:

1g
Sugar:

32g
Protein:

35g
Please note that the nutritional information listed on this page is an estimation based on the products I used. Ingredients and nutritional information can vary significantly between brands. Always be sure to read labels. Please verify that a recipe fits your needs before using it. Nutrition info may contain errors, so please verify it independently. Likewise, recipes may contain errors, so please use your common sense when following them.