Maid-Rites are a ground beef sandwich with tons of flavor. It's a quick and easy Midwest classic your family will enjoy for lunch or dinner!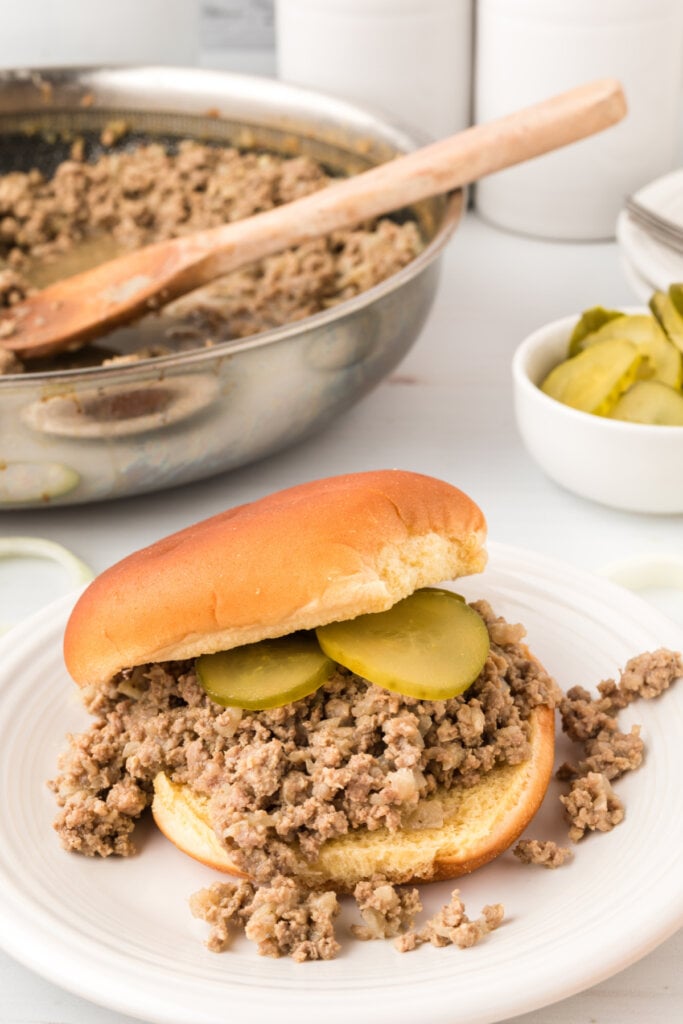 Loose Meat Sandwiches
Have y'all ever had a Maid-Rite?! Lawd have mercy, are they gooo-oood! 😍
So first off: what is a Maid-Rite? Basically, it's a loose meat ground beef sandwich! Think of it as a sloppy joe without all the sauce.
Here, the beef is the true "main character"!! Don't be fooled, though, because there's plenty of flavor going on inside!
If you're ever in the Midwest and you have never had a Maid-Rite, add it to your list of things to experience.
As for Maid-Rite rules…
I've heard that you're not supposed to put ketchup on a Maid-Rite, ever! And I won't tell either way, 'cause I'm not one to judge. 😉
Just know that, from what I understand, it wasn't until a few years ago that restaurants would even allow ketchup on a Maid-Rite. Apparently, some purists take that matter very seriously.
A second "rule"… they don't have visible onions in their sandwiches if there are any at all. But I like them, so I added them for the Copycat Maid-Rites. Feel free to leave them out if you prefer!
Overall, if you need an easy weeknight meal with a little bit of nostalgia and history, be sure to give these copycat Maid-Rites a try!
If you'd like to find out a little bit more about these tasty sandwiches, be sure to read about Maid-Rite's history and tradition – or check out this Wikipedia article all about Maid-Rite!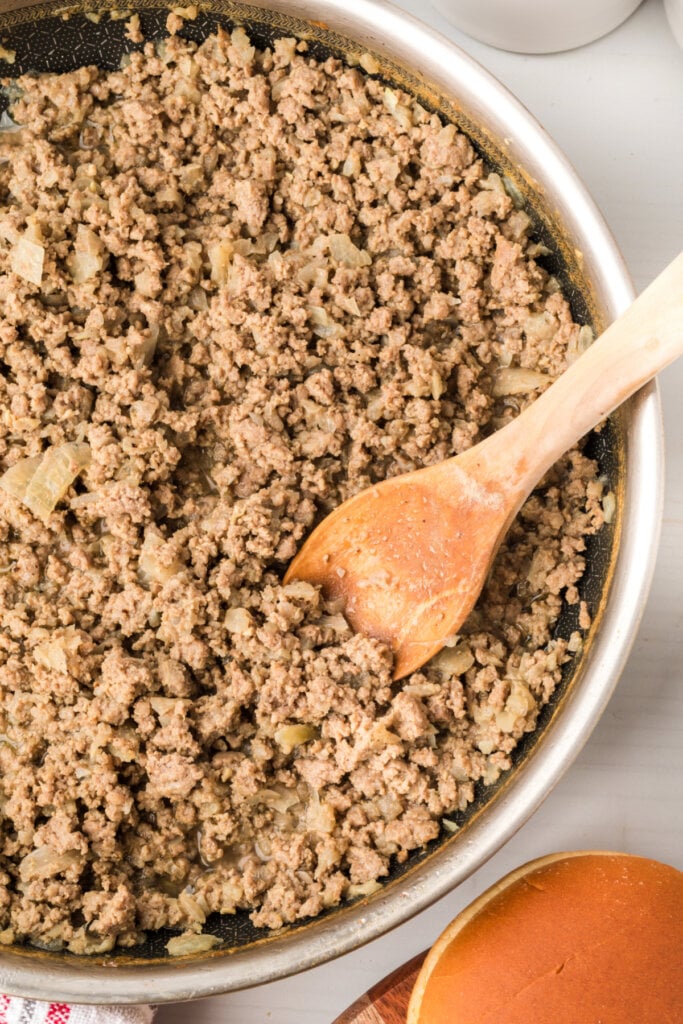 Maid-Rite Copycat Recipe: Ingredients & Equipment
To make this recipe for Maid-Rites, you'll need …
Ingredients
ground beef – you'll want to use lean 85/15 ground beef for this recipe, crumbled small and drained of fat. I haven't tried it with ground turkey or anything like that, but I imagine it still tastes just as good, even if it isn't the "classic" recipe!
onion and salt – you'll cook the beef with these to provide the base flavor.
mustard, white vinegar, water, and sugar – the classic Maid-Rite flavoring added to the ground beef. So, so good!
salt and pepper – optional, to taste. You might want a lot. Or a little!!
steamed hamburger buns – the traditional Maid-Rite bread. Of course, you could sandwich a Maid-Rite between anything you want, really! (I wonder what it would taste like in a baguette?)
toppings like ketchup, mustard, etc – are optional, depending on whether or not you want a "classic" Maid-Rite. Some people swear you're not supposed to put anything on a Maid-Rite as I said. But you eat how you want!!
Equipment
skillet – you'll need this to make a Maid-Rite! You'll only be dirtying this pan, so easy-peasy clean-up!
meat chopper – not necessarily required, but I don't know how I ever lived without this nifty little gadget!
cooking utensils – you'll need something to stir and cook the meat mixture.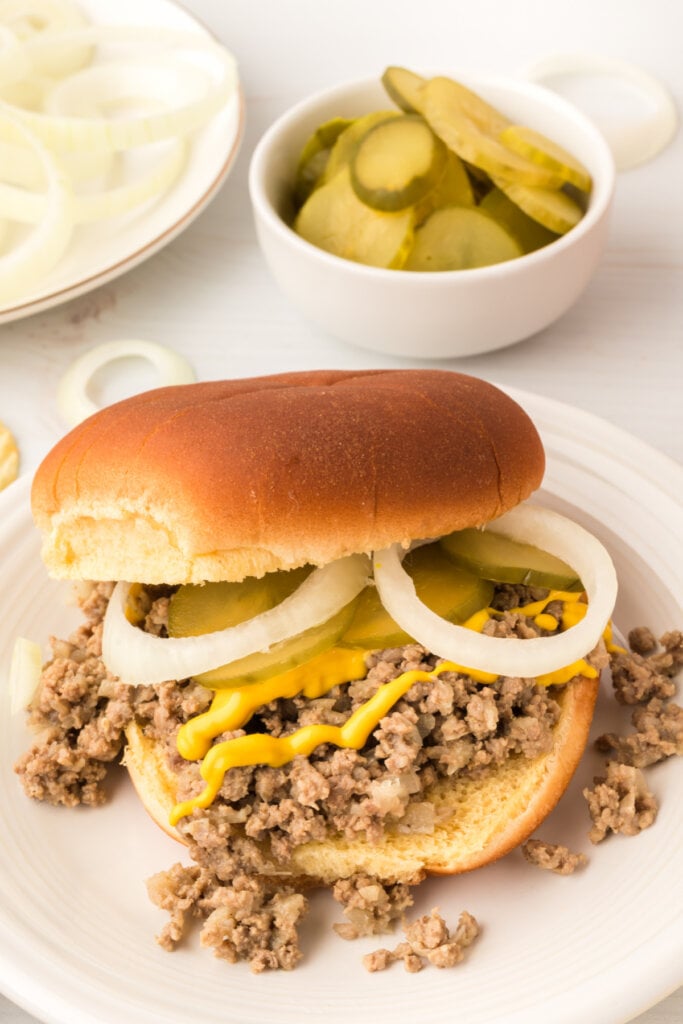 Maid-Rites: FAQs
How many servings does this recipe for Maid-Rite produce?
It'll make about 4-6 sandwiches, enough to feed a small family (or you and a group of your best friends)!
How long does it take to make Maid-Rites?
Less than an hour – about 35 minutes. Only 5 of that is prep, and the rest is cooking time!
How do store leftover meat?
You can freeze it for 3 months or keep it in the fridge for 4-5 days. Use an airtight container!
I've heard you're supposed to steam the Maid-Rite meat in beer or marinate it in Worcestershire sauce/etc before cooking it. Is this true?
This may be the authentic way, and you can try that, and I've also heard people use root beer and canned soup. I think this recipe comes close to the flavor without all that!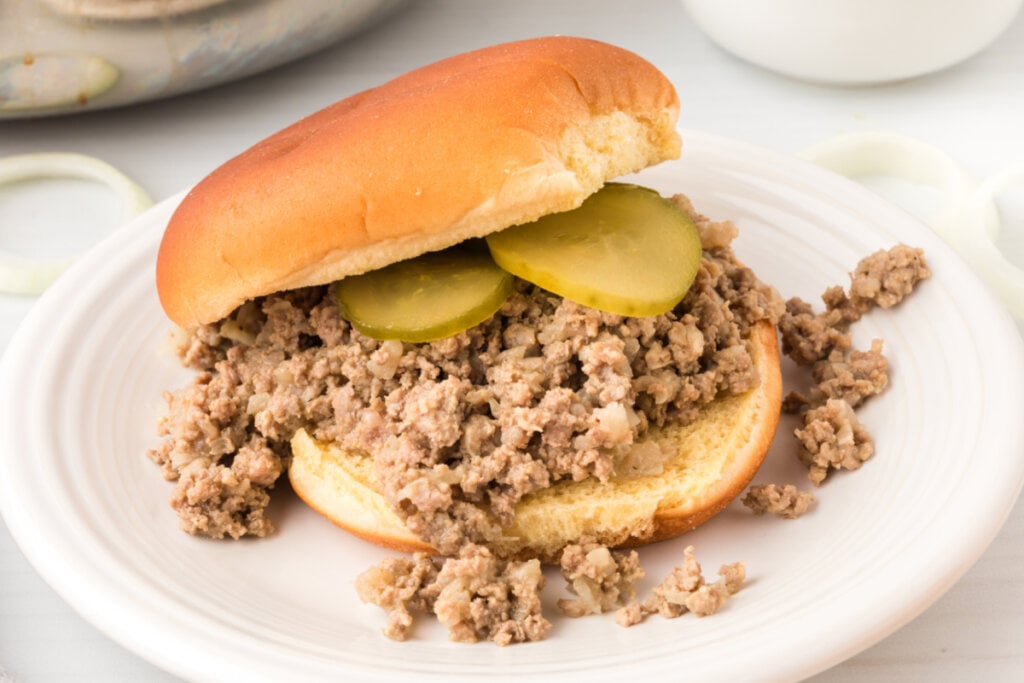 Other recipes you may enjoy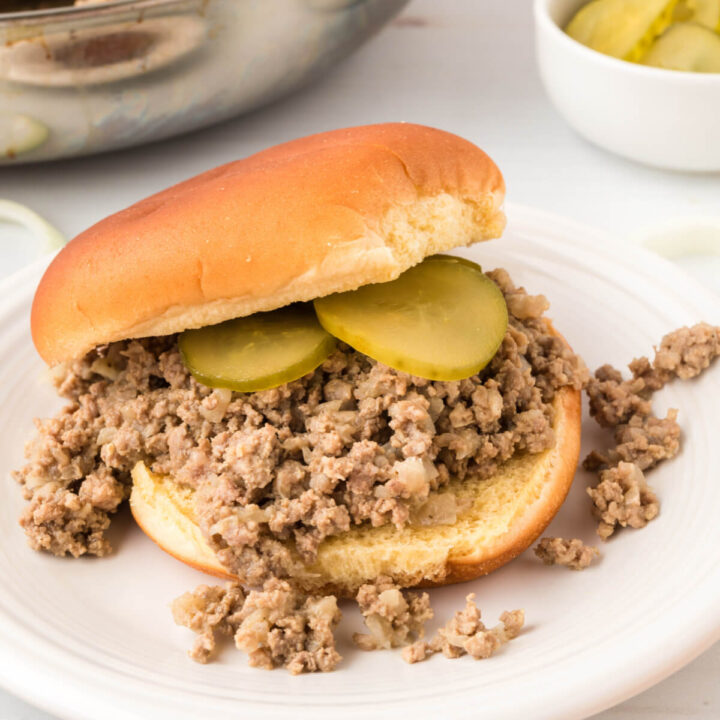 Copycat Maid-Rites
Maid-Rites are a ground beef sandwich with tons of flavor. It's a quick and easy Midwest classic your family will enjoy for lunch or dinner!
Ingredients
1 pound lean ground beef
1 small onion, finely chopped (optional)
1/2 teaspoon salt
1 tablespoon prepared yellow mustard
1 tablespoon distilled white vinegar
1 teaspoon granulated sugar
water
salt and pepper, to taste
steamed hamburger buns, for serving
Topping ideas:
ketchup, mustard, pickles, onions
Instructions
In a skillet, brown and crumble the ground beef with the onion and salt over medium-high heat until the meat is no longer pink. Be sure to make the crumbles small as it cooks. Drain any fat, if necessary.
Add the mustard, vinegar, and sugar to the beef mixture. Add enough water to just cover the meat. Bring the mixture to a boil. Reduce the heat to medium-low heat and continue to cook uncovered, stirring occasionally, until most of the water has evaporated. Taste and then season with additional salt and pepper to taste.
Serve the meat mixture on steamed buns with desired toppings.
Notes
For authentic taste and texture, it is important that your beef crumbles are very small and you allow the meat mixture to boil and steam.
Recommended Products
As an Amazon Associate and member of other affiliate programs, I earn from qualifying purchases.
Nutrition Information:
Yield:

4
Serving Size:

1 sandwich
Amount Per Serving:
Calories:

394
Total Fat:

15g
Saturated Fat:

6g
Trans Fat:

0g
Unsaturated Fat:

7g
Cholesterol:

101mg
Sodium:

899mg
Carbohydrates:

28g
Fiber:

2g
Sugar:

19g
Protein:

35g
Please note that the nutritional information listed on this page is an estimation based on the products I used. Ingredients and nutritional information can vary significantly between brands. Always be sure to read labels. Please verify that a recipe fits your needs before using it. Nutrition info may contain errors, so please verify it independently. Likewise, recipes may contain errors, so please use your common sense when following them.
Originally published on June 13, 2013. Updated on April 13, 2022.