Discover the recipe for Copycat Big Mac Sauce and add a delicious twist to your burgers! This tangy blend of pickles, onions, and mustard is sure to tantalize your taste buds. Elevate your burger game to new heights!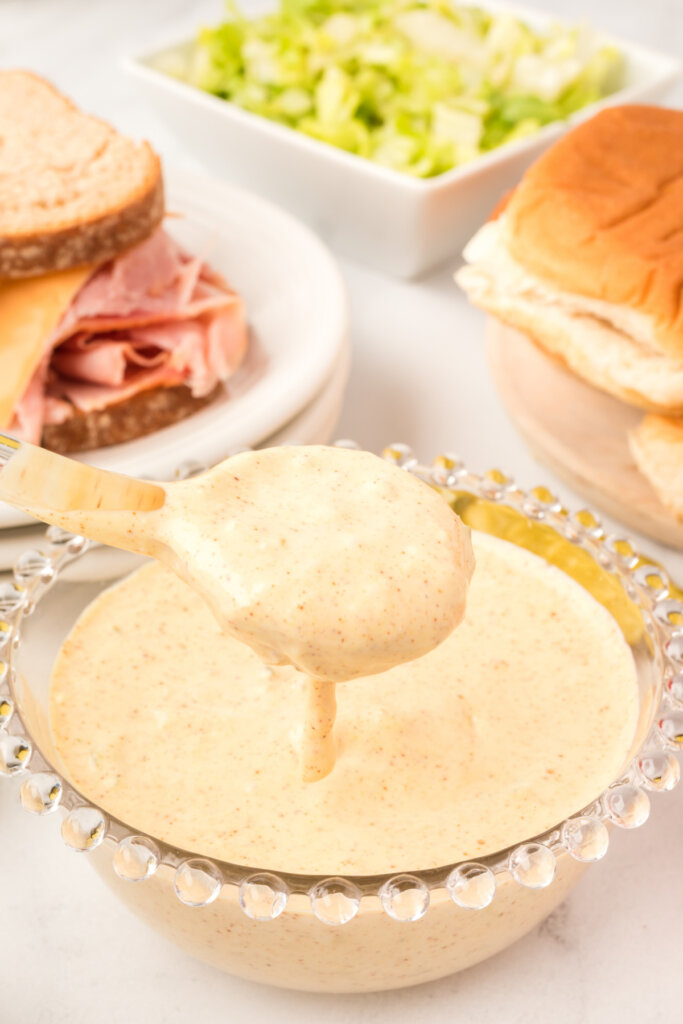 Homemade Big Mac Sauce
Do you love the scrumptious taste of a Big Mac? What if I told you that you can create that same deliciousness right in your own kitchen?
It's true! With this homemade Copycat Big Mac Sauce, you can experience the mouthwatering flavors of this iconic condiment without ever leaving home.
This Copycat Big Mac Sauce recipe is a special blend of ingredients that make the classic burger so irresistible. It's a magical combination of tangy pickles, onions, and mustard that elevates the taste of any burger. With just a dollop of this sauce, your homemade burgers will become culinary masterpieces bursting with flavor.
Not only does this homemade McDonald's Big Mac Sauce enhance the taste of burgers, but it can also be used to add a zesty kick to sandwiches, wraps, and even salads. Its tangy and creamy texture adds a delightful twist to any dish, making it a versatile condiment that can take your meals to new heights.
Creating Homemade Big Mac Sauce can be a fun and exciting activity for the whole family. Get everyone involved by allowing them to mix the ingredients together and experience the joy of making their own special sauce. It's a great opportunity to bond and explore the world of flavors together.
This copycat Big Mac Sauce is the secret ingredient that brings the iconic Big Mac taste to your own kitchen. Its tangy, creamy, and flavorful profile adds an unforgettable touch to your homemade burgers and beyond. With just a simple spoonful, you can transform an ordinary meal into an extraordinary culinary experience.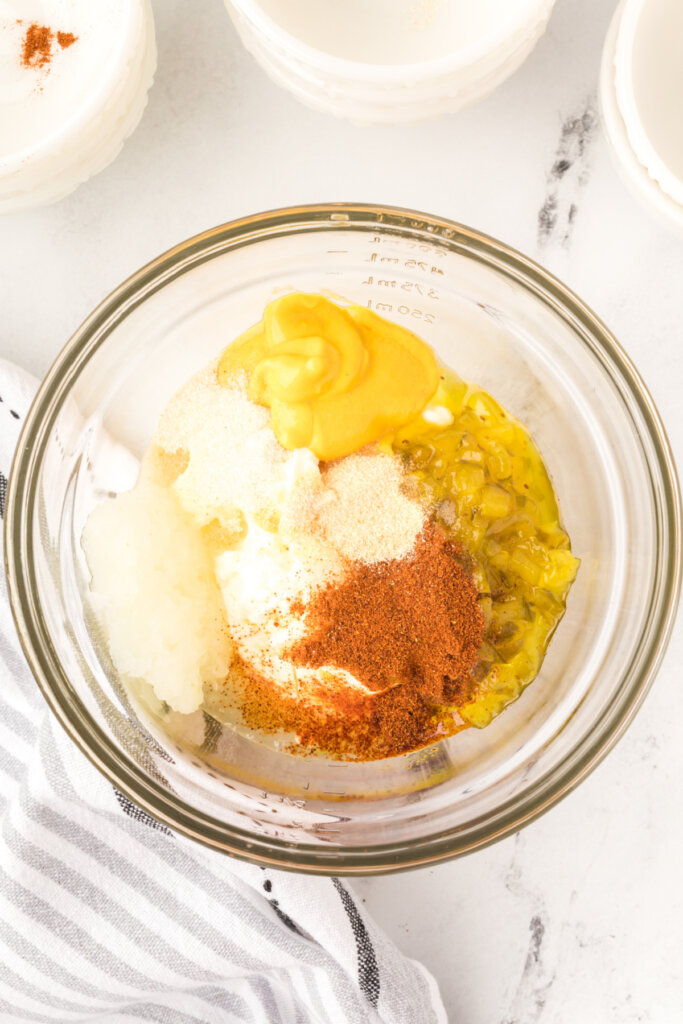 Big Mac Sauce: Ingredients & Equipment
To make Copycat Big Mac Sauce, you will need …
Ingredients
mayonnaise – the creamy base of the recipe.
sweet pickle relish and grated onion –
prepared yellow mustard and white wine vinegar –
onion powder, ground paprika, garlic powder, and salt –
Equipment
bowl and spoon – for mixing the ingredients together.
How to make Big Mac Sauce
Combine all ingredients. In a small bowl, combine all ingredients until well combined.
Chill. Refrigerate for at least 10 minutes before using.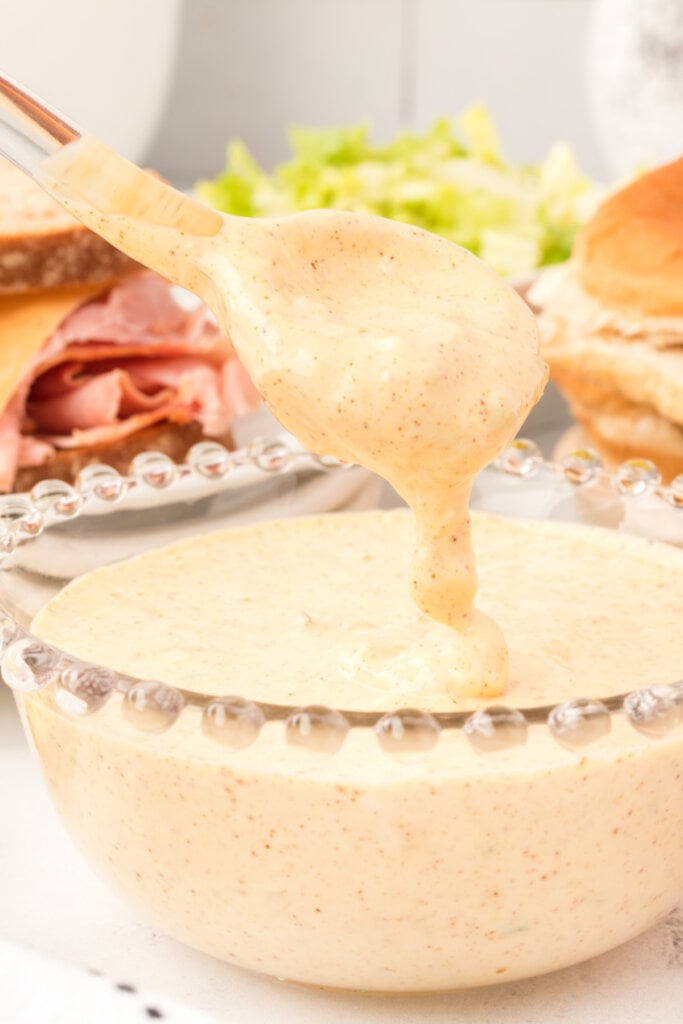 Big Mac Sauce Recipe: FAQs
How can I use Copycat Big Mac Sauce?
It is typically used as a condiment for burgers, sandwiches, and wraps. It can also be a delicious dipping sauce for a variety of foods, such as chicken nuggets, french fries, onion rings, or even as a sauce for shrimp.
How long can I store Copycat Big Mac Sauce?
Generally, it is advisable to refrigerate it in an airtight container and consume it within a week.
Can I adjust the flavors of Homemade Big Mac Sauce to suit my preferences?
Absolutely! One of the advantages of making your own Big Mac Sauce at home is the ability to adjust the flavors to your liking. Feel free to experiment with ingredient quantities or add additional spices to customize the sauce to your taste. Try incorporating ingredients like Worcestershire sauce or hot sauce for added complexity. If you prefer it sweeter, you can increase the amount of sweet pickle relish or add a touch of honey or sugar. Conversely, if you prefer it less sweet, you can reduce the amount of sweet relish used.
Are there any alternatives for a healthier version of Big Mac Sauce?
Yes, if you prefer a healthier version, there are alternative recipes available that use lighter ingredients, such as Greek yogurt or low-fat mayonnaise. These substitutions can reduce the calorie and fat content while still maintaining the essence of the sauce.
Can I use Copycat Big Mac Sauce as a marinade?
It is typically used as a condiment, but it can also be used as a marinade for chicken or as a flavor enhancer for grilled vegetables. It can add a unique twist to your dishes when used in this way.
Can I freeze Copycat Big Mac Sauce?
It is not recommended to freeze this sauce.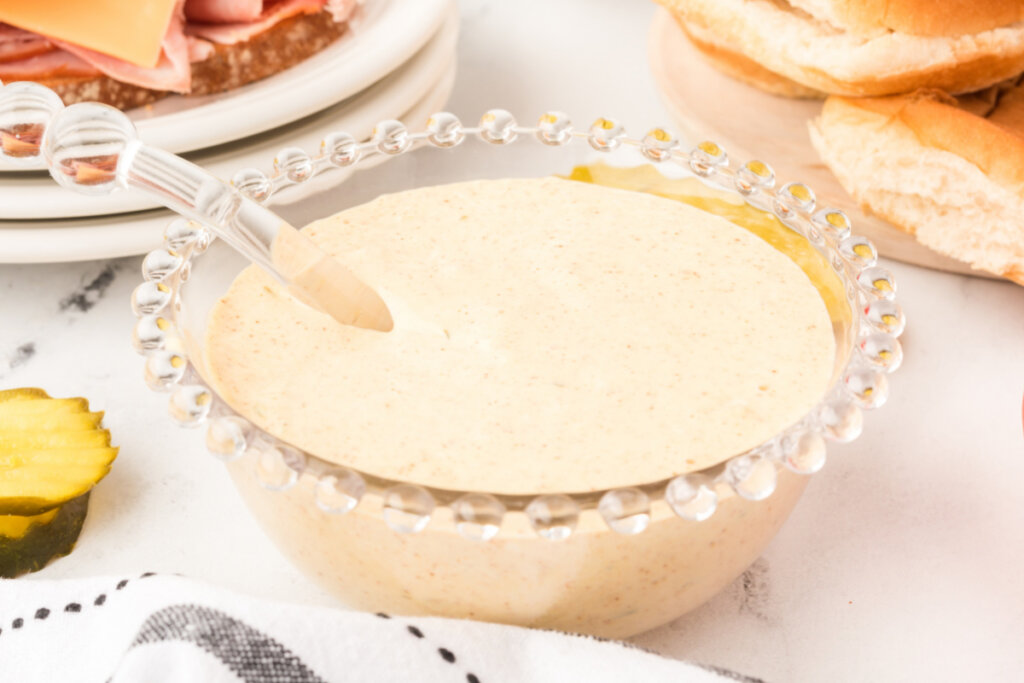 Other recipes you may enjoy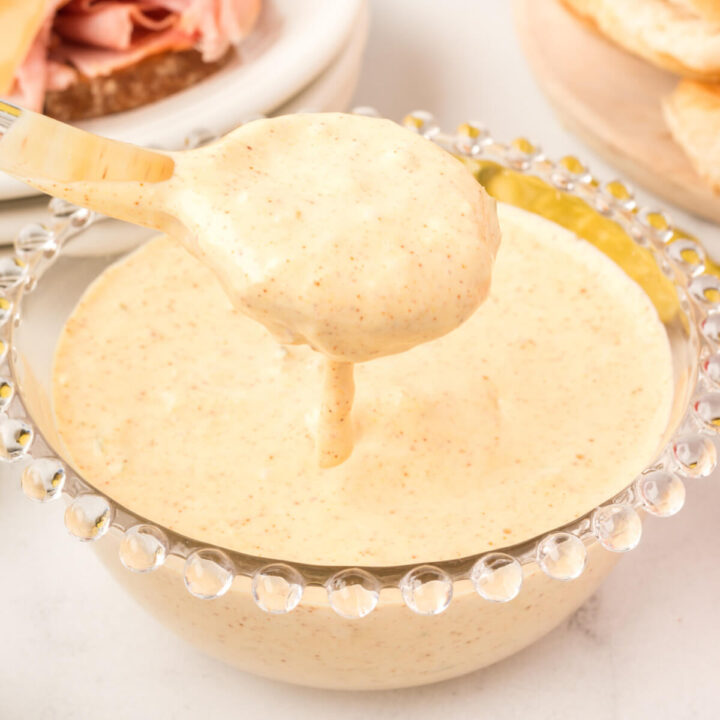 Copycat Big Mac Sauce
Enhance your meals with the iconic Big Mac Sauce - a copycat recipe like the original, full of a tangy blend of pickles, onions, and mustard.
Ingredients
1/2 cup mayonnaise
2 tablespoon sweet pickle relish
1 tablespoon grated onion, plus accumulated juices
2 teaspoons prepared yellow mustard
1/2 teaspoon white wine vinegar, or more to taste
1/2 teaspoon onion powder
1/2 teaspoon ground paprika
1/4 teaspoon garlic powder
1/4 teaspoon salt
Instructions
In a small bowl, combine all ingredients until well combined.
Refrigerate for at least 10 minutes before using. Refrigerate any leftovers.
Notes
It is easiest to use a citrus zester or the smallest holes of a box grater to grate the onion.
This recipe easily doubles or triples. 
Recommended Products
As an Amazon Associate and member of other affiliate programs, I earn from qualifying purchases.
Nutrition Information:
Yield:

8
Serving Size:

1
Amount Per Serving:
Calories:

117
Total Fat:

10g
Saturated Fat:

2g
Trans Fat:

0g
Unsaturated Fat:

9g
Cholesterol:

6mg
Sodium:

217mg
Carbohydrates:

6g
Fiber:

0g
Sugar:

5g
Protein:

0g
Please note that the nutritional information listed on this page is an estimation based on the products I used. Ingredients and nutritional information can vary significantly between brands. Always be sure to read labels. Please verify that a recipe fits your needs before using it. Nutrition info may contain errors, so please verify it independently. Likewise, recipes may contain errors, so please use your common sense when following them.