We have pizza night every Friday night at our house. Sometimes we have calzones or stromboli …. but it's all one of the same to me. When you eat the same thing week after week, ya gotta get creative … and let's just say, we've been creative with our pizza toppings. Truthfully, it's kind of fun for us to come up with new pizzas!
For a long time (about 15 years), I was on the hunt for the "perfect" pizza crust. I've tried so many variations. I found the "one" about 5 or 6 months ago, thanks to Pinterest! (Don't you just
LOVE
Pinterest?!?) Seriously, it is everything I want a crust to be … and it's oh, so close to Pizza Hut crust! If you are still looking for the perfect crust, check
this one
out from
Frugal Upstate
. Bookmark it, pin it, write it down …. do whatever you do with recipes you
want
NEED
to try. Do it now, I'll wait!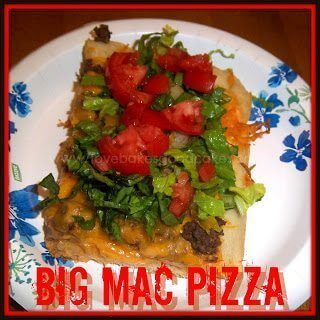 Big Mac Pizza
Yield: 1 large pizza – 8 slices
Pizza Dough – Make your own, use already made crusts, buy pre-made dough or better yet, use
this recipe
from Frugal Upstate
Olive oil (if you're using fresh dough)
Thousand Island salad dressing
6-8 American Cheese slices
1/2 – 3/4 lb. ground beef
Salt and pepper
1-2 cups shredded Cheddar cheese
Shredded lettuce
Chopped tomatoes (optional)
Thousand Island for serving
Preheat oven to 450 degrees F.
While oven preheats, brown ground beef with salt and pepper to taste. Drain and set aside.
If using fresh dough, lightly grease a pizza pan or large cookie sheet. Pat dough into pan and drizzle olive oil over the top of the crust and parbake for 10 minutes. Remove from oven.
Top crust with Thousand Island salad dressing. Using the back of a spoon, spread evenly and close to the edges. Top with American cheese slices (it may not cover the whole pizza, that's ok). Top with browned beef. Top with Cheddar cheese.
Bake for 10-15 minutes or until golden and bubbly.
Remove from oven and cut into slices.
To serve, top with shredded lettuce, tomato and additional Thousand Island, if desired.
Hope you enjoy!
I hope you enjoy! Shared at these
fun parties!
Don't forget to share and comment ♥
Copyright © Love Bakes Good Cakes 2012-2013 All Rights Reserved