Egg McFake Muffin Sandwich
Some of my Facebook fans may remember this little guy in the picture: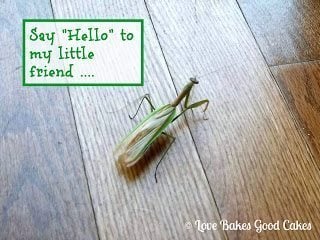 Normally, I'm not a breakfast eater … toast or English muffins make up 95% of my breakfasts. On occasion, I'll eat something with a little more substance.
I had finished making my breakfast this particular morning … and decided to go outside to take a picture of it for the blog. No big deal … right?! (My Facebook friends who know are laughing right now) …… I opened the inside door and went to open the screen door and was in the process of stepping through the doorway to go outside … when it hit me! Literally! This praying mantis fell on my head ….. Not knowing what it was, I busted out with some karate moves I didn't know I had – all while trying to hold onto my breakfast and camera. (Ok, I admit, I screamed too). Imagine the hilarity of watching someone freak out – totally spazz out – while keeping a hold of the items in their hands. I'm sure that was exactly what I did -spazz out. When I was sure whatever it was wasn't touching me any more – I looked around to see who may have saw me actin' a fool – you know you would have looked around too! (Thankfully, it looked like I got off easy – my kids came in when they heard me scream, but there were no witnesses to my awesome karate moves my little caper). I saw this little guy on the floor. We got the dust pan and helped him back outside … and I told him to stay away from me while I took my pictures because I didn't want to have to go all psycho-crazy on him again …. Anyways, he went about his life as I did with mine … and I finally got a picture of my breakfast!
My husband takes these to work with him for breakfast in the morning. I make enough for the whole week, wrap them in wax paper and put them in the fridge or freezer. In the morning, he can easily microwave them before heading out the door.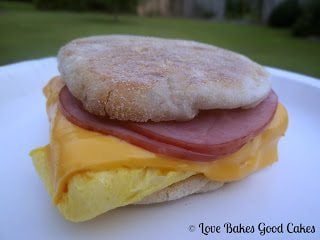 Egg McFake Muffin Sandwich
Yield: 1 serving
1 English Muffin, split and toasted, buttered if desired
1 large egg with 1 tbsp. water, beaten or egg substitute equivalent to 1 egg
Salt and pepper, if desired
1 slice of cheese
1-2 pieces of Canadian bacon, cooked sausage patty or cooked bacon slices
Spray a large non-stick skillet with cooking spray and preheat over medium-high heat. Pour egg into the skillet and tilt to cover the bottom of the pan. Salt and pepper the egg, if desired. When the egg is set and not runny, fold the two edges (left and right) over the middle. Then fold the two edges (top and bottom) over the middle.
Place the egg on the bottom part of the English muffin. Top with cheese and desired meat. Place the top part of the English muffin on the meat.
Below is a step-by-step on how I fold the egg into a square to make it fit the English muffin: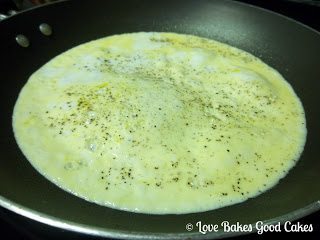 Pour egg into pan and tilt to cover the bottom – Salt and pepper if desired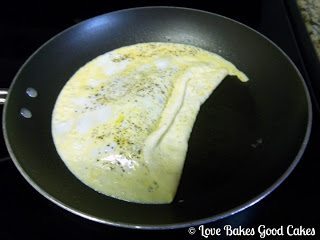 When the egg is set and not runny, fold the right side toward the middle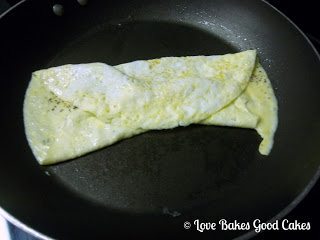 Fold the left side toward the middle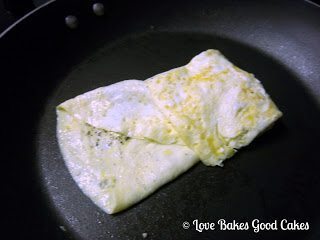 Fold the top down toward the middle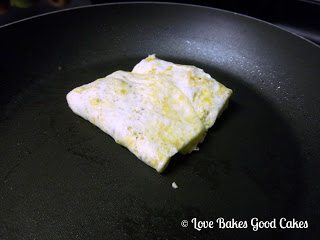 Fold the bottom up toward the middle to form a square
I hope you enjoy!
Shared at these
fun parties!


Copyright © Love Bakes Good Cakes 2012 All Rights Reserved