Plain and simple – The BEST & Only Fresh Salsa Recipe You'll EVER Need! Easy to customize the spiciness to your family's tastes.
Best Salsa Recipe
If your family is anything like mine, back-to-school means crazy schedules with what feels like not enough time in the day. Why do we pray for back-to-school and this chaos?! This year, we're trying online homeschooling with the kiddos and just like when you learn most new things, we've had a few bumps to work out.
Nothing major, thankfully!
It was just stuff like trying to set everything up, and trying to figure out how to go back and study the material for a big test after you've already done the work …. or how to adjust the school calendar for a few days off for our trip to Disney!! We're figuring things out and the curriculum seems to be good for the kids, so I'm happy.
This year, we're also part of a new (to us) homeschool community. I hope this will make a big difference for our family having like-minded people to do things with and meet up with. We've tried a few other homeschool groups, but they just didn't seem to be a good fit for us, so we never met with them more than once. We're already excited to meet and make new friends with this group, as well as enjoy some of the opportunities for field trips, park days, clubs – and all of the other fun things being part of a homeschool group has to offer!
Easy Salsa Recipe
In the Love Bakes Good Cakes house, we're BIG fans of Mexican food. We could eat it all of the time!! When it comes to snacking, one of our "always must-have items" is this Fresh Salsa recipe. We use it for everything! On eggs, in tacos or burritos, in some of our slow cooker chicken recipes, as a garnish for soup, on grilled burgers and hot dogs, with chips … you get the idea. We use it for everything! I like mine on the spicier side as do the older two boys. Brian and the younger kids like it more on the mild side. I love that this recipe is so easy to adjust to your family's tastes!
Other recipes you may enjoy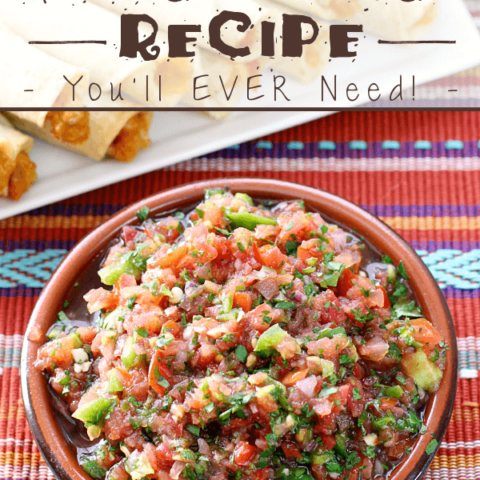 The BEST & Only Fresh Salsa Recipe You'll EVER Need!
Plain and simple - The BEST & Only Fresh Salsa Recipe You'll EVER Need!
Ingredients
5 large roma tomatoes, diced
2 large roma tomatoes, cut into quarters
1 bunch cilantro, chopped
1/4 cup red onion, chopped
1-2 cloves fresh garlic, minced
1 jalapeno, cut into quarters (seeds & membranes removed for less heat)
1/4 teaspoon salt
1/4 teaspoon sugar
1/4 teaspoon cumin
juice from one lime
Instructions
Place all your ingredients into a food processor. Pulse until you've reached your desired consistency. Adjust the seasonings as needed.
Refrigerate for at least an hour before serving.
Notes
To store your salsa: Place your salsa in an air-tight container, such as a mason jar, and keep it in the refrigerator. Your salsa should stay fresh for at least a week this way.
Nutrition Information:
Amount Per Serving:
Calories:

20
Total Fat:

0g
Saturated Fat:

0g
Cholesterol:

0mg
Sodium:

79mg
Fiber:

1g
Sugar:

2g
Protein:

1g