Kick your meals up a notch with this quick and easy Yum Yum Sauce recipe. This creamy, dreamy condiment will transform your meals! Perfect for grilling, dipping, or even drizzling over salads, this versatile sauce is a must-try recipe!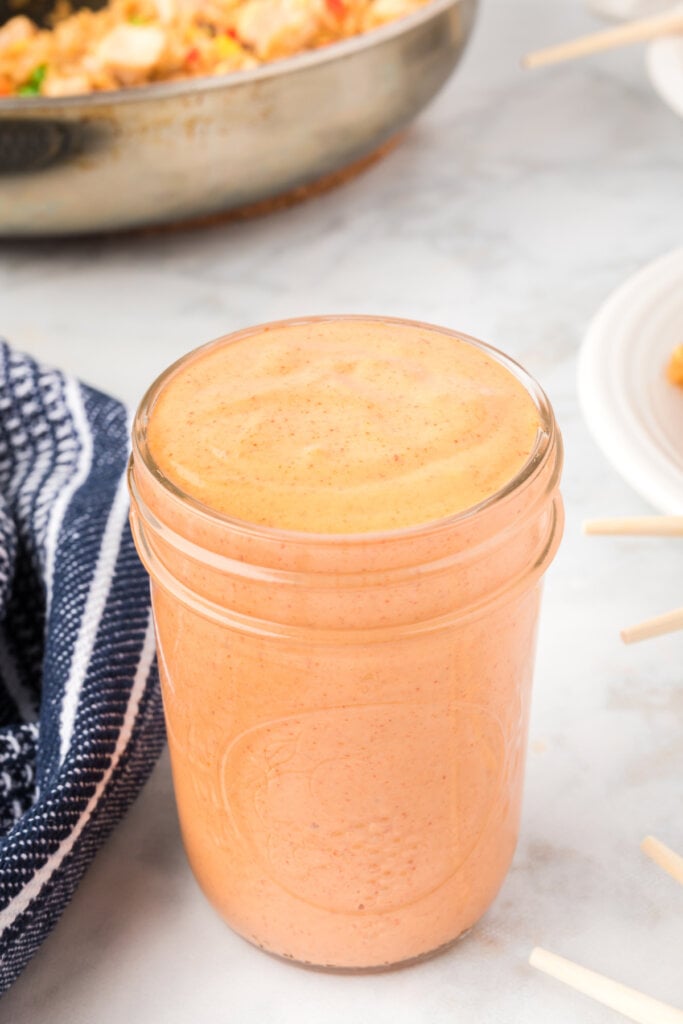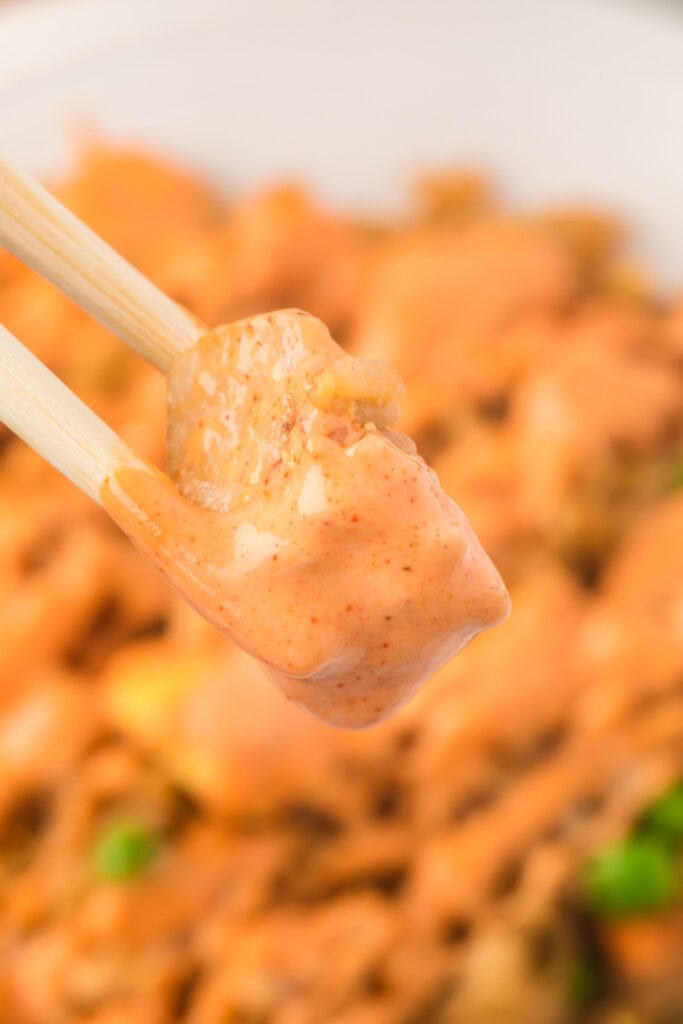 Yum-Yum Sauce
Yum Yum Sauce is more than just a condiment; it's a culinary experience that can elevate any meal to new heights. Also known as Yum-Yum Sauce or YumYum Sauce, this creamy, delectable sauce has been gaining popularity for its versatile uses and rich flavors.
Its unique blend of ingredients makes it the perfect companion for a variety of dishes, adding that special something that keeps you coming back for more.
If you've been searching for a way to add a little excitement to your meals, look no further. This condiment is an ideal option for grilling season, offering a creamy texture and robust flavor profile that pairs wonderfully with grilled meats and veggies. It's also an excellent dipping sauce for sushi, making it a favorite in both American and Japanese cuisines.
While many people enjoy store-bought options, Yum Yum Sauce homemade versions are gaining traction among culinary enthusiasts. Crafting your own sauce allows you the freedom to adjust the flavor profile to your liking, creating a personalized experience that any store-bought brand can't replicate. However, for those not inclined to make their own, plenty of delicious pre-made varieties are readily available.
So, whether you're a seasoned chef or a home cook looking to explore new flavors, this Yum Yum Sauce recipe offers a quick and easy way to make every dish extraordinary. From the grill to the dining table, this sauce is a game-changer you'll want to keep in your culinary arsenal.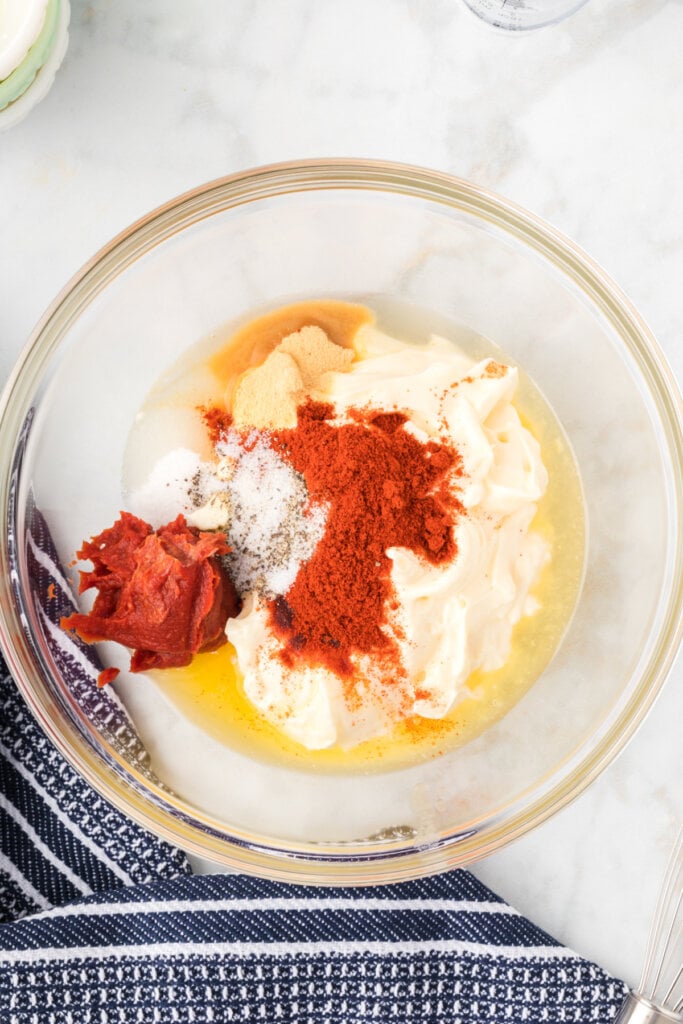 Yum-Yum Sauce: Ingredients & Equipment
To make Yum Yum Sauce, you will need …
Ingredients
mayonnaise – the base of our sauce. I would NOT use Miracle Whip for this recipe – it is not the same. Like many sauces, this sauce can be high in calories and fat. For a healthier version, I suggest using Greek yogurt or a low-fat mayonnaise as a base if you are calorie-conscious.
tomato paste – adds flavor and color. You can also use ketchup if you prefer.
melted butter, granulated sugar, and rice vinegar – the rest of the base ingredients.
paprika, garlic powder, salt, and pepper – the seasonings.
water – to thin out the sauce, if necessary.
Equipment
small bowl and whisk – for combining the ingredients.
Notes
Generally, this sauce is not considered spicy. However, you can add ingredients like hot sauce or red pepper flakes to add a kick if desired.
You can add herbs for a fresher taste, or perhaps a splash of citrus for tanginess.
Breakfast, lunch, or dinner, there's always room for this yummy sauce recipe. Some adventurous eaters even use it as a topping on eggs or as a special ingredient in sandwiches.
This recipe makes a thoughtful and unique gift. Package it in a stylish glass jar, and you've got a perfect present for the foodies in your life.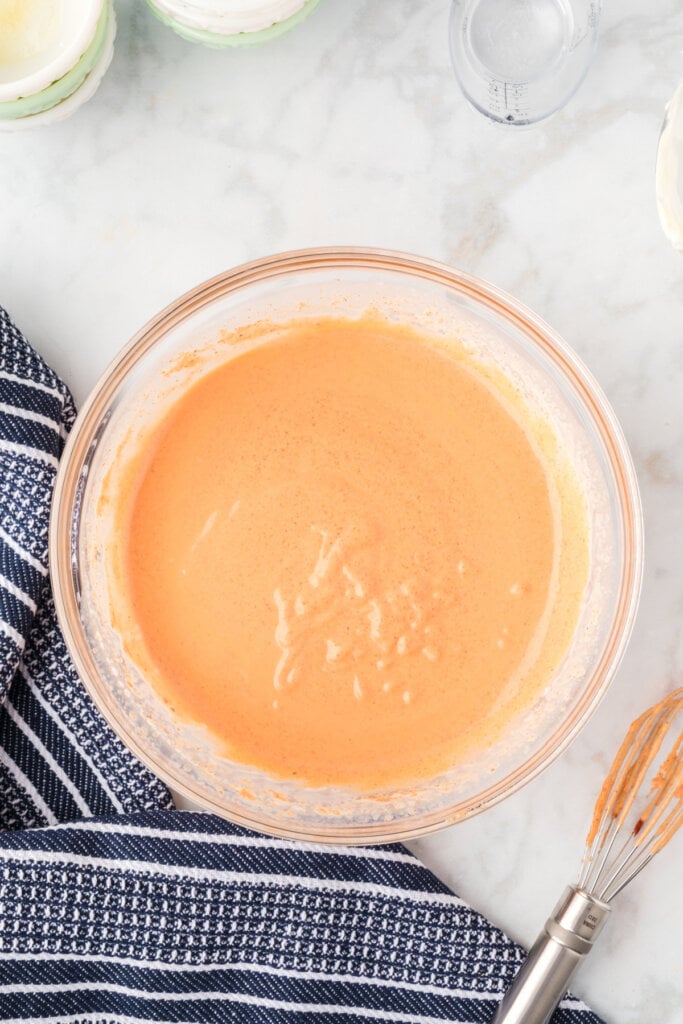 How to make Yum Yum Sauce
Whisk ingredients together. In a small bowl, whisk together all ingredients except water.
Thin out the sauce. Add water as necessary to reach the desired consistency. 
Refrigerate before serving. Cover and refrigerate for at least one hour before using.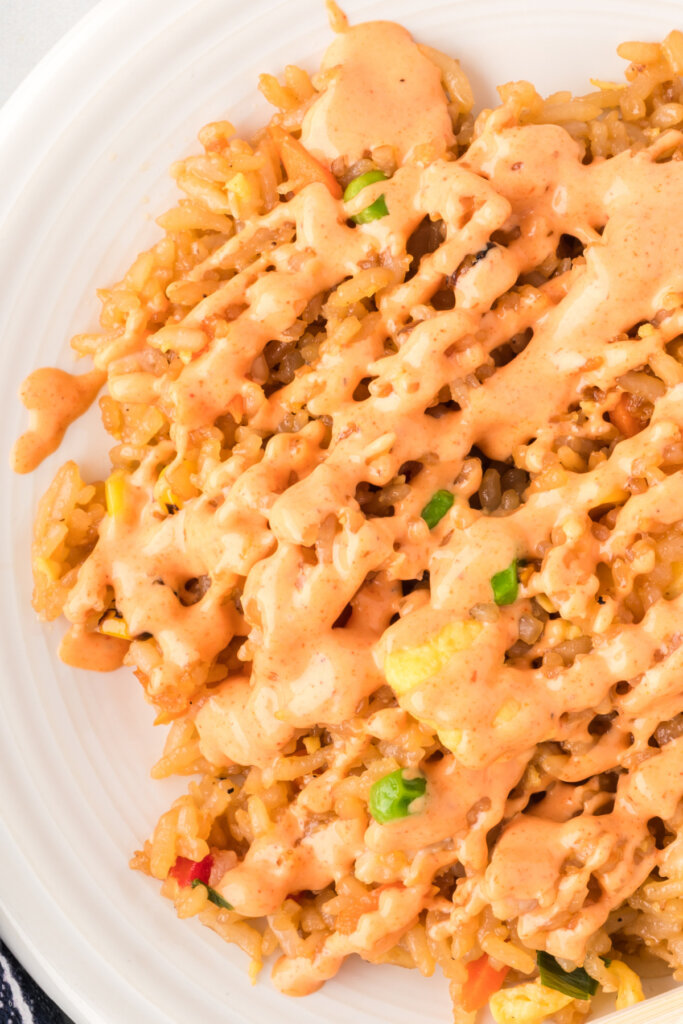 YumYum Sauce: FAQs
What is Yum Yum Sauce?
Yum Yum Sauce is a versatile condiment with a creamy texture and a rich, slightly sweet flavor. It's often used in Japanese hibachi restaurants but has gained popularity in American households for its multiple uses, from grilling to dipping.
What is the difference between Yum Yum Sauce, Yum-Yum Sauce, and YumYum Sauce?
There is no significant difference between these terms; they all refer to the same delicious sauce. Variations in naming might occur depending on the brand or regional preference, but the sauce remains essentially the same.
What dishes pair well with Yum Yum Sauce?
The sauce is incredibly versatile. It pairs excellently with grilled meats, seafood, and vegetables. Many people also use it as a dipping sauce for sushi, fries, and even in salad as a dressing.
Is Yum Yum Sauce spicy?
Generally, it is not spicy, but it does have a rich flavor profile that includes a subtle sweetness and savoriness. However, spice levels can vary depending on the recipe or brand.
How long does Yum Yum Sauce last?
If you've made a batch of the sauce at home, it's generally good for about 1 to 2 weeks when stored in an airtight container in the refrigerator. The absence of preservatives in homemade versions usually means a shorter shelf life than the store-bought counterpart. However, I always adhere to the principle of "when in doubt, throw it out." If you notice any signs of spoilage or if the sauce has been stored improperly, it's best to discard it.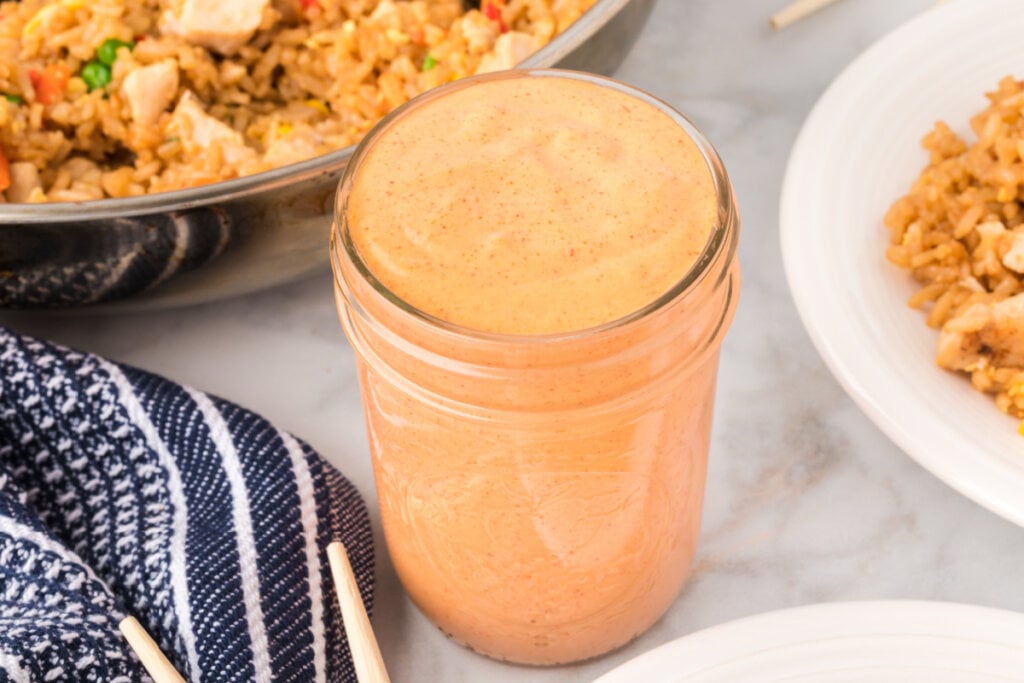 Other recipes you may enjoy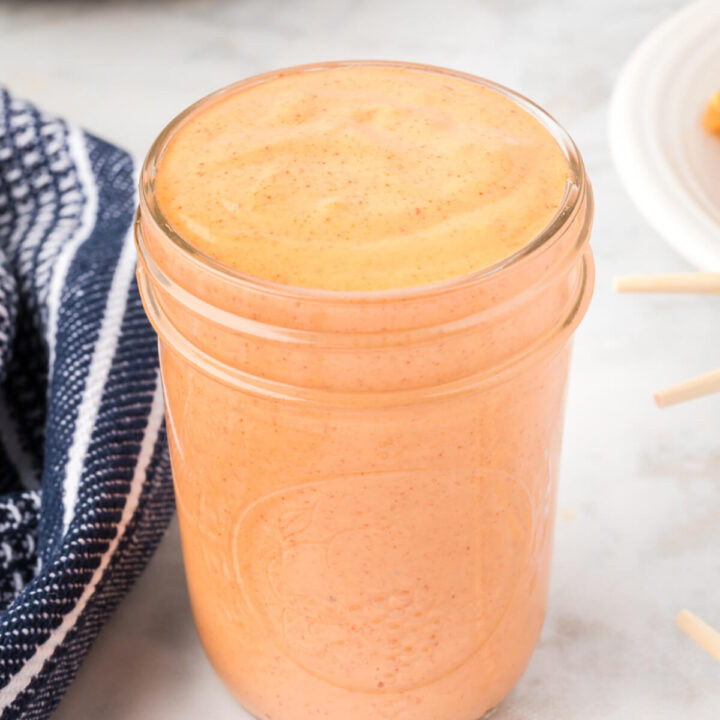 Yum-Yum Sauce
Elevate your dishes with the rich and creamy taste of Yum Yum Sauce! Ideal for BBQ, sushi, and salads. Make every bite irresistibly delicious!
Ingredients
1 cup mayonnaise
2 tablespoons tomato paste
1 tablespoon melted butter
1 tablespoon granulated sugar
1 tablespoon rice vinegar
1/2 tablespoon paprika
1 teaspoon garlic powder
salt and pepper, to taste
2-4 tablespoons water
Instructions
In a small bowl, whisk together all ingredients except water.
Add water as necessary to reach the desired consistency.
Cover and refrigerate for at least one hour before using.
Notes
Any leftover sauce should be stored in an airtight container in the fridge and used within 1 to 2 weeks.
Freezing Yum Yum Sauce is generally not recommended because it may affect the texture and consistency of the sauce. This recipe contains mayonnaise, which can separate or become grainy when frozen and then thawed. This could result in a less smooth and less appetizing sauce.
Recommended Products
As an Amazon Associate and member of other affiliate programs, I earn from qualifying purchases.
Nutrition Information:
Yield:

12
Serving Size:

2 tablespoons
Amount Per Serving:
Calories:

141
Total Fat:

15g
Saturated Fat:

3g
Trans Fat:

0g
Unsaturated Fat:

12g
Cholesterol:

10mg
Sodium:

151mg
Carbohydrates:

2g
Fiber:

0g
Sugar:

2g
Protein:

0g
Please note that the nutritional information listed on this page is an estimation based on the products I used. Ingredients and nutritional information can vary significantly between brands. Always be sure to read labels. Please verify that a recipe fits your needs before using it. Nutrition info may contain errors, so please verify it independently. Likewise, recipes may contain errors, so please use your common sense when following them.