Try this Homemade Pizza Sauce for your next pizza night – it's so much better when it's homemade!
Homemade Pizza Sauce

My family loves Friday night pizza nights! Saying that they love it just might be an understatement! Seriously … it has to be one of our favorite foods in the Love Bakes Good Cakes house! My kiddos love suggesting and making some pretty crazy pizzas! Hot dog with macaroni and cheese pizza, anyone?
For years, I used a homemade pizza sauce recipe that I got from one of my aunt's. Although it was good, I was on the quest for the perfect one. This my friend, is the perfect one at my house. This Homemade Pizza Sauce has soooo much more flavor than that store-bought stuff – and I love that I can easily adjust the spices according to my family's preference.
Since this recipe makes about 3 cups of pizza sauce, I often have a bit leftover for during the week if I want to make pizza pinwheels or homemade pizza rolls for lunch. Sometimes, I place the extra sauce in sterilized mason jars and freeze it until our next pizza night. I just let it thaw in the refrigerator when I know I'm going to need it.
Homemade Pizza Sauce is so easy to make, why don't you make a batch for your next pizza night?! I hope you enjoy this as much as we do!
slightly adapted from Allrecipes
PS – Today, you can also find me over at West Valley Moms Blog with my super duper easy and delicious Pesto and Red Pepper Pinwheels! This Homemade Pizza Sauce would pair very nicely with them! I hope you will stop by and check them out! 🙂
Other Posts You May Enjoy:
Perfect Whole Wheat Pizza Crust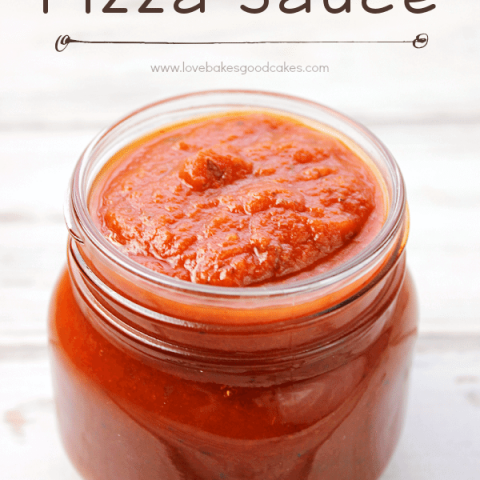 Homemade Pizza Sauce
Try this Homemade Pizza Sauce for your next pizza night - it's so much better when it's homemade!
Ingredients
2 cans (15 ounces each) tomato sauce
1 can (12 ounces) tomato paste
3 cloves garlic, minced
2 tablespoons finely chopped fresh oregano leaves
1 to 2 teaspoons fennel seed, crushed
1 teaspoon onion powder
1/2 teaspoon dried oregano
1/2 teaspoon red pepper flakes
1/2 teaspoon white sugar
1/2 teaspoon salt
1 small pinch baking soda
Instructions
In a large saucepan, combine the tomato sauce and tomato paste. Bring the mixture to a simmer and season with garlic, fresh oregano leaves, fennel seeds, onion powder, dried oregano and red pepper flakes. Turn the heat to low; simmer sauce until thickened, about 35 to 40 minutes, stirring occasionally.
Stir baking soda into pizza sauce, mixing until thoroughly combined.
Nutrition Information:
Amount Per Serving:
Calories:

186
Total Fat:

2g
Saturated Fat:

0g
Cholesterol:

0mg
Sodium:

2262mg
Fiber:

11g
Sugar:

25g
Protein:

9g