If you haven't already, you need to try this Cinnamon Banana Cake. The combination of Cinnamon and bananas is truly extraordinary. Enjoy!
This post may contain affiliate links. As an amazon associate, I earn from qualifying purchases. See my full Disclosure Policy for details.
Cinnamon Banana Cake
No new recipe today. Instead, there's another updated picture for y'all. I noticed this Cinnamon Banana Cake has been getting a lot of attention lately on Pinterest. I'm not even sure where all of the recent attention is coming from, but I do know that I'm kind of embarrassed by some of my earlier pictures. I figured it was high time to fix some of that. 
I'm still learning about this whole photography thing. One thing that I absolutely love about living in Phoenix is the abundance of natural light! I think that has been one of the biggest changes for me. When we lived in North Carolina, it seemed like it was always cloudy … always raining – and I was constantly fighting with the weather.
When I first started blogging, I never thought I could have pictures like some of the bigger name, cool bloggers. I never really put a lot of effort into my pictures, and I know I still have a long ways to go …. but when I look back, I can see I have already come so far. 
Making updates
Over the past few months, I have made more of an effort to see what works and what doesn't work for me. I hope y'all will be patient with me as I go back through and update old pictures … and possibly update them again down the road. The truth is, I wish I would have known a year and a half ago how important all of these things were …. the lesson is being learned now! 🙂
I have had several people ask me what I'm doing different with my pictures – and it's been such a motivational thing to me for people to notice and comment. I sincerely appreciate all of the positive feedback! 🙂
If you would like the recipe, be sure to visit my post for Cinnamon Banana Cake HERE.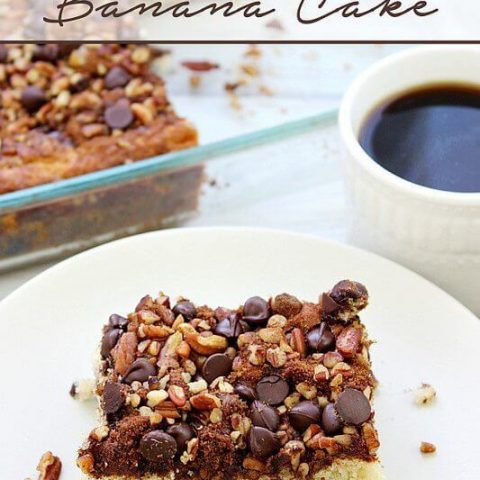 Cinnamon Banana Cake
Total Time:
1 hour
10 minutes
Put those ripe bananas to good use with this Cinnamon Banana Cake! The cinnamon, chocolate and pecans pair perfectly with the banana! Great for breakfast or dessert!
Ingredients
For the cake
1 cup unsalted butter, softened
1 cup sugar
2 ripe bananas, mashed
2 eggs, beaten
1 tsp. vanilla
2 tsp. baking soda
2 tsp. baking powder
Dash of salt
3 cups all-purpose flour
1 pint (2 cups) vanilla yogurt
For the filling
2/3 cup brown sugar
2 tbsp. cinnamon
1 cup chopped pecans (optional)
1 cup chocolate chips
Instructions
Preheat oven to 350° F. Spray a 13x9x2-in. baking pan with cooking spray; set aside.
In a large bowl, cream together the butter and sugar with an electric mixer. Add the bananas, eggs and vanilla. Mix well. Next, add the baking soda, baking powder, salt, flour and yogurt - mix well to combine.
In a separate bowl, combine the brown sugar and cinnamon.
Pour half of the cake batter into the prepared pan. Top with half of the brown sugar-cinnamon mixture. Top with half of the pecans and half of the chocolate chips. Repeat layers.
Bake for 45 minutes or until a toothpick inserted near the center comes out clean.
Serve warm or at room temperature.
Nutrition Information:
Amount Per Serving:
Calories:

337
Total Fat:

14g
Saturated Fat:

9g
Cholesterol:

48mg
Sodium:

226mg
Fiber:

2g
Sugar:

30g
Protein:

5g
Originally published on September 16, 2013. Updated on April 24, 2021.