Everyone loves cinnamon rolls, so these Nutella Banana Cinnamon Rolls are certain to be a smash hit, too! Sweet and nutty on the outside and inside, they're as addictive as they are yummy.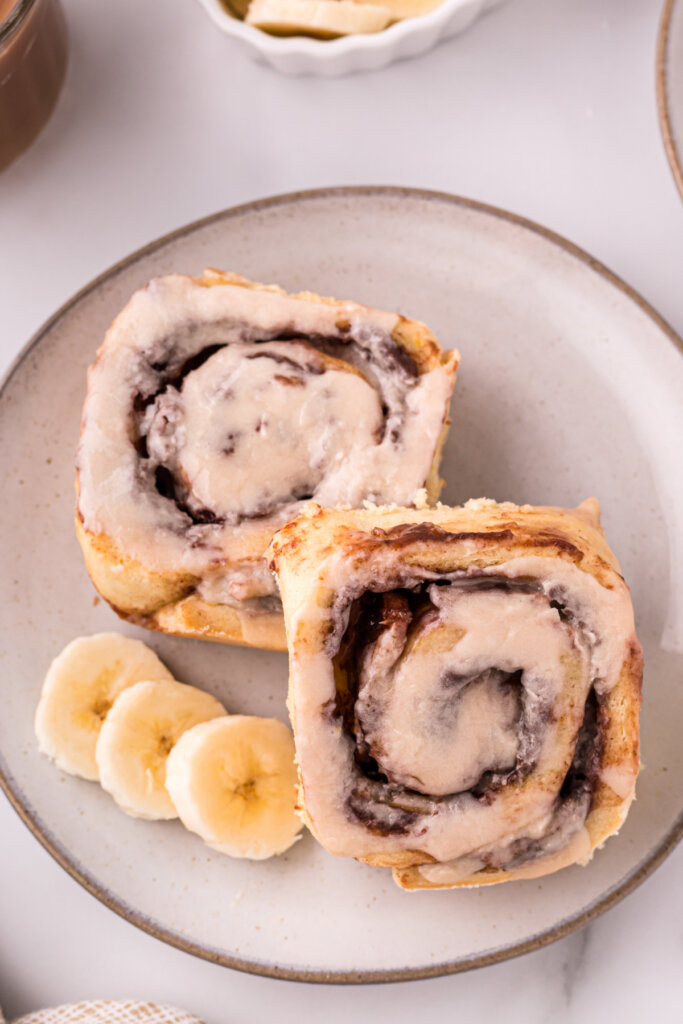 Nutella Banana Sweet Rolls recipe
I'm not big on breakfast food. We all know this. But I AM a fan of a dessert that DOUBLES as a breakfast food. These Nutella Banana Cinnamon rolls are just that! They're the best way ever to start the morning since they're so sweet and squishy and just good, but they're also the best way to end the day after a light dinner. A versatile recipe is already a 10/10 recipe in my book!
What is a Nutella Banana Cinnamon Roll, exactly? Well, I'm sure you've had a cinnamon roll before, like the kind you get at Cinnabon or from the store in the little metal cans. These are the same, except completely homemade and with Nutella-banana flavors added. Some people might think they're too much, and I understand that, but to me, they're the perfect balance of sweet, fruity, and nutty.
(By the way, any other Nutella addicts out there?! Come on. I know you're reading. Nutella's amazing, and it tastes good on almost everything!)
Start the day with one of these, and you'll be unstoppable. I can almost guarantee it! Try these Nutella Banana Cinnamon Rolls for breakfast or dessert. They are so easy to make and delicious too! Enjoy these delectable breakfast treats with your family!!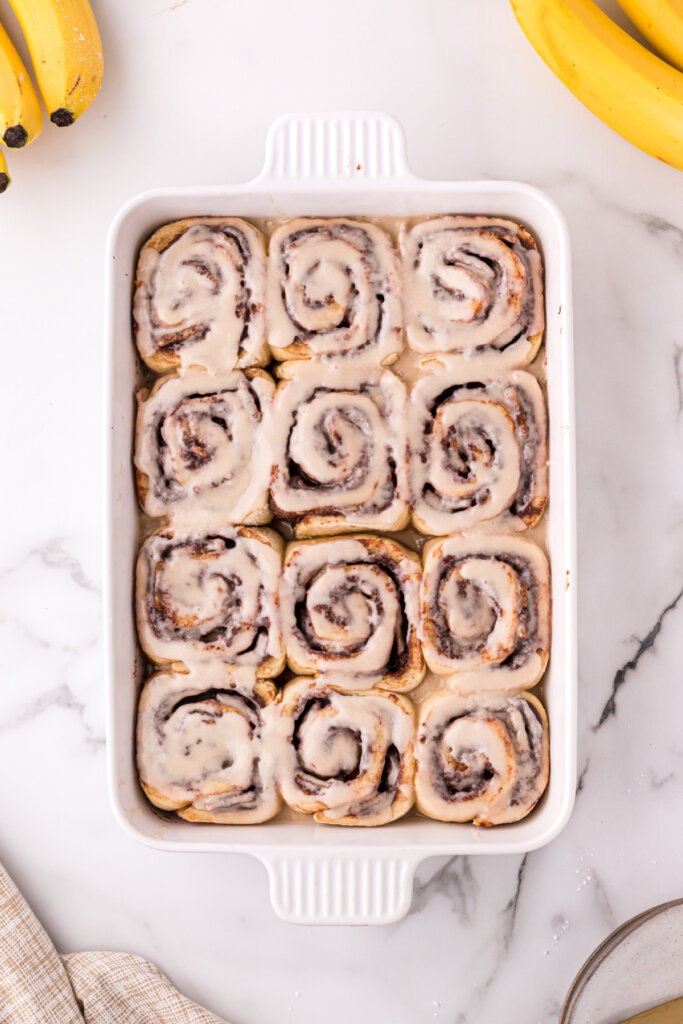 Nutella Banana Cinnamon Rolls: Ingredients & Equipment
For these Nutella Banana Cinnamon Rolls, you'll need …
Ingredients
For the dough
dry yeast – active. We're making rising dough for this recipe! You'll feel like such a pro when it's done!!
flour – bread flour is best here, though all-purpose will never fail you. Just remember that the resulting texture might be different depending on the flour you use.
instant vanilla pudding or white chocolate pudding – these will provide some beautifully sweet flavors to the rolls, so each bite is guaranteed to be super yummy.
Other standard baking ingredients are eggs, butter, milk, sugar, and salt. If you've made any kind of cake, pastry, cookie, etc, before, these probably won't surprise you at all.
For the filling
bananas – three large ones. These are one-half of your filling's star flavors.
nutella – a cup. The other half of your filling's flavors! So, so good!
cinnamon – can't have cinnamon rolls without the cinnamon.
cream cheese – this keeps the filling nice and soft.
granulated sugar – for additional sweetness, of course!
For the glaze
vanilla extract, and powdered sugar – these form the base of your sweet cinnamon roll glaze.
hot water and butter – these ingredients are the other half of your glaze and give it a gooey consistency.
Equipment
bread machine – you'll make the actual dough itself in a bread machine, which simplifies the process a lot!
small bowls – one to combine your Nutella and cream cheese, and one to combine your sugar and cinnamon.
9×13 baking pan – greased. You'll bake your Nutella rolls in this!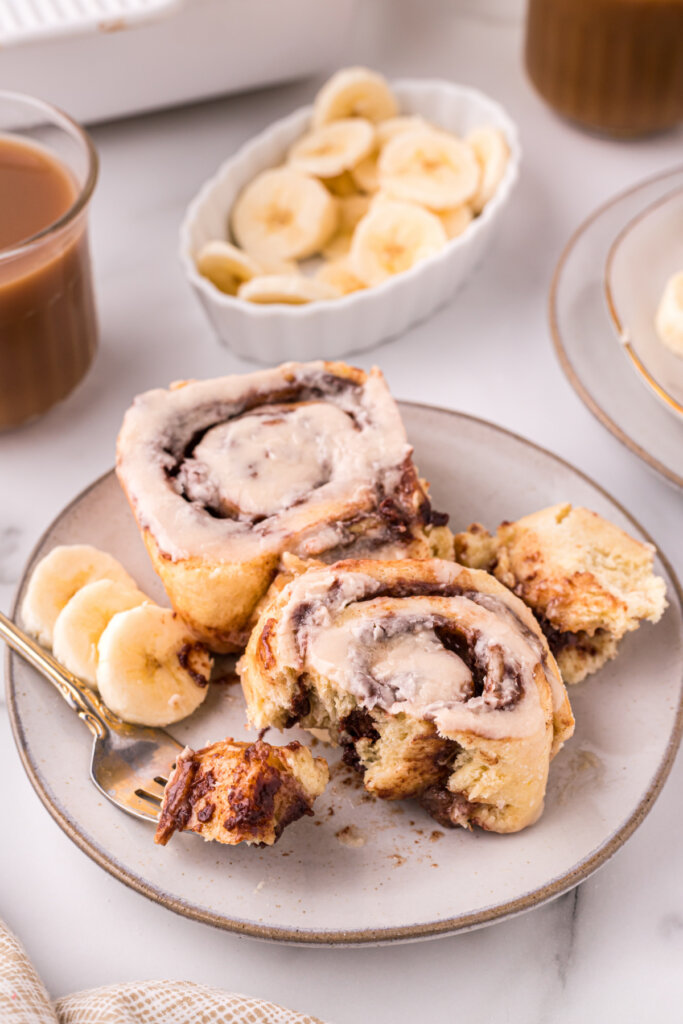 Nutella Banana Cinnamon Rolls: FAQs
How many banana rolls does this recipe make?
About 12, enough for everyone in the family to have one or two!
How long does it take to make Nutella banana cinnamon rolls?
It takes 30 minutes to prep the ingredients and 25 to bake them. However, you'll want about an hour and a half to let the dough rise. It's not a quick recipe, but it's a very easy one!
What other toppings or additions pair well with this recipe?
If you can think of anything that goes great with cinnamon and chocolate, you've found a great extra treat to throw into the rolls! Chopped nuts, in particular, are my fave.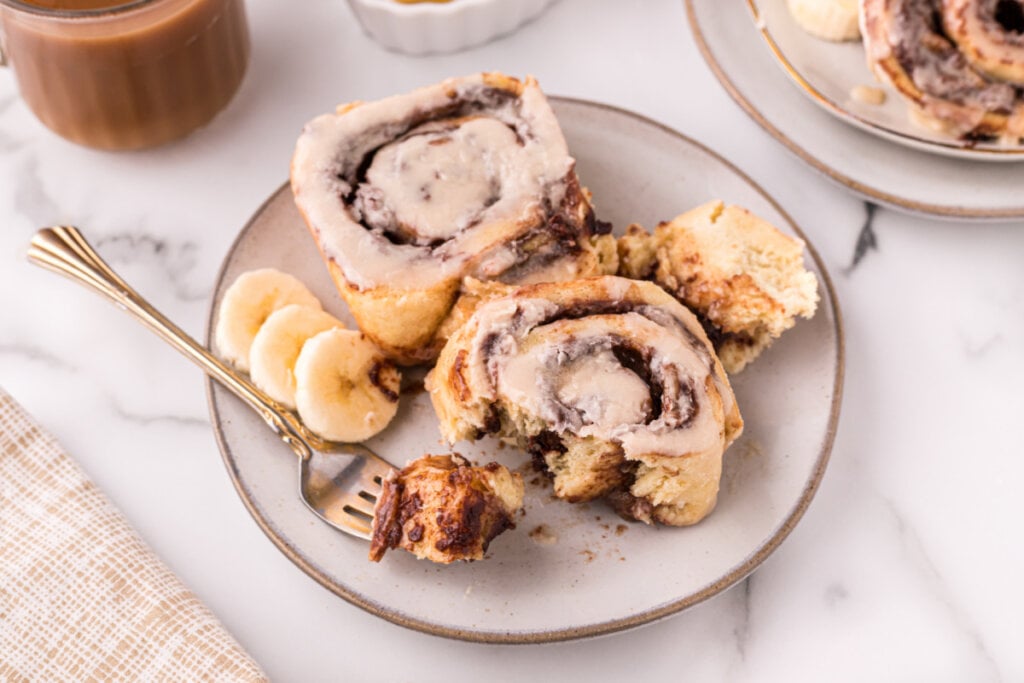 Other recipes you may enjoy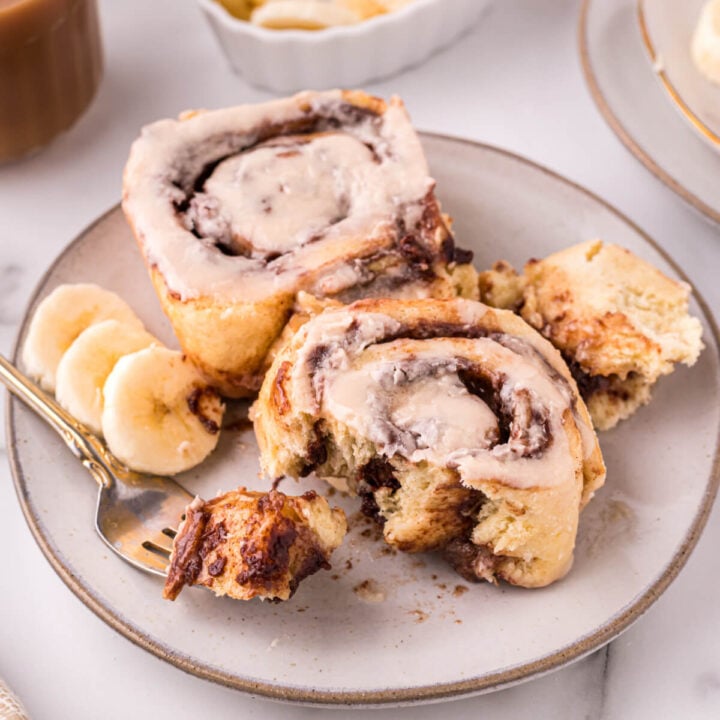 Nutella Banana Cinnamon Rolls
Inactive Time:
1 hour
35 minutes
Total Time:
2 hours
30 minutes
Try these Nutella Banana Cinnamon Rolls for breakfast or dessert. They are so easy to make and delicious too! Enjoy them with your family!
Ingredients
For the rolls
4 tablespoon butter, melted
4 tablespoon water
1/4 cup instant vanilla pudding or white chocolate instant pudding
1 cup milk
1 large egg, beaten
1 tablespoon granulated sugar
1/2 teaspoon salt
4 cups bread flour or all-purpose flour
2-1/2 teaspoon active dry yeast
For the filling
6 tablespoons granulated sugar
2 teaspoons ground cinnamon
1 cup Nutella Hazelnut Spread
4 ounces cream cheese, softened
3 large bananas
For the glaze
2 cups powder sugar
4 tablespoons butter, semi melted
4 tablespoons hot water
1/2 to 1 teaspoon pure vanilla extract
Instructions
Rolls:
Place the ingredients listed above for the rolls in order into a bread machine per the manufacturers' directions. Set for dough cycle. After the cycle is complete, remove the dough from the machine and roll it out to a rectangle about 17x10 inches.
Filling:
In a small bowl, combine the Nutella and softened cream cheese until well combined and smooth. You may get a few chunks. That is okay, it will still spread out nicely. Set aside.
Mix the cinnamon and sugar in another small bowl, and set aside.
Spread the Nutella and cream cheese mixture on the rolled-out dough (17x10 inches), making sure to completely cover but leaving a 1/4-1/2 inch edge on each side. Then slice the bananas and place the slices on top of the Nutella. You can place the bananas wherever you would like. Just make sure that they don't overlap. Once you have placed all of the bananas, sprinkle the cinnamon and sugar filling over the bananas and Nutella.
Roll the dough tightly from the long end, pinching edges closed when completely rolled. Slice dough into 12 rolls, about 3/4-1 inch thick slices. Place the sliced rolls into a greased 9×13, let rise until doubled.
Bake at 350 degrees for 20-22 minutes. Add glaze on once they have cooled for a few minutes. Serve immediately or cover and set aside for later. I would add the glaze right before serving.
Glaze:
Mix butter, powdered sugar, and almond extract. Add hot water 1 tablespoon at a time until the glaze reaches desired consistency. Drizzle over sweet rolls.
Notes
Bread flour is preferred, but all-purpose flour can also be used.
If you don't have a bread machine, you can also make these by hand.
Nutrition Information:
Yield:

12
Serving Size:

1 roll
Amount Per Serving:
Calories:

686
Total Fat:

23g
Saturated Fat:

14g
Trans Fat:

0g
Unsaturated Fat:

6g
Cholesterol:

49mg
Sodium:

251mg
Carbohydrates:

111g
Fiber:

4g
Sugar:

62g
Protein:

11g
Please note that the nutritional information listed on this page is an estimation based on the products I used. Ingredients and nutritional information can vary significantly between brands. Always be sure to read labels. Please verify that a recipe fits your needs before using it. Nutrition info may contain errors, so please verify it independently. Likewise, recipes may contain errors, so please use your common sense when following them.
Originally published on June 14, 2014. Updated on July 26, 2022.