This post may contain affiliate links. As an amazon associate, I earn from qualifying purchases. See my full Disclosure Policy for details.
Nutella Banana Cinnamon Rolls
Where every 2nd Friday of the month I, Sandra from A Dash of Sanity, will be sharing one of my favorite recipes with the friends of Love Bakes Good Cakes.
Are there any other Nutella addicts out there? Come on, raise your hand, I know you are out there. I seriously have a Nutella problem, I feel like you can add it to anything and it will taste better! Seriously.
Inspiration and goodness
This cinnamon roll recipe was inspired by my son, Aiden, 11 years old, who asked me to make toast with Nutella and bananas, a lethal combination of goodness. While I too was enjoying a piece, I thought this would make a killer cinnamon roll. I couldn't control the urge and had to make it instantly. This came out better than I expected. The cinnamon, bananas and Nutella play together beautifully. Creating a rich and sophisticated cinnamon roll that is just as addicting, if not more than Nutella on its own.
I shared this some family and friends, where some are Nutella lovers like myself and others aren't. There wasn't one person who was not just in love with these. The Nutella does not over power the flavor of the roll, instead the bananas and cinnamon work to compliment it. Creating a taste of its own of heavenly goodness. I can't wait for you to try this.
And I'm so happy to share this with you today, and I'm looking forward to our next Foodie Friday!
From my Nutella kitchen, to yours, enjoy this A Dash of Sanity original, shared especially for my friend Jamie!
XOXO San
Like what you see? Come and follow me!
A Dash of Sanity
Pinterest Facebook
Twitter Google+
Instagram
Nutella Banana Cinnamon Rolls
Kids review: They couldn't get enough of these and were sorely
disappointed when they found out we were sharing the rest with our neighbors
and their Aunt Tami.
Like the
recipe? Check out these at A Dash of Sanity.
Caramel Brownie Muddy Buddies | a.k.a Puppy Chow
Sweet Maple Barbeque Chicken Kabobs
Other recipes you may enjoy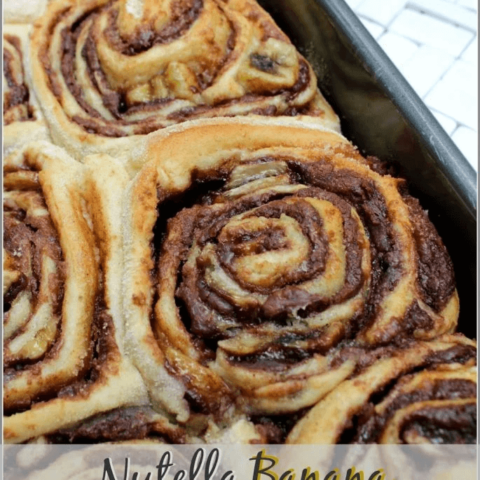 Nutella Banana Cinnamon Rolls
Inactive Time:
1 hour
35 minutes
Total Time:
2 hours
30 minutes
Delicious Nutella Banana Cinnamon Rolls.
Ingredients
Rolls
4 tablespoon butter, melted
4 tablespoon water
1/4 cup instant vanilla pudding or white chocolate instant pudding (yum!)
1 cup milk
1 egg, beaten
1 tablespoon sugar
1/2 teaspoon salt
4 cups flour, bread flour is preferred
2 1/2 teaspoon active dry yeast
Filling
6 tablespoons white granulated sugar
2 teaspoons cinnamon
1 cup Nutella Hazelnut Spread
4 ounces cream cheese, softened
3 large bananas
Glaze
2 cups powder sugar
4 tablespoons butter, semi melted
4 tablespoons hot water
1/2-1 teaspoon pure vanilla extract
Instructions
Rolls:
Place ingredients as listed above in order into a bread machine. Set for dough cycle. After complete on dough cycle, remove from machine and roll out to a rectangle about 17x10 inches.
Filling:
In a small bowl combine Nutella and softened cream cheese until well combine and smooth. You may get a few chunks that's okay, it will still spread out nicely. Set aside.
In another small bowl mix together cinnamon and sugar, set aside.
Spread Nutella and cream cheese mixture on the rolled out dough (17x10 inches), make sure to completely cover, but leaving a 1/4-1/2 inch edge on each side. Then slice bananas and place the slices on top of the Nutella. You can place the bananas wherever you would like, just make sure that they don't over lap. Once you have placed all of the bananas, sprinkle the cinnamon and sugar filling over the bananas and Nutella.
Roll the dough tightly from long end, pinching edges closed when completely rolled. Slice dough into 12 rolls, about ¾-1 inch thick slices. Place into greased 9×13, let rise until doubled.
Bake at 350 degrees for 20-22 minutes. Add glaze on once they have cooled for a few minutes. Serve immediately or cover and set aside for later. I would add the glaze right before serving.
Glaze:
Mix butter, powdered sugar, and almond extract. Add hot water 1 tablespoon at a time until the glaze reaches desired consistency. Drizzle over sweet rolls.
Nutrition Information:
Amount Per Serving:
Calories:

621
Total Fat:

20g
Saturated Fat:

14g
Cholesterol:

46mg
Sodium:

207mg
Fiber:

4g
Sugar:

63g
Protein:

9g
Originally published on June 14, 2014. Updated on April 29, 2021.