Use those overripe bananas on the counter to make this delicious and simple Banana Bread! It's always a family-approved recipe!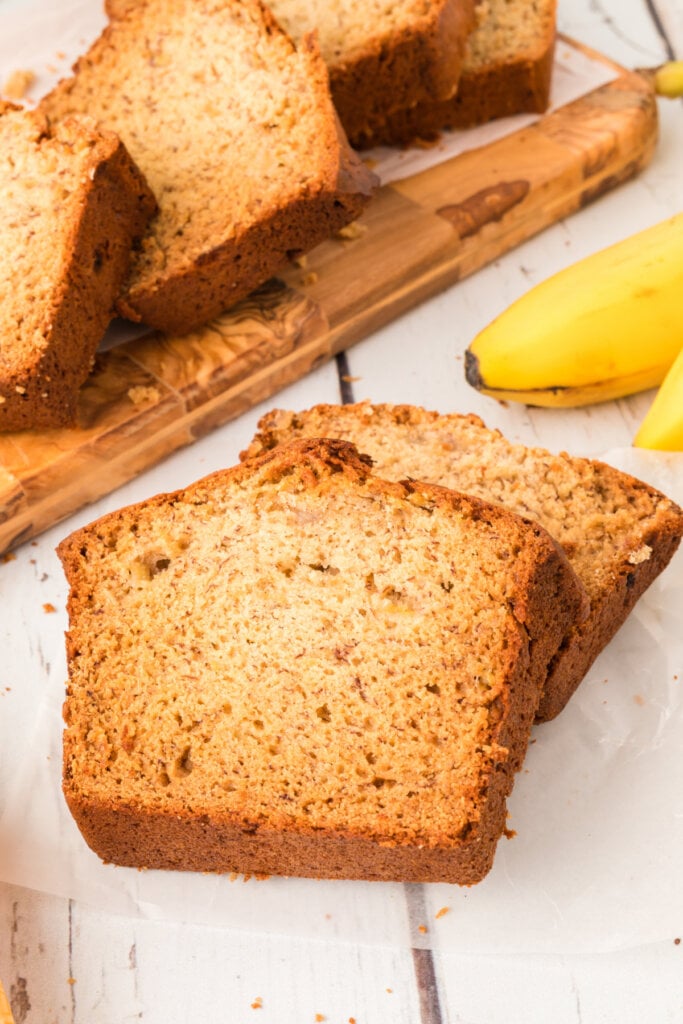 Easy Banana Bread
What about getting older makes time seem like it all runs together? Do you ever feel that way?
Although the last few months have kind of blurred together, there's one thing I could always count on … my family requesting this Banana Bread!
I've probably made this recipe a million and one times over the past twenty or so years. It's simple and delicious!
To avoid waste, I like to use overripe bananas, which are never in short supply. With a family of six still at home, plus grandbabies who come around, you can imagine how many bananas we go through in a week!
I always buy lots of bananas on our grocery trips, and I always seem to have a few bananas that need to be used up at the end of the week.
I'm almost thinking my kids leave exactly three bananas on purpose so that they'll get this awesome Banana Bread recipe. Weekly, like clockwork, they ask when we'll be making it!
Your kids (or partner, or best friends!!) will definitely be asking the same after you put it together. Trust me on that!
I feel like we all have our own take on Banana Bread, but if I do say so myself, only THIS recipe will have everyone around you begging for more!! OK, maybe I'm exaggerating, but you'll see what I mean. 😉
Banana Bread Recipe: Ingredients & Equipment
To make this Banana Bread, you'll need …
Ingredients
large ripe bananas – for this recipe, you will want to use bananas with plenty of brown spots on them – they truly make the most perfect and flavorful banana bread.
eggs, butter, salt, vanilla extract, sugar, and baking soda – your standard baking ingredients. I lumped them together because they're all normal for this kind of recipe. If you've ever baked anything before, this should all be familiar to you!
ground cinnamon – for a lovely earthy flavor! Sometimes I'll add nutmeg, as well. Up to you!
Equipment
9×5 loaf pan and cooking spray – you'll bake your banana bread in this.
bowl – one large (for your wet ingredients), and one medium (for your dry ingredients).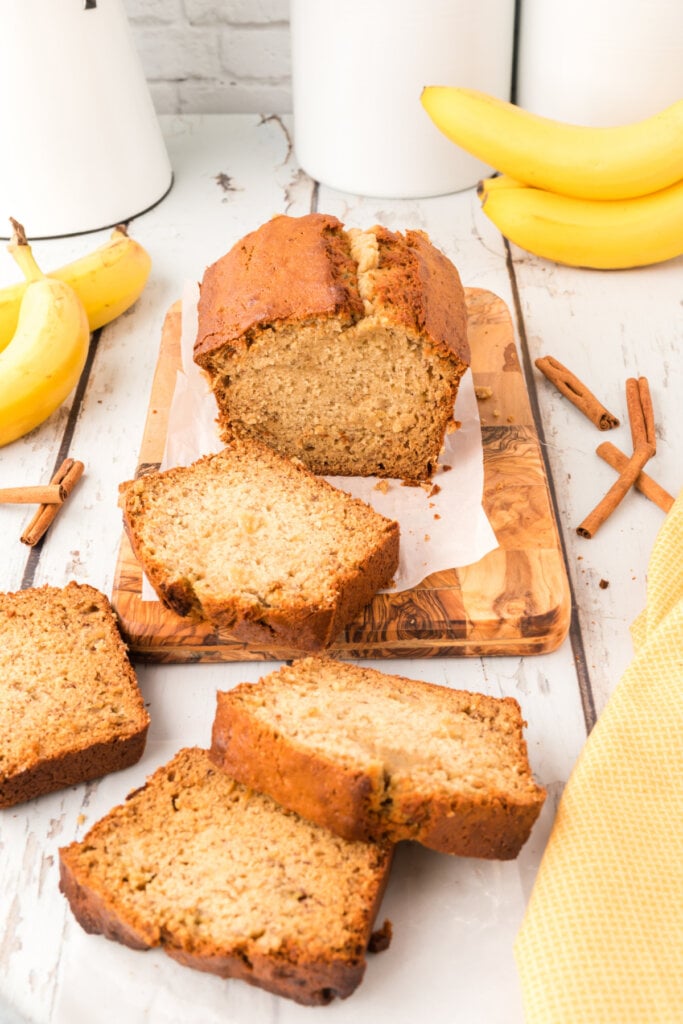 Best Banana Bread recipe: FAQs
How many servings does this recipe yield?
I'd say about twelve slices – enough to snack on for a few days for sure!
How long does it take to make this Banana Bread recipe?
An hour to cook it and about 10 minutes to prep the ingredients. You'll also need to account for the amount of time it will take to cool.
Are there any additions in particular you recommend?
Yes! I mentioned nutmeg up above, but you could also consider …
– 1/2 to 1 cup chopped walnuts, pecans
– Chocolate chips of any kind
– Raisins/craisins or any dried fruit
What about substitutions?
You can use maple syrup or honey in place of the sugar, though I haven't tried it myself. (If you use either of those, please let me know how it turns out below!) While I'm not a diet expert, I also imagine you can make this gluten-free easily by switching out the flour.
Can you use frozen bananas?
You certainly can – just thaw them until they are at room temperature. The freezing shouldn't affect the final flavor too much.
Can you use this recipe to make muffins?
Yes! You can use a standard-size muffin tin and bake them for about 25 minutes. Use a toothpick to check for doneness!!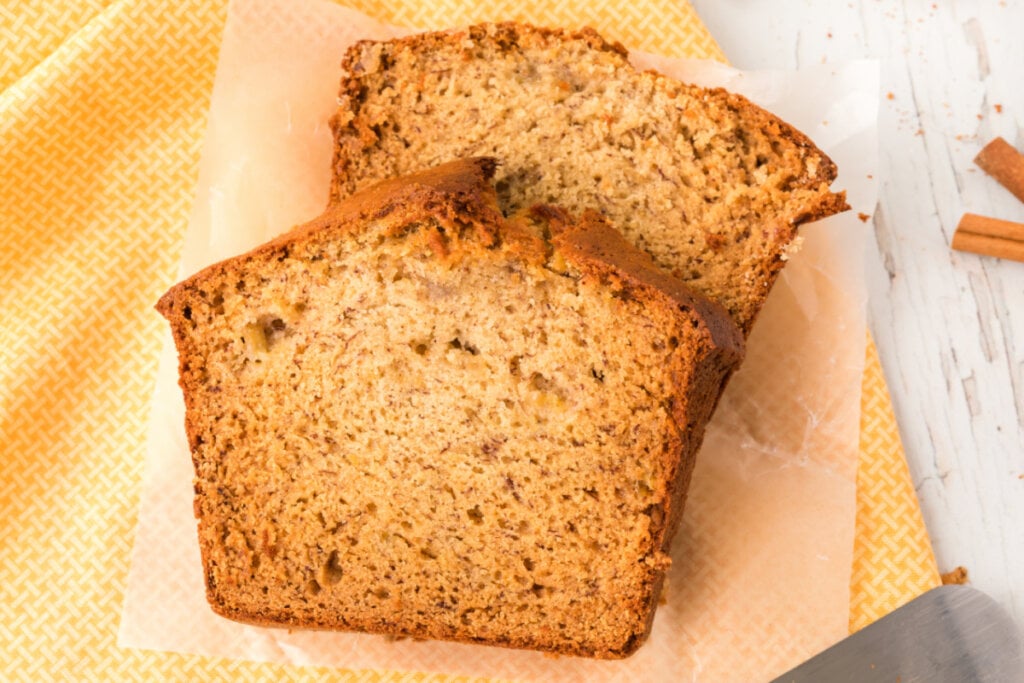 Other recipes you may enjoy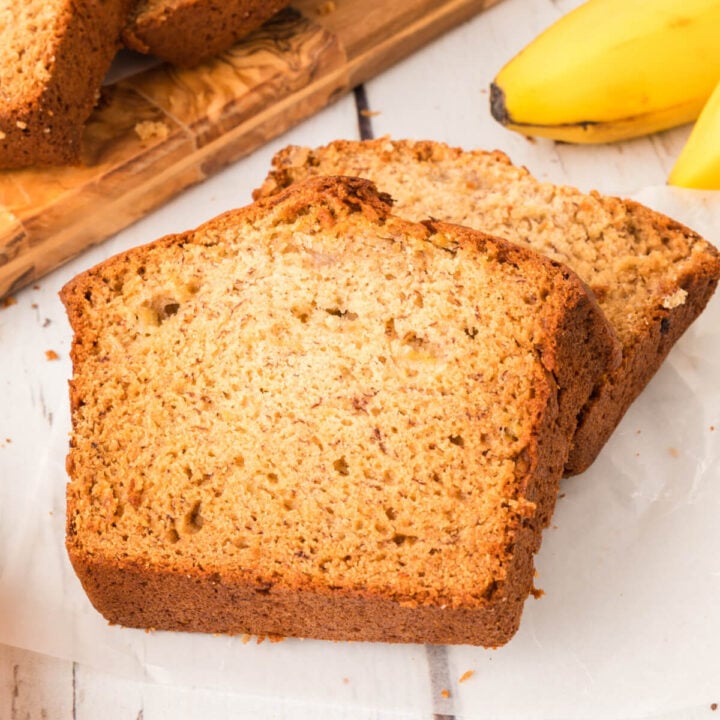 Banana Bread
Total Time:
3 hours
10 minutes
Use those overripe bananas on the counter to make this delicious and simple Banana Bread! It's always a family-approved recipe!
Ingredients
1/2 cup (1 stick) butter, melted
3 large ripe bananas
2 large eggs
1 teaspoon vanilla extract
2 cups all-purpose flour
1 cup granulated sugar
1 teaspoon baking soda
1/2 teaspoon salt
1/2 teaspoon ground cinnamon
Instructions
Preheat oven to 350°F. Spray a 9x5-inch loaf pan with cooking spray (or grease with shortening or butter) and set aside.
In a large bowl, combine and mash together the melted butter and bananas. Add the eggs and vanilla extract and continue to mash and combine the ingredients until everything is well combined.
In a medium bowl, whisk together the flour, sugar, baking soda, salt, and cinnamon. Add the flour mixture to the banana mixture and stir just until smooth.
Spread the batter evenly into the prepared pan.
Bake for 45-55 minutes or until a toothpick inserted near the center of the loaf comes out clean.
Cool loaf in pan for 10 minutes before removing to a wire rack to cool completely.
Notes
Try adding 1/2 to 1 cup chopped walnuts or chocolate chips to the bread batter before baking.
Prefer muffins? You can use a standard-size muffin tin and bake them for about 25 minutes. Again, use a toothpick to check for doneness.
Recommended Products
As an Amazon Associate and member of other affiliate programs, I earn from qualifying purchases.
Nutrition Information:
Yield:

12
Serving Size:

1 slice
Amount Per Serving:
Calories:

184
Total Fat:

1g
Saturated Fat:

0g
Trans Fat:

0g
Unsaturated Fat:

1g
Cholesterol:

31mg
Sodium:

206mg
Carbohydrates:

41g
Fiber:

2g
Sugar:

21g
Protein:

4g
Please note that the nutritional information listed on this page is an estimation based on the products I used. Ingredients and nutritional information can vary significantly between brands. Always be sure to read labels. Please verify that a recipe fits your needs before using it. Nutrition info may contain errors, so please verify it independently. Likewise, recipes may contain errors, so please use your common sense when following them.
Originally published on March 23, 2017. Updated on July 20, 2022.