Use those overripe bananas on the counter to make this delicious and simple one-bowl Banana Bread! Family-approved recipe!
This post may contain affiliate links. As an amazon associate, I earn from qualifying purchases. See my full Disclosure Policy for details.
Banana Bread recipe
As I sit here writing this post, I'm wondering where the month of March has gone. Heck, for that matter, we might as well find January and February too! I just can't seem to wrap my head around the fact that we have a little over a week until April is here.
I'll be honest, I much prefer spring and summer anyways. Maybe spacing out on most of the winter season was a good thing. I dunno?
Although the last few months seem to be a blur, it seems like it all runs together and I can't remember much, there's one thing I can always count on … my family requesting this Banana Bread! I've probably made it a million and one times over the past twenty or so years.
With a family of 6 still at home, you can imagine how many bananas we go through in a week! I always buy lots of bananas on our grocery trips, and inevitably, I always seem to have a few bananas that need to be used up at the end of the week.
I'm almost thinking my kids leave exactly 3 bananas on purpose so that they'll get this awesome banana bread. Coincidence? I'm onto them ….. Weekly, like clockwork, they ask when we'll be making this recipe!
Of course, one of our favorite ways to use overripe bananas is in this quick, easy, and delicious one-bowl banana bread recipe! For this recipe, you will want to use bananas with plenty of brown spots on them – they truly make the most perfect and flavorful banana bread!
You will need a 9×5-inch loaf pan for this recipe. We like to add cinnamon and nutmeg to the batter, but feel free to leave them out if you prefer more of a traditional banana bread recipe. Sometimes, we add nuts, and other times, we add raisins, chocolate chips – or just leave it plain!
Other recipes you may enjoy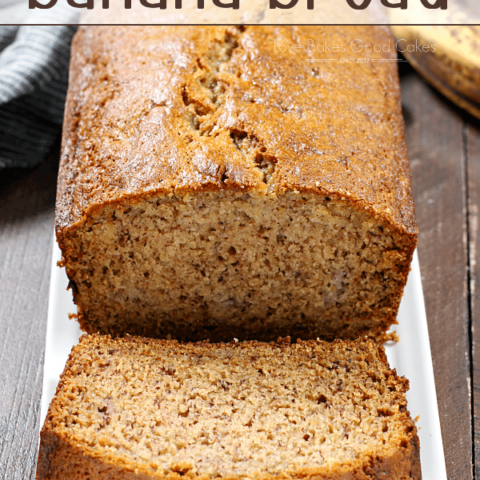 Banana Bread
Total Time:
1 hour
10 minutes
Use those overripe bananas on the counter to make this delicious and simple one-bowl Banana Bread! Family approved recipe!
Ingredients
1/2 cup (1 stick) butter, softened
1 cup granulated sugar
2 large eggs
1/2 cup sour cream of vanilla-flavored Greek yogurt
1 cup mashed bananas (about 3 bananas)
1 tsp. vanilla extract
1-1/2 cups all-purpose flour
1 tsp. baking soda
1 tsp. ground cinnamon
1/2 tsp. ground nutmeg
1/2 tsp. salt
1/2 cup chopped walnuts (optional)
Instructions
Preheat oven to 350°F. Spray a 9x5-inch loaf pan with cooking spray and set aside.
In a large bowl, cream together the butter and sugar. Add the eggs, sour cream, bananas, and vanilla, mixing well.
Sift the flour, baking soda, cinnamon, nutmeg, and salt into the banana mixture. Stir just until smooth. If desired, stir in walnuts. Spread the batter evenly into the prepared pan.
Bake for 60 minutes or until a toothpick inserted near the center of the loaf comes out clean. Cool loaf in pan for 10 minutes before removing to a wire rack to cool completely.
Nutrition Information:
Amount Per Serving:
Calories:

345
Total Fat:

14g
Saturated Fat:

8g
Cholesterol:

79mg
Sodium:

286mg
Fiber:

2g
Sugar:

29g
Protein:

6g