My family looks forward to pizza night on Friday. We've tried all sorts of combinations for toppings. My kiddos keep trying to convince me to make a Mac and Cheese with Hot Dog Pizza … but thus far, I can't bring myself to do it. It's desecration to me … They think they're onto something. If When I do decide to make Mac and Cheese with Hot Dog Pizza for them, I think I'm going to make this Tomato Spinach Alfredo Pizza for me! 😉 It is my favorite homemade pizza so far! I might try a small sliver piece of theirs to be a good sport …. Because you know I'm gonna make that pizza one of these days … and any good Mom has to try their kiddos crazy concoctions … Right?!
I use jarred Alfredo sauce for this because it is fast and easy. I find one jar easily makes 2 large pizzas. Also, feel free to make your own Alfredo sauce if you like. Although I use frozen spinach, this pizza would be just as tasty with fresh spinach, too! I provided a link to my favorite pizza dough from
Frugal Upstate
… I truly believe it is "the best" … and oh, so close to Pizza Hut!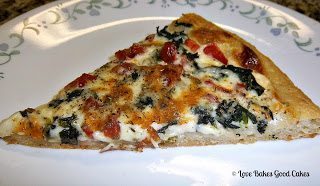 Tomato Spinach Alfredo Pizza
Yield: 2 large pizza (8-10 slices)
Olive oil
1 jar (16 oz.) Alfredo sauce
4 cups (16 oz.) shredded Mozzarella cheese, divided
1 pkg. (10 oz.) frozen chopped spinach, thawed and moisture
squeezed out
2 large Roma tomatoes, chopped
4 garlic cloves, minced
Italian seasoning (optional)
Prepare pizza dough according to recipe instructions.
Preheat oven to 450° F. Grease two pizza pans. Pat dough into pans. Drizzle the dough with olive oil and bake for 10 minutes. Spread Alfredo sauce on the pizza crusts, using about half a jar for each pizza. Top each pizza with about 1-1/2 cups cheese. Top with spinach, garlic and tomatoes. Sprinkle 1/2-cup of cheese over the top of each pizza. If desired, lightly sprinkle Italian seasoning over the top of the pizzas. Bake for 15-17 minutes, or until pizza is golden and the cheese is bubbly. Serve hot!
I hope you enjoy!
Shared at
these
fun parties!