One of my personal favorites is Tomato Spinach Alfredo Pizza. It's no secret that my family loves our Friday night pizza night. Try it!
Tomato Spinach Alfredo Pizza
My family looks forward to pizza night on Friday. We've tried all sorts of combinations for toppings. My kiddos keep trying to convince me to make Mac and Cheese with Hot Dog Pizza, but thus far, I can't bring myself to do it. It's a desecration to me. They think they're onto something. When (and if) I do decide to make Mac and Cheese with Hot Dog Pizza for them, I think I'm going to make this Tomato Spinach Alfredo Pizza for me! 😉 It is my favorite homemade pizza so far! I might try a small piece of theirs to be a good sport. Because you know I'm going to have to make that pizza for them one of these days … and any good Mom has to try their kiddos' crazy concoctions. Right?!
I prefer to use my homemade Alfredo Sauce, but you can use jarred Alfredo sauce if you need something faster and easier. I also prefer fresh spinach, but you can use frozen, thawed spinach if that's easier for you. Just be sure to squeeze out as much water as you can. Of course, no pizza is complete without the crust! I prefer my homemade pizza crust. I also have a recipe for a whole wheat pizza crust and a bread machine pizza crust! Store bought is good, too – use whatever is convenient for you!
Other recipes you may enjoy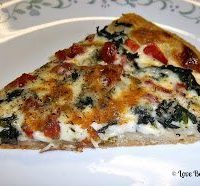 Tomato Spinach Alfredo Pizza
Yield:
8-10 slices (1 large pizza)
Ingredients
olive oil
2 cups (8 oz.) shredded Mozzarella cheese, divided
large handful of chopped fresh spinach
1 large Roma tomato, chopped
2 garlic cloves, minced
Italian seasoning (optional)
Instructions
Prepare the pizza dough according to the recipe instructions.
Preheat oven to 450° F. Grease a pizza pan. Pat the dough into the pan.
Spread the Alfredo sauce over the pizza crusts. Top the pizza with about 1-1/2 cups of cheese. Top with spinach, garlic, and tomatoes. Sprinkle the remaining 1/2 cup of cheese over the top of each pizza. If desired, lightly sprinkle Italian seasoning over the top of the pizzas.
Bake for 15-20 minutes, or until the pizza is golden and the cheese is bubbly.
Once baked, allow the pizza to stand for 5 minutes before slicing and serving!
Notes
Feel free to use homemade or store-bought Alfredo sauce for this recipe. Save any remaining Alfredo sauce for another use.
I prefer fresh spinach, but you can also use frozen chopped spinach! Allow it to thaw, and squeeze out as much water as possible before using it.
Try adding cooked chicken to the toppings!
Nutrition Information:
Amount Per Serving:
Calories:

2110
Total Fat:

118g
Saturated Fat:

54g
Cholesterol:

265mg
Sodium:

6062mg
Fiber:

13g
Sugar:

13g
Protein:

92g
Originally published on July 13, 2012.