You can cook up these Homemade Pizza Rolls in less than an hour for a delicious dinner or game day appetizer everyone can get behind! You'll need a few standard pizza-making ingredients, plus some egg roll wrappers. So, so good!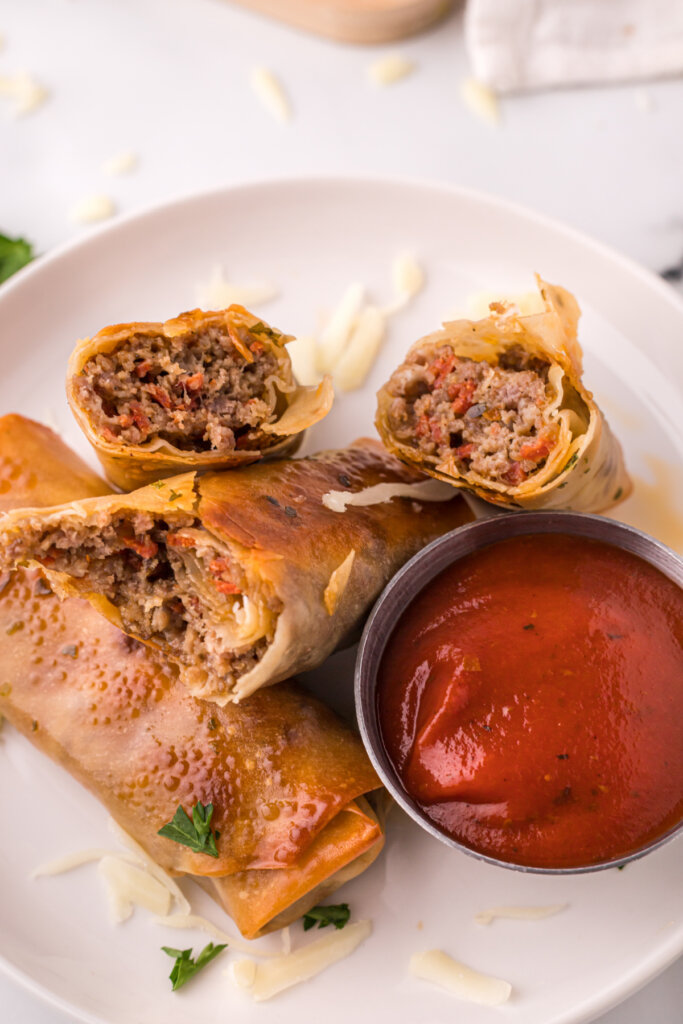 Recipe for Pizza Rolls
We've all seen those little pizza rolls and pizza bites in the grocery store's freezer section. Though they make me think of kids and college students because they're so cheap and quick, I have to say they're tasty even for a mom like me.
So, of course, I thought: "How can I make these at home?" These homemade pizza rolls are the result!
I quickly whipped these up for one of our Friday night pizza nights, and these rolls were requested to make a repeat appearance. So you know that's a win!
I've listed instructions on both baking them and frying them. Generally, I decide to bake them versus frying them – partly because of the oil – and partly because sometimes I like to take the lazy way. 😉
I make double batches and can't see myself standing there frying all of them … but maybe you'll feel differently. Baking them on a baking sheet was just so much faster and less messy for me!!
No matter how you choose to cook these homemade pizza rolls, they're a perfect easy dinner. The best, most kid-friendly snack (or meal) in the world is now homemade! Let me show you what I mean!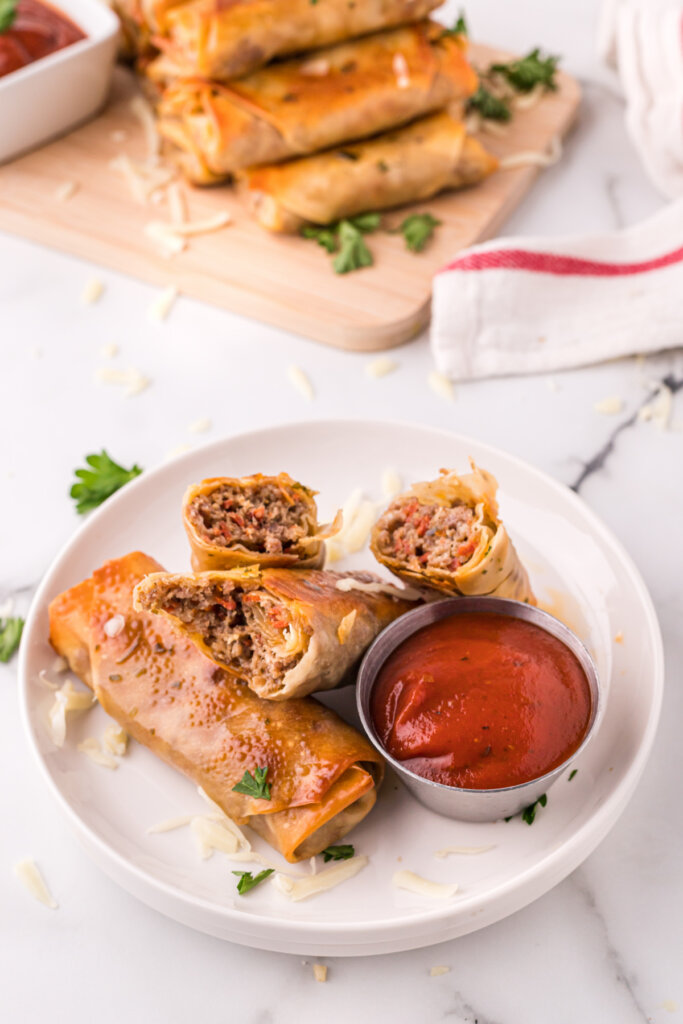 Pizza Rolls: Ingredients & Equipment
To make this Pizza Roll recipe, you'll need …
Ingredients
egg roll wrappers – you can't have pizza rolls without the rolls! Your fillings go in these.
Mozzarella cheese, pepperoni, Italian sausage, ground beef – your pizza roll "toppings" – except they make a delicious filling in this recipe.
pizza sauce – use your favorite brand! Or make your pizza sauce homemade. And let me know in the comments which you prefer. I'm super curious!
water – have it on hand to moisten the top of the rolls so you can seal them.
Equipment
skillet or baking sheet – depending on if you'll be frying these or baking these.
food processor – used to chop up and mix your pizza roll filling.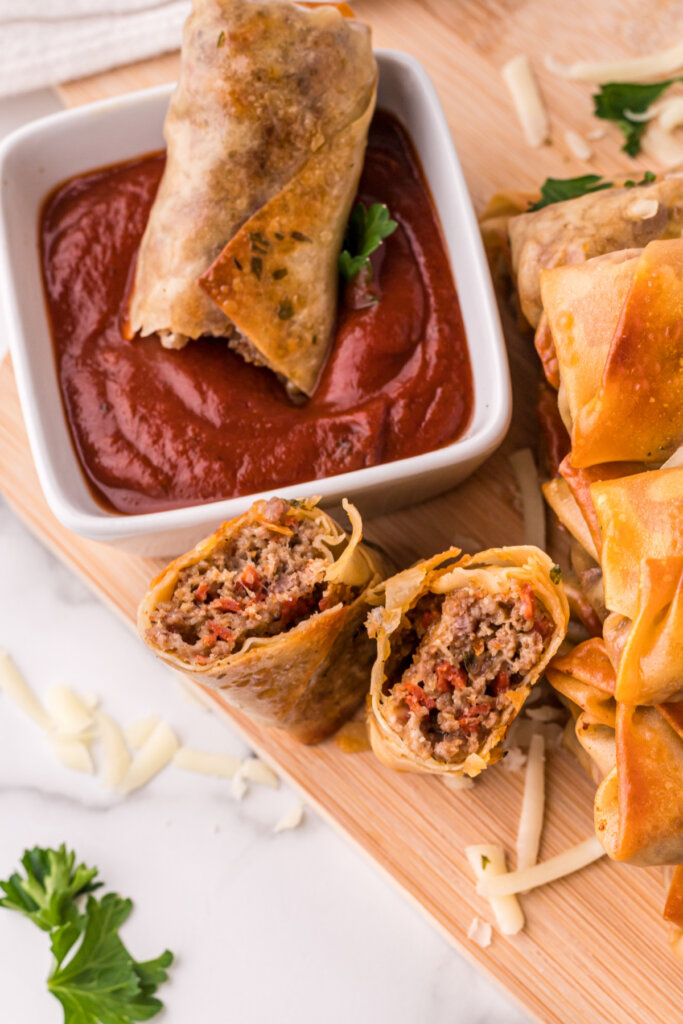 Pizza Rolls: FAQs
Do I absolutely need a food processor for this recipe?
Not at all – you can totally mix the fillings yourself in a large bowl. The texture will be a bit chunkier.
How many pizza rolls does this recipe yield?
About 16. But these rolls are bigger than most of the rolls you'd get from the grocery store in the freezer section – they're not bite-sized.
How long does it take to make Homemade Pizza Rolls?
Less than an hour! The prep's only about 10 minutes, and the cooking is 30 minutes give or take.
What other fillings do you recommend?
Think about your favorite pizza toppings and then buy them all and throw them into your food processor. That's what you can do to make different kinds of pizza rolls than the ones I've listed here! In particular, you can try…
– A veggie-style pizza roll with chopped onions, peppers, tomatoes, and spinach, or …
– A BBQ chicken pizza roll with BBQ sauce, chopped chicken, and onions, or …
– Make this recipe extra meaty by adding bacon bits to the filling as well!
Are there any additions to the recipe you've tried?
I'll often sprinkle garlic salt or powdered onion on the rolls before cooking them for some extra flavor, but it depends on your taste!!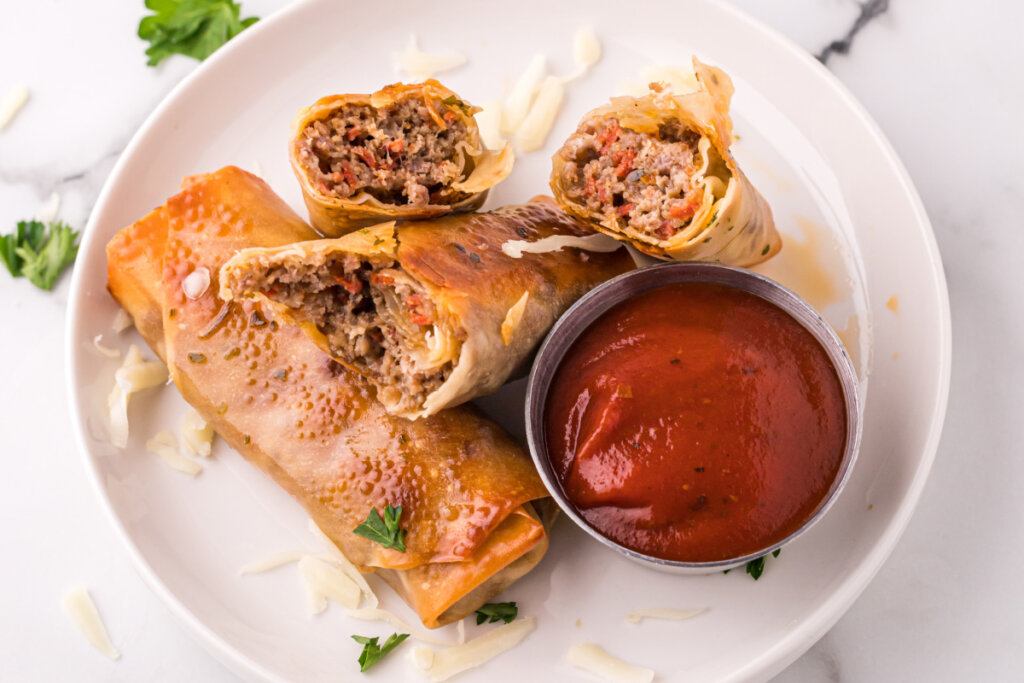 Other recipes you may enjoy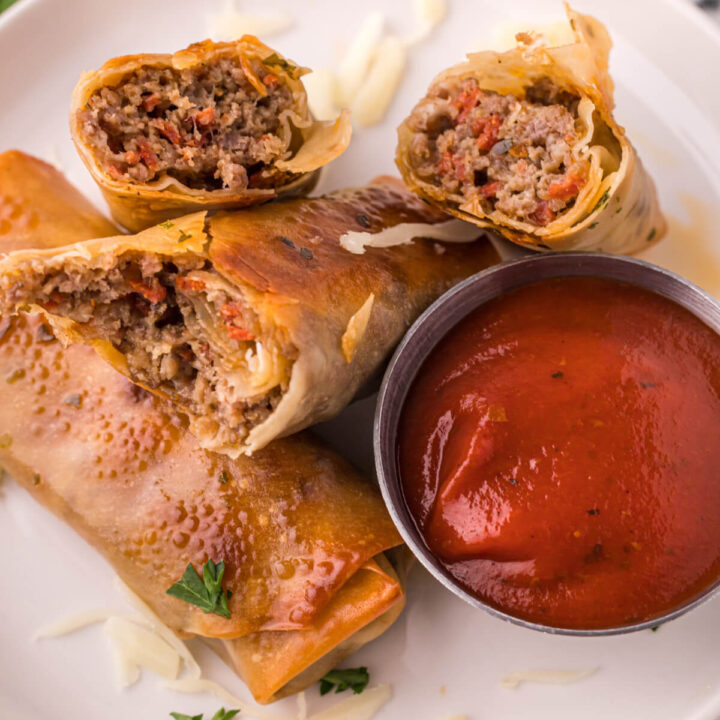 Homemade Pizza Rolls
You can cook up these Homemade Pizza Rolls in less than an hour for a delicious dinner or game day appetizer everyone can get behind! All you'll need are a few standard pizza-making ingredients, plus some egg roll wrappers. So, so good!
Ingredients
1 package (1 pound) egg roll wrappers
1/2 pound Italian sausage, cooked and drained
1/2 pound lean ground beef, cooked and drained
6 ounces sliced pepperoni, cut into quarters
2 cups (8 ounces) shredded Mozzarella cheese
2 tablespoons water, in a small bowl
Pizza sauce
Instructions
Preheat oven to 400°F and spray a large baking sheet with non-stick cooking spray OR heat oil in a large skillet to 350°F.
Place the cooked Italian sausage, cooked ground beef, pepperoni, and cheese in the bowl of a food processor and pulse until the mixture is in small pieces and thoroughly combined. You may need to process the ingredients in batches and you may need to use a rubber spatula to combine and equally distribute the mixture.
Layout the egg roll wrappers on the countertop and place about 1/4 cup of the topping mixture in the center going diagonally across the wrap. Fold the bottom corner over the filling; roll snugly to cover the filling. Fold in both sides snugly against the filling. Moisten the top flap with the water. Roll up and seal the top corner. Lay flap-side down until ready to cook.
To bake:
Place rolls on prepared baking sheet. Lightly brush the tops with olive oil. Bake for 8 minutes. Carefully turn the pizza rolls over and continue to bake until golden brown, about 5 minutes more. Serve warm with pizza sauce for dipping.
To fry:
Place rolls flap-side down, a few at a time, turning occasionally, until golden brown. Drain on paper towels. Serve warm with pizza sauce for dipping.
Notes
If you prefer a larger textured mixture, you can omit the use of a food processor and combine the ingredients in a large bowl.
Try this recipe with your favorite pizza toppings!
Recommended Products
As an Amazon Associate and member of other affiliate programs, I earn from qualifying purchases.
Nutrition Information:
Yield:

16
Serving Size:

1 roll
Amount Per Serving:
Calories:

152
Total Fat:

11g
Saturated Fat:

5g
Trans Fat:

0g
Unsaturated Fat:

7g
Cholesterol:

34mg
Sodium:

330mg
Carbohydrates:

2g
Fiber:

0g
Sugar:

0g
Protein:

10g
Please note that the nutritional information listed on this page is an estimation based on the products I used. Ingredients and nutritional information can vary significantly between brands. Always be sure to read labels. Please verify that a recipe fits your needs before using it. Nutrition info may contain errors, so please verify it independently. Likewise, recipes may contain errors, so please use your common sense when following them.
Originally published on May 31, 2012. Updated on April 14, 2022.