These Strawberry Shortcake Parfaits are a summer must-make dessert! No baking is required, and they come together quickly! Easy and delicious.
Strawberry Shortcake Parfait recipe
I love a good deal … don't you?!
The other day, we spent a good portion of the day over at my brother-in-law's house. I'm almost convinced that he is the king of good deals after hearing him tell us about all of the stuff he found at various places recently, that was really cheap!
He ended up giving the two older boys a bowling bag (something they're just getting into and loving, so it was a nice surprise). Now that I know where he finds some of his deals, I am keeping my eyes peeled as well.

Last week, while at the grocery store, I scored a bunch of strawberries for a really good price. So of course, I stocked up. ?
We've been using them for snacks, in salads … and one of my favorites – strawberry shortcakes! Instead of the traditional strawberry shortcake, I decided to make them into individual parfait glasses which worked out really well! You can find the same cups I used here.
It takes so little time to put these together – and my favorite part?! No baking!! You better believe that now that we're getting into some pretty hot days here in Phoenix! You'll need fresh strawberries, sugar, pudding mix, milk and pre-made angel food cake. That's it!
If the little cups aren't your thing, you can totally make one big trifle instead. Just use the same method of layering the ingredients. I hope you enjoy!
Other recipes you may enjoy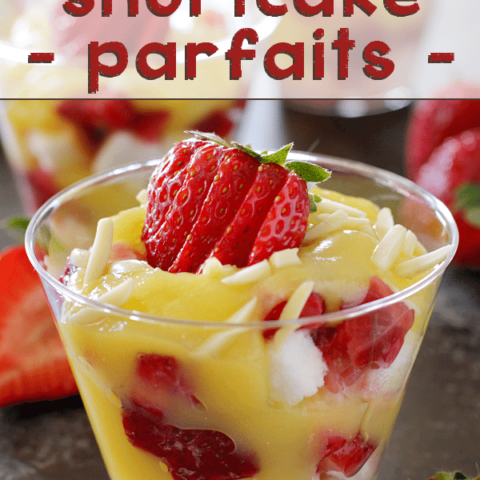 Strawberry Shortcake Parfaits
Strawberry Shortcake Parfaits are a summer must-make dessert! No baking and they come together quickly!
Ingredients
3 cups chopped fresh strawberries
2 tablespoons granulated sugar
1 package (3.4 oz.) vanilla instant pudding mix
2 cups milk
2 cups angel food cake cubes (1/2-inch)
2 tablespoons toasted almond slices or slivers
Fresh strawberries, for garnish (optional)
Instructions
In a medium bowl, combine the strawberries and sugar until well combined. Cover and chill one hour.
In a separate medium bowl, whisk the pudding and milk together until smooth. Cover and chill one hour.
Divide 1 cup of cake cubes between 6 parfait cups. Top each with 1/4 cup of the strawberry mixture. Top with 3-4 tablespoons of pudding. Repeat the layers with the remaining cake cubes, strawberries, and pudding.
Top each parfait with 1 teaspoon almonds. Garnish with a fresh strawberry, if desired.
Nutrition Information:
Amount Per Serving:
Calories:

456
Total Fat:

5g
Saturated Fat:

2g
Cholesterol:

8mg
Sodium:

1116mg
Fiber:

4g
Sugar:

27g
Protein:

10g