Chocolate Strawberry Shortcake, with a simple made from scratch chocolate biscuit, homemade sweetened whipped cream, and juicy strawberries.
This post may contain affiliate links. As an amazon associate, I earn from qualifying purchases. See my full Disclosure Policy for details.
I was provided coupons by Driscoll's to purchase my berries. All opinions and text are 100% my own.
Chocolate Strawberry Shortcake

I know the Fourth of July is still a few weeks away – but it's kind of a special day for me. It's my birthday!! One of my favorite summer desserts – especially Fourth of July desserts – is Strawberry Shortcake! Yes, I do consider it birthday food! 🙂
I grew up eating the traditional little round yellow cakes you buy at the grocery store …. there's nothing wrong with them and I actually kind of like them. But sometimes, I like to do things my own way (ok – technically most of the time I like to do things my own way, but who's keeping track?!). Doing things my way in cooking and/or baking often means from scratch so I can control what goes into the recipe and the quality of ingredients.
I love to use Driscoll's berries for my Strawberry Shortcakes (and for other recipes!) because I know that I am receiving the best quality product!
I have a few Strawberry Shortcake variations that I make – but one of my absolute favorites is this Chocolate Strawberry Shortcake! What's not to love about a chocolate biscuit topped with fresh Summer strawberries and a cloud of homemade sweetened whipped cream?! Exactly.
Just a side note – these biscuits are great for breakfast too!! Spread on some whipped honey cinnamon butter (which reminds me of another recipe I want to share!!) or your favorite jam for a slightly indulgent treat! 🙂
Things You'll Need For this Recipe:
Other Posts You May Enjoy: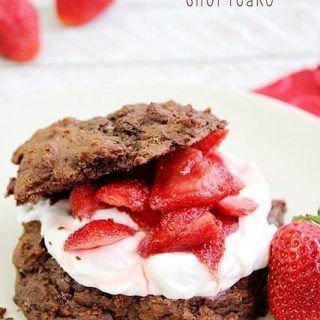 Chocolate Strawberry Shortcake
Yield:
6 (plus extra biscuits)
Chocolate Strawberry Shortcake - with a simple made from scratch chocolate biscuit, homemade sweetened whipped cream, and juicy strawberries - this a dessert perfect for Summer!
Ingredients
For the strawberries
1 quart Driscoll's strawberries, sliced
1/2 cup sugar
For the chocolate biscuits
2-1/2 cups all-purpose flour
1/2 cup cocoa powder
1/2 cups packed brown sugar
4 teaspoons baking powder
1 teaspoon baking soda
1/2 teaspoon salt
3/4 cup (1-1/2 sticks) cold butter, cut into small cubes
1-1/4 cups buttermilk
2 teaspoons vanilla extract
Extra ingredients
Homemade Sweetened Whipped Cream or Cool Whip
Instructions
Mix the strawberries with the 1/2 cup of sugar. Let stand for at least an hour.
Preheat oven to 425°F. Line a baking sheet with parchment paper and set aside.
Whisk together the flour, cocoa powder, brown sugar, baking powder, baking soda, and salt in a large bowl. Using a pastry blender, cut the butter into the flour mixture until it resembles coarse crumbs. Stir in the buttermilk and vanilla just until combined - DO NOT OVERMIX.
Drop batter by 1/3-cupfuls onto prepared baking sheets. Bake 14-17 minutes, or until the biscuits are slightly golden brown on the edges and set.
To serve: Split biscuits in half, top with sweetened whipped cream and strawberries. Replace the top part of the biscuit. Serve immediately.
Nutrition Information:
Amount Per Serving:
Calories:

608
Total Fat:

25g
Saturated Fat:

16g
Cholesterol:

63mg
Sodium:

693mg
Fiber:

6g
Sugar:

43g
Protein:

10g
Originally published on June 9, 2014. Updated on April 29, 2021.