A summertime favorite, this Strawberry Pretzel Salad is a sweet and salty, family-friendly dessert. Serve it up at your next gathering and watch it disappear!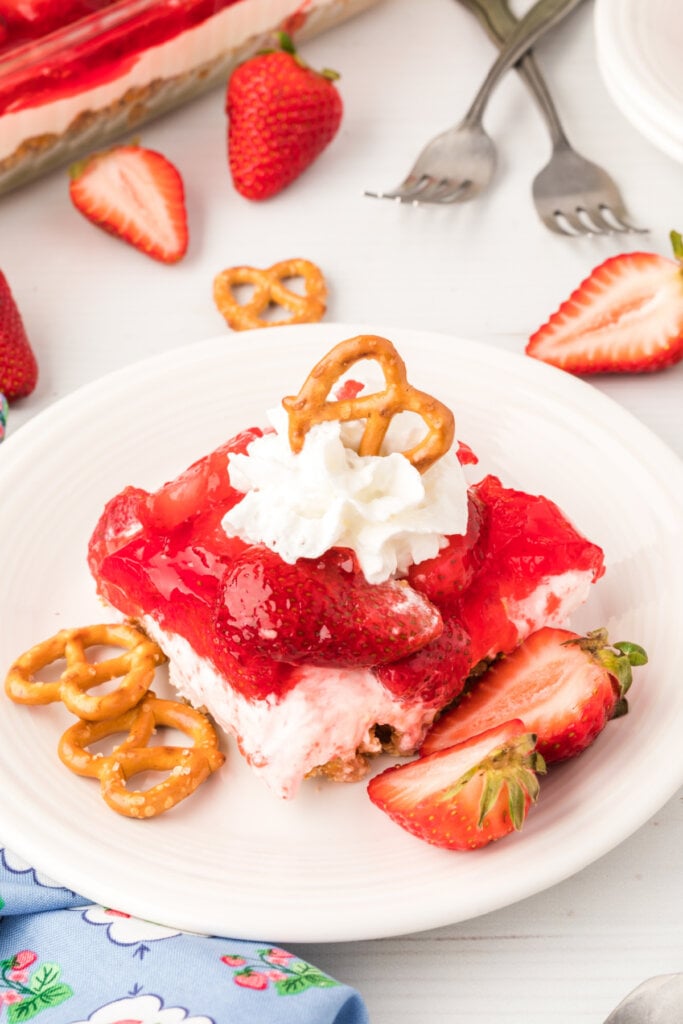 Strawberry Pretzel Salad
Today's recipe is one of those unusual-sounding ones that are really, really good, y'all!
If you have been a reader for any length of time, you know I'm a big fan of Jello salads. I have a few others on the blog – Circus Peanut Jello Salad, Red Hot Jello Salad, and Orange Gelatin Pretzel Salad …. not to mention all the fluffs and other desserts I have made with Jello!
If you haven't heard of it, Strawberry Pretzel Salad is a Midwestern US classic. I haven't seen it much outside the region, but we need to spread the word ASAP because it's amazing!!
Our grandmothers, moms, and aunties all had a version of this flavorful treat, and it's always sweet, salty, and tangy. So good!
I will also tell y'all that it's not actually a salad. It's a Jello salad, which was popular back in the day. And a Jello salad is almost like a pie in a sense.
For Strawberry Pretzel Salad, you have a layer of crushed pretzels, then filling made from whipped topping, then topping made from strawberries and strawberry Jello.
It's a dessert or side dish that tastes best during summer at picnics and barbecues. Best of all, the kids always love it.
Bring it to your next outing for a bit of fruity flavor!
I like to serve this up with more whipped cream on top and sometimes a sprig of mint or mini pretzel, too! I hope you enjoy it as much as my family does and every Midwesterner.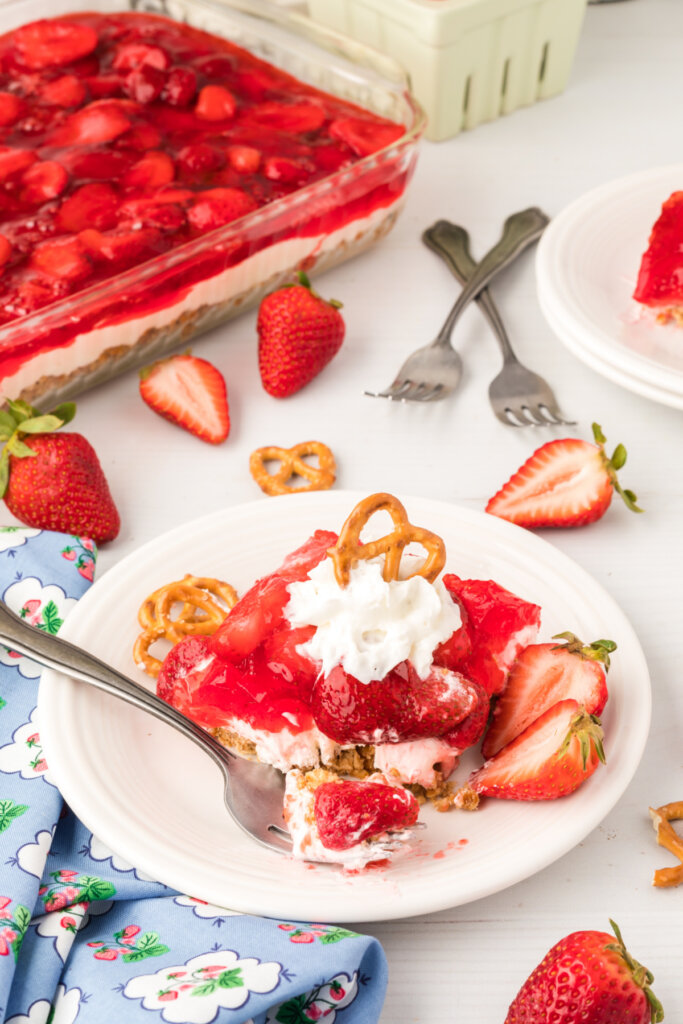 Strawberry Pretzel Salad: Ingredients & Equipment
For this Strawberry Pretzel Salad recipe, you'll need …
Ingredients
For the crust:
crushed pretzels – this is the "pretzel" part of your strawberry pretzel salad. It acts as a crust at the bottom of the baking dish.
sugar – this sweetens your crust.
butter – this holds your pretzel crust together.
For the filling:
whipped topping, cream cheese – together, these two ingredients make a filling with a fluffy texture.
granulated sugar – again, this will sweeten your filling.
For the topping:
strawberry gelatin mix, boiling water – one-half of your delicious topping. This is basically strawberry Jello!
frozen strawberries – for additional fruity flavor on your topping!
Equipment
9×13-inch baking dish – you'll make your salad in this.
mixing bowls – two medium-sized ones for mixing your crust and topping and a larger one for mixing your filling.
hand mixer – useful for beating together your filling!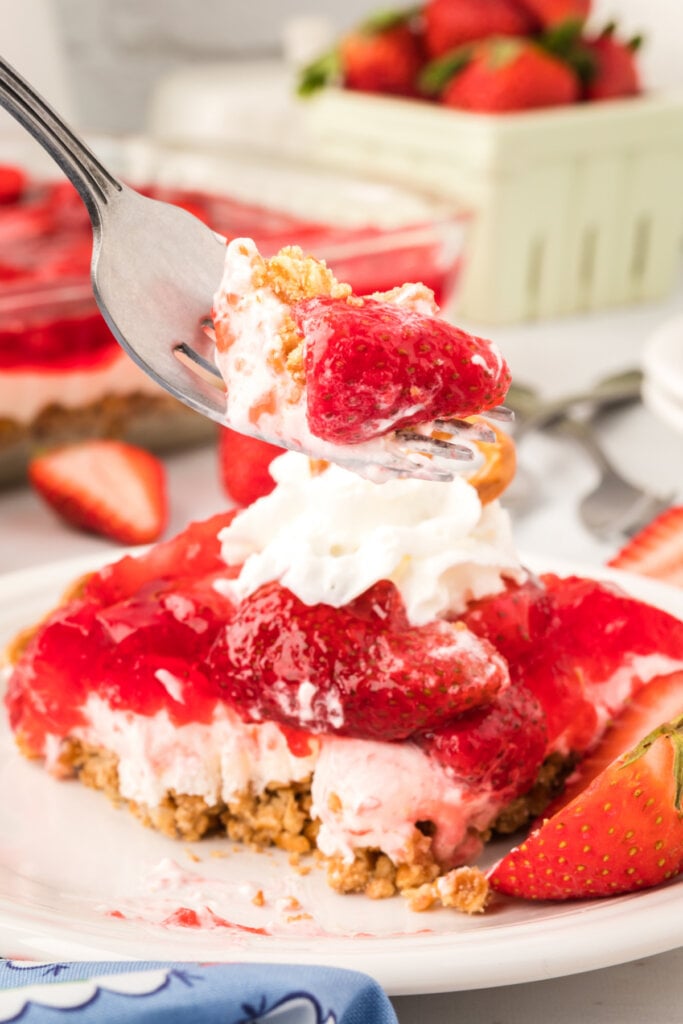 Strawberry Pretzel Salad: FAQs
What kind of pretzels should I use?
Use smaller pretzels that are easier to crush. Make sure they're salted, too. The sweet and salty flavoring makes this "salad" awesome!
Can I use whipped cream instead of whipped topping?
I wouldn't, only because the whipped topping is more stable. In this recipe, whipped cream tends to melt/"sweat,"/etc.
Can I freeze this Strawberry Pretzel Salad?
While it seems like it'd stay fresh in the freezer, I've found it doesn't freeze well, so I'd avoid it! Jello doesn't really "work" when frozen.
How long does it take to make a Strawberry Salad with Pretzels?
You'll need 45 minutes to prep and cook the ingredients, but that's the only hands-on time needed. The rest of the time is about 4 hours for the gelatin to set and the salad to chill!
How many servings does this recipe make?
About 18-24, depending on serving size! It is definitely, enough for a small get-together.
Can I use other fruit in this recipe?
Yes! You can substitute it or add it in. I like pineapples in this recipe, for instance. Peaches, cherries, and raspberries are also excellent.
Can I make this ahead?
Absolutely. You SHOULD make this ahead since you have to chill it!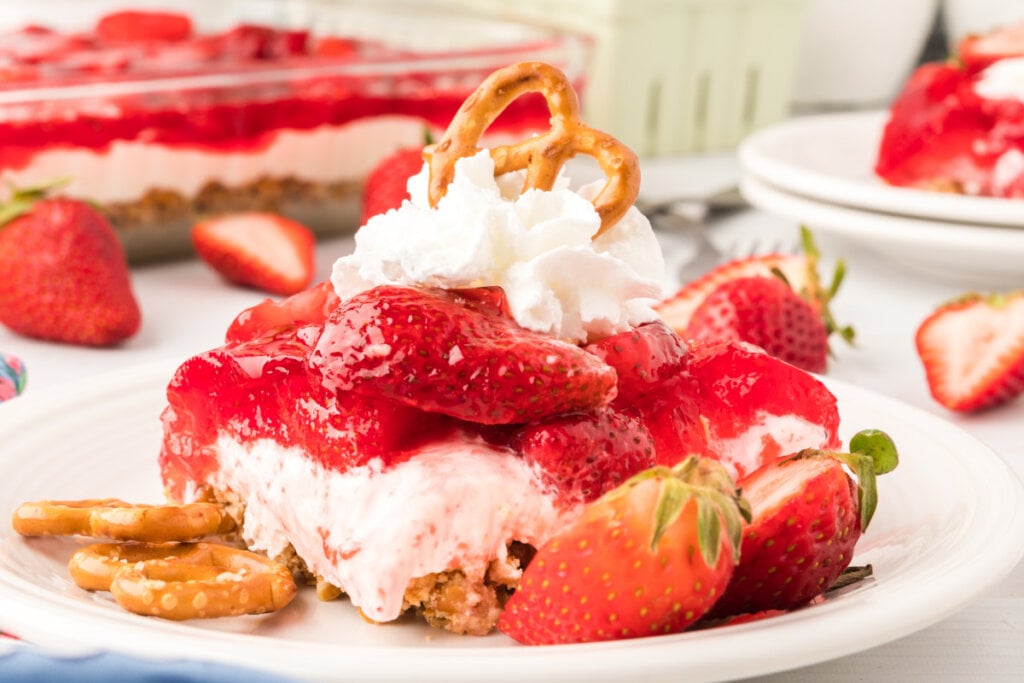 Other recipes you may enjoy
Strawberry Pretzel Salad
Total Time:
4 hours
45 minutes
A summertime favorite, this Strawberry Pretzel Salad is a sweet and salty, family-friendly dessert. Serve it up at your next gathering and watch it disappear!
Ingredients
For the crust:
2 cups crushed pretzels
3/4 cup butter, melted
3 tablespoons granulated sugar
For the filling:
1 pkg. (8 oz.) cream cheese, softened
1 cup granulated sugar
1 container (8 oz.) frozen whipped topping, thawed
For the topping:
2 pkg. (3 oz. each) strawberry-flavored gelatin dessert mix
2 cups boiling water
2 pkg. (10 oz. each) frozen strawberries
Instructions
Preheat the oven to 400F.
Mix the pretzels, butter, and sugar in a medium mixing bowl. Press the mixture evenly into the bottom of a 9x13-inch baking dish.
Bake for 8-10 minutes or until the crust is set. Remove from the oven and allow the crust to cool completely.
In a large mixing bowl, beat the cream cheese and sugar together with a hand mixer until well combined. Fold in the whipped topping until well combined. Spread the mixture completely to the edges and over the cooled crust. Refrigerate for 30-45 minutes.
In a medium mixing bowl, dissolve the gelatin in the boiling water, whisking for at least 2 minutes until well combined. Stir in the still frozen strawberries and allow the mixture to set for about 3-5 minutes to thicken slightly, stirring occasionally. Pour the gelatin mixture evenly over the cream cheese mixture. Cover and refrigerate the salad until the gelatin is fully set, about four hours.
Notes
Try adding an 8-oz. can of crushed pineapple (drained) along with the strawberries.
Sometimes I like to serve this with an extra dollop of whipped cream and a fresh strawberry, either cut in half or a cut and fanned-out strawberry on top. A fresh mint sprig is a nice garnishment as well. 
Recommended Products
As an Amazon Associate and member of other affiliate programs, I earn from qualifying purchases.
Nutrition Information:
Yield:

18
Serving Size:

1 slice
Amount Per Serving:
Calories:

151
Total Fat:

8g
Saturated Fat:

5g
Trans Fat:

0g
Unsaturated Fat:

3g
Cholesterol:

22mg
Sodium:

143mg
Carbohydrates:

18g
Fiber:

0g
Sugar:

14g
Protein:

2g
Please note that the nutritional information listed on this page is an estimation based on the products I used. Ingredients and nutritional information can vary significantly between brands. Always be sure to read labels. Please verify that a recipe fits your needs before using it. Nutrition info may contain errors, so please verify it independently. Likewise, recipes may contain errors, so please use your common sense when following them.